Rethinking Las Vegas, Its Hidden Potential, and Future Promise: A Conversation with Brett Robillard
December 20, 2022
We sat down with Brett Robillard, a principal and studio director at Gensler's Las Vegas office, for an insightful discussion about Las Vegas' ripe potential for growth and expansion, its many misconceptions, and what a new kind of design thinking can bring to the future development of the city.
When most people think of Las Vegas, they think of the Strip, but there's so much more to the city. In the context of architecture and design, what's something you think most people are missing about Las Vegas?
In my 16 years here, I have met so many people whose experience was limited to arriving at the airport and staying in a hotel on the strip. In fact, that was my experience as well.
But there is an entire dialogue of high contrast that is the austere desert landscape paired with the artificiality of the "Strip." Several buildings are derived from this juxtaposition, which is not immediately obvious to many people.
Springs Preserve, for example, is a vast campus in the desert built around Las Vegas Springs, the city's main water source. The preserve has nature walks, botanical gardens, museum galleries, entertainment venues — both outdoor and indoor — and countless other offerings to the community. There's also the Red Rock Visitors Center, the La Concha at the Las Vegas Sign Museum. These are real gems in the city that are here for discovery. I also think many miss out on the Arts District, which is a charming enclave within the downtown area.
You've mentioned before that the city is maturing. What do you mean by that?
The city is young in comparison to so many cities our size. Think of Boston, which was founded in 1630, or San Diego, founded in 1850. In just 100 years, Las Vegas has grown from a small town to almost 2.5 million people. We are just closing the chapter on our adolescence. For decades, Las Vegas arguably has had a singular focus — gaming.
As gaming becomes more accessible in other locations, Las Vegas will be forced to evolve. Not only in its economic engines, but in its demographics. We are seeing the emergence of a wave of young professionals in industries not necessarily related to gaming, as well as retirees. A city needs this tapestry of demographics to build diversity and the foundation for future generations. Our climate, access to entertainment, and relatively low cost of living have attracted more people.
We are seeing fresh, urban development in nearby cities like Henderson and Summerlin, as well as some real momentum in the downtown areas. Las Vegas is expanding, maturing in its identity and reputation, and starting to focus on important issues like neighborhood walkability, sustainability in design and development, density, and a more refined sense of aesthetic quality.
Las Vegas has an opportunity to embrace a stronger sensibility of living in the desert and creating buildings that are designed to last and contribute to the built context over time. My hope is that we can develop more sound urban planning, diversity in the programming of our urban spaces, and trend towards localized neighborhoods that form a network of enclaves, providing unique experiences within the greater context of the Las Vegas valley.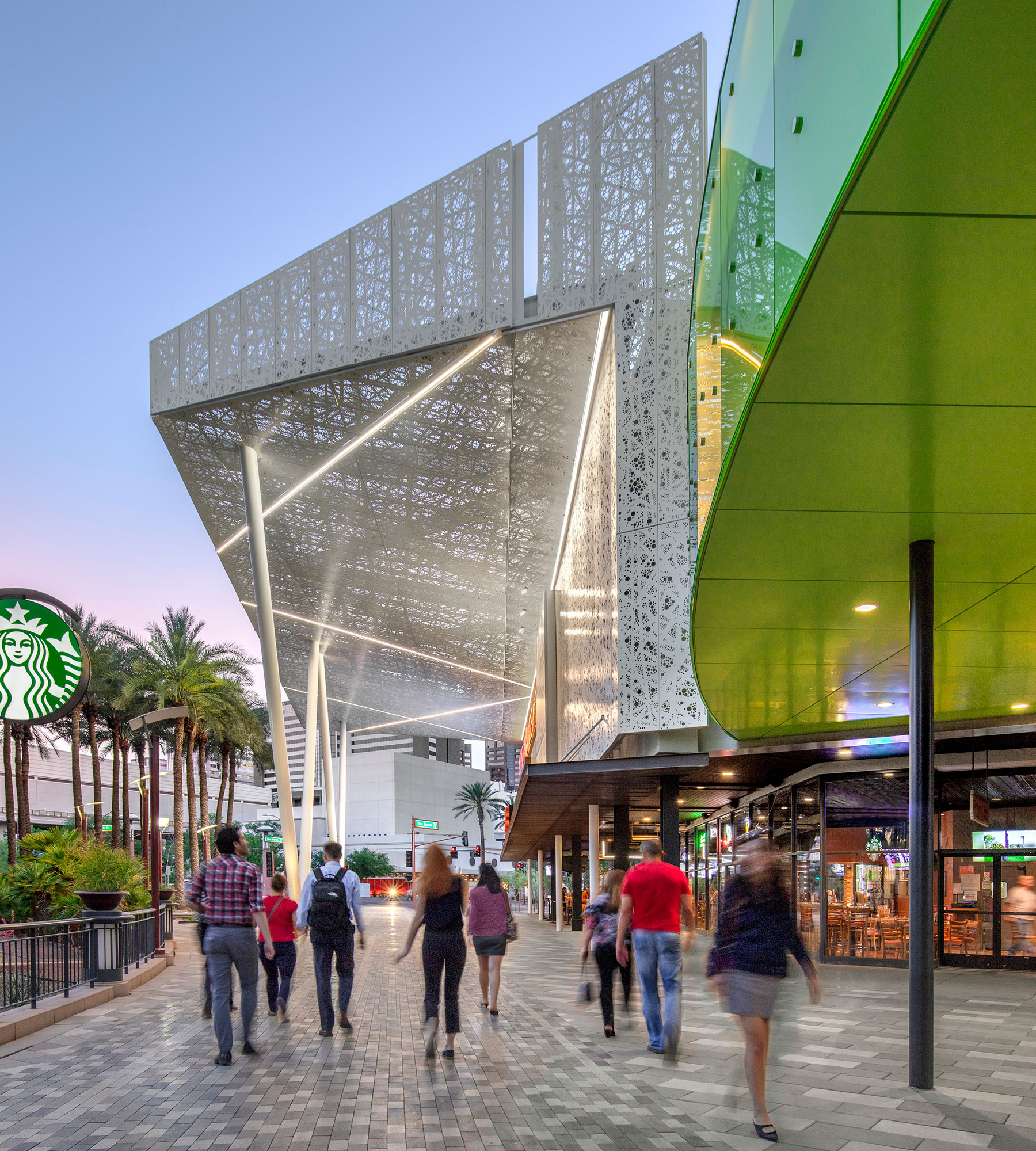 How should we be thinking about the core of the city? For example, how can typologies such as mixed-use developments and more robust amenities contribute to Las Vegas' evolution?
I am very much for urban infill. In Las Vegas, we have a good downtown infrastructure. There is direct access to major highways and beltways, nicely scaled street blocks, and a fair range of uses. However, as a guy from Boston, coming to Las Vegas and seeing so many vacant lots in our urban core — I couldn't believe it!
The downtown area has the potential to become a thriving community with all the spirit of Las Vegas, yet with its own character. We can achieve this through density and mixed use. Combining residential with retail, office, and entertainment is foundational for urban experience and sustainable growth. Parking is always an issue, but we can migrate towards 15–20-minute neighborhoods that, through unification of parcels, can begin to develop entire blocks and set the stage for decades of development. I think we still need to retain a bit of a pioneer spirit and allow ourselves to experiment.
Getting residents living downtown and all the supportive retail is so vital: A small grocery store, boutique shops, shared working spaces. What we need to focus on is getting the right mix amid the existing infrastructure and current built work. With support at the city level, adventurous developers and thoughtful planners all rallying behind a vision — it's entirely achievable.
How should we be thinking about building and living in the desert?
The desert is a rugged yet fragile place. In some ways, it's almost a moral question. Should we live here? From a resources point of view, it's debatable. But since we do live here, we should use our landscape and built environment as a testing ground for ideas around conservation and solar utilization, among others.
Living in the desert is a beautiful experience but living here ought to carry a sense of responsibility to the fragility of the environment.
What opportunities for growth and development exist beyond the Strip?
Las Vegas remains a very open canvas. The Strip is what has long-generated so much notoriety here, but the immediate surrounding context has incredibly walkable blocks, particularly downtown, and is a prime canvas for new development that can merge program to begin to create more density, 24-hour neighborhoods where people live, work, and socialize — and truly capitalize on the rather unusual vacancy of land development.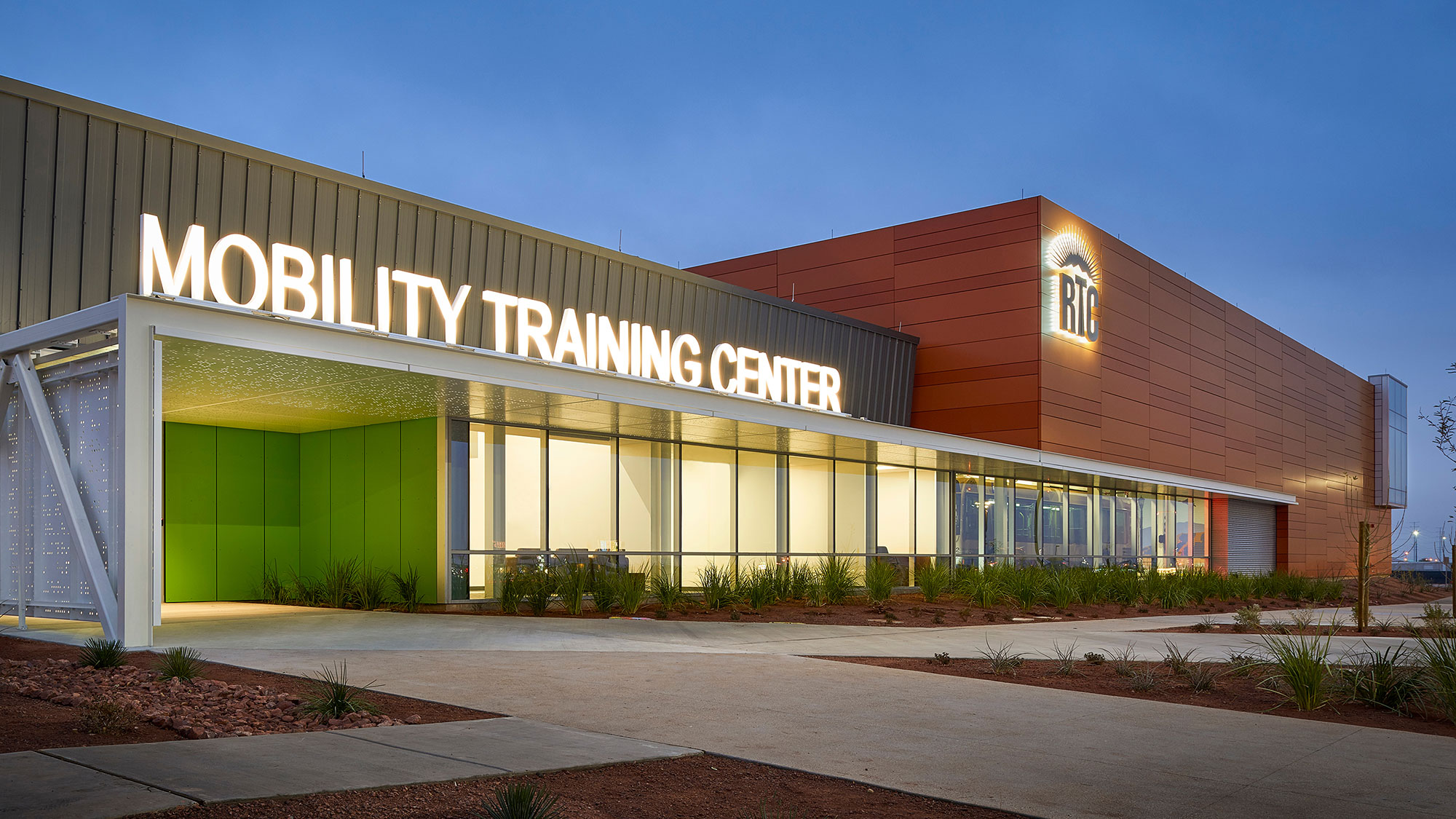 What do locals understand about the city that out-of-towners miss? How does this influence the design thinking at Gensler?
I think many of the locals still have a connection to the Strip, but the obvious difference is that most do not go there often, while out-of-towners always go to the Strip but don't venture beyond that. They miss the beauty of the natural landscape in places like Red Rock Canyon or Mt. Charleston.
Architecturally speaking, we're always trying to tap into regional geography and landscape. For example, at the RTC of Southern Nevada Mobility Training Center, we created a building that was inspired by our macro landscape, but its use was decidedly local, as a building to service vision and mobility-impaired citizens.
I think it would be a shame if Las Vegas didn't retain some sense of a Wild-West ideology. It's part of our DNA, and something I truly hope is never lost. Las Vegas is a place of big ideas. We have an opportunity to test new ideas and investigate ways to proudly embrace fun and joy, while ensuring that we create a framework for smart growth and community building for the next generation and beyond.
What's next for the future of Las Vegas?
The future for Las Vegas is what we make of it. The challenges of our drought and continued sprawl need to be reckoned with. But if we can find enough kindred spirits and create a community of free thinking, highly aspirational people, the city will continue to be an evolving, revolving, risk-taking, and engaging place to be.
For media inquiries, email .