Visualizing Workplace Social Networks in Order to Drive Better Real Estate Decisions
March 30, 2022 | By Nadia Volchansky and Amin Mojtahedi
When employers think about organizational culture, they usually default to thinking about the formal networks that exist within teams or departments. This is partly by design: Those groups are encouraged to create their own communications channels, host their own events, and foster robust subcultures. If an organization is seeking to strengthen its culture, leveraging such networks to inform real estate decisions is relatively straightforward.
The problem with this is we know formal networks represent only a fraction of what makes an organization tick. Workers communicate across departments all the time, both to connect as people and to accomplish tasks. But when it comes to gleaning insights from those interactions, organizations find themselves in the dark. Informal networks are much more difficult to identify, and even harder to measure. By making decisions without an understanding of informal networks, how much are organizations leaving on the table?
Organizational network analysis: A wellspring of potential for the real estate industry
Currently, the real estate industry relies heavily on surveys and interviews, valid methods that nonetheless make it difficult gather high quantities of data and completely remove bias. There is a hunger for objective data gathering to inform spatial design decisions, in particular for understanding how ideas and information flow among people in an organization.
Organizational network analysis (ONA) is an objective tool that can be used to do exactly that. At its most basic level, the method tracks who is communicating with whom, and how often. Mapping the communication patterns can then inform an understanding of social networks within an organization that goes beyond the organization chart. The method can then identify opportunities for improved connectedness, interpersonal recognition, training, and team effectiveness.
ONA has been around since the 1960s. Yet it has predominantly been a tool for human resources and organizational psychologists. Despite its power in generating fresh insights for the architecture and design industry, the impact of ONA on strategizing for real estate and physical space is still underutilized. But we are working to change that and to apply ONA directly to questions such as the following:
How do employees in a hybrid environment learn from each other?
What are the implications for technology usage when working from home versus in the office?
Who are the connectors in an organization, and who are the individuals that may feel isolated?
What are the impacts of different space typologies on the quantity and quality of interactions, both virtual and in-person?
A study in contrasts: How communication differs across industries
In a research study conducted in January 2022, a Gensler team quantitatively mapped current and desired networks of social interactions for a total of 35 participants in four teams across two different organizations: a global technology company and a global design firm. The results of the study, summarized in the following three points, uncovered key differences between the two organizations as well as directions for augmenting hybrid teams' current collaborative patterns and work culture.
1. Different work styles foster different social patterns: The technology company's networks showed an exceptionally high range, indicating a work process that relies heavily on outside inspiration and cross-pollination to achieve innovation. By contrast, the design company's networks indicated more interconnectivity among immediate team members, a key predictor of efficiency and focus on task delivery.
2. How decisions are made is intertwined with where they happen: The technology company's networks rely on a few key actors. These key actors connect and coordinate with each other frequently and then reach out to others independently. In the design company's network, however, decision making happens in large meetings where most actors are present.
3. Workers in both industries desire leaner, more effective networks: Prior to the pandemic, similar studies showed a tendency towards more collaboration and connectivity in the desired network. In this study, however, teams' desired networks can be described as leaner compared to their current networks. In the desired, leaner network, employees expressed that they do not necessarily want to reduce their ties or the weight of their ties, but they would prefer to redistribute them.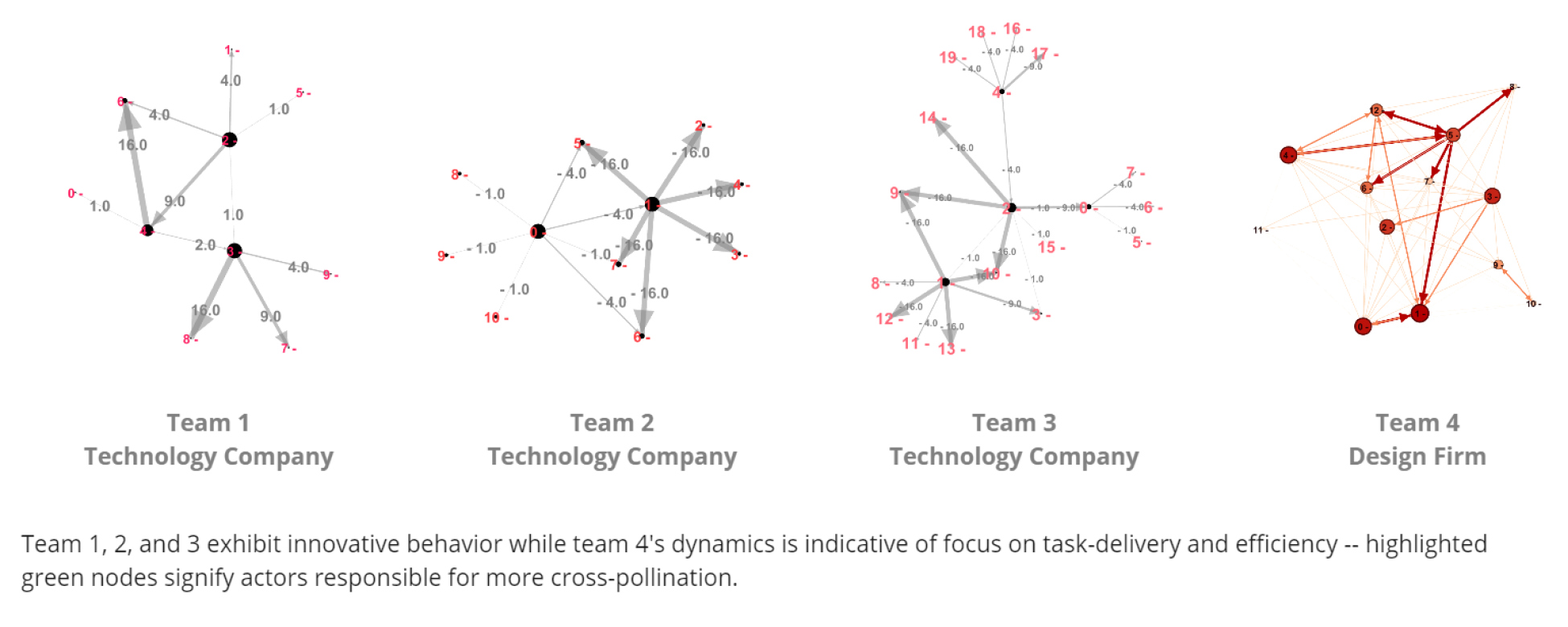 Why we are exploring design implications of ONA within our own spaces.
As part of another nascent research project, a Gensler team conducted an ONA pilot within one of the firm's offices. The study was conducted anonymously, with data scrubbed of identifying information. Among the key findings were the existence of four primary connectors in the office, and that the majority (67%) of communication happened within groups, not across them.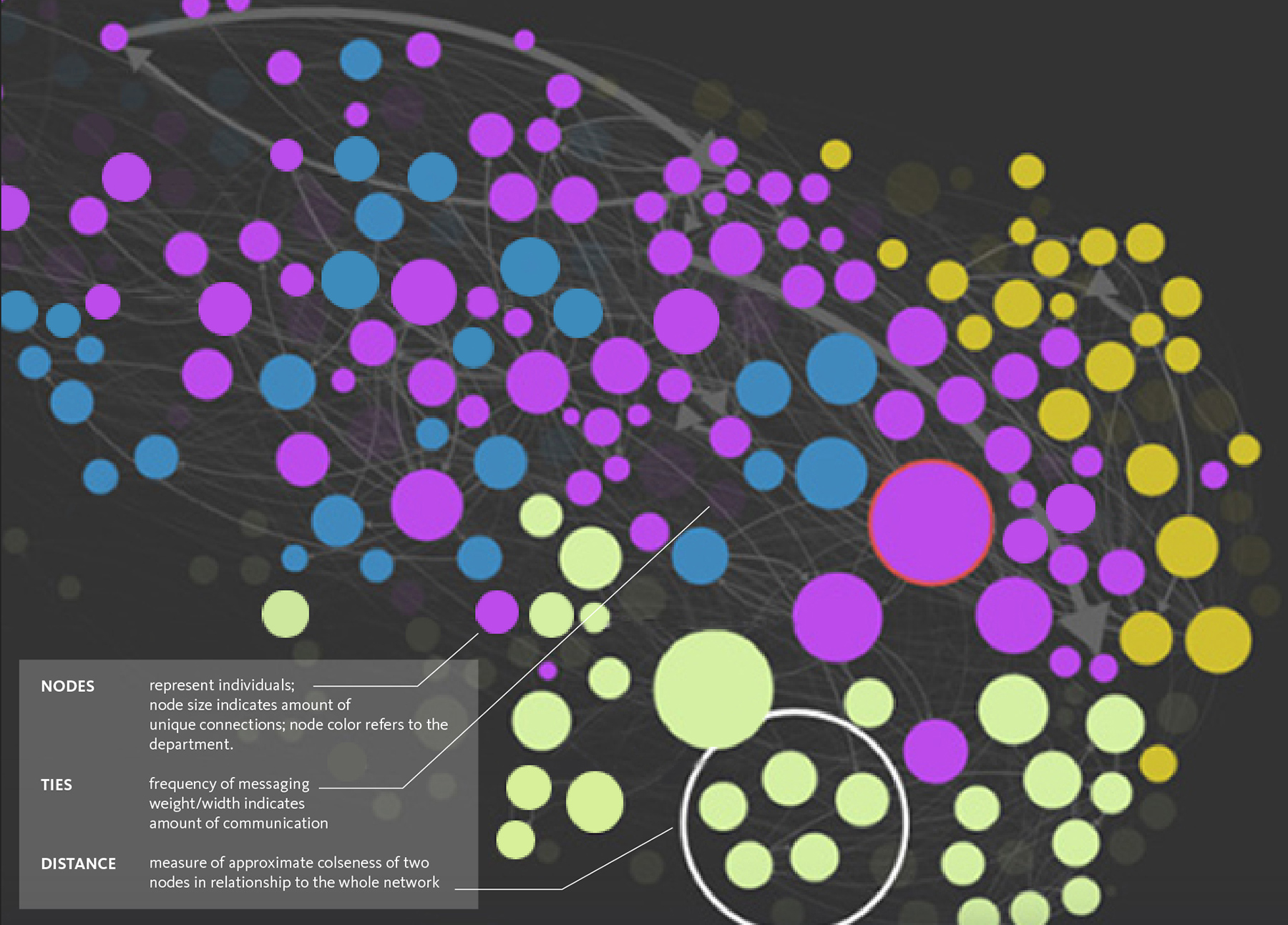 This data is helpful in demonstrating the culture and dynamics of the office and region, and with proper insight and effort, organizational effectiveness could be improved using this data alone. But overlaid with additional ONA practices we intend to explore in future research, the implications become even more exciting.
Using spatial sensors such as those in Gensler's proprietary Intelligent Places technology, we could combine subjective data on how people perceive spaces with objective data on how spaces are actually being used. We could then create a comprehensive picture of how people communicate when they use spaces, and how they communicate when they don't. For designers, this is an opportunity to gain a deeper understanding of how design impacts human behavior, and to tailor our strategies accordingly. For real estate decision makers, it represents the possibility to virtually eliminate waste from programming. Being able to operate with such razor-sharp efficiency would be a sea change for our industry.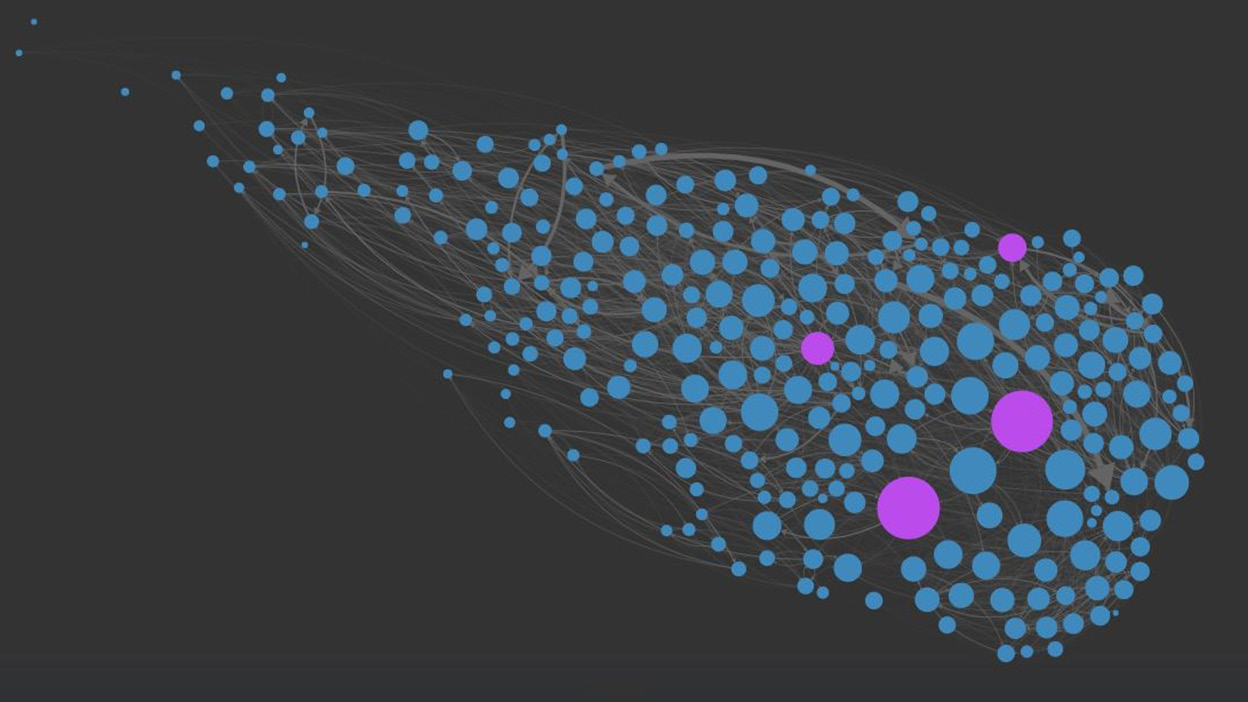 In an era defined by volatility and constant change, holistic ONA assessments can create significant value for organizations. Not long ago, instant messaging between employees in different workplace departments simply did not exist. We have yet to fully come to terms with the implications of our new technology ecosystems, and there is no question we could do a better job of matching those ecosystems with our physical ones. Each day, we grow more certain that ONA will prove instrumental in that process, and we can't wait to shape this fascinating future.
Research Team: Cheryl Duvall, James Williamson, Carlos Maceo, William Sessums, Elizabeth Baudler, Nadia Volchansky.
For media inquiries, email .