Coworking has been around for a while, but as a workplace strategy for large companies and their full-time employees, it's a newer player.
How much is coworking really being used as part of corporate real estate strategies, and what is its impact? Currently, one in seven of our respondents — who represent full-time employees of companies larger than 100 people — use coworking spaces for at least some portion of a normal work week.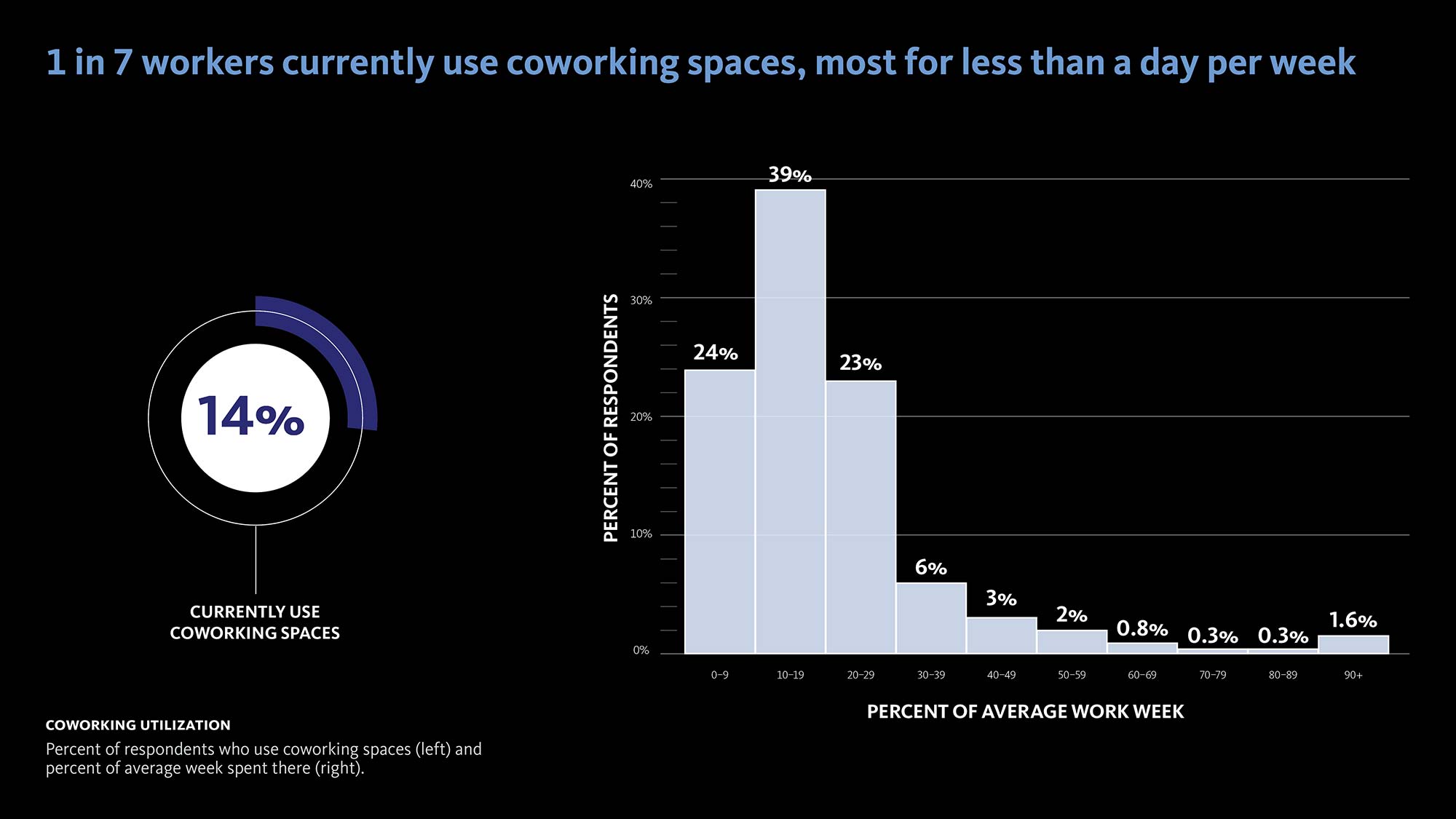 ACCESS TO COWORKING SPACES BOOSTS PERFORMANCE
On average, most workers who use coworking spaces use it for less than one day per week — for most, coworking serves as an alternative workspace not their primary one. And working from a coworking space does appear to have a positive impact on employee effectiveness and experience. People who use coworking spaces have significantly higher scores in both areas compared to those who do not. Interestingly, however, time spent in coworking spaces does not show a correlation to performance — access is what's important, but not how long they work there.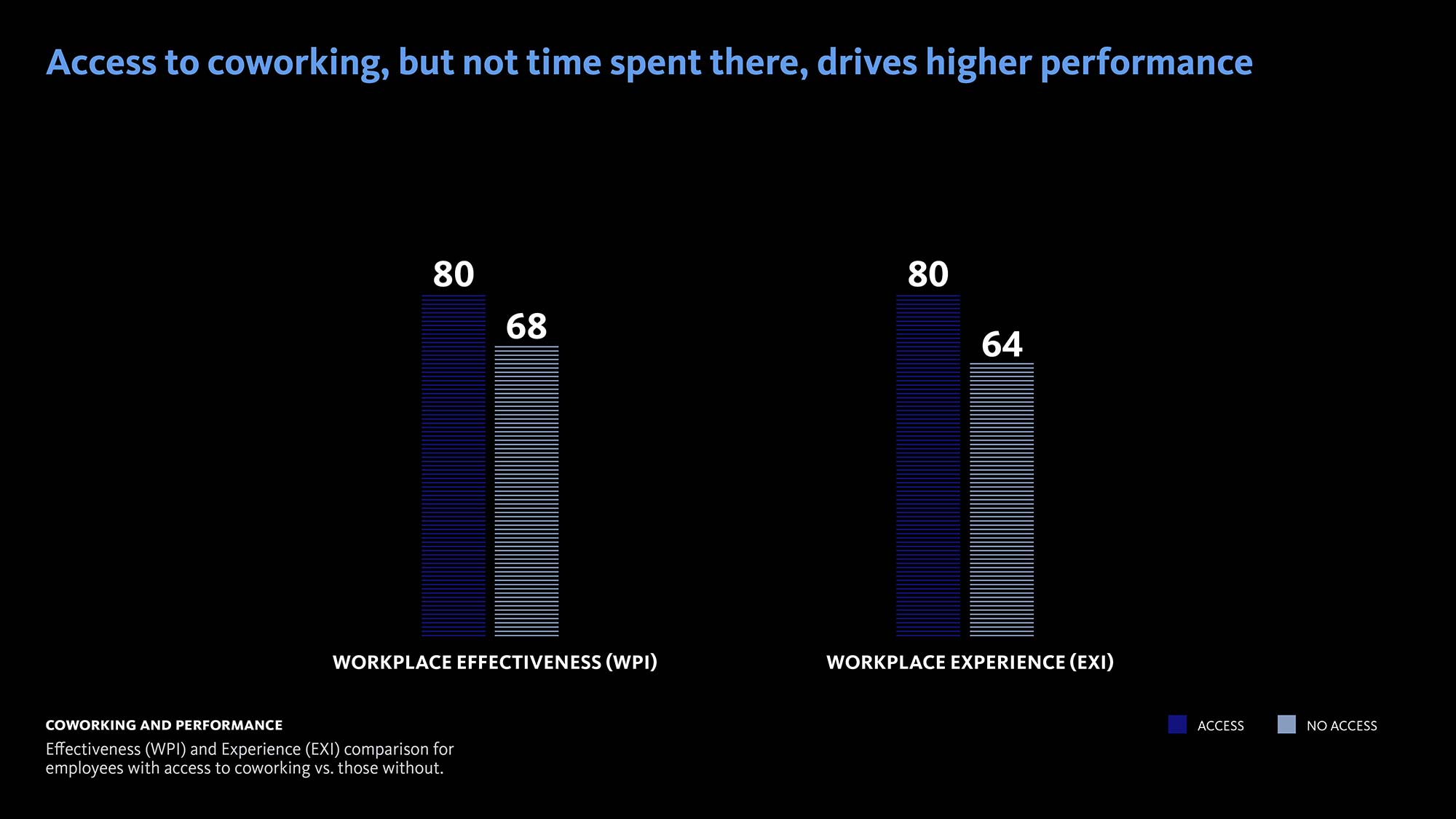 IS COWORKING FOR EVERYONE?
We know coworking can boost performance — but is it for everyone? The population of workers currently using coworking spaces is diverse, but the distribution is far from even. People who use coworking as part of their average week are significantly more likely to be young, male, manager-level employees, and disproportionately represent people from the technology sector.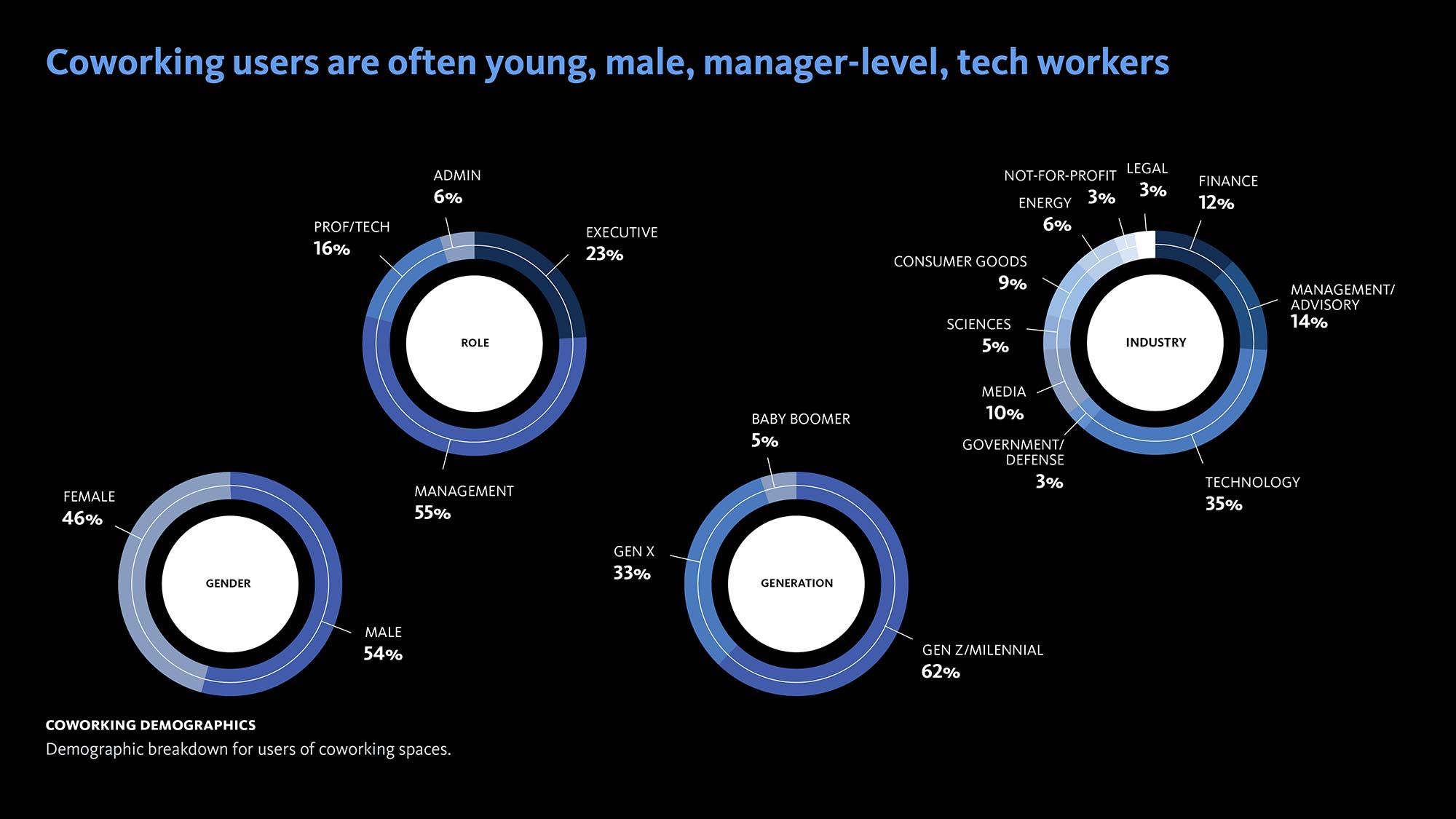 WHAT DOES THIS MEAN FOR THE FUTURE OF THE WORKPLACE?
Coworking spaces are clearly fitting a need in the market, even for full-time employees who also have dedicated workplaces. They offer additional variety in work settings, and encourage employees to work away from the office for a portion of their weeks, both behaviors that connect to higher performance in our research. But that doesn't mean they're replacing traditional workplaces—as of now, they're more of an amenity than a workplace replacement.
U.S. WORKPLACE
SURVEY 2019
GENSLER RESEARCH INSTITUTE
The Gensler U.S. Workplace Survey 2019 represents the input from more than 6,000 U.S. office workers across a variety of industries and demographics to provide new insight into not only what makes an effective workplace, but the investments companies can make to improve employees' workplace experience and performance.