We need to prioritize amenities that directly align with people's work.
Greater employee choice and mobility means amenities are taking center stage for creating effective work. Because of this increasingly amenity-rich paradigm, we analyzed how each amenity corresponds with a better environment and a better experience. Amenities are an investment, so we must prioritize the amenities and alternate workspaces that provide the greatest performance boost.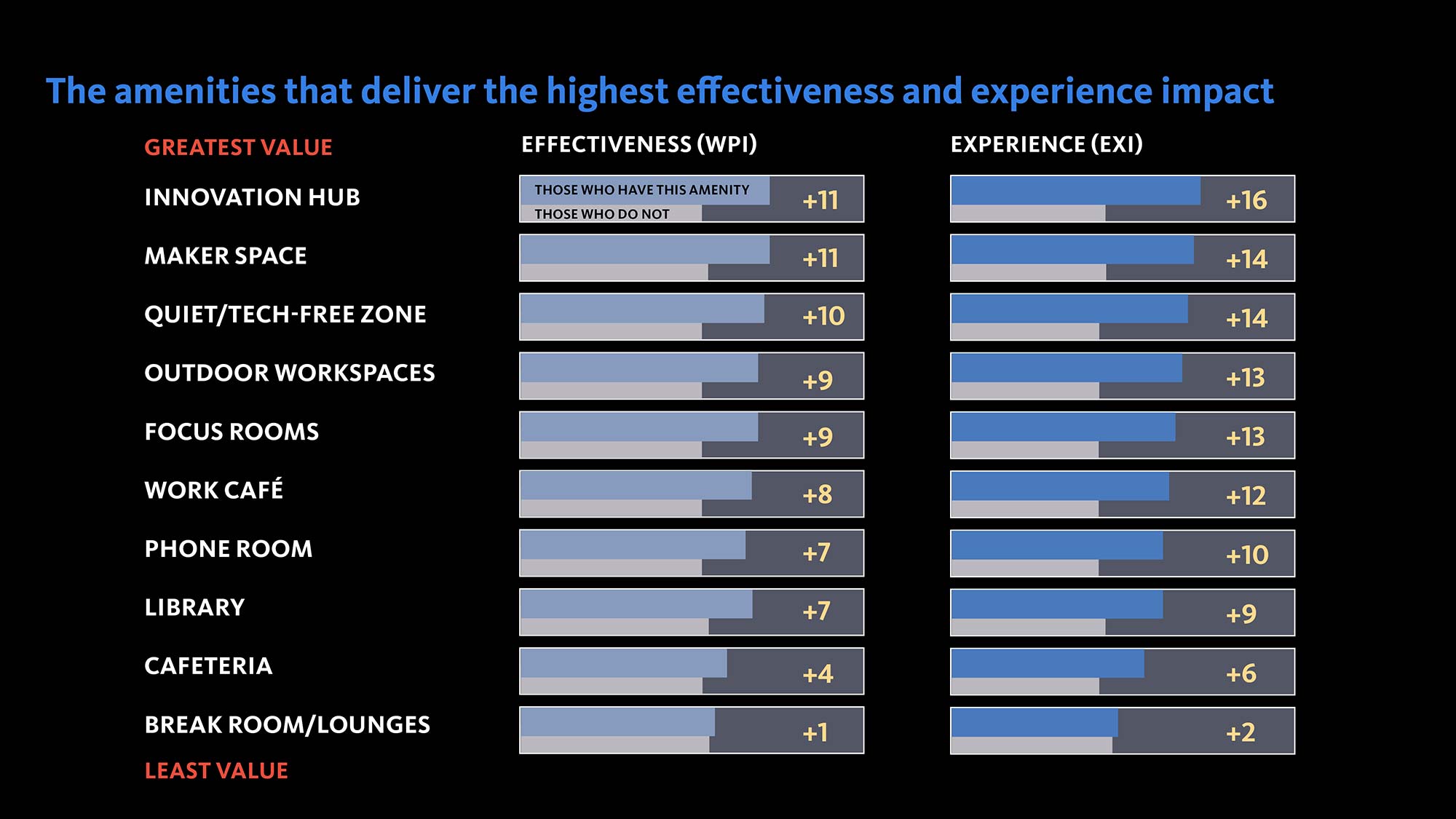 WHICH AMENITIES PERFORM BEST?
We came to a clear answer. By comparing the WPI and EXI scores of workplaces that do and don't have a particular amenity, our data suggests that some investments may be justified while others are not. The spaces that deliver the greatest impact connect directly to people's most salient needs and preferences: quiet places to perform focused or individual work, and spaces connected directly to collaboration and group innovation. Amenities with a non-work focus, such as lounges and break rooms, deliver the smallest performance gains.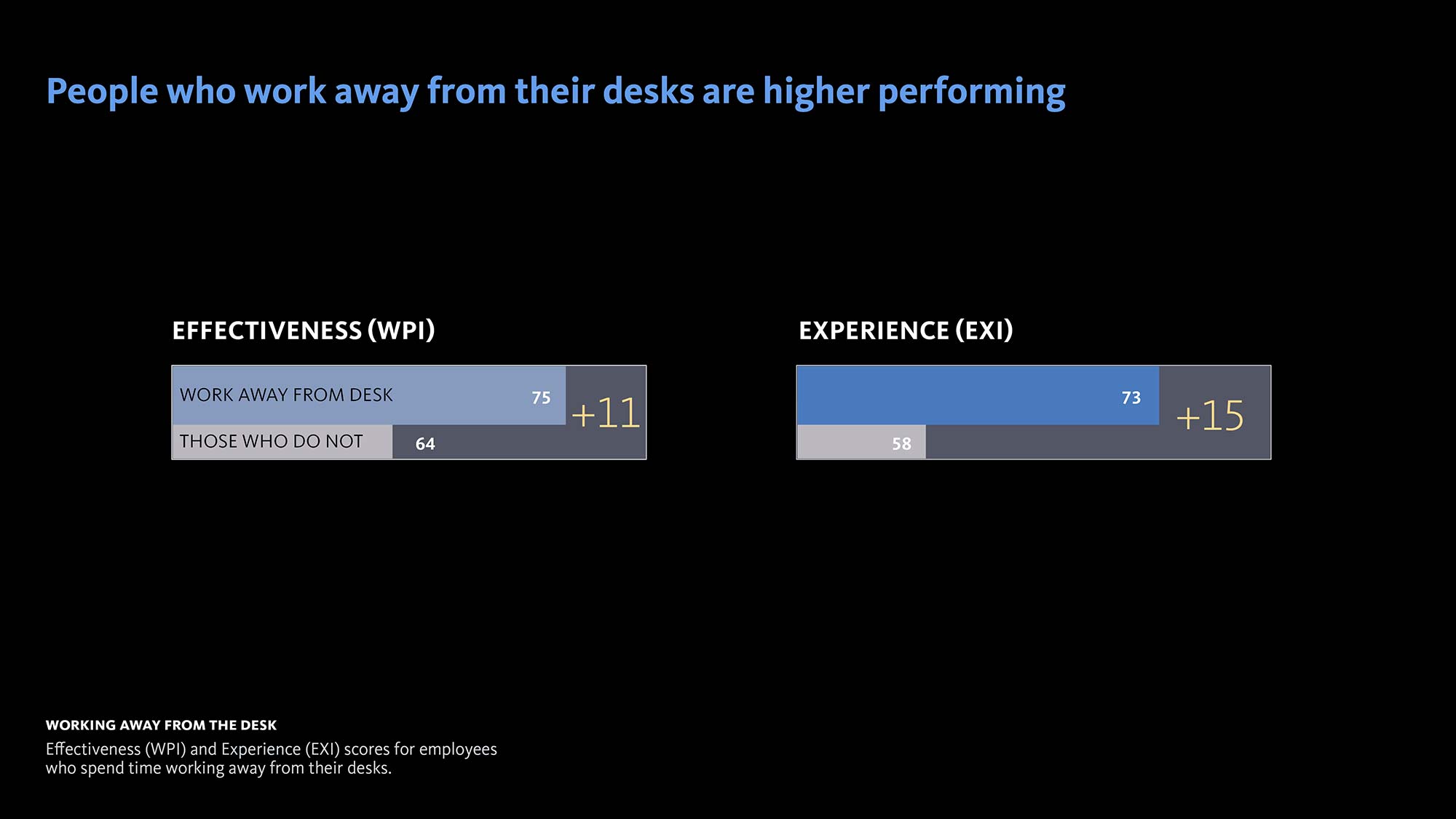 AMENITIES AND MOBILITY/CHOICE ARE INTERCONNECTED
We view the right amenities as part of a larger strategy on choice and mobility. For high performers, everywhere is a work setting — both in and out of the office. Employees who work away from their desks, including leaving the office entirely, are often more effective and report a better experience. But of course, there is a balance to strike: too little time, as well as too much time, in the office is associated with lower effectiveness and experience scores.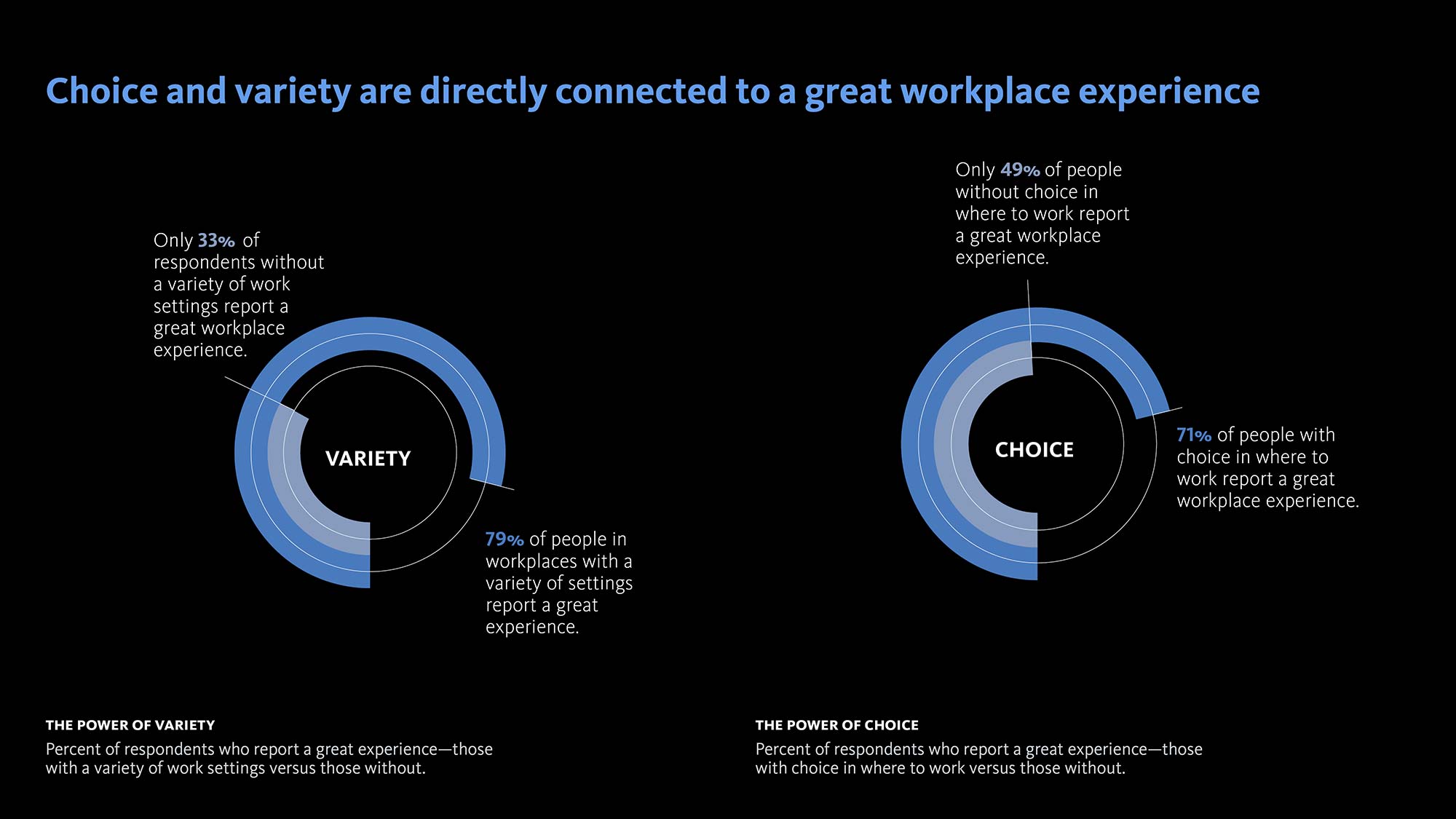 WHAT DOES THIS MEAN FOR THE FUTURE WORKPLACE?
We know the right ingredients for an optimal work environment. Respondents who report having variety and having a choice are more likely to report having a great experience. That means the right mobility strategy should leverage amenities that create more choice and facilitate the work we need to get done.
U.S. WORKPLACE
SURVEY 2019
GENSLER RESEARCH INSTITUTE
The Gensler U.S. Workplace Survey 2019 represents the input from more than 6,000 U.S. office workers across a variety of industries and demographics to provide new insight into not only what makes an effective workplace, but the investments companies can make to improve employees' workplace experience and performance.