From College Playoffs to the Super Bowl: How Can We Reimagine Live Sports Experiences?
February 08, 2023 | By Andrew Jacobs, Michelle DeCurtis
The world of live sports never takes a timeout — college basketball's March Madness tournament is here, hockey season is well underway, and the MLB pre-season begins shortly. From the recent Super Bowl to the current March Madness sweeping the nation, we asked sports fans about their journeys back to stadiums and arenas, what their recent experiences have been like, and their expectations going forward.
Last year's Sports Experience Survey provided a first look at how sports venues were doing from the fan perspective after two years of weathering the impacts of the COVID-19 pandemic. Our results underscored the need to innovate on the entry experience, the importance of crafting differentiated, social-oriented experiences to better engage a diversity of attendees, and the growing concern among fans on the cost of attendance, along with several other key insights.
We redeployed our survey earlier this month to get an updated look at how professional- and college-level sporting event experiences are measuring up and how we can continue to evolve the designs of large stadiums and arenas to better meet the needs of fans. This research is ongoing, but we are excited to provide the first installment of a four-part series that will explore this year's results and its implications for our design practice and the greater live sports industry.
New Year, Same Story (Mostly)
Repeating many of the questions from last year's Sports Experience Survey allows us to comparatively analyze the two survey waves. Interestingly, we found practically zero statistically significant differences between results to the questions we asked in both our 2022 and 2023 surveys. The only aspect that appeared to have statistically significant, notable differences was the level of concern around COVID-19. With another year out from 2020 under our belts, and mask mandates no longer widely enforced at most sports venues, this probably comes as no surprise.
Among respondents who have attended a professional- or college-level event within the past year, the inherent social-oriented elements of the live sports experience continue to be the biggest driver to attend, with passion for the team/athletes and the sport not far behind.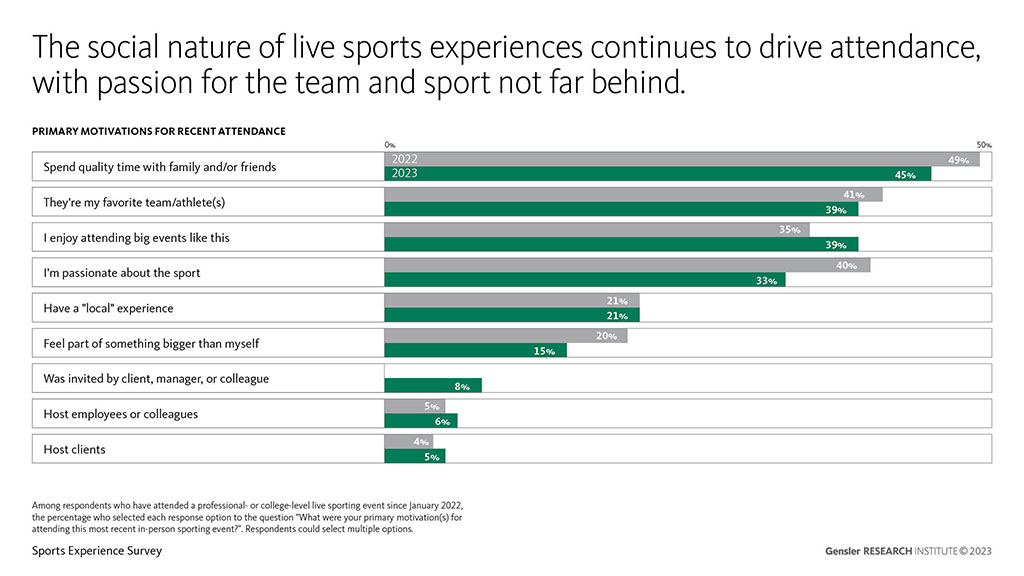 In general, attendees continue to feel positively about their recent experiences at stadiums and arenas. Like last wave's results, we are finding that one size does not fit all, and some differences in experiences and expectations exist across demographics, event details, and fan typology/psychographic groups. These important nuances to the data will be explored in a future installment of this blog series.
Some items that are new to the survey this year are worth mentioning. A majority (8 in 10) of overall attendees agreed that both the event they attended had an exciting atmosphere and that the performance the athletes gave was worth paying to see. While the fans appear to be most pleased with the goings-on inside the venue, a smaller percentage of recent attendees feel that the venue experience transcends its surroundings, which is an important element of fostering integrated, sports-anchored entertainment districts.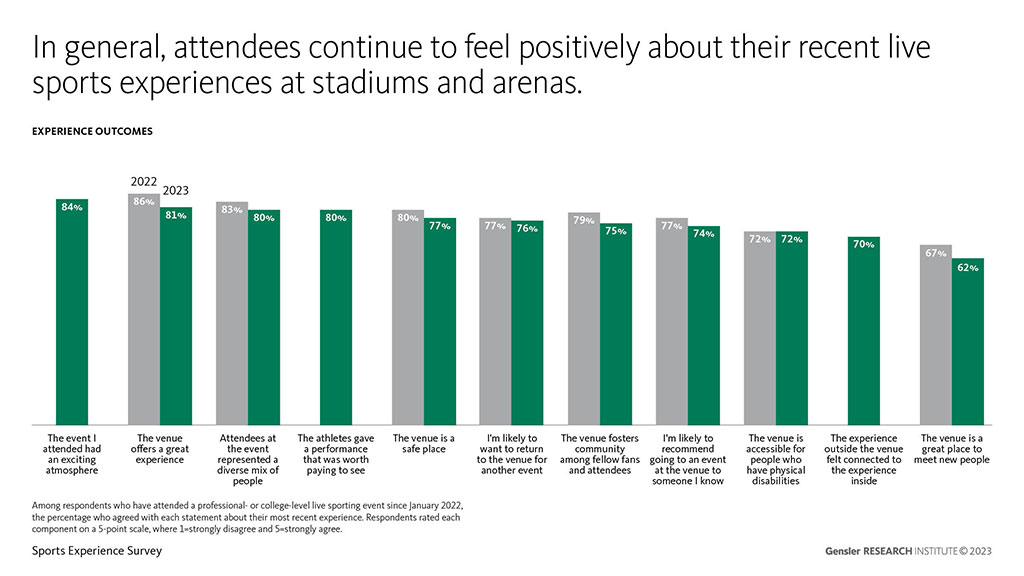 Concerns Around Affordability Persist and Are Taking a Toll on Experience
Affordability continues to be the top consideration among total respondents for attending a live sporting event. Live sports experiences offer many the opportunity to spend quality time with family and friends. Therefore, costs multiply quickly when you're in a group — particularly when considering parking, concessions, and other venue offerings.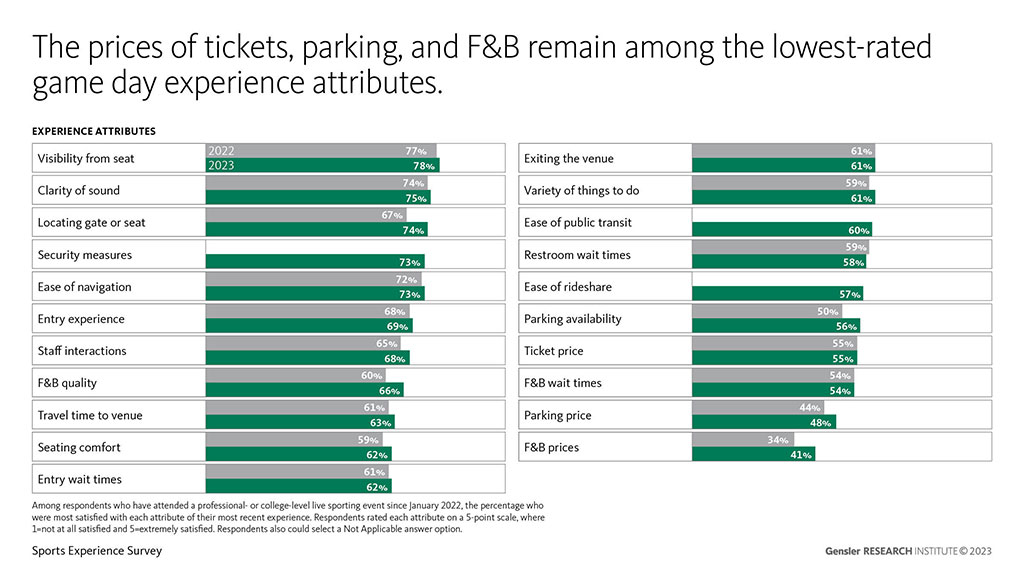 With growing inflation and looming threats of a recession, price sensitivity among consumers is on the rise. We asked our respondents to provide their level of satisfaction with diverse attributes of their most recent live sporting event experience. As we found in last year's survey results, the price of tickets, parking, and food & beverage (F&B) offerings were among the lowest rated experience attributes. While we alone cannot upend the pricing dynamics of the live sports industry, design, programming, and strategy can be effectively used to help provide the perception of receiving a valuable experience for one's money, as well as creating innovative experience offerings at various price points.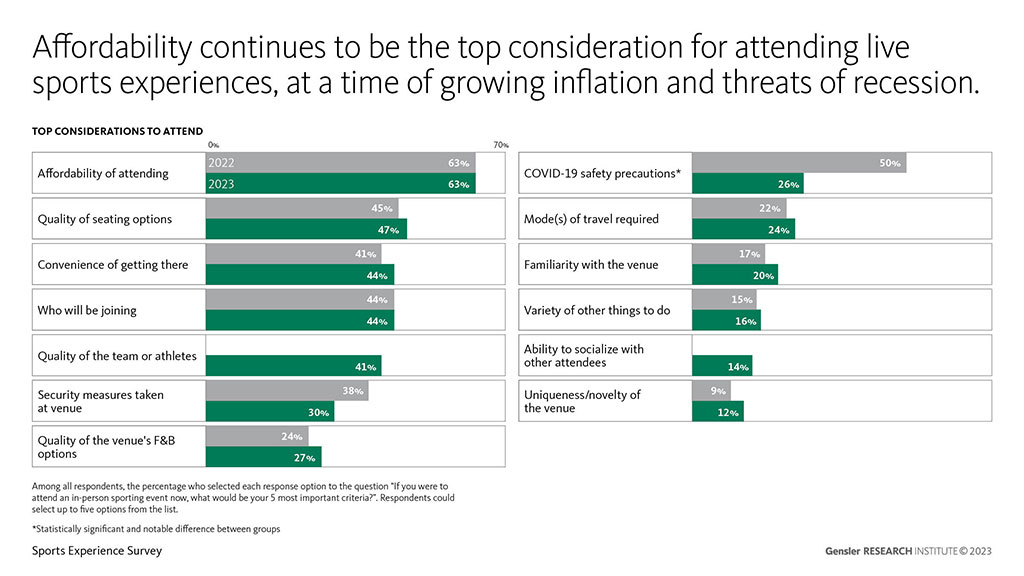 Dissatisfaction with prices is just one of the several components that can either make or break a live sports experience. In this year's survey, we provided respondents with the ability to input free-text responses to expand on elements to which they gave low ratings. A qualitative analysis of these rich, unstructured entries will be the topic of another upcoming installment of this blog series.
It's Time to Really Get Creative With Seating
Offering quality experiences at different tiers provides a potential salve for attendees' pricing woes. Our 2022 results indicated that there is interest among fans to have more choice in seating and F&B offerings. This year's data tells a similar story.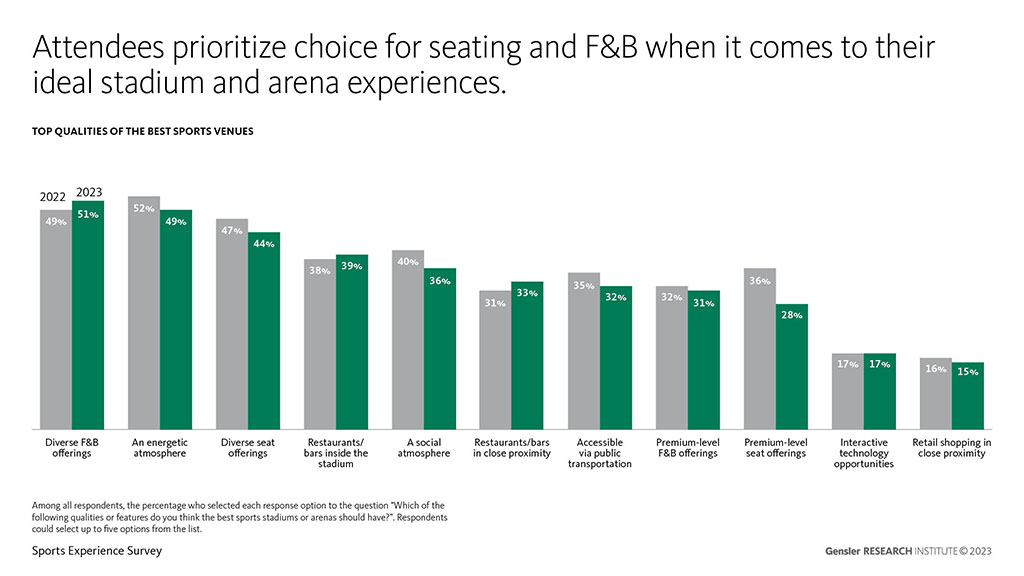 This pronounced interest among fans in greater choice in offerings inspired us to take a deeper look into seating scenarios, such as Standard Room Only and Premium-level seating, in this year's survey. We asked questions to gauge people's general appetites for non-traditional seating, as well as to identify their expectations for different offerings.
One type of non-traditional ticket we asked about that is of growing interest among sports venue developers and owners was Standing Room Only (SRO). An SRO ticket typically gives attendees access to all decks to stand and watch the game from inside the stadium or arena but does not give access to a physical seat or seat location. SRO ticketholders do typically have access to all concession areas, public concourses, and outdoor spaces around the venue, as well as any live music and public fan activities on game day.
Our results suggest that there is, in general, a notable amount of interest in SRO, with 7 in 10 respondents willing to pay for this type of ticketing scenario. While promising, our results suggest that there is a limit to people's willingness to tolerate not having an assigned seat, as 50% of respondents would not be willing to spend more than $50 to see their favorite team in this way.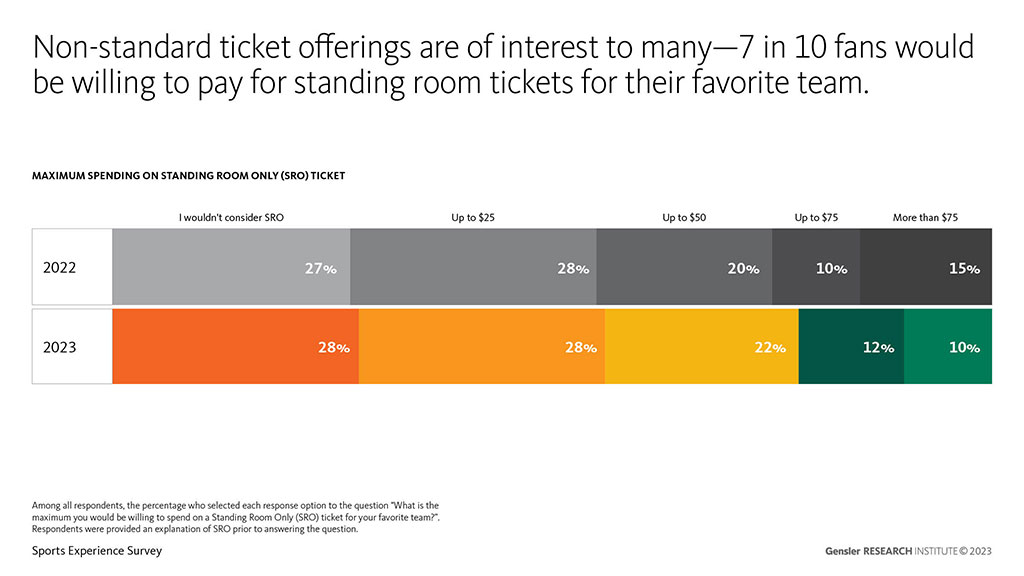 This year's survey also explored ideal attributes of a standard ticket at both the college- and professional levels, as well as prioritized benefits and features of premium seating and pricing tolerance to gain those benefits. These results, and ways in which they may vary among key attendee groups, will be discussed in an upcoming blog as part of this series.
Towards a More Fan-Centric Approach for Sports Venues
Many sports and entertainment venues were designed to reflect their cultural significance as iconic landmarks and symbols of the community. In recent years, sports and entertainment architecture has seen a shift towards designs that prioritize sustainability, accessibility, and versatility. Venues have incorporated energy-efficient technologies, while also being designed with multi-use spaces in mind to host a variety of events. A large focus has been on the building and operations. Our research is telling us that a more human-centered approach would be to the benefit of and is desired by attendees. In current and on-going design work, we have seen a shift in design focus to social engagement.
Our survey results indicate that the social elements of live sports events are still the biggest driver to attend. Therefore, we are designing immersive fan experiences, innovative seating arrangements, integrating smart(er) technology, and world-class food & beverage options in new and existing venues. Attendees continue to have positive experiences at stadiums and arenas, despite the recent pandemic. However, affordability is still the top concern for attending a live sporting event. Dissatisfaction with the cost of entry, parking, and food & beverage offerings is still a challenge, so we are designing different quality experiences at different price points to help mitigate this issue. There is growing interest among fans for greater choice in seating, including standing room only tickets. With a concentration on price stratification, our data-driven approach is leading us to design a more social experience for all fans.
In upcoming blog posts, we will explore the role of sports and entertainment architecture between diverse fan groups, unpack solutions to price mitigation for great live event experiences, and discuss the evolution of innovative seating typologies.
Methodology:
We deployed an online survey to an anonymous panel of 1,624 U.S.-based respondents. Responses were collected from January 18 to 24, 2023. Survey respondents were recruited by Qualtrics (a third-party research platform and services provider), and were diverse across demographic and geographic characteristics, such as age (18+), gender identity, race/ethnicity, household income and U.S. region.
Those who had attended a live, professional- or college-level sporting event since January 2022 (n=774) were asked additional questions about the details of their most recent event, as well as their evaluation of that experience. Respondents attended sporting events at over 225 unique venues, but not necessarily ones designed by Gensler. Respondents attended a wide variety of sporting events: indoor and outdoor, sport types, and both college- and professional-level. Recent attendees were well distributed across seating types, ticket price ranges, and represented both season ticket holders and single-game purchasers. All survey respondents, regardless of recent attendance, answered questions regarding their general level of sports fandom, considerations, and intentions to attend future sporting events, as well as their appetite for and opinions about different seating scenarios.
Survey responses for our 2022 Sports Experience Survey (wave 1) were collected via an almost identical methodology to the new 2023 survey. The total sample size in 2022 survey was 1,540 and responses were collected on November 10, 2021. Of that total, 611 respondents had attended a sporting event since March 2020 and were asked to reflect on that experience.
For media inquiries, email .