A Workplace Designed for Trust and Empowerment
February 15, 2022 | By Randy Howder
Two years into the biggest disruption to modern work, most companies are looking past their constantly shifting "return to office" plans and towards more permanent changes to how they will occupy space. The longer the pandemic has dragged on, the further many employees get from their pre-2020 routines. But rather than meeting employees where they are — at home in their slippers — or forcing a return to pre-pandemic in-office expectations, many top-performing companies are retooling their policies — and their workplaces — for a future based on trust and empowerment.
LinkedIn was one of the first major companies to realize the competitive advantage of leading with this people-first approach, with CEO Ryan Roslansky writing back in July 2021 that, "we trust each other to do our best work where it works best for us and our teams." He went on to say that "every individual and every team works differently, so we're moving away from a one-size-fits-all policy," and embracing manager-employee conversations about what works best for them and their teams. Similar to findings from Gensler's latest U.S. Workplace Survey, for approximately 87% of employees at LinkedIn, working some or most of their time in the office is still preferred — so Roslansky concluded that LinkedIn is still "continuing to invest in amazing workplaces for everyday work and for when teams come together."
How are such workplaces different than those of the past? Our work with LinkedIn is beginning to point the way. As the first new workplace designed to fully align with LinkedIn's future vision, its Omaha, Nebraska offices were designed as a fully dynamic work environment, with 200,000 square feet of non-assigned, team-based neighborhoods and a host of new space types meant to support entirely new ways of working.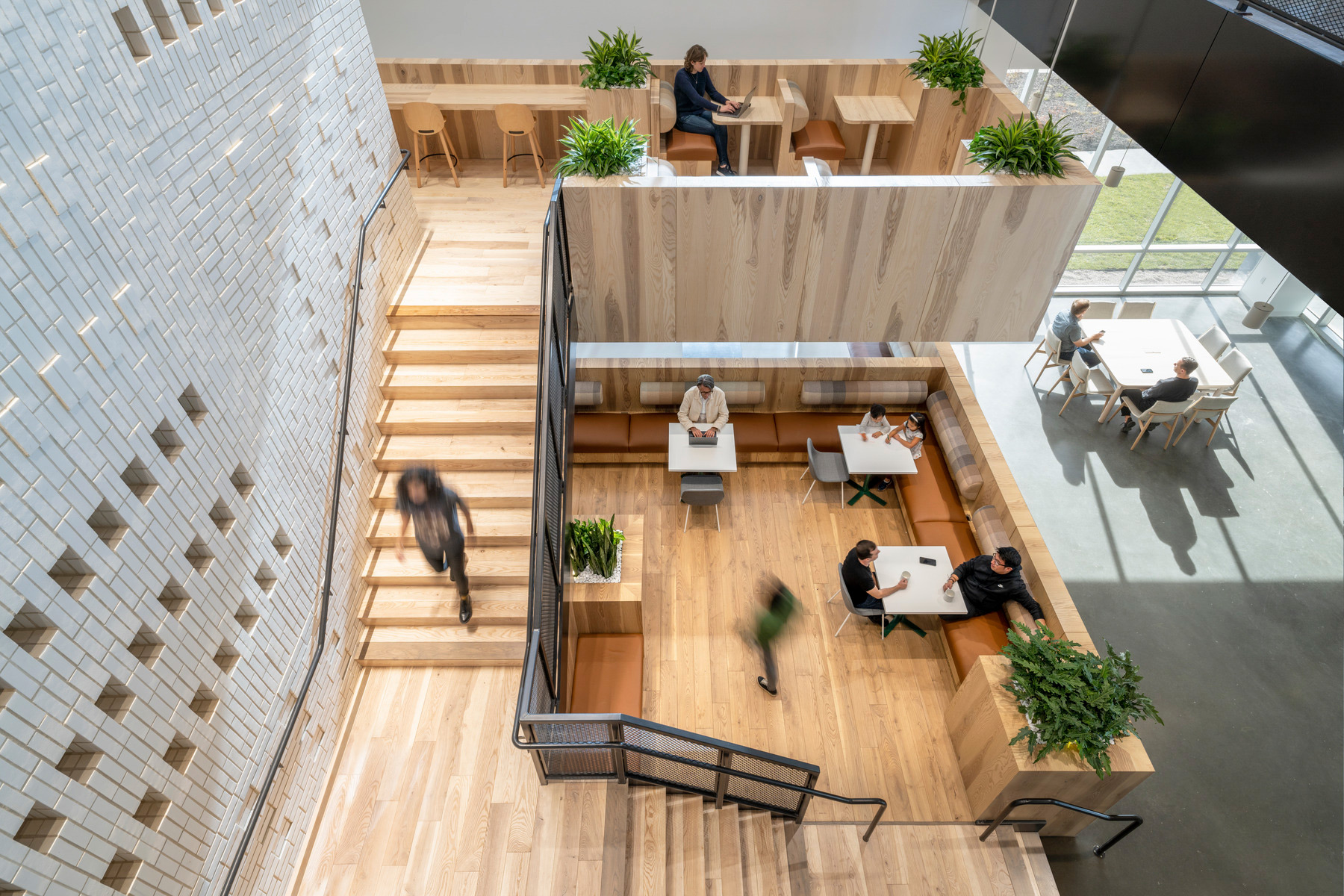 This new facility replaced a legacy office with typical assigned workstations and limited amenities. Rather than the old, one-size-fits-all seating strategy of the past, teams are assigned to neighborhoods within the building that contain a variety of work settings, from spaces that support individual focus and privacy to spaces that support small-group collaboration and brainstorming.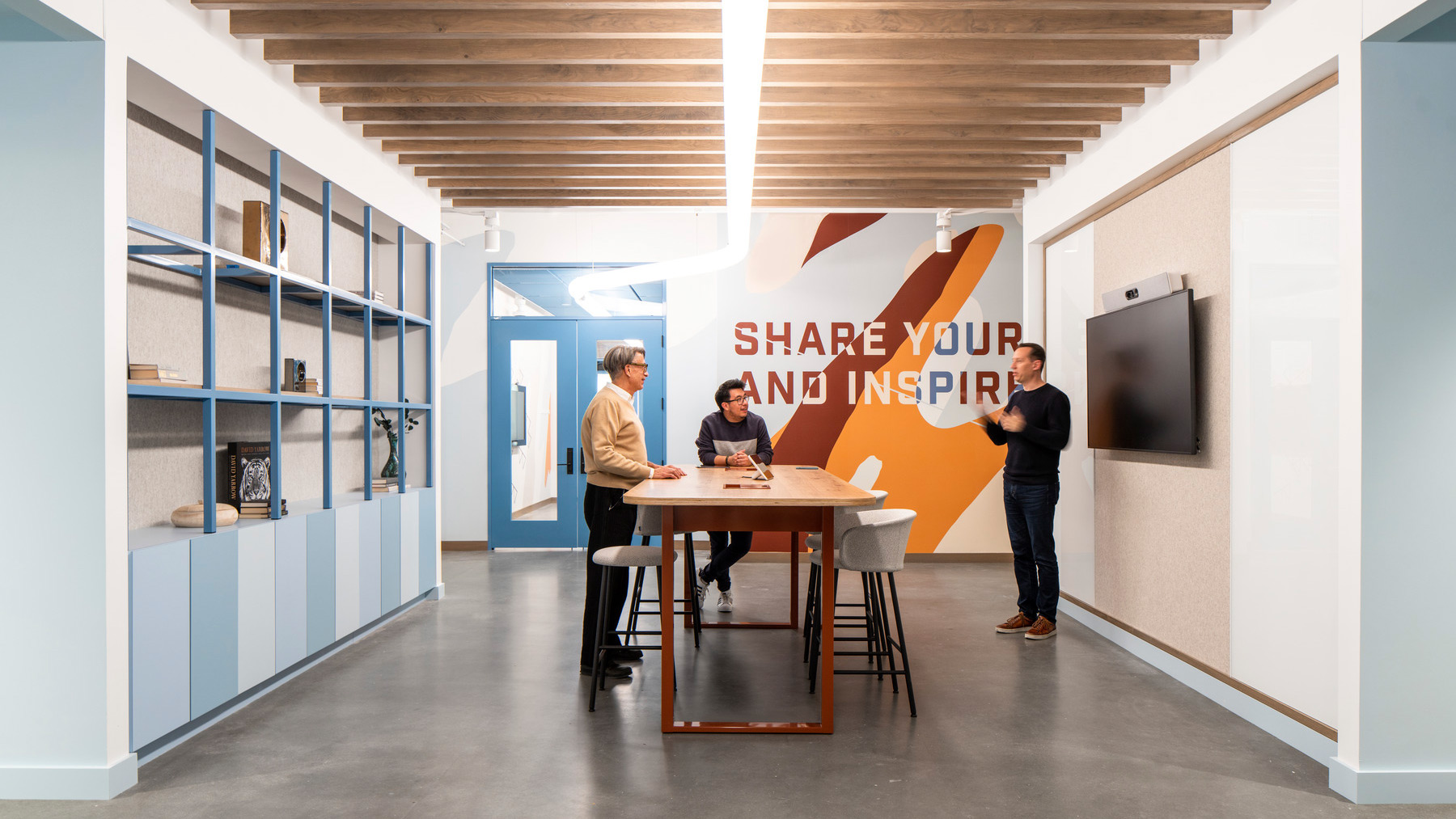 At the neighborhood intersections, and aligned with key entry points for seamless wayfinding, areas we call "railcars" provide individual and team storage elements, impromptu team space, enclosed meeting rooms, phone booths, and other shared resources. More importantly, these spaces serve as welcoming front doors to each neighborhood, providing an orientation point, a cultural heart for team tchotchkes, and a space for transitioning one's frame of mind.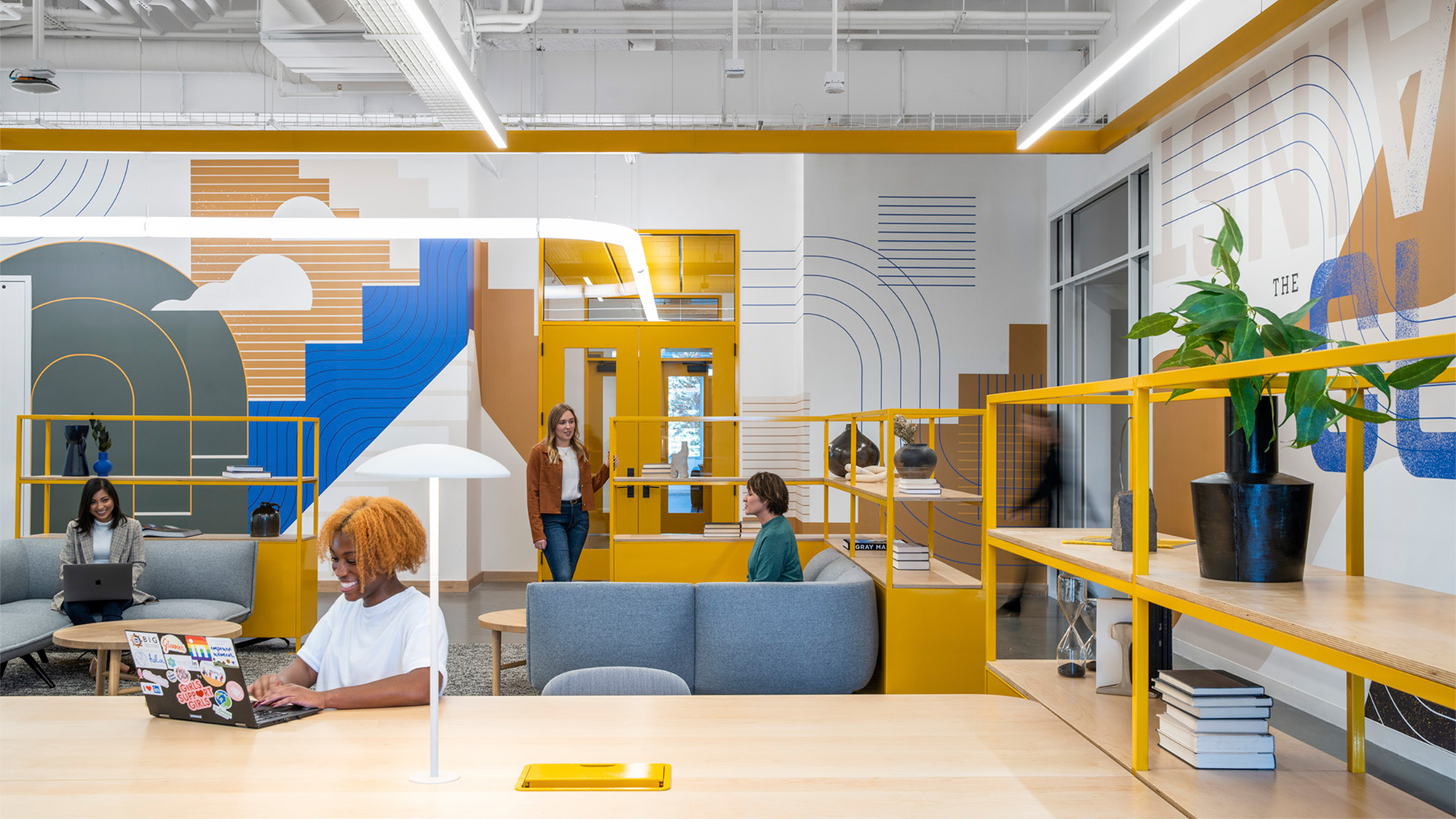 Outside of the neighborhoods, key resources are distributed throughout the building to encourage employee wellbeing with an emphasis on movement, neurodiversity, fresh air, access to light, and a host of supportive new space types. Respite Rooms are new, tech-free spaces with ambient light and sound that support creative, calm, or active ways to reset one's state of mind. New deep focus spaces provide distraction-free heads-down spaces. A golf simulator brings teams together for some friendly competition, while "InCommon," a community-focused events space connects employees with local non-profit groups.
And while the location features some pre-pandemic amenities like a fitness center and food service, both have been reimagined for people's current preferences. Much like the move away from a one-size-fits all approach, Omaha's food program is designed around a food hall, with multiple, easily changeable kiosks that allow employees to customize their experience, order from their phones, and dine in a variety of bespoke settings.
A barista bar, fitness center, and training facilities on the second level activate a vertical coworking space and encourage casual catchups between team members who might not see each other frequently. Intended to not only support the local employee base, this space also supports visiting colleagues and partners as a place to drop in and work without disrupting the team neighborhoods. Lastly, a "watering hole" concept on the bridge that connects the two buildings is purpose-built to provide another unique venue in which to work, grab a bite, or connect with colleagues.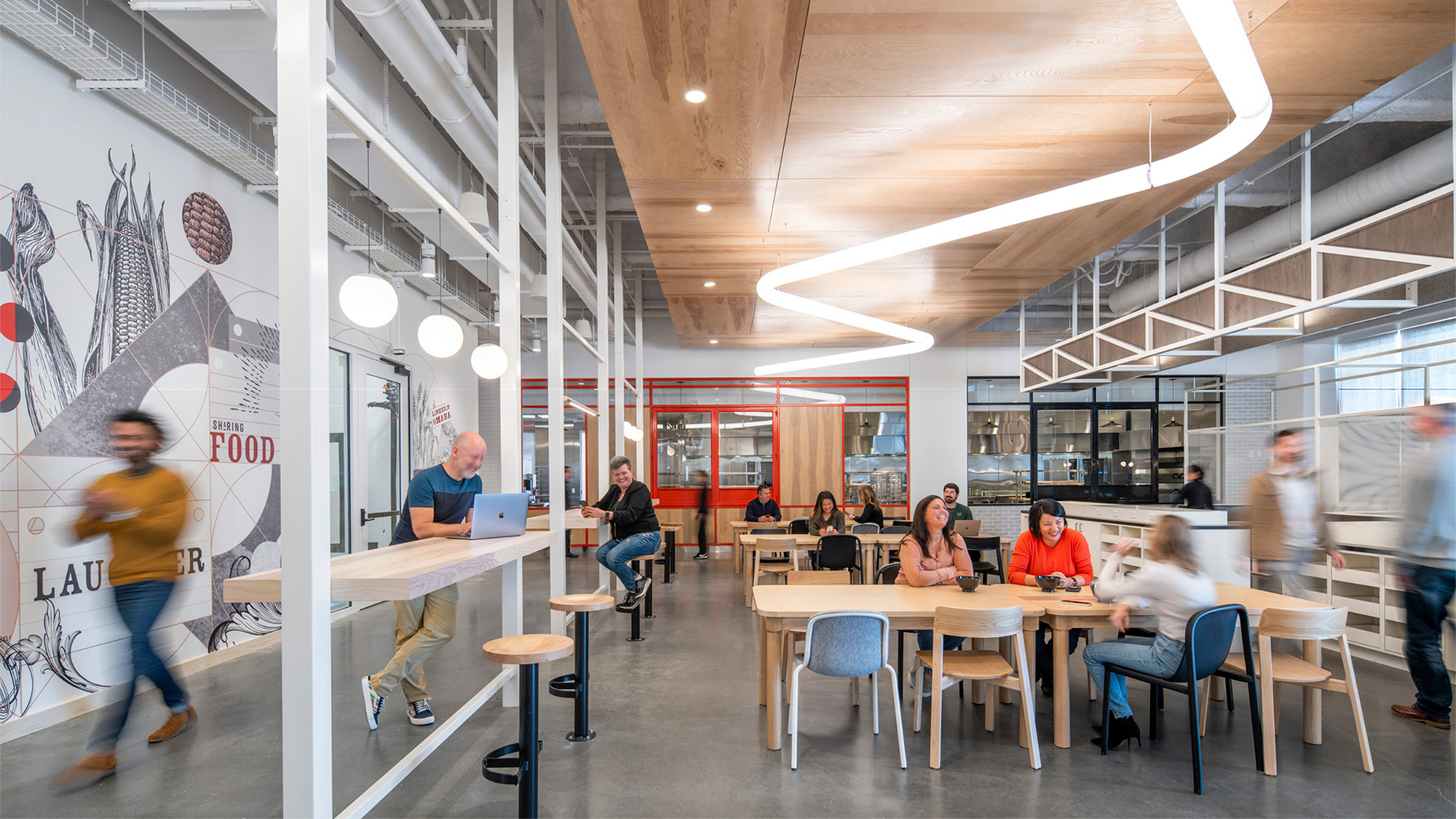 This experience-led, choice-filled, and nuanced workplace is the first holistic example of the future of work completed since the pandemic began, but the concepts it illustrates are starting to align with conversations we're having with other leading companies who are using the disruption of the past two years to make radical change in their workplace models.
These companies are realizing that, despite all these months of disruption, they can count on their people to deliver without setting rigid rules or on keeping tabs on their whereabouts. Designing space to support trust and empowerment creates workplaces where employees actually want to be.
For media inquiries, email .