Airports are experiential as well as functional. How well they deliver as places where pleasure lingers in passengers' memories is the new measure of success. So the push is on for new ways to make flying a delight.
BY MARTIN PEDERSEN
---
What do casinos and airports have in common? "Both are 'purpose-driven machines,'" says Gensler's William Hooper, a leader of its aviation practice. While far more aspirational than gambling emporiums, airports also have to meet the pragmatic demands of processing crowds of people every day. But this is just a baseline requirement. Airports' more ennobling task—creating functional, secure buildings that also enhance the passenger experience—is complicated by a huge cast of potential stakeholders and a daunting set of revenue-enhancing imperatives. Knitting these diverse elements into a coherent whole that provides pleasing spaces for travelers constitutes the essence of contemporary airport design.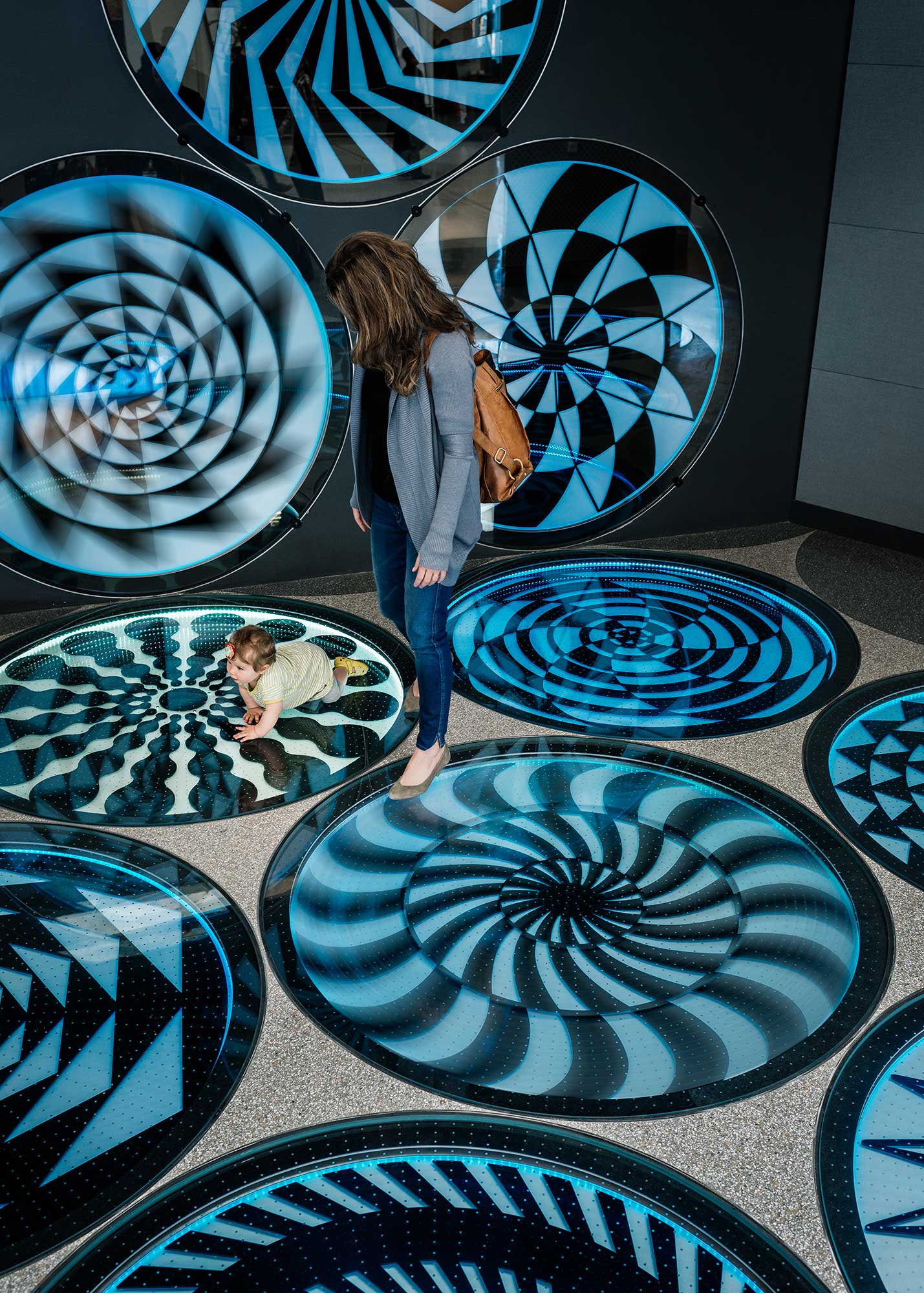 Divide and conquer
Airport projects come in two varieties: retrofits or replacements and ground-up airports. Terminals in many cities are in dismal shape, say Gensler's experts, yet building a brand-new airport is beyond the reach of many airport authorities. To meet their future needs, airports are taking a divide-and-conquer approach, focusing on incremental improvements that are financed and implemented over many years.
Because many airports don't have a lot of room for expansion available, packing in new operational necessities and ever-larger amenities becomes a jigsaw puzzle. "The real innovation in airports is in planning," says Gensler's Kap Malik. At LaGuardia, the firm proposed to gain space by adding height. "Security is a level above ticketing, with its own drop-off for passengers with no bags to check," says his colleague Ty Osbaugh. Manchester, a gateway airport in the UK, is another example. It has three separate terminals currently. Gensler has been tasked to rebuild it in place, says Pat Askew, transforming the airport by reconfiguring its departure areas and retail stores to create a consistent passenger experience. To grow revenues, Manchester is also planning an "Airport City"–type development that will reinforce it as a destination.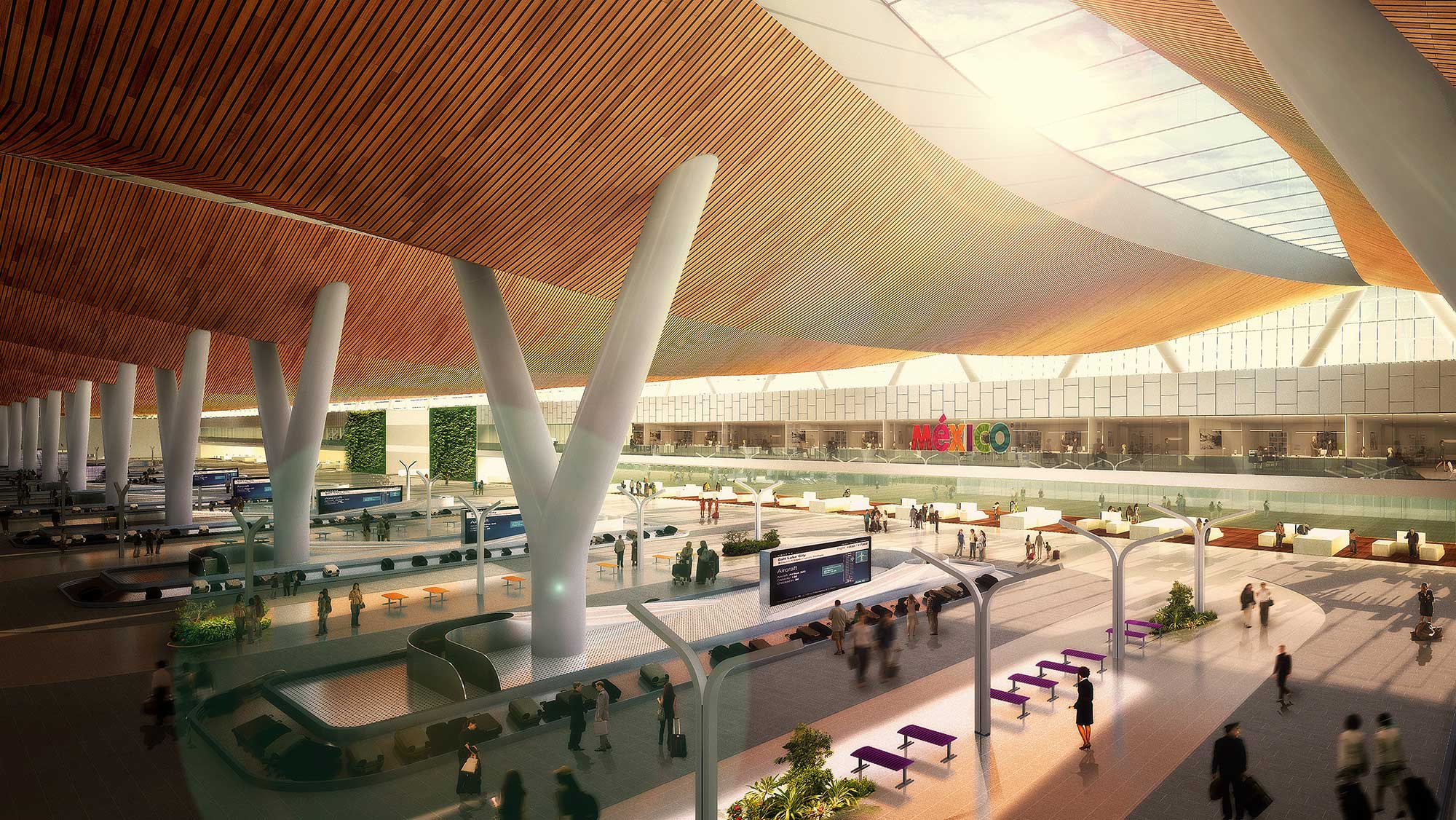 New rules of competition
Across the globe, these purpose-driven machines share an increasingly urgent social objective: to bring order, clarity, calm—even beauty—to the passenger experience. To do this, airports and airlines are breaking the people-processing mold. "They're competing on experience and brand," says Askew. "They have to woo new groups of passengers—like vacation travelers, families, or high-mileage business travelers—and keep existing customers coming back." It's happening in India, adds Kashyap Bhimjiani, citing Gensler's recent upgrading of Chennai's airport as a domestic and global gateway to the Madras region.
A spate of airline mergers is also having ripple effects on airport design. For example, the marriage of United Airlines and Continental has prompted a retooling of United's identity, brand, and passenger processing. As a result, Gensler is working with United's brand consultant at Newark Liberty International to overhaul the former Continental terminal to project the United brand.
The advent of more fuel-efficient, longer-range aircraft, such as the Boeing 787 and Airbus A350, is driving growth of point-to-point international flights. Gensler's recent expansion of JetBlue Terminal 5 at John F. Kennedy International Airport supports that airline's use of smaller planes on routes to the Caribbean and Latin America. Another project—adding gates at Austin-Bergstrom International Airport—anticipates its future growth in cross-border flights.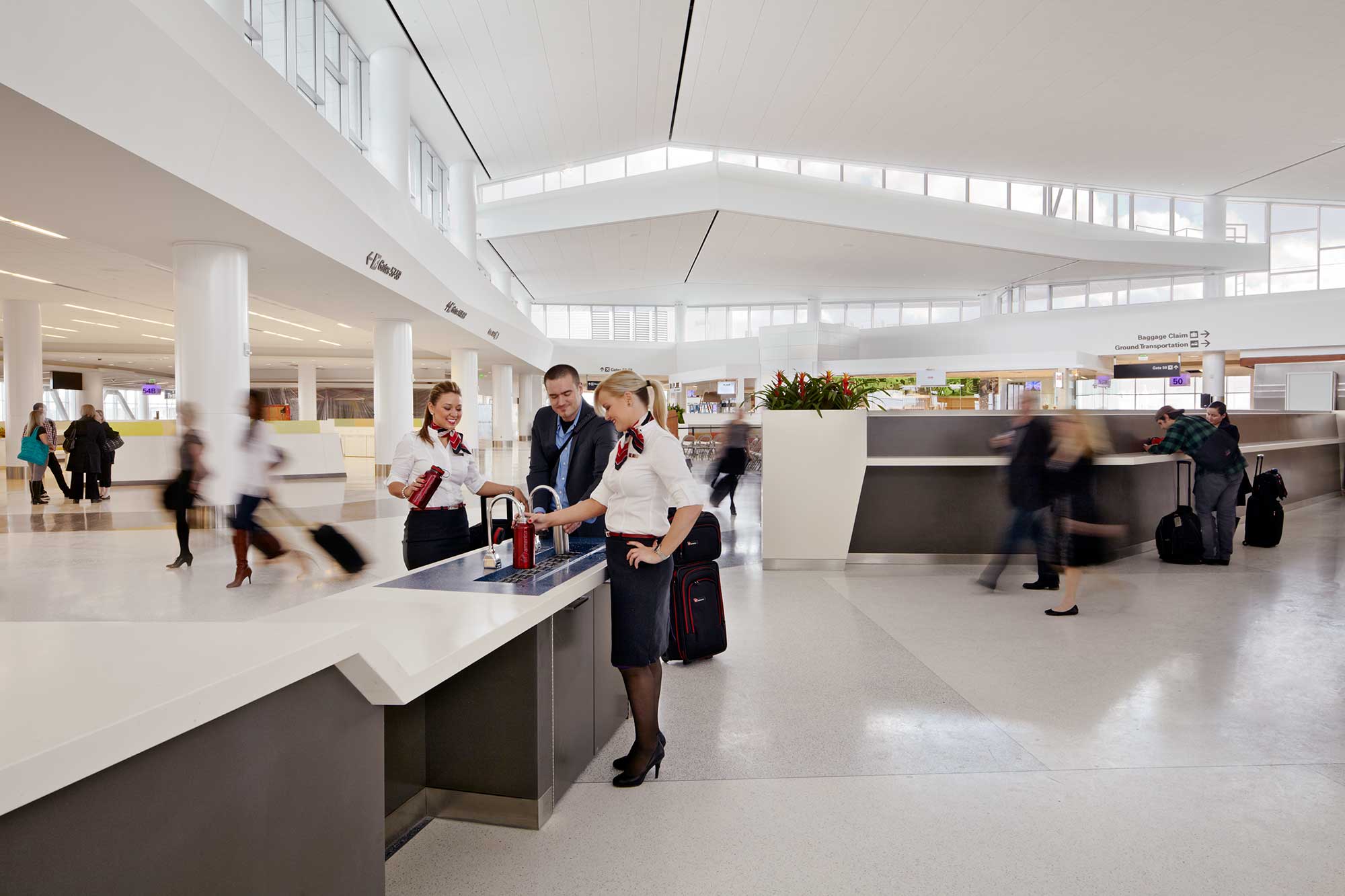 Hospitality matters
As airports upgrade their facilities, "these terminals are becoming less like bus stations and much more like hotel lobbies," says Gensler's Terence Young. "It's the idea of the first-class lounge experience being distributed throughout the airport."
Indeed, more and more airports are taking cues from the hospitality industry and looking for ways to put the customer first. Gensler developed this idea fully at San Francisco's Terminal 2, which reopened in 2011. It remains a seminal project, one that has informed airport design all over the world. At Terminal 2, ticketing took on a concierge feel; lounge furniture was introduced, proving popular with passengers; lighting and finishes were softened and varied; concourse sightlines were made clearer; and artist Janet Echelman created a stunning public artwork in a concourse drenched in natural light. All of this combined to create a warmer, less institutional vibe, a feeling achieved through the elegant sequencing of space.
"We call them journey moments," says architect Melissa Mizell. "At SFO, it was about the idea of intuitive flow. The terminal is laid out in such a way that you can stand at curbside and, if you look hard enough, actually see straight down a path to the airfield." That setup was existing, but Gensler cleared things out of the way to improve the experience. "It was always important that you have a sense of what comes next. If you are in security, you catch a glimpse of the recompose area and retail areas beyond. Seeing them keeps you moving."
SFO T2's other lasting contribution was the building's subtle connection to its host city—the design is based on the analogy of San Francisco as a series of distinct neighborhoods unified under a giant sky. Rooting terminals in their place is one of the most difficult challenges facing airport designers and owners. Airports must pass a taste test, Young says: If you blindfold someone, drop them into an airport, and then take off the blindfold, do they know where they are? Are they in Dubai? Los Angeles? Or in some shopping mall? "To me, that's the litmus test," he says. "You need to design the airport so it feels like a real place, reflecting its community without becoming a theme park."
Gensler has employed a number of site- and location-specific strategies to accomplish this goal. At Chennai International Airport, for example, the design team inserted an expansive landscaped garden between the ticketing hall and the passenger concourse. The lush garden does double duty, as both a placemaking device and a means of stormwater retention. "And because it's filled with native plants, it's visually connected to its location," says Bhimjiani.
In Wyoming, at the Jackson Hole Airport, the design is inspired directly by its unique, almost otherworldly location inside a stunning national park. "Everything is very much hand-crafted," says Gensler's Brent Mather. "The structure and exposed ceilings are all wood. There's a lot of casual furniture, as opposed to sterile, pack-in-the-people airport furniture. We also added a fire-place to give people the feeling that the airport is an extension of the lodge where they were just staying."

Celebrating arrival
Despite all of the changes in aviation, the basic layout of terminals hasn't changed much since the glory days of air travel. While passengers depart from a grand-scaled ticketing hall upstairs, they arrive at their destination only to wait for their luggage in a dreary space that invariably feels like a basement. This setup, however, is something of a relic, and it's coming under assault from that small but powerful disruptor: the smartphone. Much of what passengers once did in those large ticketing halls can now be more efficiently accomplished on handheld mobile devices. And as the demographics continue to shift toward the digital, this behavior is likely to become even more common.
A recent Gensler proposal for Mexico City's new international airport openly challenged the old stacking paradigm. As Keith Thompson explains, "Departure is important and drives a lot of revenue, but we think that arrival has been over-looked as an essential component of the passenger experience." Instead of a conventional ticket counter at the top, with baggage claim at the bottom, the design flips it. Passengers can walk from plane to baggage claim on the same level. "The baggage claim is an open space upstairs, with outdoor views," Thompson adds. The stacking paradigm also results in a more compact overall development, potentially reducing cost.
In Incheon, Terminal 2 is under way to support South Korea's 2018 Winter Olympics. Gensler's international terminal at Chennai is also up and running, a key project in India's national effort to bring its airports to a global standard. Both speak to aviation's importance to countries as a competitive advantage.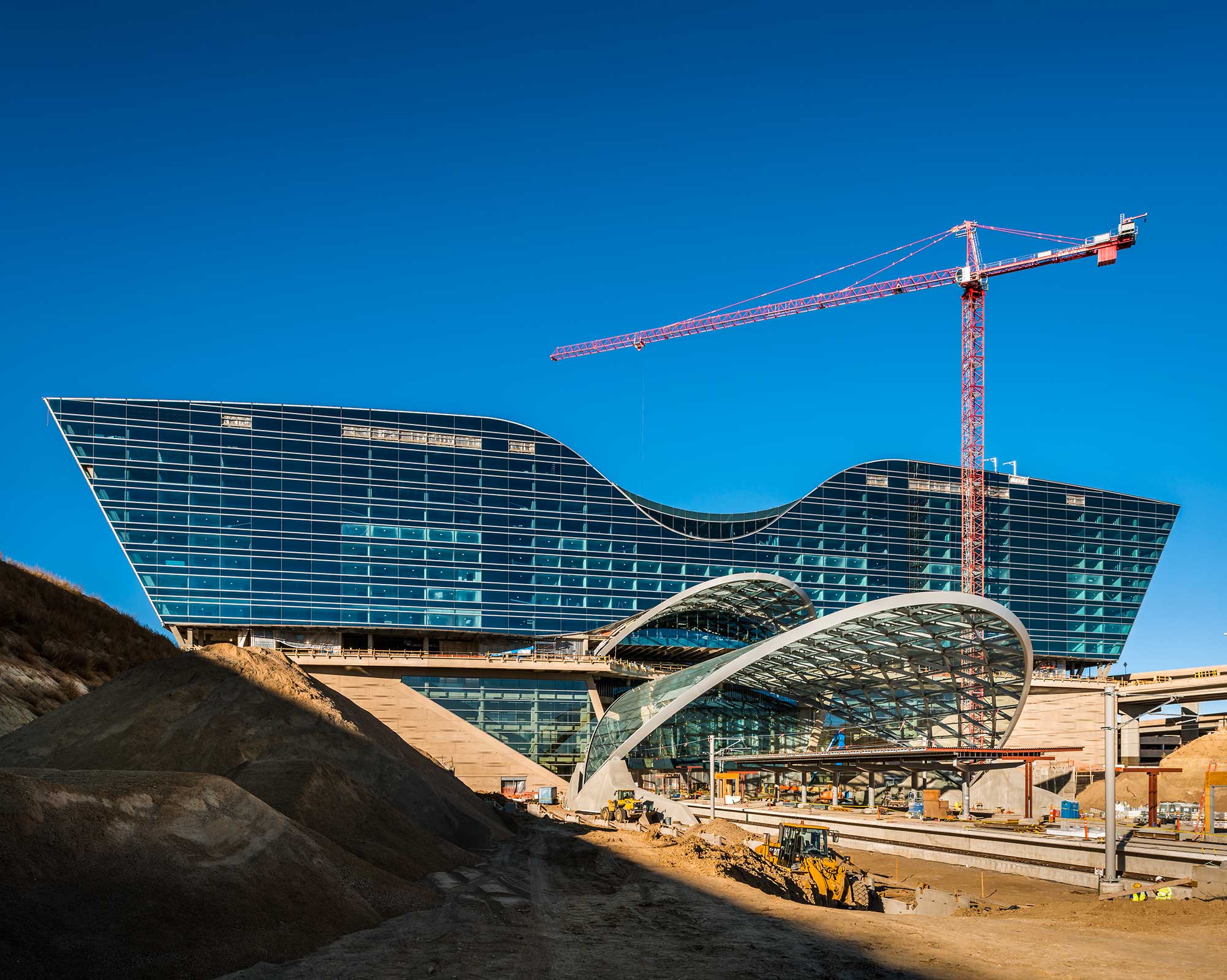 In Denver, leveraging a new 22.8-mile rail link with the city's downtown, the airport is being recast as a regional destination—a place people will want to visit even when they're not traveling.
The reinvention of Denver International Airport—which will soon boast a new transit hub, hotel, and conference center—reflects a global trend: that existing airports feel a strong impetus to change. With the aviation industry evolving quickly, airports are renovating or replacing out-of-date facilities to meet new business, community, and operational demands. While airports are still purpose driven, they are focused on the travelers they serve. "The art and science of airports is all about the quality of the passenger experience," Gensler's William Hooper sums up.
---
Martin Pedersen writes from New Orleans for the New York Times and Metropolis among other publications.