The ability to focus is hardest hit; the most important solution is privacy.
By comparing data for workers in unassigned seating versus in assigned seating, and data for workers in top performing workplaces overall, we uncover specific areas where unassigned seating underperforms. This data suggests fundamental challenges associated with taking away someone's desk, as well as areas for improvement to make unassigned seating work.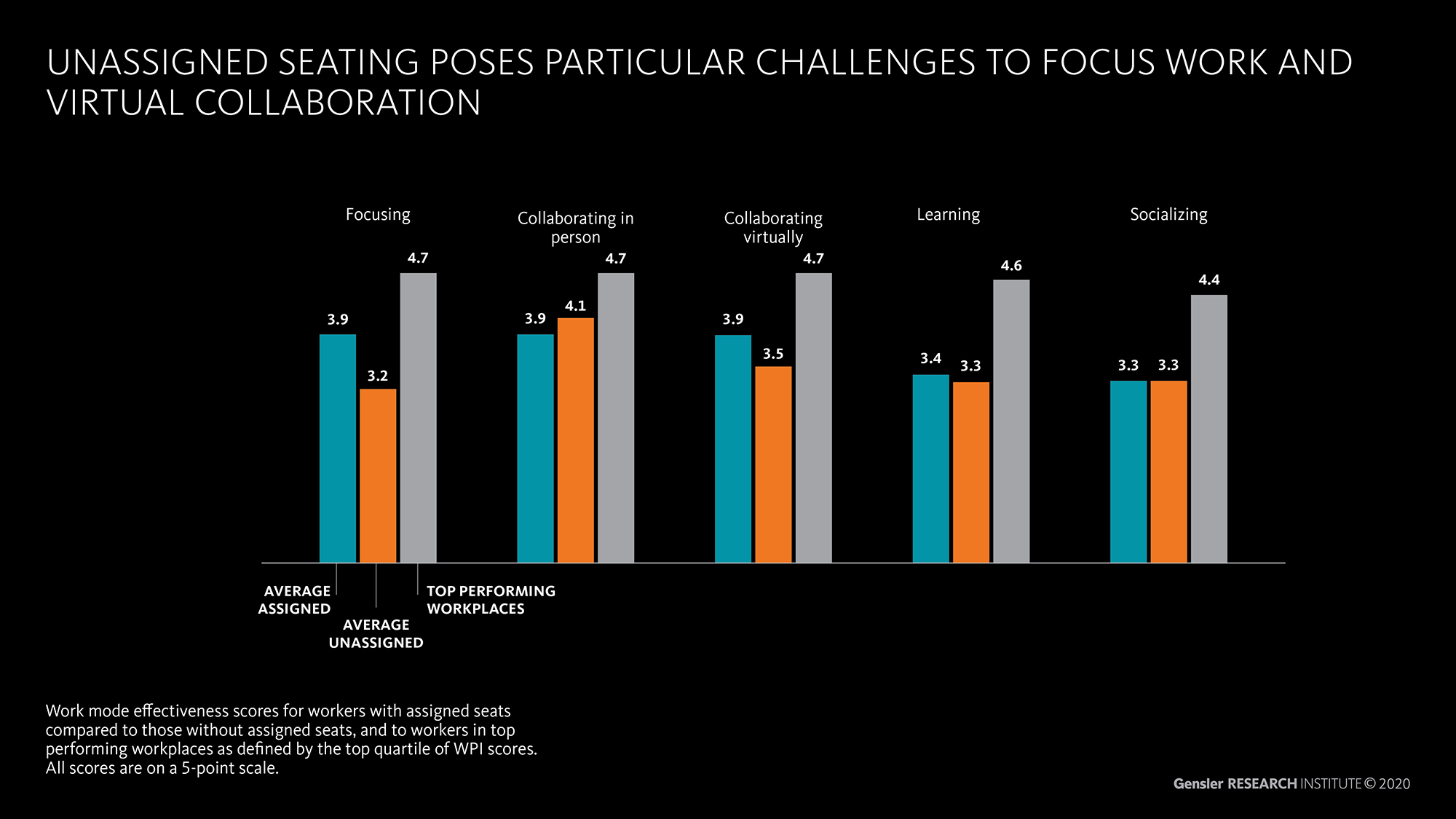 THE AVERAGE UNASSIGNED SEATING WORKPLACE UNDERPERFORMS
Effectiveness scores for workplaces in the top quartile of performance scores set the benchmark for where average workplaces can improve. Research found average workplaces with assigned seating score closer to the benchmark set by top-performing workplaces than do those with unassigned seating. Within unassigned seating scenarios, a focus on in-person collaboration is the only work mode that outperforms assigned seating — indicating that workplaces without assigned workstations may prioritize collaborative work over other types of work.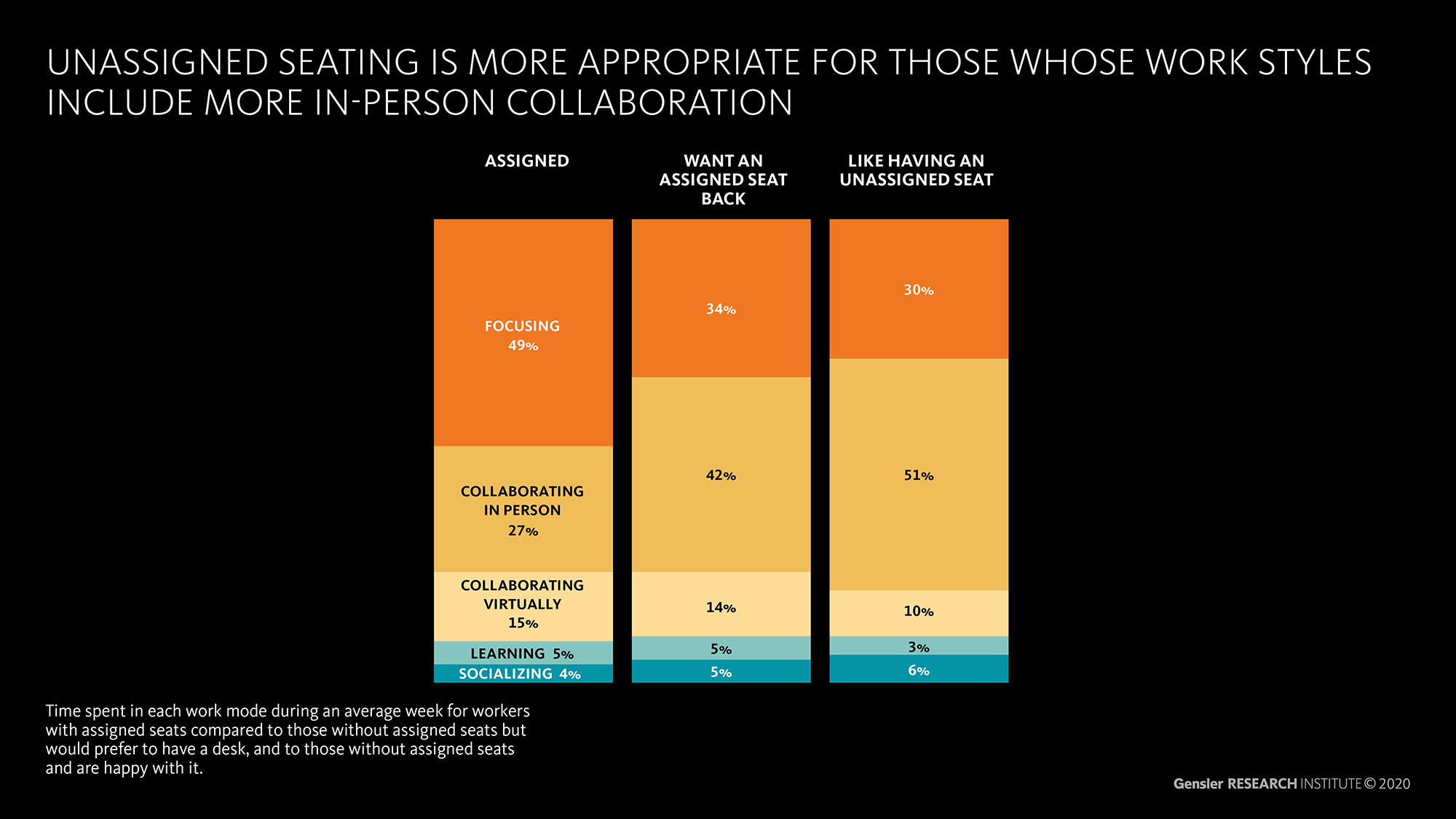 WORKERS IN MORE SENIOR POSITIONS HAVE HIGHER RECEPTIVITY TO UNASSIGNED SEATING
However, perceptions around unassigned seating are not universal. By role, those in more senior positions are more likely than others to express positive impressions of unassigned seating, although at this time, they are not more likely to be in unassigned seating themselves. Across industries studied, technology workers appear most receptive — though on average, only one in four regard the strategy in a positive light.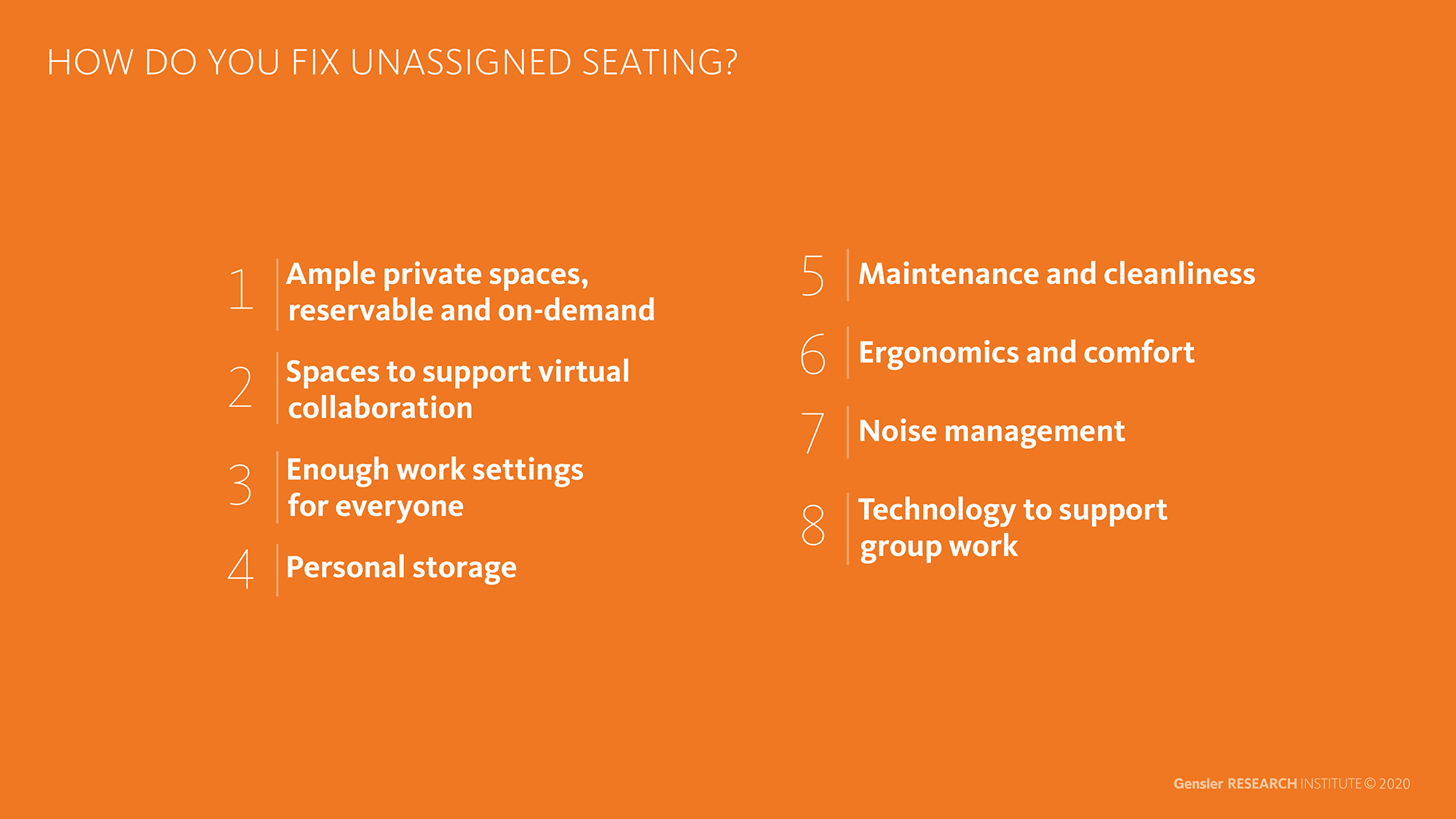 FOCUS ON THE MOST IMPORTANT DESIGN FACTORS FOR UNASSIGNED SEATING
Providing the right suite of alternative work spaces or amenities can make a big difference in addressing struggles associated with unassigned seating, such as finding private places to work and take phone calls. Those in unassigned seating also struggle with the basic issues that come with losing a desk — storage, cleanliness, comfortable seating, and overall noise.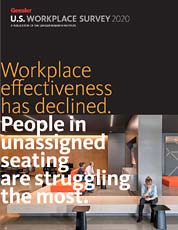 U.S. WORKPLACE
SURVEY 2020
GENSLER RESEARCH INSTITUTE
The Gensler U.S. Workplace Survey 2020 represents the input from more than 5,000 U.S. office workers across a variety of industries and demographics. The data provides new insight into what makes an effective workplace, and how workplace design and strategy can respond to new forms of mobility that are impacting the workplace today.