How Biophilia, Biomimicry, and Bioclimatic Strategies Will Transform the Future of Design
April 25, 2023 | By Maria Perez
As we approach 2030 and our Gensler Cities Climate Challenge (GC3) goals, it's important to turn our attention to how we are designing with and for nature. Each day, we are working to reduce our carbon footprint and use design as a positive force for change. By incorporating biophilic, bioclimatic, and biomimicry design strategies, we can raise the bar for what acting sustainably means. We can transform our work from sustainable to regenerative design by moving beyond reduction goals to science-based targets and actions that are generous to our ecosystems, employees, and communities.
Biophilia: Creating Joy Through Design
The theory of biophilia says that, because we have spent most of our evolutionary history in nature, we have an innate love of nature and natural settings. We are linked to nature — both physically and emotionally. We aren't just in nature, we are nature.
Biophilic design provides us with the foundation to positively affect both human and ecological well-being and respond sensitively to the unique ecology of place, culture, history and beauty — creating places of joy, inspiration, and interconnection.
Biophilia is on display at Fifth + Tillery in Austin. The 180,000-square-foot office building features a courtyard resembling the native ravine microhabitats of Central Texas and includes an onsite reclaimed water system. This system captures roof runoff, directing it to the rain garden and water feature that run through the campus. A canopy of solar panels provides shade over the entry plaza and rooftop terrace. Large cisterns near the entry reference the industrial heritage of the site.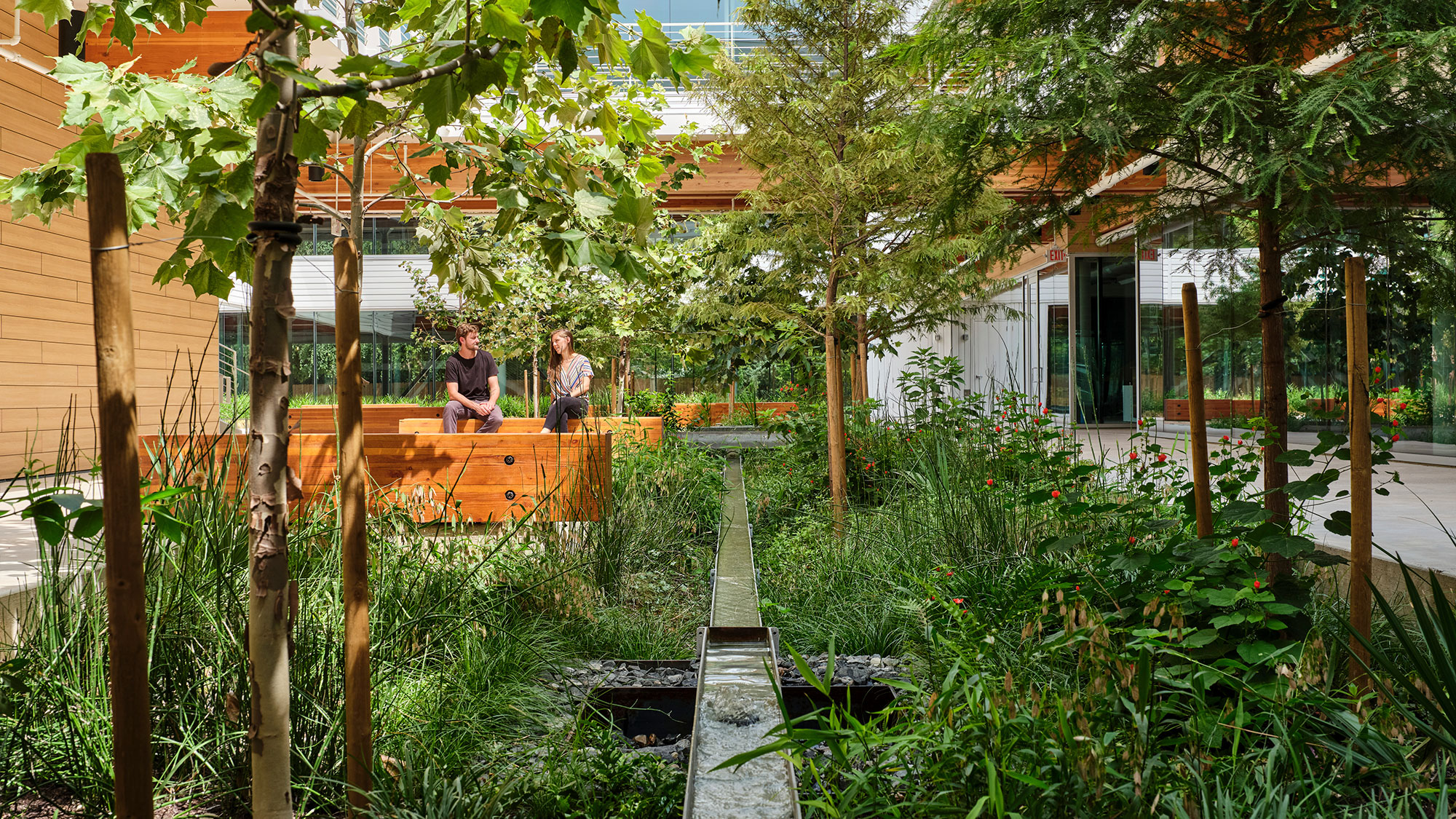 Bioclimatic: Imitating Nature for Performance
Bioclimatic design focuses on the performance and optimization of passive strategies before considering active strategies, such as solar panels.
While working on a confidential project, the Gensler team studied the project's psychrometric chart, which helped identify a variety of resilience opportunities. This information was then leveraged for resilience simulations throughout early concept design. Looking at solar, daylight, and wind conditions in parallel allowed the team to evaluate and optimize orientation and massing on-site, in addition to the building's performance throughout the year with respect to energy use and human comfort.
This design strategy also focuses on mitigating the risks related to weather and climate disasters, which require the anticipation and preparation for extreme weather–related events as opposed to a reaction. In general, rising water may be the biggest existential challenge to the industry worldwide, but it's not the only one. Extreme heat is also a challenge with temperatures above 100 degrees.
Our future depends on green buildings to reverse climate change. There are many opportunities to "green" both old and new buildings, especially with new advances in technology and optimizations in design, construction, and operations.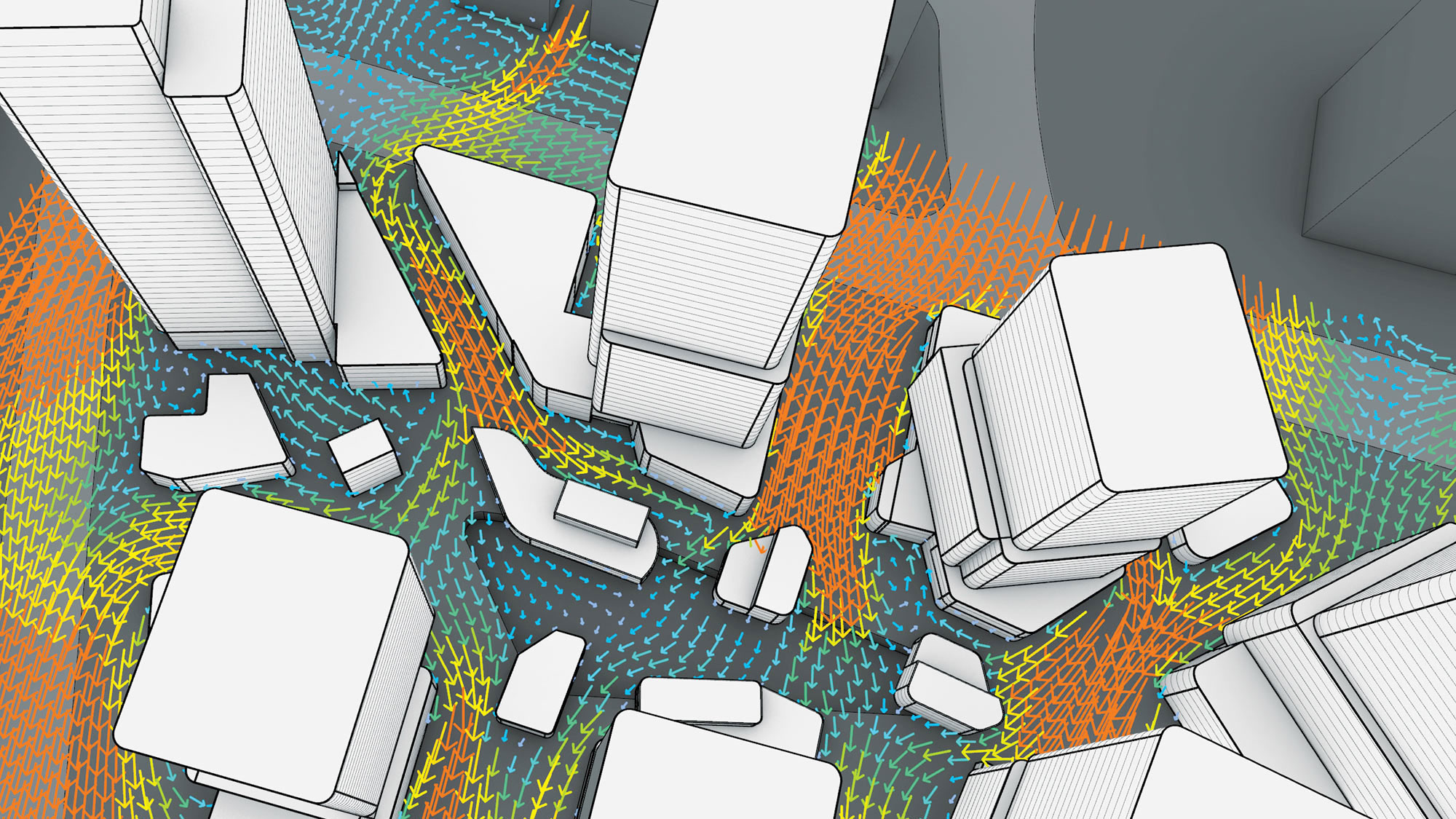 Biomimicry: Using Nature as Inspiration
Biomimicry is innovation inspired by nature. It is unique among nature-inspired approaches to design in that it emulates functional strategies from the natural world developed throughout 3.8 billion years of evolution. Using nature as a model produces smart design and sustainable innovation that creates conditions that are conducive to life.
For climate change to be reversed and to protect the biodiversity of the planet, we all have a role to play in reducing, sequestering, and drawing down carbon from the atmosphere. Biomimicry can be a rich source of innovative ideas for meeting this difficult challenge. Whatever your opportunity to affect climate change may be, don't forget to ask, "How would nature do that?"
One project that answers this question is The Tower at PNC Plaza in Pittsburgh. On hot and cold days, the building façade remains closed; however, on "net zero" days, large air gates on the exterior open automatically, allowing the building to "breathe." (Net zero days occur when the HVAC system is shut off and the windows are opened, making the building passive because the fresh air that is coming into the space is meeting the needs of the project.) To protect the building and its occupants from the sun, the design features a shield on the west, and the double skinned façade allows for natural ventilation. The shape of the tower is also designed to optimize solar collection and draw warm air out.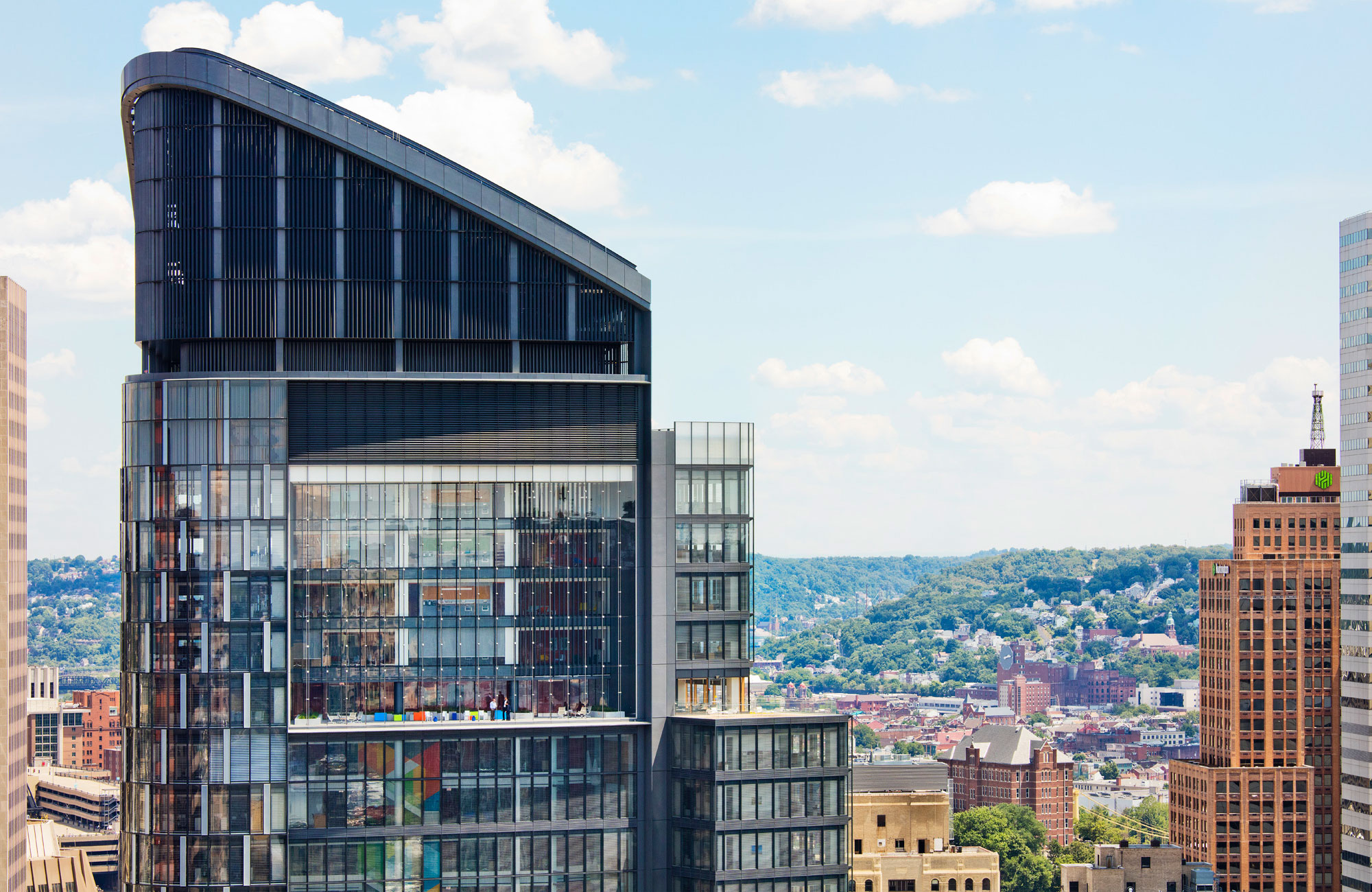 Designers can achieve sustainability through radical thinking and radical innovation; incremental innovation alone will never get us there. The concepts of biophilia, biomimicry, and bioclimatic design create curiosity, creativity, openness, trust, and emergent thinking — all at once. Designers can realign their human nature with nature to solve the world's problems.
Looking to the Future
The biggest innovations of the 21st century will meet at the intersection of biology and technology. People can live in harmony with our beautiful planet's diverse natural systems, as well as with each other. Around the world, our community of architects, engineers, manufacturers, builders, business leaders, and other stakeholders are creating regenerative buildings and products to restore the health of our planet. Together, we must rehabilitate and protect wildlife, conserve greenfield zones, and restore the natural habitat through biophilia, bioclimatic, and biomimicry design strategies.
We need to take our clients on a design journey with nature as our focus. This enables more realistic and productive explorations — and ultimately solutions — in pursuit of a more sustainable and resilient future.
To learn more about these mega trends, please view Maria's recent presentation at Skanska's Collective Impact: Houston event.
For media inquiries, email .