Immersive Experiences: A Movement Beyond Fad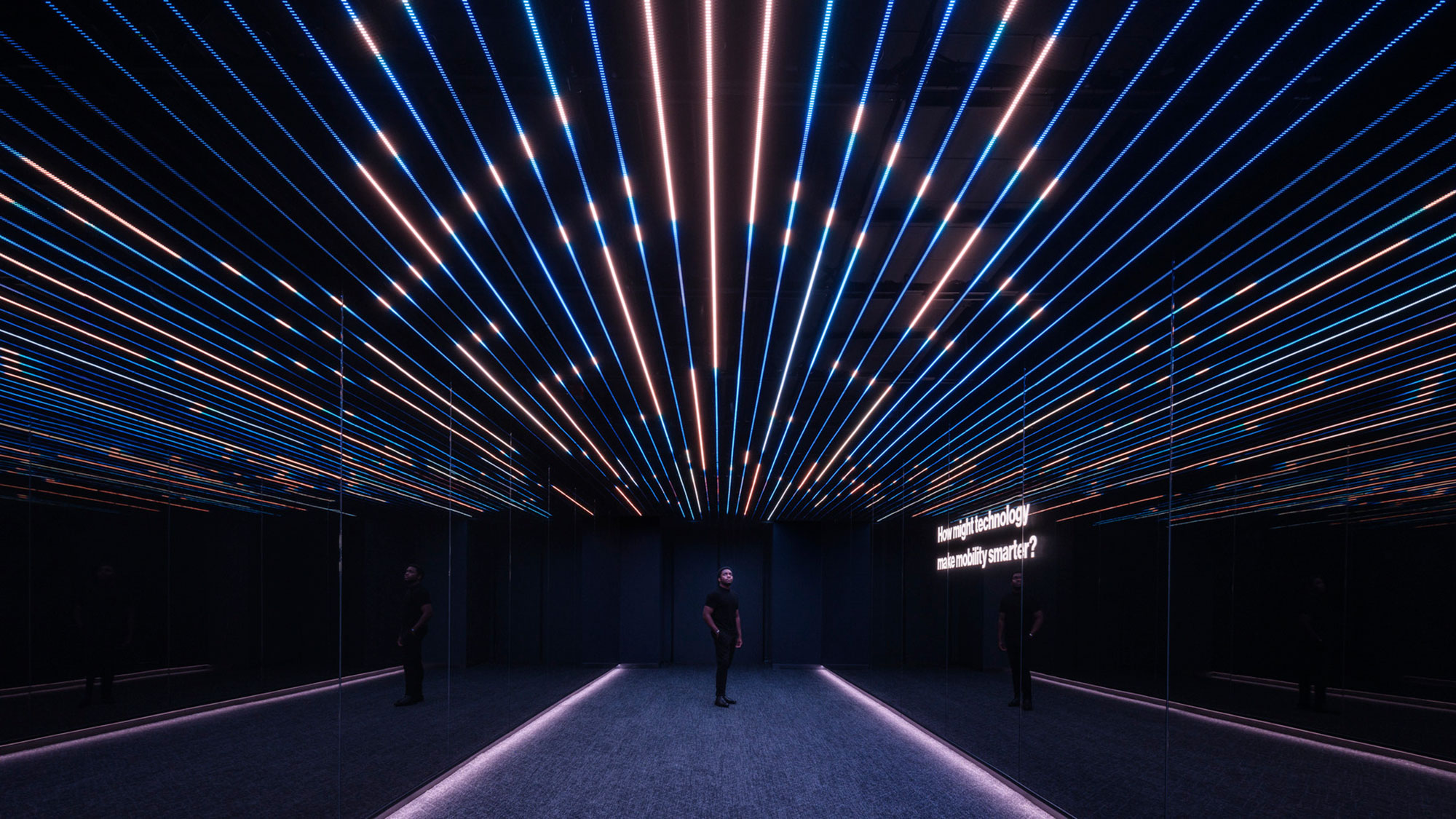 In the rapidly evolving technology landscape in the built environment, immersive digital experiences are not a fleeting fad; they have become an expectation. Today, the convergence of technology, creative storytelling, architecture, and human interaction provides a multisensory user journey, forging deeper connections between people and impact for brands. Immersive experiences are the new standard in how we engage audiences, and they will continue to shape our world and our interactions with it.
What is an immersive experience, exactly?
Immersive experiences are born from a fusion of strategy, architecture, interiors, brand, and digital. They weave together physical space, technology, branding, light, sound, and content to craft captivating and multisensory encounters and tell compelling stories. The architectural design forms the physical framework for an immersive experience, setting the stage for user interaction while branded elements infuse the space with a distinct identity and purpose. Light and sound become meticulously orchestrated to manipulate ambiance, mood, and focus, drawing participants deeper into the narrative. Immersive experiences blur the lines between the physical and digital realms, allowing users to interact, explore, and draw an emotional connection. Combining these components forms an immersive fusion that can transport individuals to different worlds, evoke genuine emotions, and create memorable and impactful encounters. Read more about how our senses evoke joy and emotion in this blog.
As part of the recently completed AT&T Discovery District at their global headquarters in Dallas, we designed a large-scale globe-like sculpture that's a physical manifestation of the AT&T logo, which sits atop a hydraulic turntable, fully integrated with programmable LED lighting, speakers, and motion sensors that creates a playful space for visitors to interact with architecture and technology in a way they've never experienced before. Visitors' presence, proximity, and movement unlock real-time reactions from the technology that fuel imagination, creativity, and visually interesting, shareable moments on social media. By creating this experience, AT&T has provided a way for visitors to engage and interact with the brand in a completely different way — there are no ads, sales pitches, or corporate messaging, just art and fun. The reality is, while visitors may not realize it in the moment, the Globe provides a way for them to connect with each other — the core principle behind the AT&T brand — and leave with shareable memories.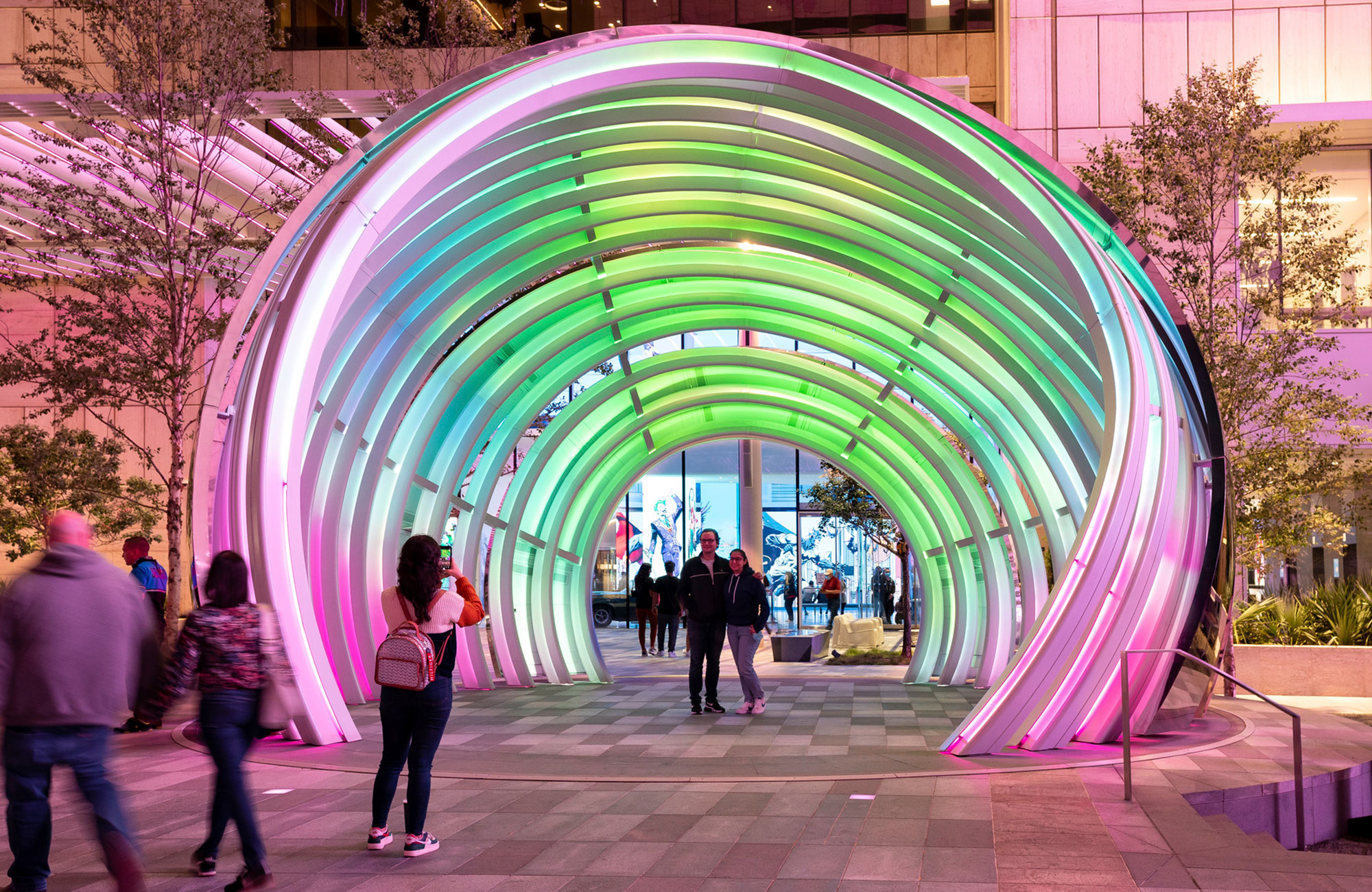 From interactive installations like these in public plazas to marketing and innovation centers, immersive experiences have proven their value in engaging audiences, building community, increasing brand loyalty, and driving revenue. As the public's expectations evolve and technology advances, immersive experiences will become more integral to how we design physical spaces. Bob Weis, former President of Walt Disney Imagineering and co-leader of Gensler's Entertainment practice, provides more examples of how we can connect people, technology, and stories in this Q&A.
Why are immersive experiences so powerful?
Immersive experiences leverage the power of multiple senses, creating a richer and more impactful engagement. Rather than relying solely on visual or auditory stimuli, immersive experiences tap into touch, smell, and even movement, making the audience feel like they are an integral part of the story.
Whether it's the awe of feeling physically present in a digital yet hyper realistic world, the thrill of a roller-coaster-like VR simulation, or the empathy generated by technology-powered storytelling in a museum, these experiences enable emotionally charged connections between companies/brands and their target audience on a visceral and personal level. They foster a deeper bond between the physical and digital that is both memorable and shareable.
Incorporating immersive experiences in situations where the desire is for users to ingest and process information has proven to be effective in enhancing learning and retention. Involving users in a multisensory environment enables them to grasp complex concepts more easily. Content resonates, turning passive learners into active participants.
For example, Gensler worked with the American Kennel Club to design a space that celebrates the role of dogs in society and educates visitors about the human-canine bond through a collection of art and immersive exhibits. Gensler's design responded to the realities of a competitive museum and entertainment landscape, using technology in new and creative ways to connect people to relevant information, creating an emotional connection to their favorite breed or even a visitor's former pet. We designed custom software that evaluates a visitor's photo to algorithmically compare and assign them to a dog breed, using a large display to illustrate the similarities between them. Whether you are 9 or 90 years old, it is nearly impossible to interact with that part of the exhibit and not walk away with a huge smile and a selfie of your matched breed.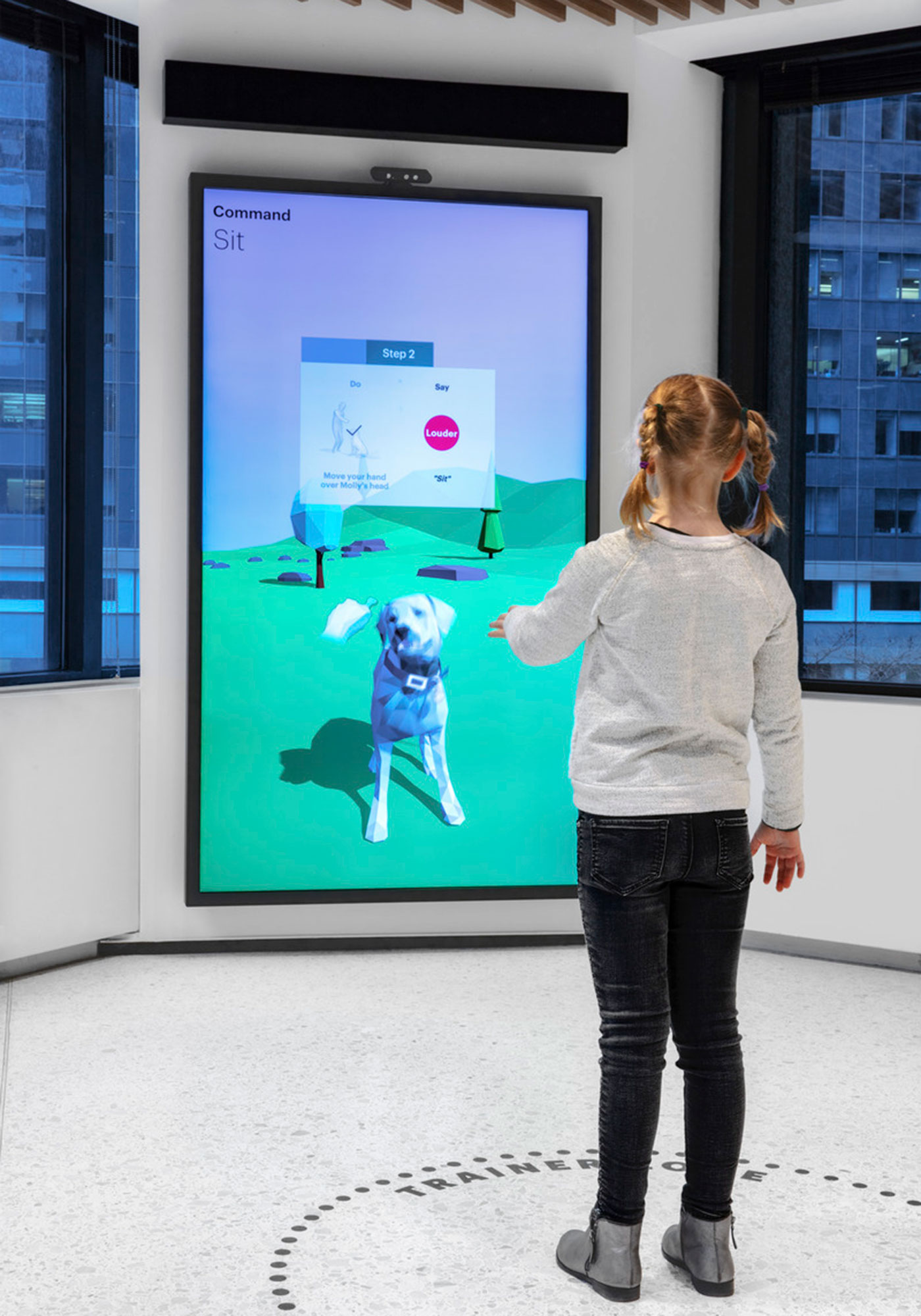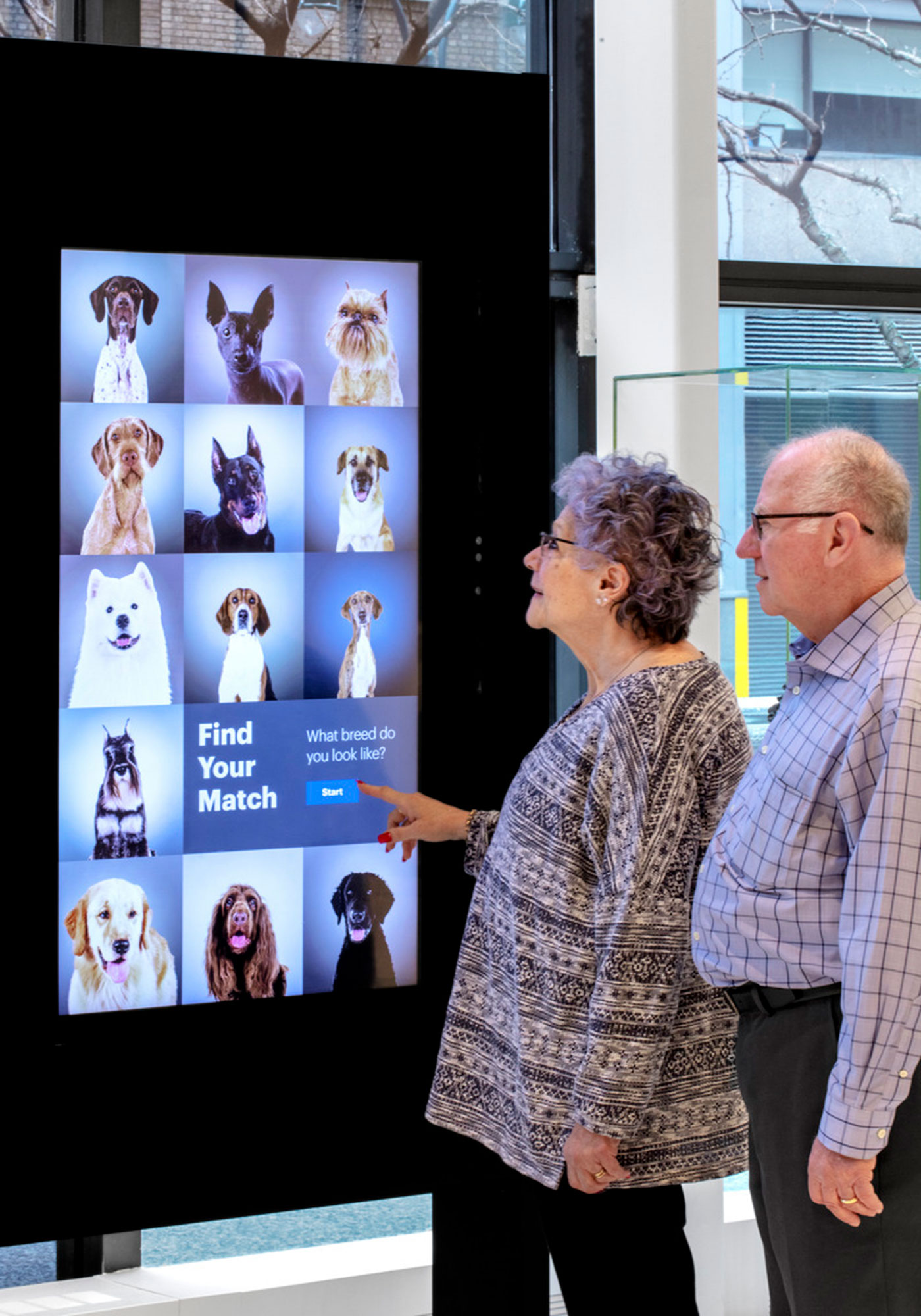 While museums and entertainment venues are a natural fit for immersive, technology-driven storytelling, we are seeing a rise in progressive thinking and immersive experience design in retail environments, mixed-use developments, sports stadiums and arena, airports, and even in the workplace, as many companies increase their focus on engagement.
We have recently seen a significant rise in the use of immersive experiences and digital technology in the design of innovation centers. Gensler works with numerous clients to create engaging and productive spaces to ideate, brainstorm, and workshop strategies and tactics that aid in closing new business to drive revenue and brand loyalty. Gensler worked with Verizon to design a dynamic space that addresses their continually evolving set of emerging technologies through a variety of small and large-scale demos to showcase their latest innovations. The Innovation Center allows visitors to engage with Verizon's solutions and learn how they might influence customer experiences, business operations, and global culture. It inspires and empowers employees to collaborate and work in new ways, while reinforcing Verizon's reputation as a technology partner.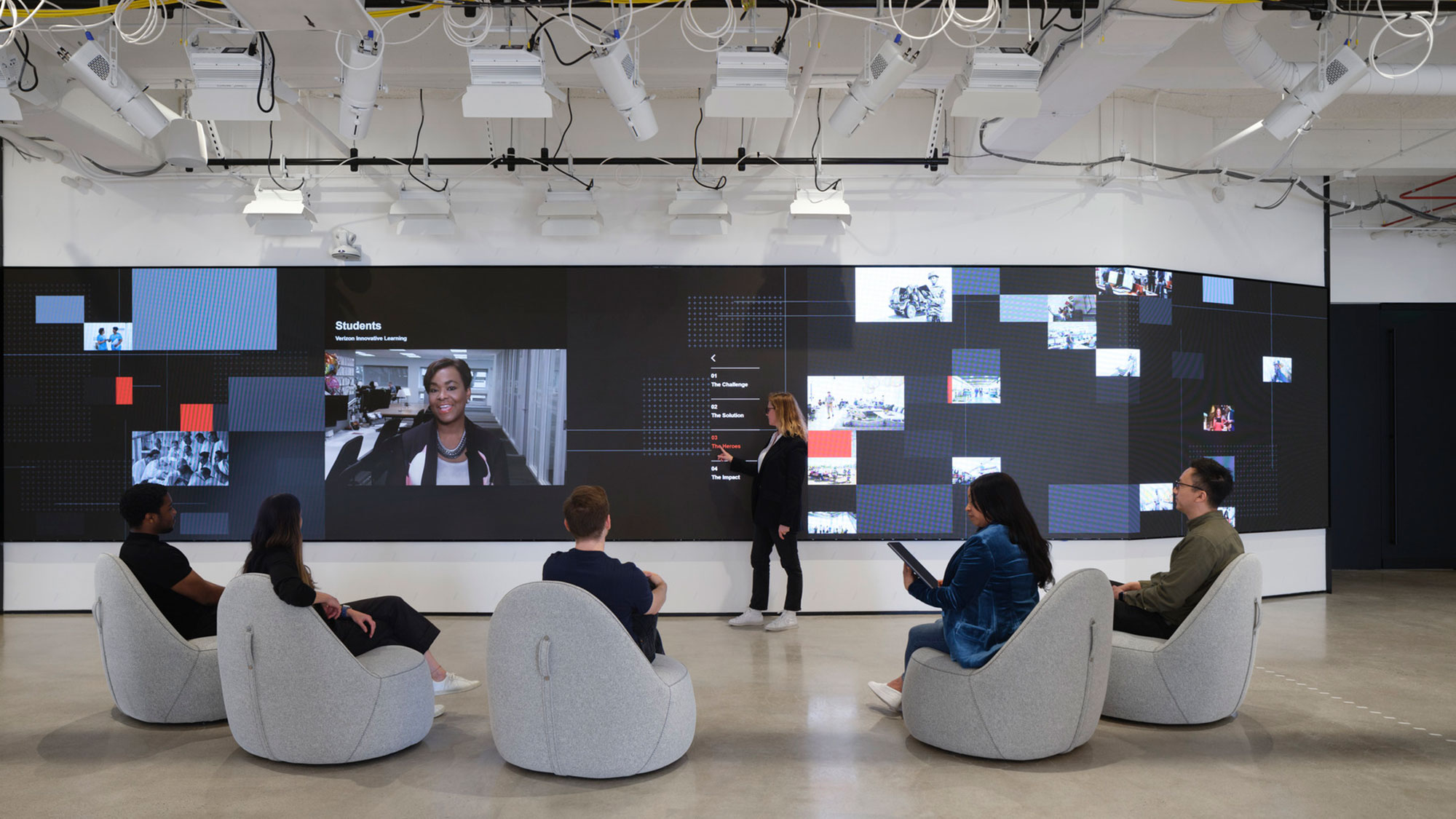 Advancements in technology continue to fuel the popularity of immersive experiences. As digital hardware and software become more sophisticated and accessible, the barriers to entry are lowered, allowing more creators to develop immersive content. This, in turn, drives innovation and the integration of immersive experiences and technology into everyday life. This recent podcast provides more examples of how Gensler is working with clients across the globe to leverage immersive storytelling and experiences to bolster human connection in spaces.
Tell a Story That's Remembered and Endures
In an era where attention spans are dwindling and traditional forms of experience and content delivery struggle to stand out, immersive experiences provide a unique and compelling advantage. Memorable and shareable experiences are a premium — technology-driven physical experiences are a strategic necessity to ensure information is not only consumed but genuinely experienced and remembered. Learn more about the process we follow to ensure success in immersive design in this blog.
An immersive experience can exist purely to connect people or drive and nurture brand loyalty, while other experiences or environments may have a more practical purpose. Innovation centers, for example, provide a means for companies to drive new business and revenue. In either case, the key is to start from and follow a solid strategy that supports long-terms goals, considering things like ongoing/post-install content, maintenance, and support. These are considerations that help ensure immersive-type installations and experiences can sustain themselves and maintain relevancy over time.
What strategies are you developing to bolster the relevance and longevity of your space? Are you considering how technology will enhance the experience of your spaces or projects? How might your brand better connect with a diverse audience in ways that not only meet their expectations but deliver something new and memorable?
As consumers increasingly demand captivating and interactive encounters, the role of immersive experiences is shaping the future of architecture and design. By engaging multiple senses and emotions, fostering learning and retention, and finding real-world applications, immersive experiences engage audiences and turn spaces into incredible places.
For media inquiries, email .