Hotel Chaco — Albuquerque, New Mexico
For Hotel Chaco, the design team explored the region's indigenous Chaco ruins — a UNESCO World Heritage Archaeological Site — and incorporated regional materials to capture its rich history as a central hub for the ancient Pueblo people.
---
In less than a decade, the rise of Airbnb, hotel mega-mergers, and micro-boutique hotels have disrupted the hospitality industry. Airbnb offers listings in more than 190 countries, and its total number of listings — 4 million — is higher than the top five major hotel brands combined, according to Forbes.
Part of the reason the sharing economy has soared — Brookings estimates it will be a $335 billion market by 2025 — is that while technology has made it easier to book travel or a place to stay, many people are looking for human connection that's often lacking on their devices. As paradigms shift, hoteliers and developers are reinventing themselves and embracing new models to compete with upstarts like Airbnb.
A hotel can no longer be just a place to sleep. To resonate with leisure guests and business travelers, hospitality spaces must offer unique, immersive experiences. Brands have an opportunity amidst the disruption. Through a curation of unique programming, design, architecture, technology, and entertainment, hospitality companies can foster loyalty in an increasingly competitive marketplace.
In the Gensler Experience IndexSM: Hospitality report, researchers compared the number of activities a guest engages in at a hotel with the guest's rating of that hotel's experience, and a distinct pattern emerges: The broader the experience, the better. The best hotels are multifaceted and can accommodate a range of interests without sacrificing excitement or becoming generic.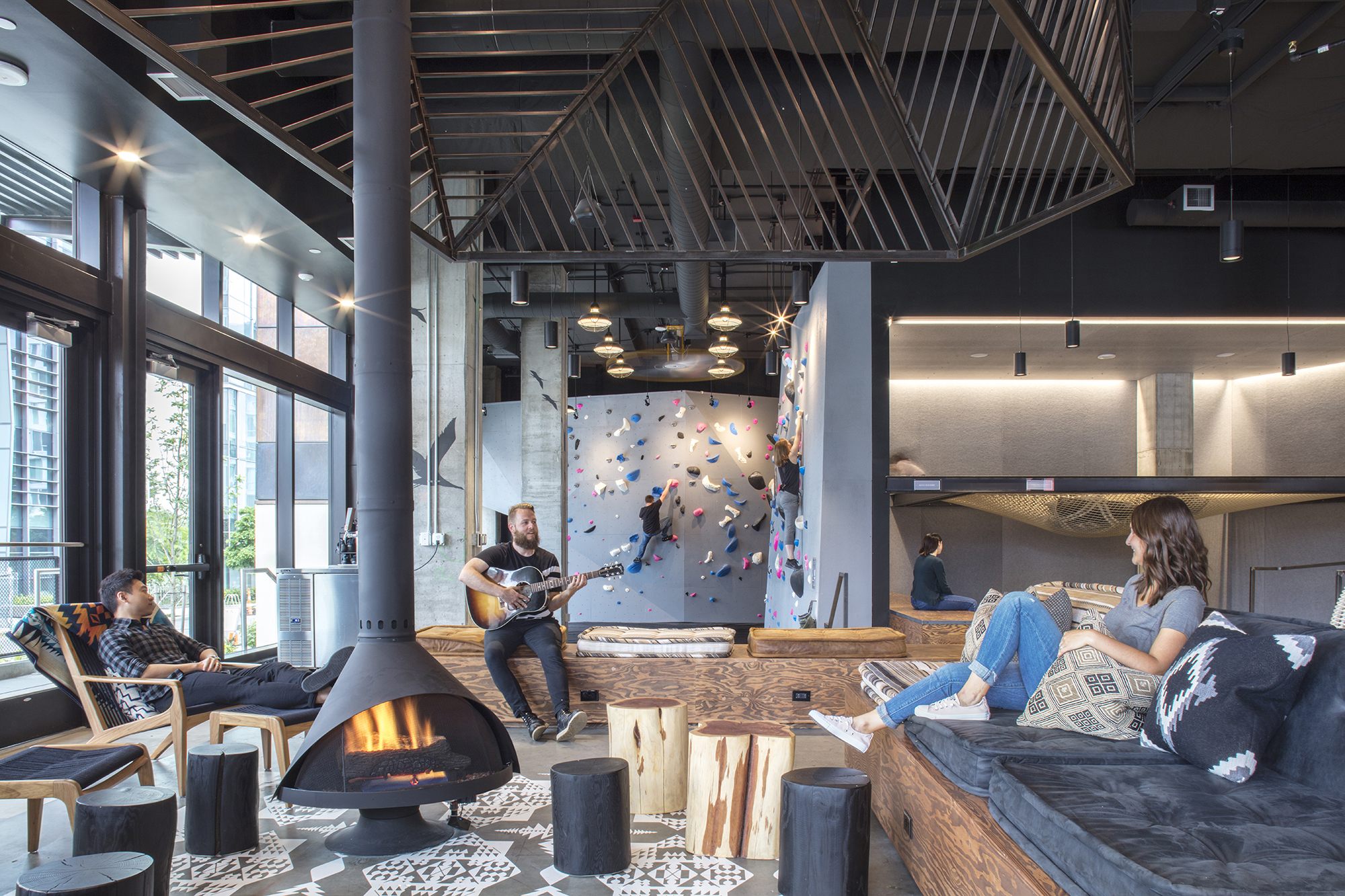 TECHNOLOGY HELPS MEET GUESTS' EXPECTATIONS FOR A FRICTIONLESS, PERSONALIZED STAY
Technology plays a key role in meeting guests' expectations. Everything from mobile check-in to in-room apps that allow guests to control temperature, lighting, and more help create seamless, effortless experiences. With digital experience design — a practice in which physical spaces are designed with the digital experiences they enable in mind — operators can influence the guest experience and make it exciting every time guests return.
HOTELS ARE BECOMING HYBRIDIZED, LAUNCHING NEW BRANDS AND MODELS THAT SUPPORT A BLEND OF BUSINESS AND LEISURE
The hotel has become a hybrid of work, play, discovery, and focus. The best hotels support a blend of business and leisure and the growing blur between them. Our research found that 70 percent of business travelers did leisure activities on a work trip and 20 percent of vacationers conducted business. Even airports, workplaces, and corporate training facilities are incorporating hospitality spaces with a residential feel. To compete with upstarts, traditional hotels are launching new brands and models. Take Marriott's Autograph collection or Hilton's Tapestry Collection: each hotel has its own local aesthetic and identity, while still providing great service and access to the brand's loyalty programs.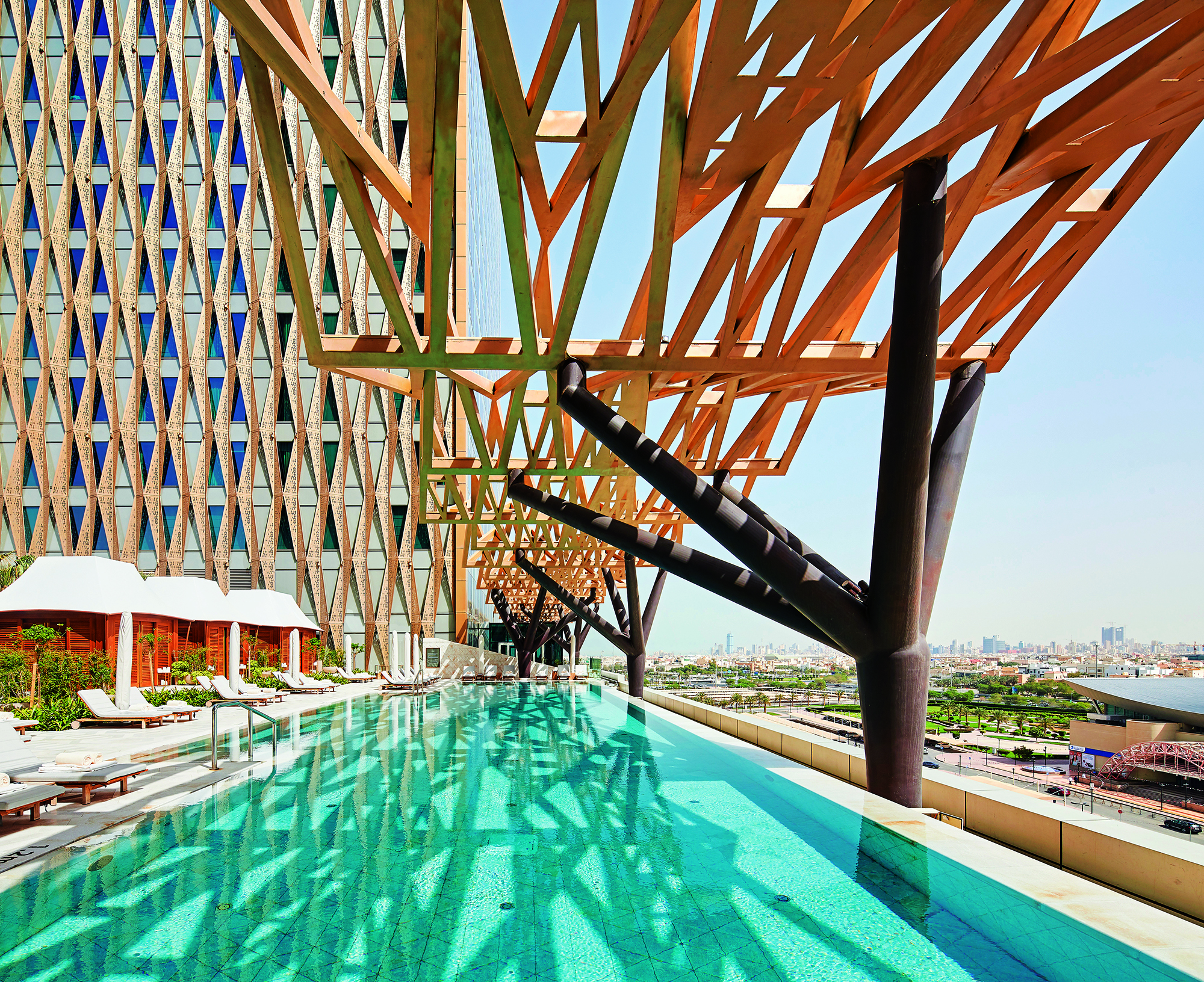 GREAT SERVICE GIVES TRADITIONAL HOSPITALITY BRANDS AN EDGE
Part of the success of Airbnb, HomeAway, or VRBO is that those experiences are often predicated on the unknown, which makes traveling feel like a more authentic experience than simply checking into a hotel. But these upstarts don't offer the assurances of great service you can get with a branded experience — a key differentiator for traditional hospitality brands.
Long-stay options or service apartments aim to straddle a hotel and a home, while providing unique services to guests that upstart home rentals can't provide. The rooms are a little bigger, with a small kitchen and a concierge. This option is also cheaper for hoteliers to operate; they don't have to commit to as many staff or resources. For travelers, it's a similar cost to a hotel, but it allows business people to feel like they're living in a neighborhood and to cook their own meals. They're thinking, "I want to live like this."
PROVIDING A UNIQUE, AUTHENTIC SENSE OF PLACE INSPIRES LOYALTY
For hoteliers, one of the driving concerns is how best to serve travelers' seemingly disparate desires for reliably great service and a unique experience. Part of great storytelling is authenticity, which in turn offers a singular experience for travelers that they'll want to return to. Hotels of the future must offer a curated experience that accommodates a range of intentions and activities, with a keen understanding of what guests want.