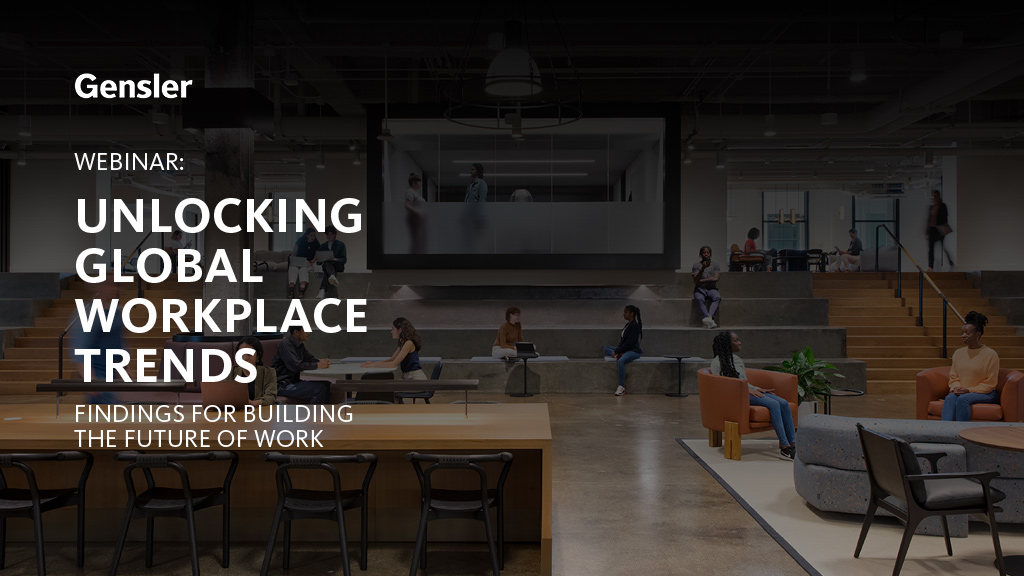 WEBINAR:
UNLOCKING GLOBAL WORKPLACE TRENDS:
SURVEY FINDINGS FOR BUILDING THE FUTURE OF WORK
The Global Workplace Survey Comparison 2023, from the Gensler Research Institute, surveyed 14,000 workers across nine countries and three continents to understand shifts in how employees across the world are working. The survey findings illuminate a critical divide: while employees rely on the office for productivity, it must adapt to their evolving expectations — and so far, the workplace isn't cutting it.
In this webinar, Gensler's Global Director of Workplace Research, Janet Pogue McLaurin, is joined by a panel of workplace planners and designers to review the survey's key insights. Together, they delve into new projects that embody a reimagined office experience, offering valuable case studies for inspiration. Our Global Workplace Trends 2023 webinar covers:
How employees's expectations and productivity needs are evolving worldwide
Actionable strategies to leverage the workplace as a supportive and engaging environment where employees choose to work
Real-world success stories where office experiences were successfully transformed to align with employee expectations
Watch the webinar and download Gensler's Global Workplace Survey Comparison 2023.
Download the full Global Workplace Survey Comparison 2023 to explore how the workplace can respond to the global and regional patterns of work. Our data provides key insights into where design interventions can be made to improve the overall effectiveness and experience of the modern office.