Designing for Each Learner Through Digital Experience
By Meghan Webster and Patricia Nobre
This article is part of our series on Stories of Belonging – engaging diverse users through an inclusive process in order to design for equitable outcomes.
Through our research, we've found that learning performance tracks to engagement. According to Dr. Brian Ralph at William Peace University, "the higher the amount of engagement a student has with an institution, the higher their success rate is going to be." But engagement looks different for different learners, and our rapidly changing global economy has framed a new context in which learning and engagement happen – one that is inextricably tied to the digital world. As we design spaces for learning it is imperative that we integrate digital experiences into them thoughtfully; to connect people, accommodating different learners, and with future-proofing in mind.
On the heels of the tech savvy Millennials, Generation Z are digital natives that have grown up in a world shaped by hyper-personalization, immediate gratification, and real-time iteration. According to a McGraw Hill Education Report, more than 70% of Generation Z students text 12 times per class on average, and laptop users may spend two-thirds of their time on nonacademic activities.
As this next generation of students enters college, the world outside of academia is evolving at an unprecedented pace. The World Economic Forum predicts that by 2020, 35% of the skills that were considered vital for workplace success just five years ago will have changed.
As we continue to gain a deeper understanding of a multi-faceted learning process, educators and designers alike have an opportunity to expand how technology and digital experience can help them connect to each learner individually. The learner-centered approach cultivates multiple pathways to success and shapes environments that lead to an interactive, seamless, and engaged student experience.
The average user is a myth — especially in education environments. The notion of "average" fosters the illusion that, as designers or educators, we know what most learners need in order to collaborate, focus, and engage. Instead of designing to the mythical "average learner" and adapting to accommodate outliers, what if we flip the model? By designing to the far corners, we design for everyone in between.
So, rather than designing one optimal experience for all people, designers should create multiple, diverse ways to engage, allowing each user to create their own experience. Technology integration is a critical vehicle to help us flip the model, and we've put forth four strategies and examples to incorporate these tools for engagement: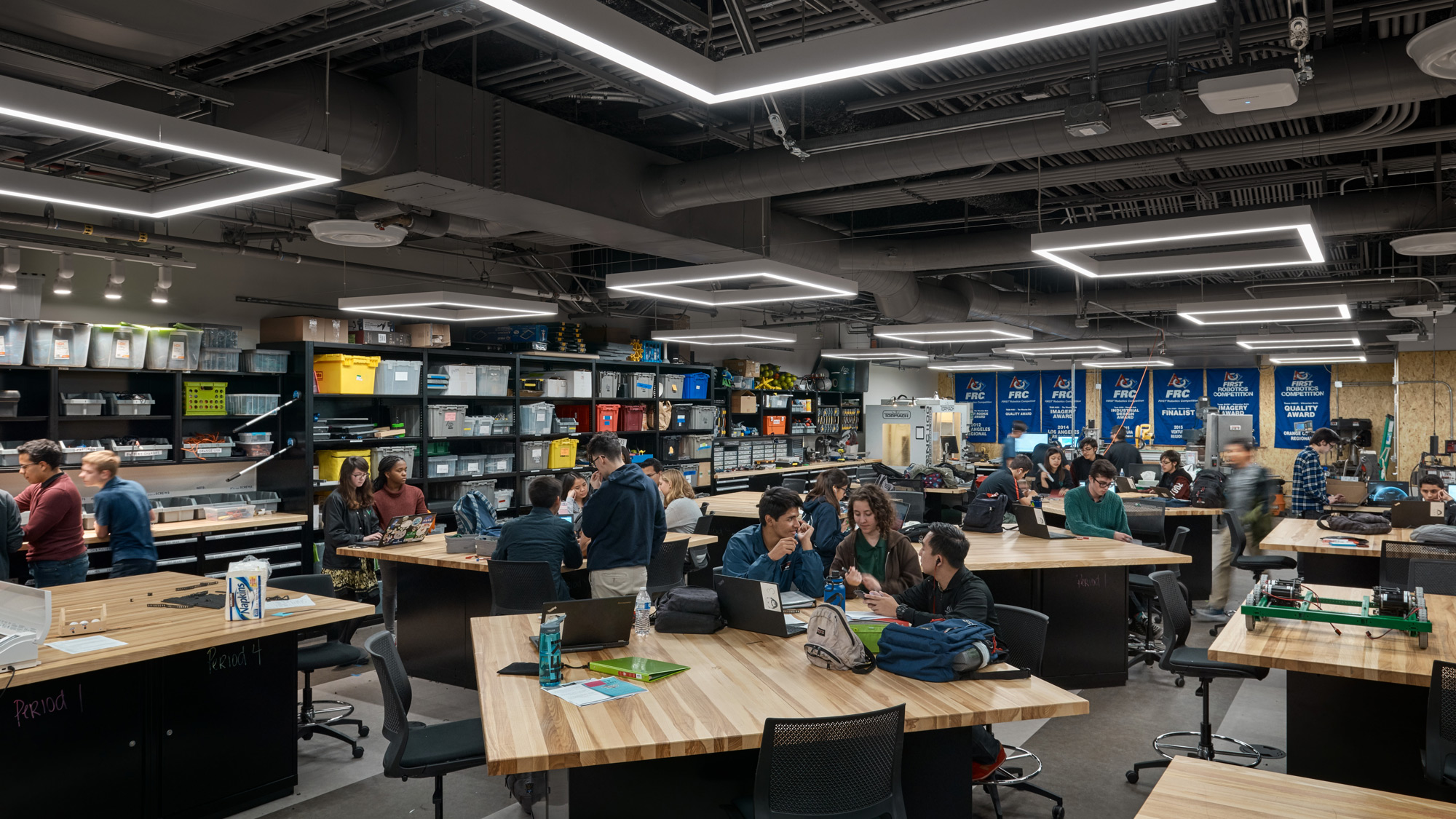 Personalized Learning: Integrated platforms, digital environments, and personalized pathways that allow students to chart their own learning and set their optimal pace are becoming the new norm. A University Business survey found 66% of higher education leaders are researching the use of AI to analyze student data in order to personalize learning. The survey showed that higher education leaders see significant potential in the combination of AI and academic video. Physical spaces must accommodate these multiple pathways, as well as the technology used by educators to better track student pathways.
Wiseburn High School collocates the innovative Da Vinci charter schools into a highly adaptable education destination that crosses city boundaries and serves a highly diverse community of students and families. Divided into three separate pathways — design, communications, or science — each school floor is designed as an ultra-flexible neighborhood of teaching spaces organized around hubs of open, collaborative areas that support a flexible, project-based curriculum.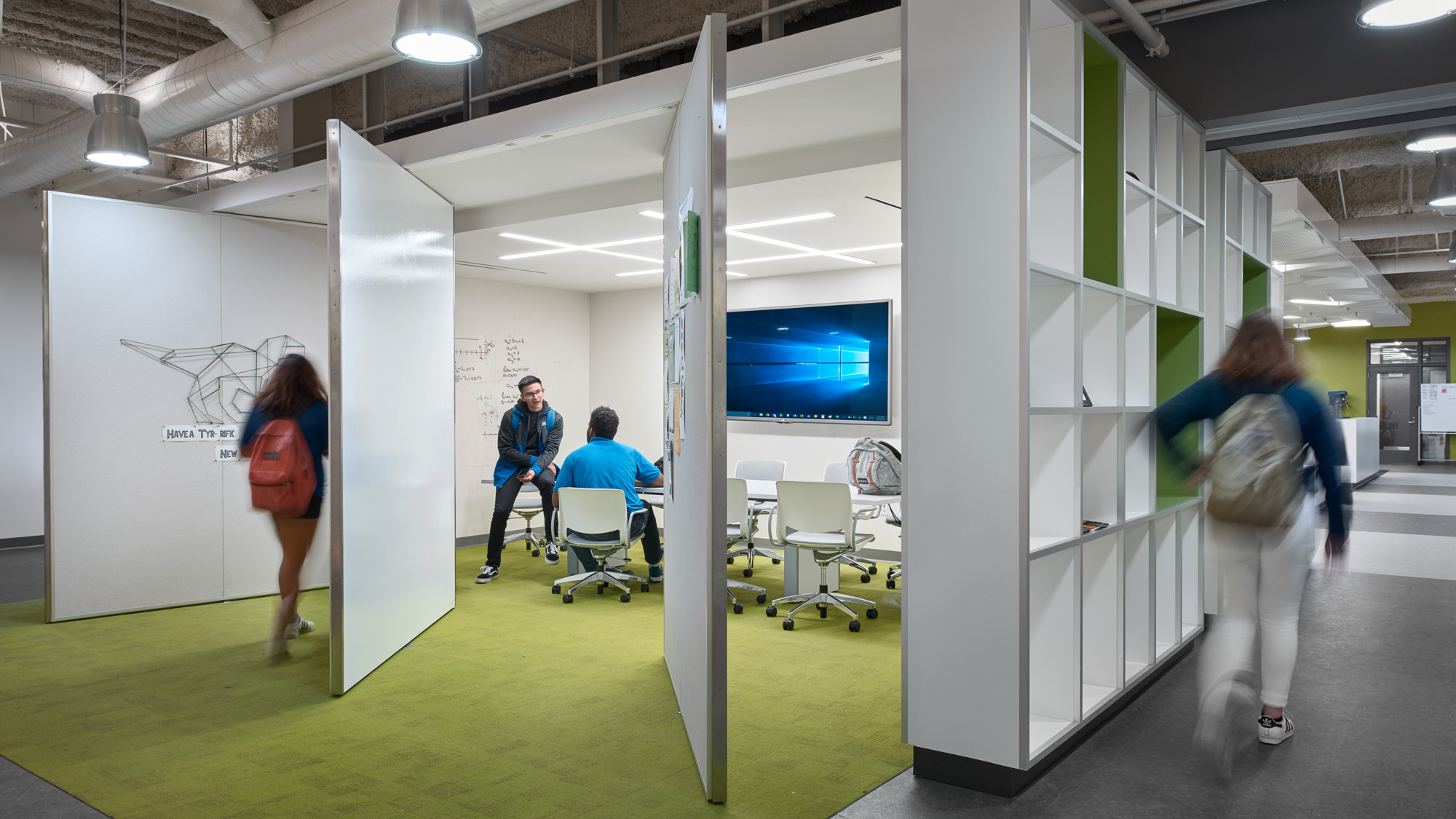 Telepresence in Education: Online learning, telepresence, and other digitally enhanced settings enrich the learning process by creating remote connections to other students, educators, subject matter experts, and context (both real and virtual). This ability to connect within and beyond the classroom creates a virtual learning environment that crosses institutions, cities, and communities — and exposes learners to a wider range of voices and experiences in the process. As these services continue to evolve, the physical environment will remain critical to the connected learning experience — both as a space for in-person collaboration and as a hub for remote interactions.
In the media industry, where digital has pervaded the profession, Newhouse School of Communications at Syracuse University doubled down on this place and space as a center for students to connect locally and remotely, while remaining grounded during their educational experience. Spaces like The Cage serve a dual purpose. Here, students can rent equipment for on-site reporting, and it serves as a hub for student groups to touch down and hold team scrums after they return from the field. It is also a connection to the community outside the university, with professional-quality broadcast studios and spaces that allow for digital connections to the media.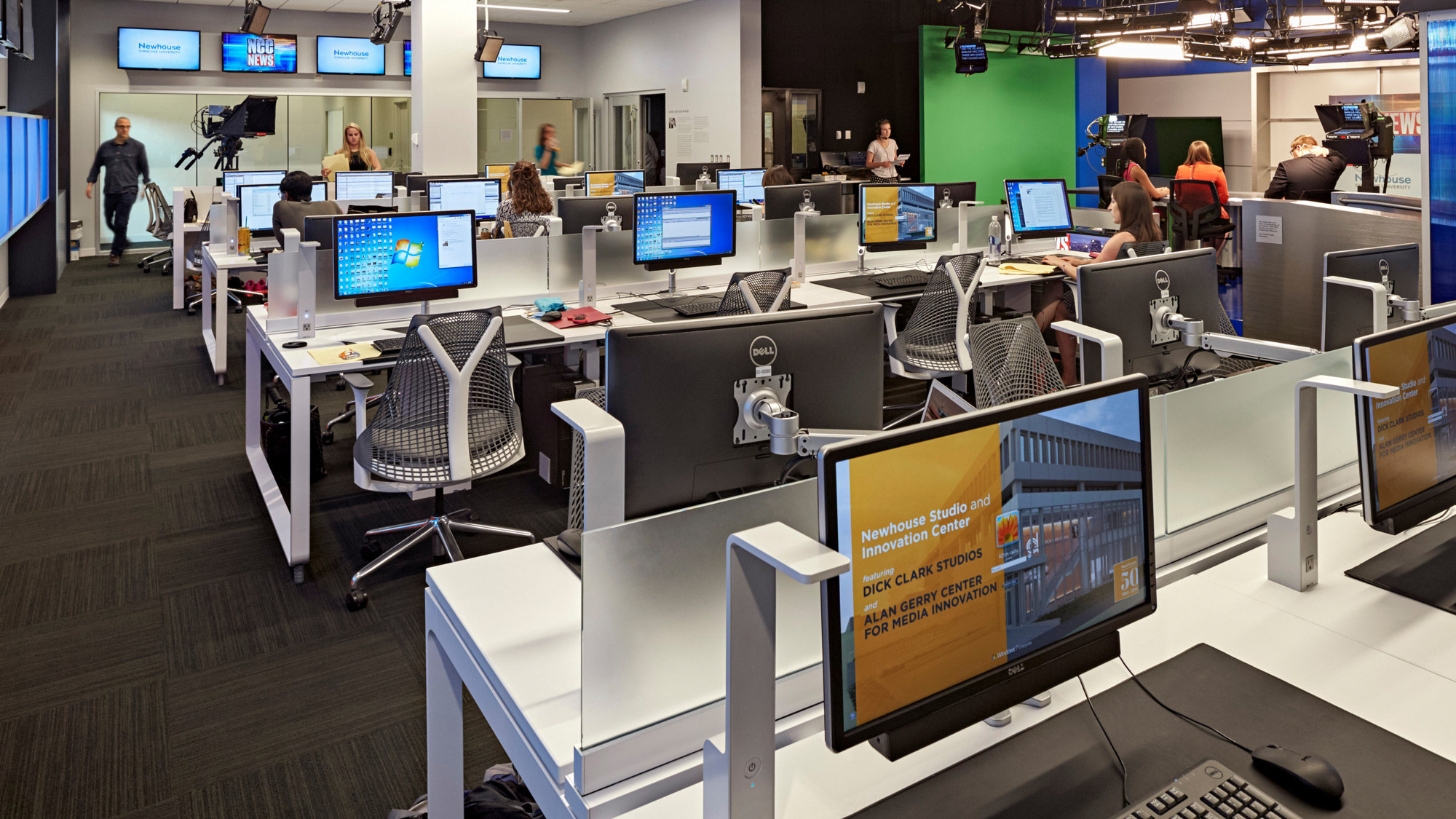 Making Abstractions Tactile Through Augmented and Mixed-Reality: In all disciplines, AR & VR are becoming ubiquitous and influential in the approach to training, curricula, degrees, and certification. These technologies offer a new level of engagement for students who learn visually or experientially over didactic instruction. The technology is more equitable as well – not only is ease of access increasing, but this method of learning allows each user to engage in ways that are most appropriate for their individual needs.
In partnering with GameDesk and New Roads School to design PlayMaker School, Gensler and the team launched a next-generation model of teaching and learning that focuses on play-oriented, hands-on, immersive experiences. Engaging students in science, technology, engineering, and math (STEM) learning through virtual and physical environments, the new school explores how students can use game-making and other media tools to learn in new ways.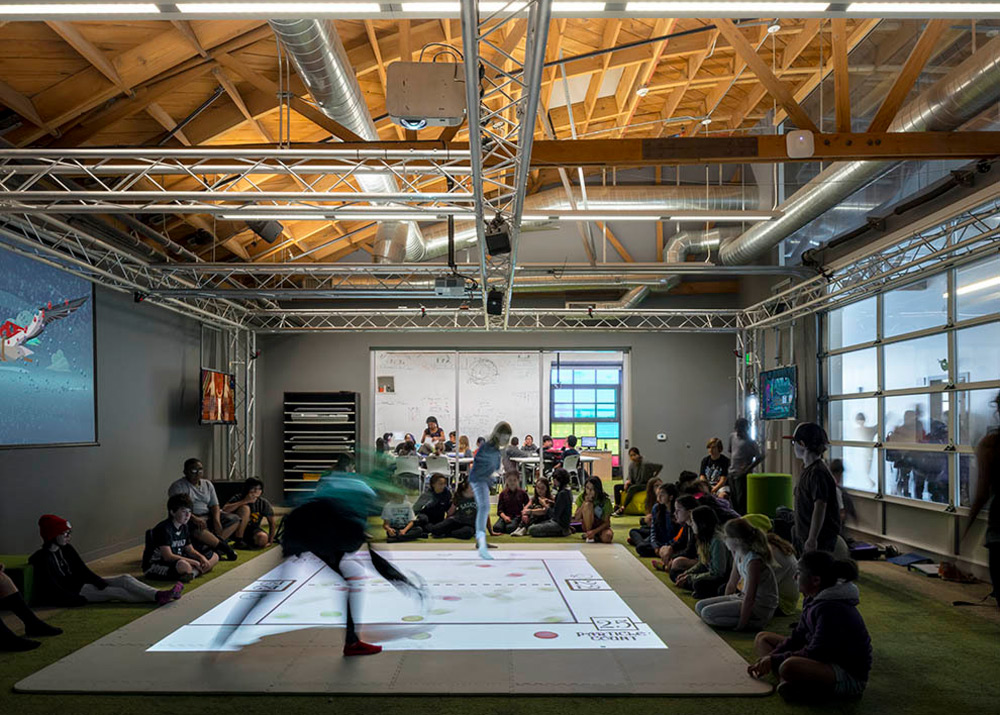 Future-proofing, Adaptability, and Rapid Evolution: Change is constant, and while education campuses are filled with 50-100 year buildings, spaces that touch the human experience closest must be able to adapt to changes in technology and learning research over time and for multiple users. In response, technologies around machine intelligence and smart tech are increasingly being integrated into the built environment.
With a feature video wall, and studios for rapid prototyping, robotics, and video production, the WPI Foisie Innovation Studio and Messenger Residence Hall is hailed as a state-of-the-art facility. But the key to the building's long-term success lies in its adaptable space. A rich environment in which diverse student teams can problem-solve and innovate in a live-learn community, the building's fundamental components are unprogrammed academic space that will have the flexibility and adaptability to support a range of activities and users.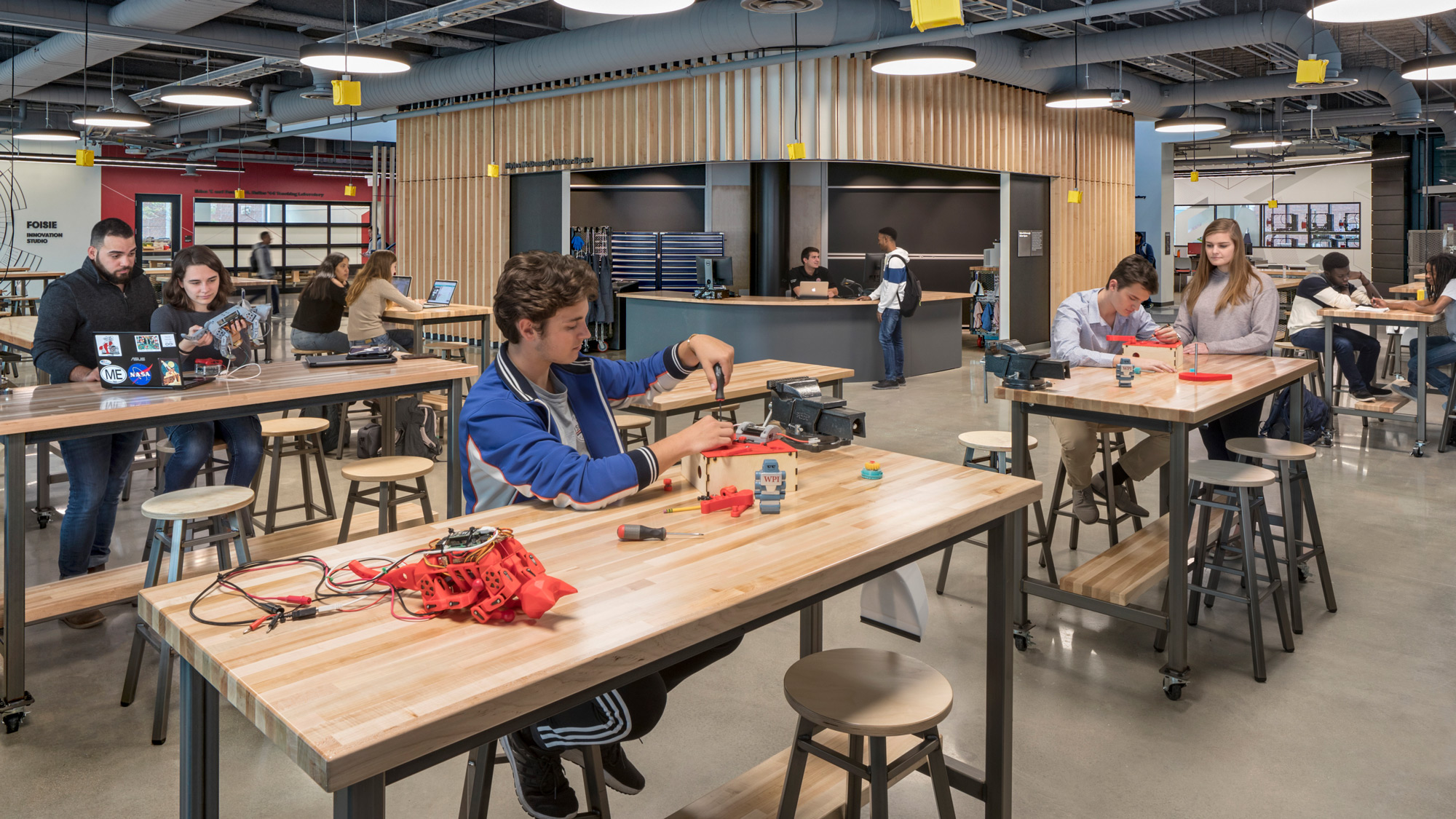 Whether technology rich or low-tech, space must first address the diverse and interconnected ways in which people learn. Thus, our opportunity as designers to incorporate emerging technologies starts with an inclusive process to understand the diversity of learners and how they best focus, collaborate, and engage. From there, digital experience and technology integration expand our set of tools, part of a broader kit of parts, for designing spaces that equitably address the abilities, pathways, and learning process of each learner.