Six Urban Design Trends to Watch in 2018
by Joe Pobiner
Cities and suburbs are constantly changing and 2017 served up more than its share of challenges—some we saw coming (massive retail closures), while others took us by surprise (historic flooding and other natural disasters).
2017 saw the continuation of the evolution of expectations on the part of consumers, developers, office workers, and cities. Those expectations? Urban design and development is no longer "business as usual." In that spirit, here are six urban design trends to watch in 2018:
1. Experience, Not Just Place
"Place-making," once the watchword of every urban designer, is no longer enough. Now it is all about experience—how buildings and the spaces between them are treated in relation to human-scale design. Developers are rediscovering the importance of leveraging authenticity and contextualism—"franchise architecture" and cookie-cutter designs are out. Experience has real dollar value—from adjacency to open space to unique developments as destinations. Experience brings customers back again and again—not just for the retail offerings, but also for the sense of belonging and ownership.
Gensler's Experience Index is a metric that helps gauge this phenomenon. The importance of experience will accelerate in 2018 as we seek to reinvent existing developments, as well as create new ones.
2. Retail Reinvention
No doubt 2017 was the year of retail upheaval. Last year, over 6,700 stores closed across the United States (more if you include restaurant closures), and 3,900 more are projected to shutter in 2018. Retail analysts also predict a seismic shift in regional malls, with as many as 25 percent in danger of closure. Amazon and online sales may be convenient scapegoats, but mergers and acquisitions, changing consumer habits, and the oversaturation of retail for the past few decades are also to blame. A day of reckoning was inevitable.
2018 will see the beginnings of real change for malls if they hope to remain relevant. Part of that change is reimaging the regional mall as a Complete Town Center. Chief among malls' assets are lots of underutilized acreage (i.e. surface parking), good visibility, and usually good access. Simply replacing empty square footage with "more retail" will not cut it. Beginning in 2018, malls will evolve to include residential, hotels, offices, even high school and college campuses (some already have). This is the renewal of Victor Gruen's original mall concept (Southdale Center, 1956)—a complete town center. In 2018, Live/Work/Play becomes more than a catchphrase—it is the mantra for retail centers nationwide.
3. Re-Greening
Even with Frederick Law Olmstead's influential "emerald necklace" park systems and major parks like New York's Central Park, open space was all too often relegated to "left-over" or secondary space. No more.
Developers and cities have discovered the value of open space as key design elements—and not just from an aesthetic aspect, but from a real dollar value. In some cities, adjacency or proximity to parks results in a significant increase in rents and property values. And it's not just New York's High Line. Gensler's BQXL project leverages 15 miles of underutilized freight corridor to connect neighborhoods from Queens to Brooklyn. When combined with interests in wellness, urban cycling, and quality of life, the momentum of Re-Greening will be maintained in cities and suburbs. In 2018, smart developers will include significant open space components in their projects.
4. Re-Urbanizing
Decades of suburban sprawl led to the creation of boring, single-use developments and empty downtowns. In response, many mixed-use projects sought to recreate familiar pre-World War II patterns, but these do not always respond to today's consumer expectations.
Now there is renewed interest in creating real places that keep residents, employees, visitors and shoppers engaged. And the arms race of employee attraction/retention is forcing those bucolic suburban office campuses to redevelop in a modern mixed-use fashion. Further, empty-nesters, SINK's and DINK's (Single/Double Income, No Kids) seek a return to downtown living for many reasons – access to culture and dining, no maintenance residences, less reliance on driving, etc. Quality of life decisions now span both downtown and suburbs and all ages.
In 2018, cities and suburbs will continue to redevelop fully-functioning mixed-use neighborhoods. Projects like Gensler's Legacy West are one such example.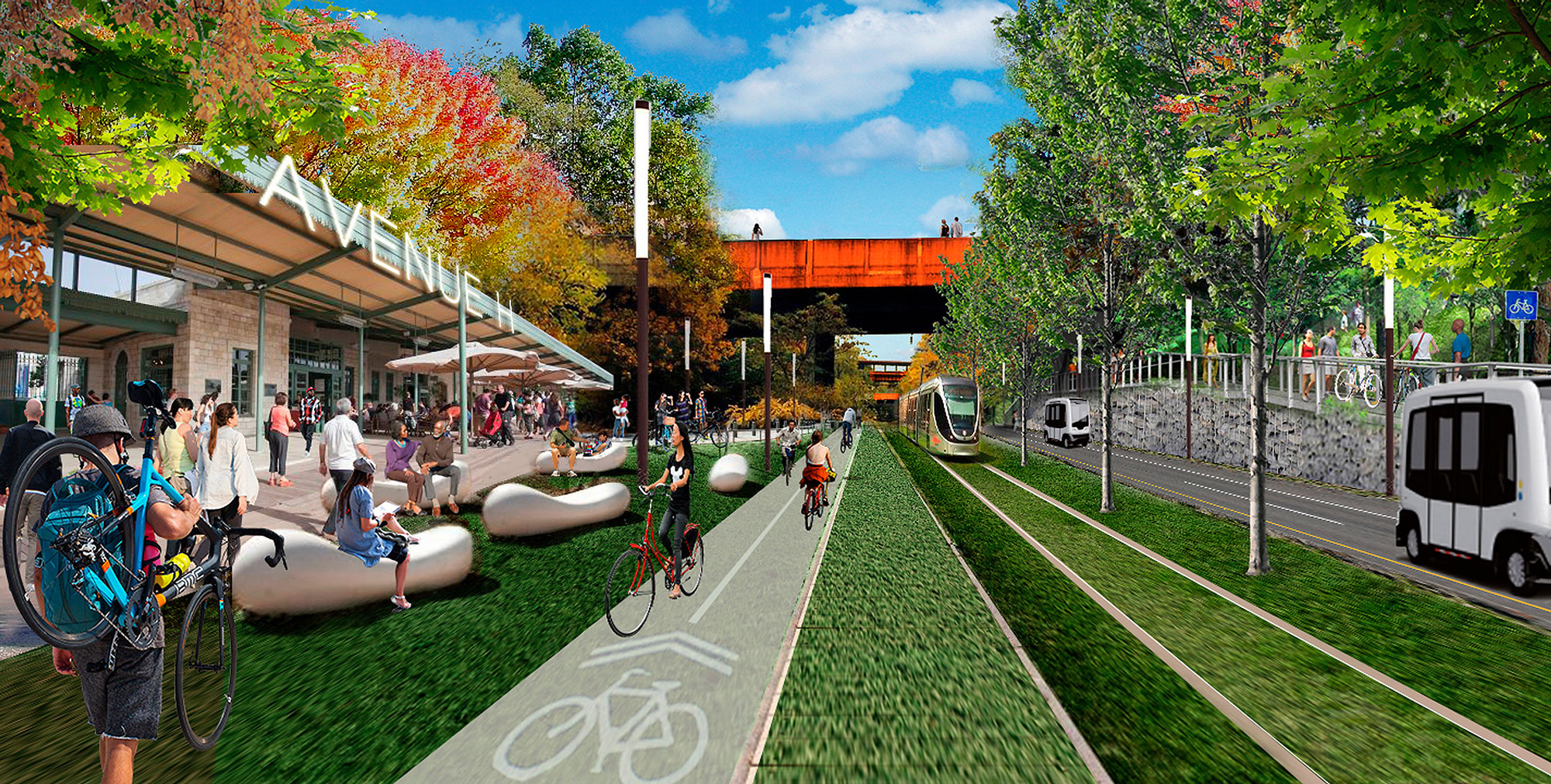 5. Future-Proofing
All developers try to get as much use from a building as possible. But what happens to parking garages if demand decreases? Traffic engineers are projecting that the United States may have already reached "peak parking." With rising popularity in shared car and on-demand ride services, car use may be leveling out, even before the arrival of self-driving cars.
To address changes in driving dynamics, the answer is future-proofing—designing a garage with flat floorplates and slightly taller floor-to-floor heights so it can become the framework of future occupiable space. Gensler has been advising clients to look at parking garages as potential future occupiable space, even as mixed-use buildings. It makes financial sense and it is happening right now. Today's garage may be tomorrow's office or apartment.
6. Food Halls
A previous post addressed this rising trend in 2016. And while food halls have been around for centuries, last year saw a rekindling of interest in cities and suburbs. The food hall has become the next "must have."
Gensler's Legacy Hall opened in 2017, featuring unique local concepts. Other halls are popping up all over—from Fort Worth's Canton Hall to Fabrice Italiana Contadina's massive 1.2 million square foot Eataly World (Bologna, Italy). A recent New York Times article counted more than 30 food halls in New York City alone. Expect 2018 to be the "Year of the Food Hall."
What's Next?
In 2018, Autonomous Vehicles will continue to make strides, including at the regulatory and insurance levels. Expect the first practical rollout of driverless shuttle buses to hit our streets, followed by Connected Car technology, with AV's sometime after that. That's when things really get interesting.
Joe Pobiner, FAICP, CNU-A, is a master planner and urban designer in Gensler's Dallas office. He specializes in applying responsible planning and urban design principles that strengthen the physical, natural, economic, and cultural frameworks of our rapidly urbanizing planet. Contact him at .