Applications for the 2024 DSD Program are open from October 2023 to January 8, 2024.
Gensler's Design Strategist Development (DSD) Program is an 18-month, in-office, professional training program geared towards high performers considering a future career in design strategy. The DSD Program is focused on accelerating the development of well-rounded strategists, who will contribute to the growth of Gensler's Strategy practice across the globe.
Each year Gensler will hire a select number of diverse participants to have an in-office working and training experience in one of the following host offices:
Austin, Texas
Baltimore, Maryland
Boston, Massachusetts
London, United Kingdom
Los Angeles, California
Morristown, New Jersey
New York, New York
Raleigh, North Carolina
San Francisco, California
Seattle, Washington
Toronto, Ontario, Canada
Washington, D.C.
---
As a participant in the DSD Program, you will join the firm as a full-time strategy analyst and receive a competitive salary and benefits package. Learn about the great rewards of working at Gensler. The program will provide you the opportunity of a full-time Design Analyst role as well as training and professional development to kick-start your career at the firm.
During this 18-month program, you will be immersed in Gensler's Strategy practice, where you will develop key skills and build a strong foundation in core functions, systems, software, operational tools, and organizational processes. Our program opportunities include:

Program Bootcamps
Week-long intensive sessions are designed to orient you to all aspects of Gensler's Strategy practice and develop your business acumen.

Design Strategy 101 Course
A series of introductory classes and special topic seminars will familiarize you with Strategy's practices, tools, and methods. These courses provide an academic corollary to the hands-on experience you will gain through project work.

Personalized Professional Development
Over the 18-month program, you will be provided with a Gensler Coach and Buddy to help tailor your experience to your background and passions. Your Coach is an expert in the Strategy field who will take an active interest in your professional development at Gensler. Your Buddy is a peer who will be by your side from day one to offer advice and help you assimilate into your office as well as the firm's culture and social networks.
Meet some of the senior experts in the firm who will help mentor and guide your professional development:
Elaine Asal
Lexi Barry
Michael Chappell
Jane Clay
Claudine Frasch
Kevin Katigbak
Kelly Moore
Nayan Parekh
Kevin Rosenstein
Jacob Simons

Research & Thought Leadership Participation
You will have opportunities to participate in Gensler's robust Research Program. Likewise, our thought leadership initiatives at the forefront of industry innovation will benefit from your insights. Check out examples of our past research projects and thought leadership. In the second half of the program, you will have an opportunity to explore an area of focus with a personal study project to showcase your thought leadership and bring awareness to your expertise within the firm.

Global Leadership Forums
You will connect with fellow DSD Program participants from across the firm at an annual internal conference, providing a forum to share your experiences, present projects, and network with other members of the Strategy practice.

Networked Global Community
The DSD Program is an extensive network where participants enjoy visibility with senior leaders of the firm and receive mentoring from the industry's top professionals.
Post-DSD Program Career Opportunities
Upon the successful completion of the Gensler DSD Program, you may be eligible for a variety of job opportunities from across the firm — from roles in emerging Strategy services to roles aligned with your educational background, such as architecture, interior design, or urban planning.
Program Timeline
Applications are due January 8, 2024. The seventh cohort of the program is currently planned to begin in August 2024. Visit our FAQ page to review additional details regarding the program.
---
Information Webinar
To hear more about the Design Strategy Development Program from DSD alumni, check out the recordings of our informational webinars that we hosted in October and November 2022.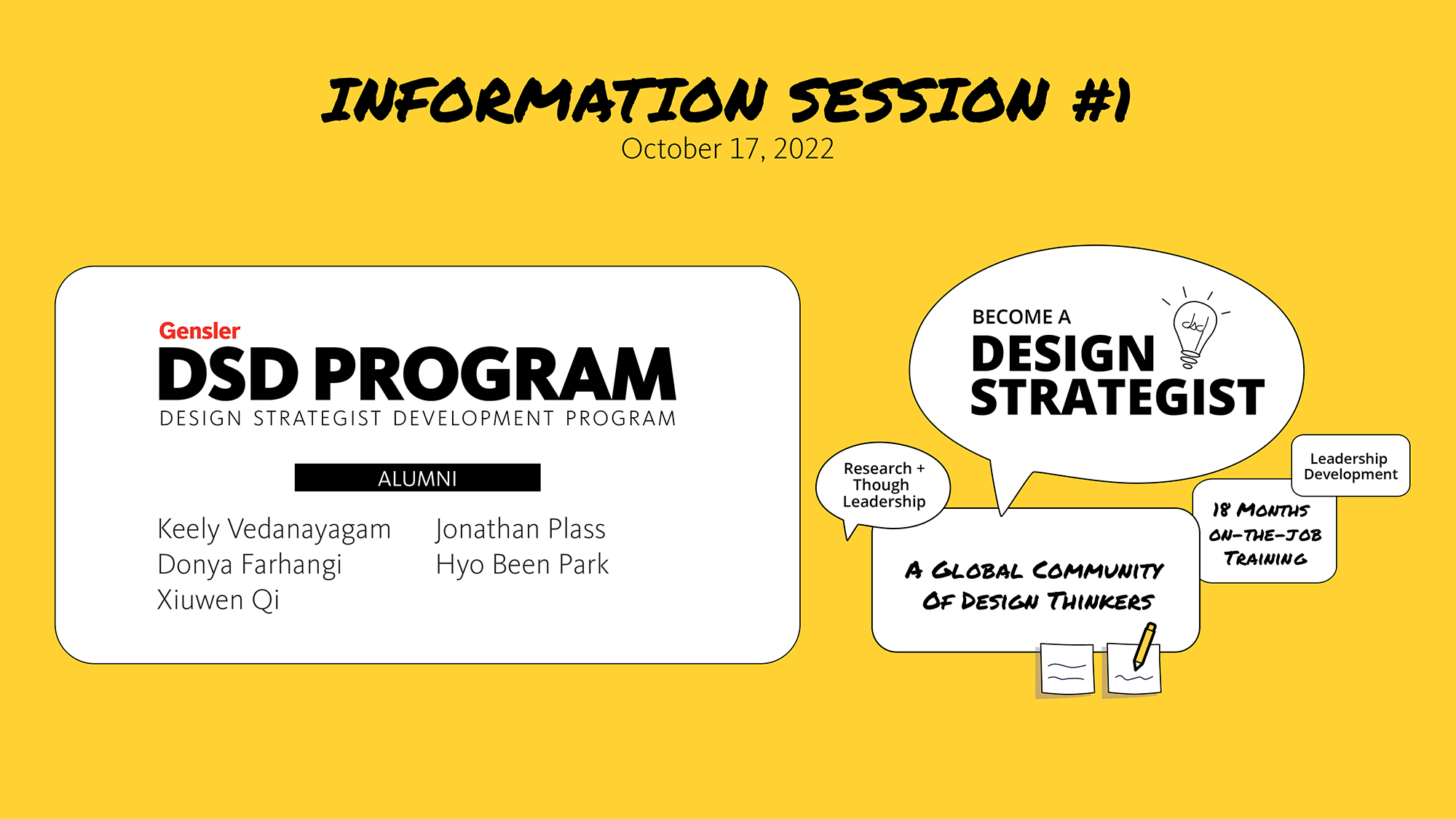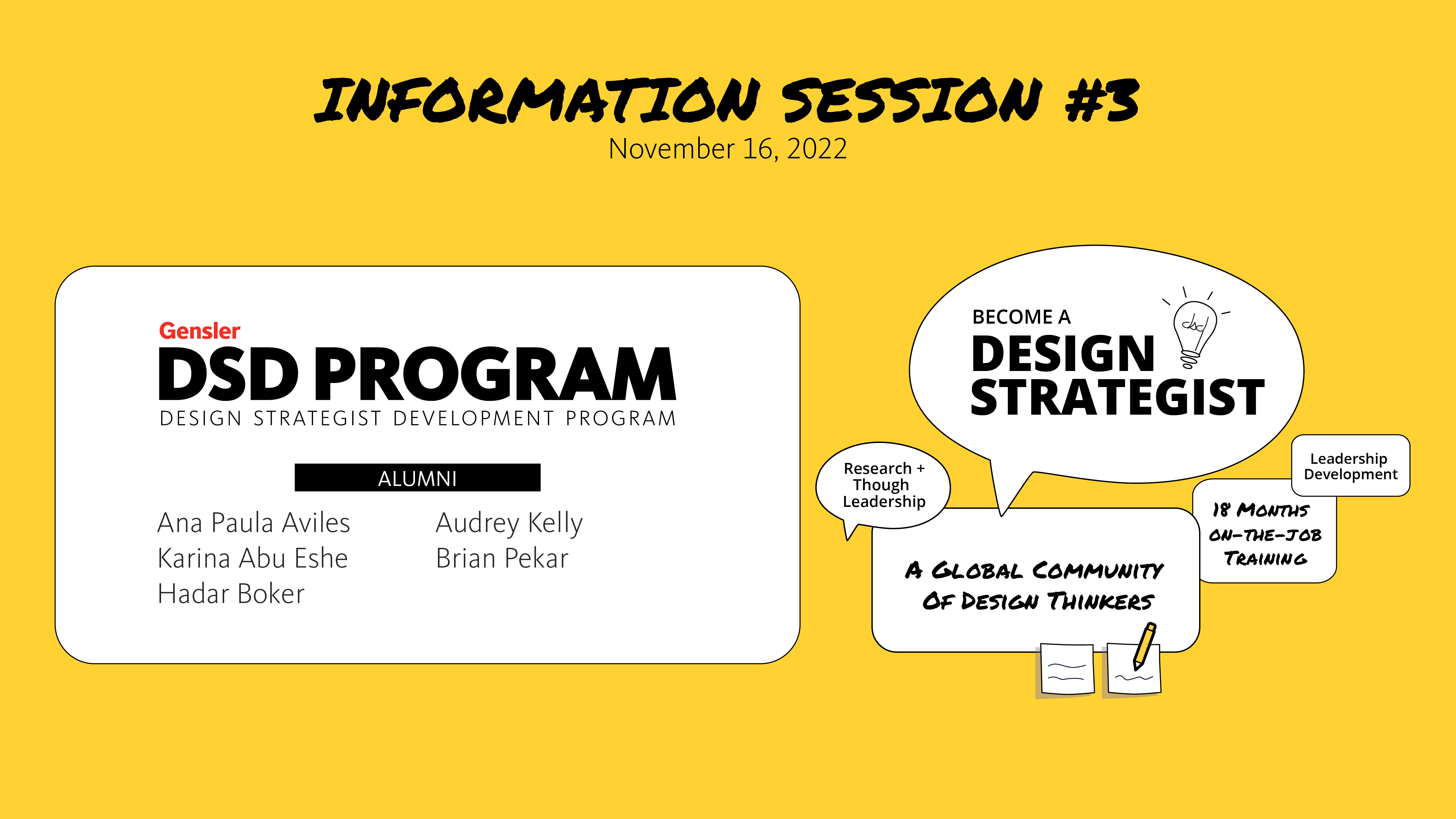 Resources
Help us spread the word about the DSD Program — download the DSD poster and hang it in your school, post it online, or share it with an ideal candidate.
Don't forget to include your Personal Dossier in your application!