Harvey B. Milk
Terminal 1 Renovation
San Francisco, California
Leading the Way to Sustainable Travel
Reductions in energy, carbon and waste impacts makes SFO's Harvey B. Milk Terminal a sustainable benchmark for future airports.
With a goal of being a global leader in sustainability in all its operations, the Harvey B. Milk Terminal at San Francisco International Airport (SFO) is setting new standards in air travel through its Triple Zero Challenge: Zero Carbon, Zero Energy, and Zero Waste. The Harvey B. Milk Terminal modernization and expansion project delivers significant value to SFO in achieving these goals through its carbon zero designed operations, 79% reduction to total carbon emissions (operating and embodied), 70% reduction in energy use intensity, 50% reduction in potable water use, as well as attaining LEED Platinum and being the first Fitwel-certified airport, a distinction achieved by prioritizing passenger and employee health throughout the terminal.
PROJECTED OUTCOMES
Poised to be zero carbon emissions
79% reduction in total 50-year carbon footprint
Over 90% waste diversion
Over 50% reduction in potable water use
Targeting LEED Platinum certification
Fitwel 2 Star Design Certified and targeting Fitwel 3 Star Built Certification
AIA California's 2022 Climate Action Award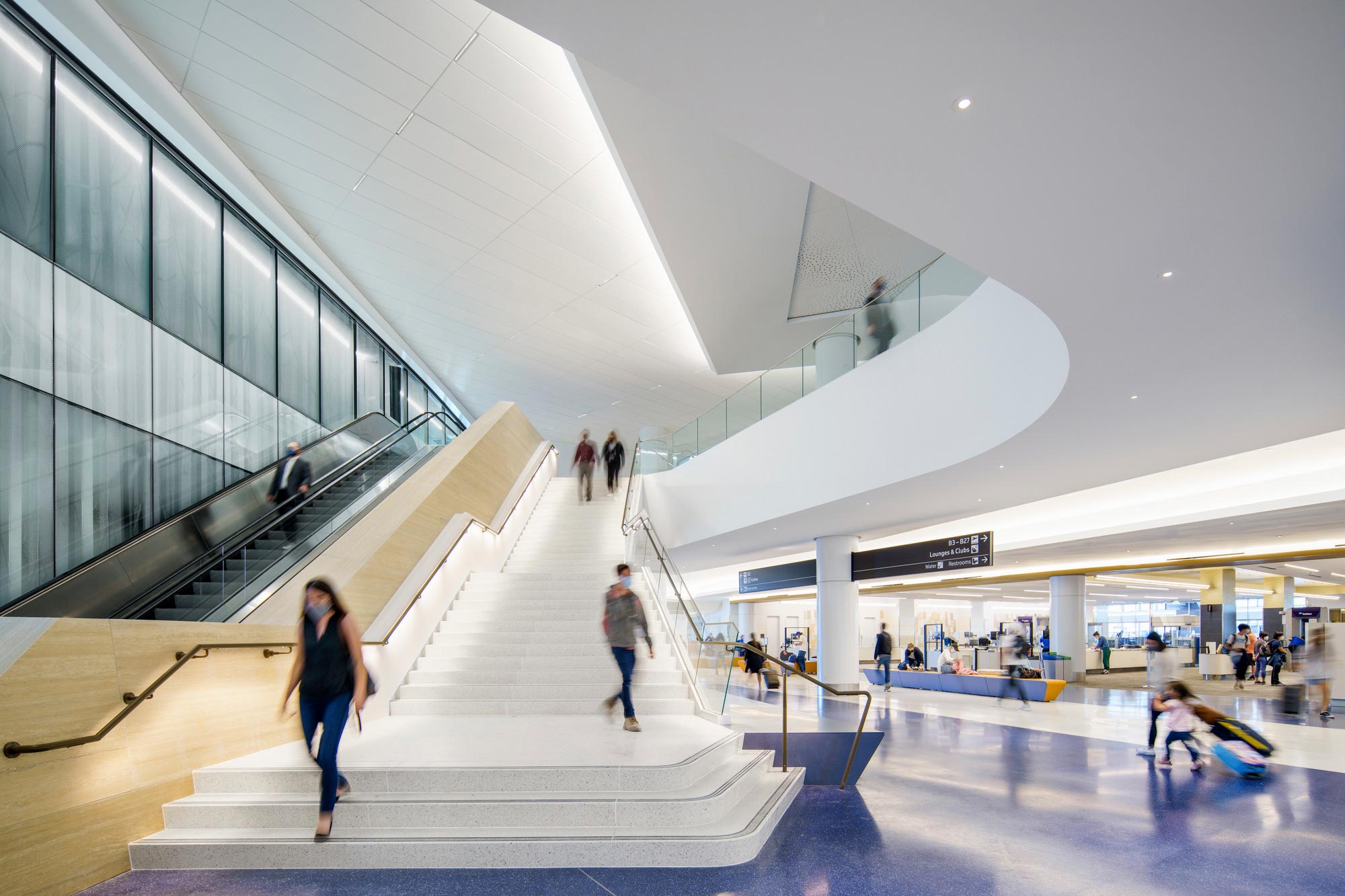 CHALLENGE
At Harvey B. Milk, the goal of reaching zero — not only carbon emissions, but also in waste diversion and energy consumption — is particularly challenging. Not only is the terminal a 24/7 energy intensive operation, but it is also designed to accommodate over 5,000 employees today with an expectation of a 70% annual increase in passengers on the same site footprint. The airport enlisted Gensler's energy, sustainability, and wellness experts to lead an internal and external team of partners to achieve this ambitious challenge.
SOLUTION
We researched existing energy use patterns; mapped energy demand from food & beverage tenants, retail operations; baggage handling, and aircraft support operations, and benchmarked data against other airports around the U.S. The team developed and then vetted strategies for significant energy and carbon reduction in the new terminal. We analyzed the operational and experiential implications to prepare life cycle cost analyses (LCCA), whole building life cycle assessments (WBLCA), embodied carbon alternatives analyses, and triple bottom line (TBL) financial, environmental, and social accounting studies. Over 30 different sustainable strategies were evaluated, ranging from all electric operations to smart equipment and controls to low carbon envelope design and materials.
SUSTAINABLE DESIGN STRATEGIES
Total Carbon Use Intensity
We conducted a Total Carbon Use Intensity (CUI) Study, looking at the combined operating and embodied carbon impacts of the project over a 50-year life. The baseline scenario — which estimated the "business as usual" conditions — shows an average CUI50 of 593 lbs/CO2e/sf. The final set of recommendations, including new all-electric HVAC, dynamic glazing, high-efficiency baggage handling, certified GHG-free supplied electricity, and low carbon materials, will result in a CUI50 of 124 lbs/CO2e/sf — a 79% reduction.
Zero Waste
With the client's Zero Waste to Landfill goal, considerable attention was paid to the design of recycling, food scrap, and waste receptacles. With SFO's new "compostables only" food service packaging requirements, the signage and placement of these receptacles was also critically analyzed. Realizing that diverting waste required a shift in passenger and employee behavior, a separate communication campaign was activated to teach and prompt the thousands of people moving through the airport daily to support the zero-waste initiative at every step of their journey.
Operating Carbon Zero Ready
By designing a project with significantly improved energy efficiency (70% reduction from existing conditions), all electric (heating, hot water, kitchens, and conversion of all Ground Service Equipment [GSE] to EV), and on-site renewable energy generation, the team is delivering an Operating Carbon Zero Ready project to SFO. Upon opening, all the systems powered by electricity will be 100% carbon zero. And, by 2030, as all the GSE converts to EV and the airport's Central Plant is converted to heat recovery hot water, the terminal will be 100% Operating Carbon Zero.
Tackling Embodied Carbon
Our team was a leading advocate for measuring and reducing the embodied carbon footprint of the project. With our design build partner Hensel Phelps, we focused on transparency and reduction of carbon in the supply chain and the migration of the project's Embodied Carbon model to the EC3 platform. The project is on track to report an almost 20% reduction in embodied carbon footprint from baseline.
Sustainable Materials
Sustainable resource thinking was woven throughout the project's design and construction process. Our team advocated for transparency in measuring and reducing the project's embodied carbon footprint. We used whole building Lifecycle Assessment modeling (LCA) and issued Environmental Product Declarations (EPDs) in both the design and procurement processes. Throughout the project, we focused on key measures to reduce carbon. Rather than sending old products to the landfill, the manufacturer agrees to recycle products back into their manufacturing process.
Designed for Wellness
Thanks to dynamic electrochromic glazing technology, passengers benefit from comfortable daylit views of nature without the discomfort of excessive heat or glare. Designed with a state-of-the-art HVAC mechanical system, the terminal promotes clean and healthy circulating air. Biophilic elements in the space, such as wood, texture, color, and children's play areas, helped this project become the first airport to achieve certification from Fitwel, a rating system on how to design and operate healthier buildings. The terminal has a Fitwel 2 Star Design rating and is targeting Fitwel 3 Star Built rating.
Community Awareness
To highlight the project's sustainability initiatives, our Brand studio created a public campaign to communicate SFO's commitment to sustainability in a visual way. The campaign encourages passengers and employees to learn about and engage with SFO's efforts in the airport — and beyond. The campaign includes a flexible toolkit of animated graphics visible throughout the terminal, online, and on social media channels.
Water Conservation
Water conservation is a pressing issue for all public facilities. We installed two separate plumbing systems allowing for separating non-potable water from its tertiary treated water for restroom flush fixtures and landscaping. Bathroom fixtures and faucets are low flow and hands free. Combined, these actions are reducing potable water demand by more than 50% below the LEED recommended baseline. Chilled water is provided from SFO's Central Utility Plant, with cooling towers operated in accordance with the LEED Cooling Tower Water Use credit requirements.