Our goal is to promote broader awareness about the environmental impact that buildings have on the world, and contribute to conversations about the leadership role that the architecture, engineering and construction industries can play in global efforts to answer the challenges posed by climate change.
We believe that every Gensler project should contribute to our world by enhancing the experience of people who use the places, spaces and communities that we design. We also believe every project is an opportunity to make a positive impact on our environment.
Impact by Design 2017 is Gensler's second annual publication analyzing the sustainable performance of our work. In it, we provide a comprehensive look at the energy performance and the carbon impact of our design work, a broad analysis of how new innovations in design, engineering, and technology are improving the sustainable footprint of the global built environment, and recently completed projects that exemplify sustainable design in action, while noting specific strategies or design aspects that have made noticeable differences.
How Buildings
Impact the
Environment
Understanding the
challenges and
opportunities ahead
Energy Use by Sector
Scales of Impact
Design Process
Energy Use
by Sector
Scales of
Impact
Design
Process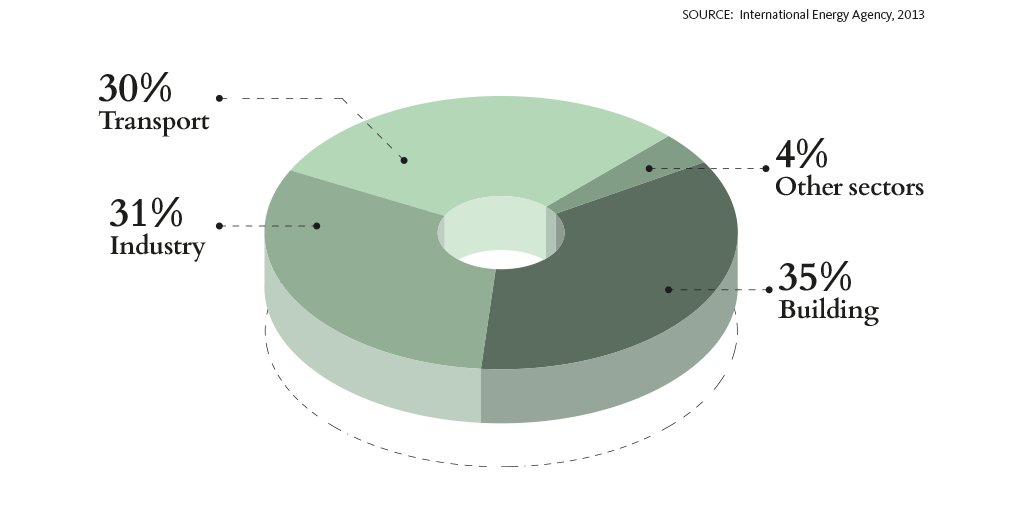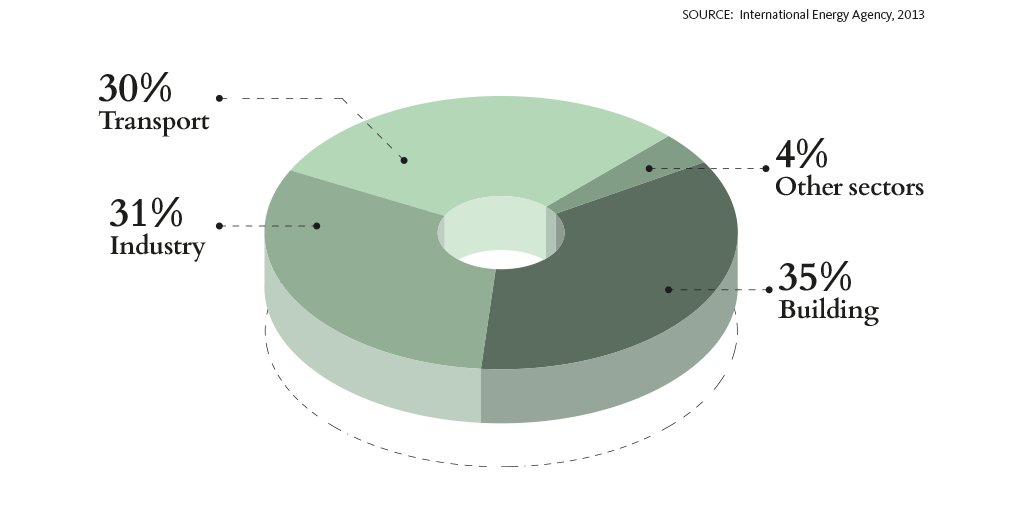 Measuring
Our Impact
An analysis of the energy
performance of Gensler's
2016 project portfolio
Project Performance
Building Projects
Interior Projects
Project
Performance
Building
Projects
Interior
Projects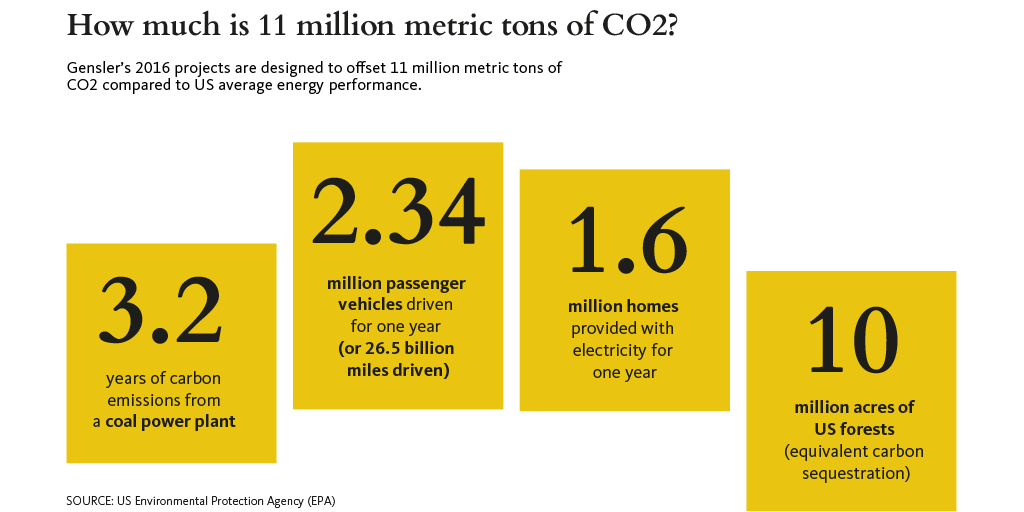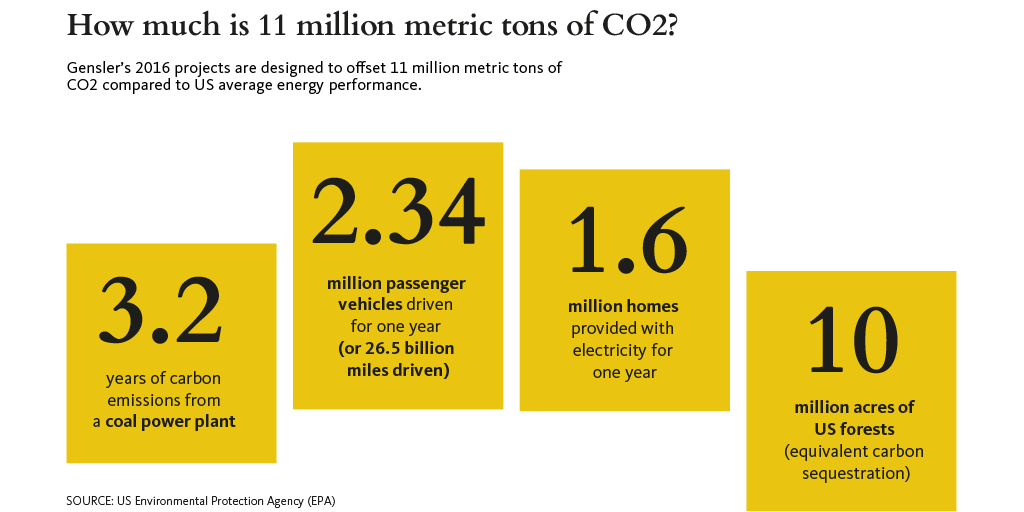 Guide to
Making an
Impact
Strategies shaping
the future of
sustainable design
At every scale, we must be at once pragmatic and visionary to achieve meaningful change. These analyses are a first step in those discussions, helping to identify "low hanging fruit"—strategies that are underutilized despite high ROI and impact, and should be implemented today—alongside those to watch in the future as ROI timelines shift faster along with technical and design innovation.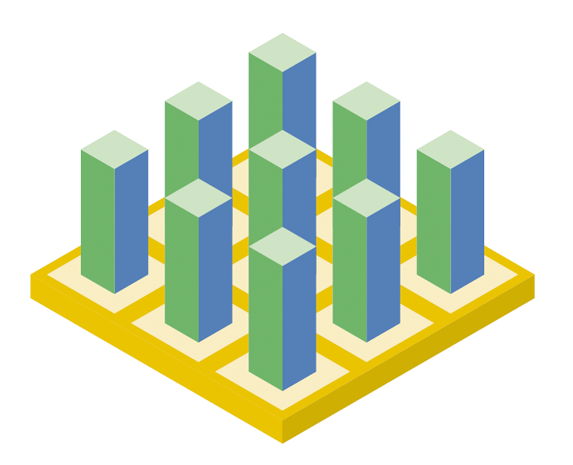 City/District
At the city/district scale, strategies with some of the most opportunity to make an impact are:
Light colored concrete or permeable paving
Increase tree canopy shading
District cooling plant efficiency
Robust public transportation networks
Ecodistricts (tactical sustainable developments aimed at reducing their collective sustainable footprint)
Buildings
At the building scale, strategies with some of the most opportunity to make an impact are:
LED lighting
Solar water heating
Heat Recovery Chillers (capture waste heat and converts to chilled water building cooling.)
Real-Time Performance Modeling
Solar Chimney (designed stacks that organize a building to induce cool air induction and hot air exhaust to offset internal heat gains)
Interiors
For interior environments, strategies with some of the most opportunity to make an impact are:
Demand Dimming
Energy Star Appliance
Task Lighting
Ceiling Fans
Real-Time Performance Modeling
Demand Response (For example, smart appliances can adjust ventilation patterns during non-working hours)
Disaggregation (structural panels that are pre- fabricated with appropriate insulation and vapor barrier technologies)
Sustainability
in Action
Gensler projects that
push the boundaries of
sustainable performance