WEBINAR:
GOVERNMENT & DEFENSE
DESIGN STRATEGIES FOR A POST-COVID WORLD
Across the globe, governments are reimagining office space to be more efficient and collaborative to accommodate the shift to remote and hybrid work. A survey by Gensler found that 48% of government workers want the flexibility of a hybrid work model, citing the need to balance convenience, safety, and productivity. Government agencies are also prioritizing safety and accessibility in public buildings, and at the same time, many are designing resilient facilities, which now encompass health and wellness. Gensler's latest Design Forecast identifies major opportunities for government agencies to address these complex challenges.
In this webinar, Gensler Government & Defense Leaders Bob Peck and Peter Barsuk, are joined by Workplace Strategist Lisa Cholmondeley, Global Design Resilience Leader Rives Taylor, and Government & Defense Resilience Leader Lina Khan. The discussion focuses on how governments worldwide are shifting their workplace strategies to meet new needs and expectations.
Download Gensler's Design Forecast 2021 to discover more trends and strategies for transforming government facilities for a hybrid future.
Explore Design Strategies for a Post‑COVID World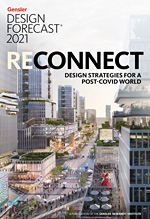 GENSLER RESEARCH INSTITUTE
DESIGN STRATEGIES FOR A POST-COVID WORLD
Download Gensler Design Forecast 2021 (PDF)