Four world cities, separated by oceans and continents, have much in common, yet are uniquely themselves. Each has patterns of movement, development, and physical setting that shape how and where work happens, and convey a spirit that, however direct or subtle in its expression, is like no other metropolis. Here's an update on how Gensler sees them.
BY ALLISON ARIEFF
---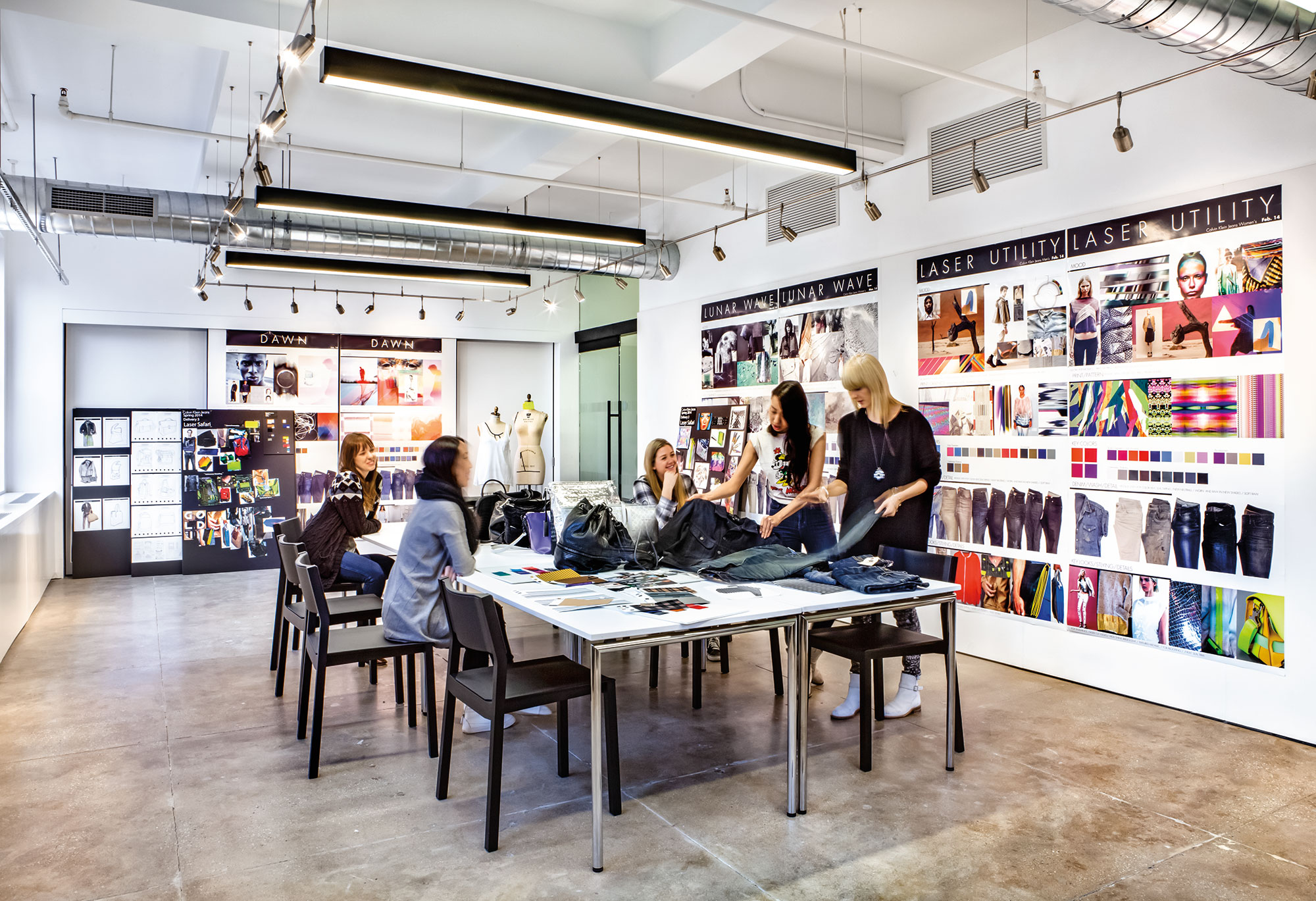 NEW YORK
Less about downtown and midtown, New York is more about opening up new areas for business (and pleasure) that are closer to where the workforce lives.
"New York City used to have distinct divisions around neighborhoods—not so much physical but psychological," explains Gensler's Tom Vecchione. "Over the last 10 years, those walls have come down." There are shifts and transformations happening everywhere. Economic divisions are shifting and districts are opening up. "Companies now engage with the city, making it their campus," he adds. Vibrant neighborhoods are preferred because if they're rich in amenities, the workspace can forgo them—a substantial savings.
There is a growth ring around New York City. Manhattan spills over economically to Brooklyn, Queens, and New Jersey, with new development and redevelopment to match. Success at the core is transforming the whole area. Says Vecchione, "The city is so connected, and new life is gravitating toward those adjacencies." These shifts also reflect where the workforce lives: in Brooklyn, for example, prompting companies to relocate from Midtown—oriented toward the suburbs—to Lower Manhattan. Manhattan remains a world financial center, attracting international banks from cities like Paris and Tokyo. "They bring their culture with them," says Gensler's Laurent Lisimachio. While they celebrate these ties to home, the needs of global banking "require modern, collaborative work settings," he adds. "Like the American banks, they have to break down silos to deal with complexity and regulation."
New York City is also seeing the growth of sectors that historically have not been active in real estate. "Fashion and beauty companies are rethinking their approach," Lisimachio says. In Manhattan's garment district, filled with older buildings, change is afoot. Many of these companies had their offices in several buildings; now they understand the benefits of consolidating. Not just a cost-saving measure, "It's an opportunity to revive the connection its people feel to the company and its brand—to jump-start the organization," he notes.
Companies are locating in New York City to incubate new companies as well as to transform existing ones. They're attracted to the talent that a global economic center like New York pulls in. While some opt for the newer towers, others "want to be in the right part of the city to express who they are and the business they're in," says Vecchione. Times Square is an example, "a thick, dense, important place that's connected now to Hell's Kitchen's coolness." Companies curate their brands for the benefit of customers and employees, he adds. "A larger part of the city is in play now as they decide where to locate next."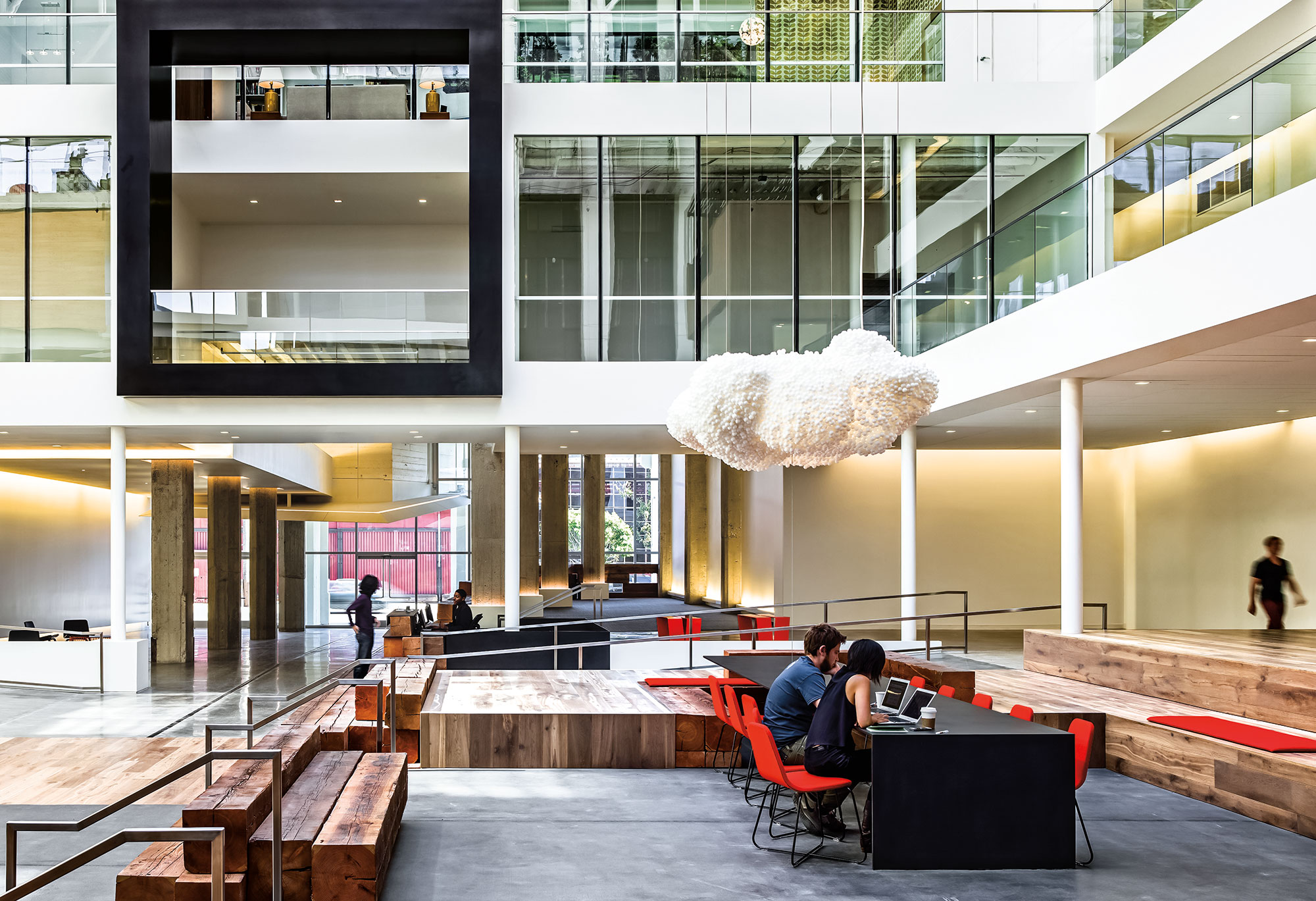 SAN FRANCISCO
Silicon Valley is tech's historic epicenter. While new campuses are being built there, tech is a dominant workplace tenant in San Francisco, Oakland, and other Bay Area cities as well.
While the big tech companies in Silicon Valley continue to prefer large campuses, San Francisco—where many tech workers live—has a growing pull, especially among consumer- and app-focused companies and startups. Space is at a premium in the city, but locating there makes a statement. "Ever since Oracle, a Silicon Valley headquarters has expressed a company's brand," says Gensler's Randy Howder. "In San Francisco, you can either build vertically or remake what exists. Older buildings appeal because they communicate a kind of scrappiness and upstartness."
A new headquarters in Silicon Valley takes three years to develop; in the city, it can take three times as long. Salesforce.com abandoned a ground-up headquarters in Mission Bay in favor of an urban campus in six different downtown highrises. That has its own challenges, Howder notes: while new towers are going up, the vacancy rate is low. Salesforce.com is consolidating into a smaller footprint because it believes its workforce wants to be in San Francisco.
The tight market means that tech tenants are going into 1970s-era buildings downtown, but older buildings in the city's SoMa district "attract young companies looking for authenticity," says Gensler's Collin Burry. SKS Partners' 888 Brannan, developed with Vantage Property Investors, is a prime example. "It has lots of texture, because SKS's Dan Kingsley wanted it to express the original materials—concrete, timber, and columns." The centerpiece is its active, community-drawing atrium. "Having an event-and-education space is part of 888 Brannan's drawing power," says Gensler's Dominique Price. "It's a popular place to host lectures, investor meetings, and special occasions." Features like these helped 888 Brannan land Airbnb, whose headquarters Gensler also designed.
Tech's growth is spawning new centers in the city (Dogpatch, Hunters Point) and beyond. Oakland is urban, Howder says, but Palo Alto is a walkable town—a transit-served, "middle density," neither city nor suburb—that a growing number of tech companies see as an attractive option. San Jose, with a close-in airport and regular train service to the West Bay and San Francisco, is the region's other tech hub, Kevin Schaeffer notes, "the urban anchor of Silicon Valley."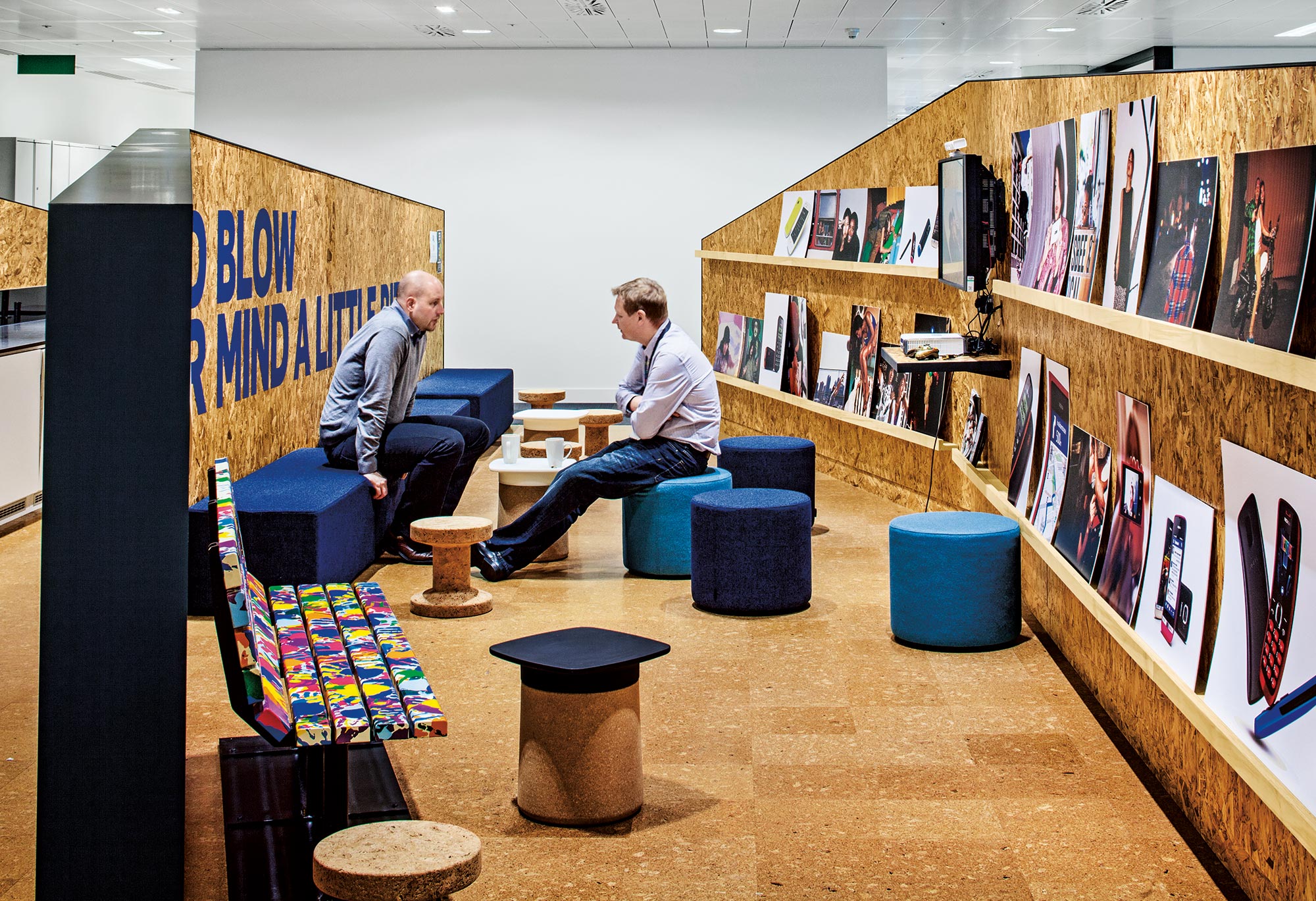 LONDON
A city of multiple, transit-linked clusters, London is diversifying its economy and leveraging its mobile talent.
In the last 30 years, London has become a truly global city where more than 200 languages are spoken. Not simply Europe's main financial center, it's also a tech hub. This is a city of clusters, each built up around transit links. Banks, lawyers, and professional services are in Canary Wharf. Tech City houses technology/media/telecomm (TMT) companies, from startups to Microsoft and the BBC. Shoreditch is also home to startups. Other businesses cluster in Soho, Mid-Town, and the West End. In the next 10 years, metropolitan London could add two million more people.
With banking deregulation in the 1980s, the Docklands opened up. Canary Wharf employs some 130,000 people, 10,000 more than the docks supported in their heyday. A similar transformation is happening now in Tech City around Shoreditch in central and east London. "The older buildings drew new creatives and startups, especially digital tech," says Gensler's Philip Tidd. "Affordable housing was also a draw, but Shoreditch is now too pricey." Financial-tech accelerator Level39 chose to locate on the 39th floor of Canary Wharf's One Canada Square Tower, a setting that puts it at the heart of its financial-sector customer base. This simplifies beta testing of software and app-delivered products, but it also puts the young companies it accelerates close to potential investors. (London is not yet a hotbed of venture capitalism.) Level39 also mirrors the rise of coworking spaces.
"For many in London, the city is their workplace," Tidd says. "This is why office buildings are adding coworking space." The Gensler-designed TechHub London speaks to this. Designed and built in just 90 days, it appeals to up-and-coming young tech companies looking to rub elbows with their peers and potential backers. Nexmo, which raised $18 million in funding, is an example, notes Gensler's Duncan Swinhoe. "TechHub is at the epicenter of the city's rapidly growing tech cluster, which already contributes close to 30 percent of job growth in metropolitan London."
More established companies also make up the city's tech sector. Nokia rethought its London headquarters to give its people lots of incentives to stop working from home yet still leverage a mobile work style. It pairs a fluid range of settings with great flexibility in how they're used. The focus is on collaboration, much like coworking space, but Nokia has scaled them up to the needs of a much larger organization.
As London has grown as an international business center, it has finally embraced tall buildings. "Getting permission and financing to build them is a slow process, often spanning economic cycles," Swinhoe notes. "The latest crop are multi-tenant 'icons' like the Shard, Gherkin, and Walkie Talkie. It will be interesting to see how the next crop of towers responds to the new wave of technology-enabled businesses."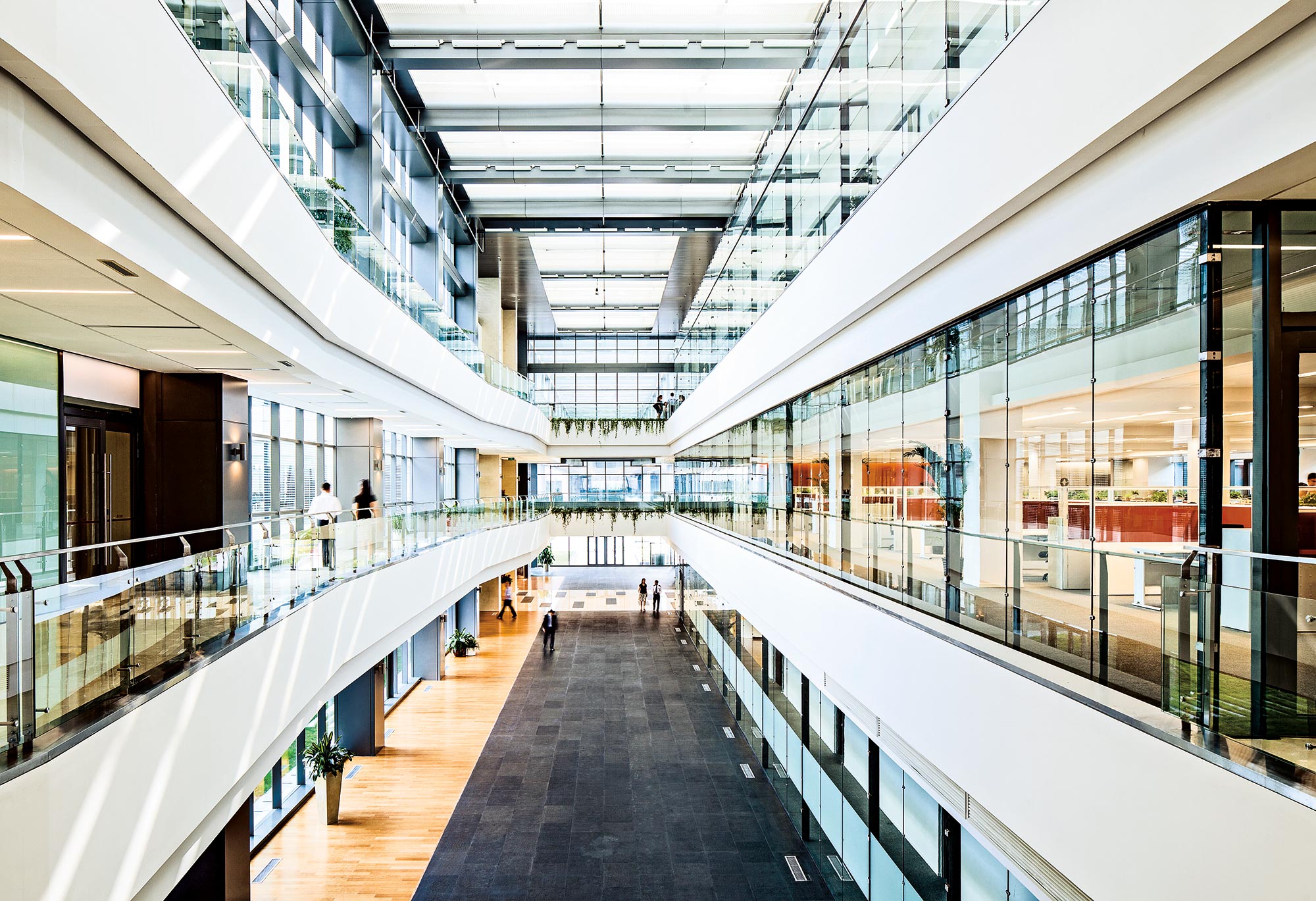 SHANGHAI
This huge metropolis, linked by mass transit like London, is steadily upping its game as Chinese companies see the workplace as the best way to cultivate culture and speed innovation.
Shanghai is divided by the Huangpu River into two main districts, Puxi and Pudong. The latter is the newest part of an ever-expanding metropolis: the international financial center of China, competing with Hong Kong and Singapore. "It was rice fields 20 years ago," says Gensler's Robert Price. "It sprouted up out of nowhere." The government has offered tax incentives for global banking companies to locate here. Other sectors, domestic or foreign, find quarters elsewhere in this sprawling city.
Policy decides where development goes. While Shanghai is adding new business districts to meet economic and population growth, "It's still a challenge to find global-standard office space and infrastructure," Price notes. "Local businesses, previously okay with a lower standard, are starting to move up." Rapid expansion of mass transit makes for a well-connected city, one of the few in China with train-accessible airports. To mitigate congestion, there are 15 metro lines, up from half a dozen 10 years ago.
Hongqiao is an example of an emerging center. As Gensler's Amber Sun notes, "Competition for tenants is growing. A walkable, high-amenity area with housing and entertainment in the mix is popular." Hongqiao has such good transit access to Shanghai's domestic airport that one dev-eloper has arranged to let people check in for their flights at its new development there before heading for the airport. Such features as sustainability and wellness are also desired by office tenants, Sun adds.
Chinese companies in Shanghai now see the office as a means of building brand and culture, fostering innovation, and attracting talent.
---
Allison Arieff is editorial director at SPUR in San Francisco and a contributing New York Times columnist.