Creating Unique Experiences a Focus at Latin America Hotel and Resort Expansion Summit
By Javier Cortes
"Today's travelers are looking to learn something, to get to know themselves, to disconnect, and re-connect" shared Mauricio Elizondo, Development Director, Grupo Posadas "Travel is holistic, hyper-connected, and multi-purpose."
Hotel industry executives gathered this May in Cancún for the 3rd annual Latin America Hotel and Resort Expansion Summit, where I was invited to present the Gensler Hospitality Experience Index.
Gensler's Hospitality Experience Index is the culmination of a multiyear, mixed-methods research effort leveraging ethnographic research and a 1,200-person survey to find patterns in how we interact with hotel environments. It provides insight into the myriad factors affecting the guest experience with hotels today, and reveals the factors that matter most — from design features to elements of service, technology, and marketing.
At the heart of understanding experience is understanding users' intention and mindset — from the decision points behind a hotel booking, to their goals and activities during their stay. We defined five core intentions, or "experience modes," to offer a framework for understanding how users are engaging with hotels today.
How People Use Hotels
Respondents to our survey provided valuable insight into how hotels and hospitality spaces are used today. Whether guests are traveling for business or leisure, hotels are supporting a wide range of activities — from the traditional work trip or vacation, to places to hang out, socialize, host or attend meetings, get inspired, take a break, or just work away from the office.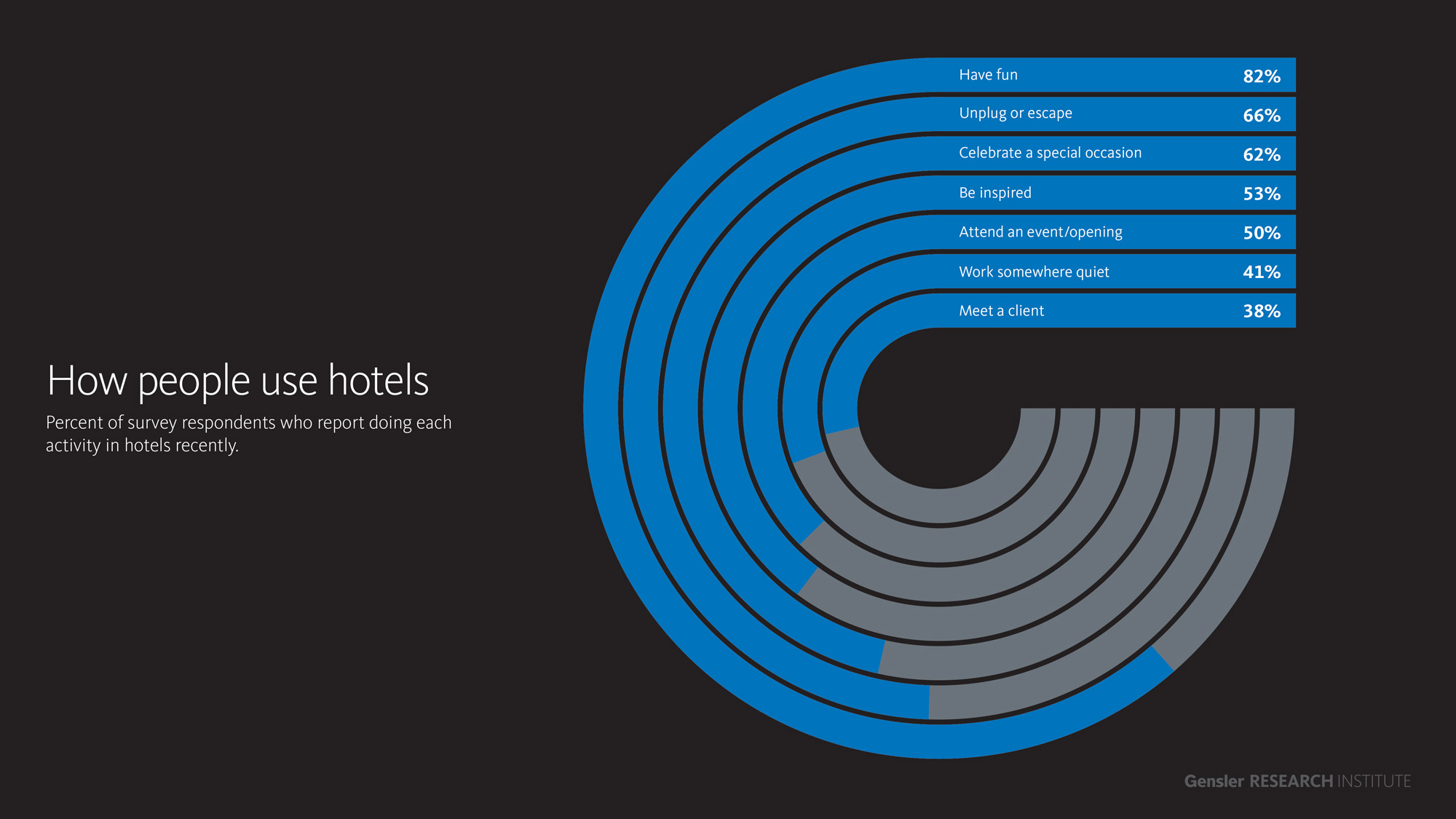 Millennials are the Most Multimodal
Younger travelers report doing a wider range of activities in hotels today than their older peers. The chart below shows percent of respondents who reported doing each activity during a recent hotel visit.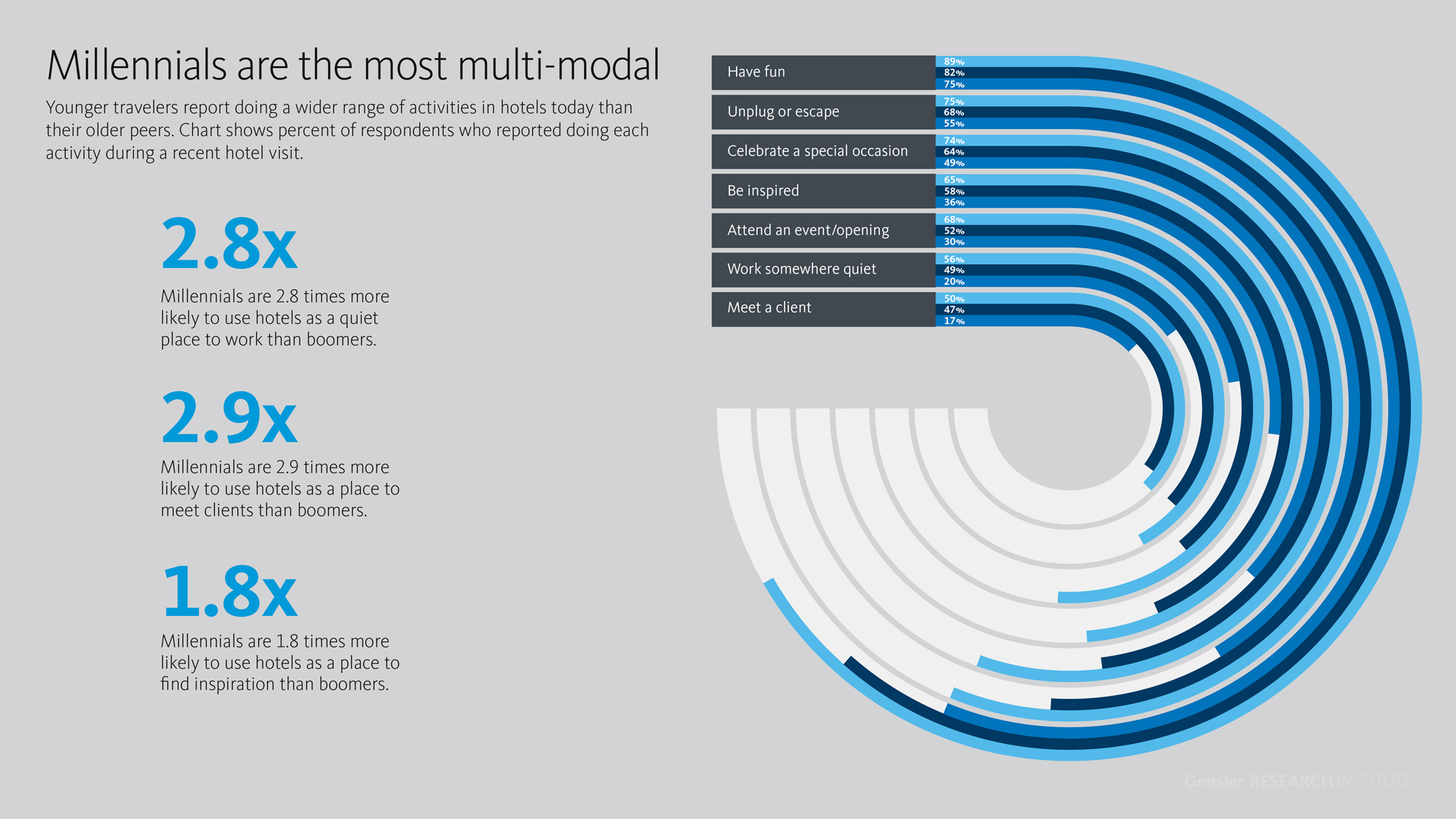 Consistent with Gensler's Hospitality Experience Index, a common theme emerged among fellow conference speakers, which is applicable not just in Latin America, but worldwide. Travelers are increasingly searching for unique experiences, and they are willing to pay a premium for them.
With an ever-expanding blur between travel for business or leisure, the most successful travel destinations will be those who develop distinct experiences rooted in a sense of place. They will provide a true sense of community as the gathering place for both locals and visitors. Their spaces will be designed to be flexible and adaptable, effortlessly shifting from one use to the next.
Alfredo Reynoso, Director of Development for Hyatt, Latin America, expressed that "at Hyatt we are focused not on a standardized product, but rather a standardized [quality of] experience, and integrating the essence of place at each property."
Hyper-modern luxuries are experiential, and travelers are willing to pay more for entertainment than for their hotel room. They have a growing interest in sustainability, cuisine, and learning.
Mauricio Elizondo expanded: "Multi-generational travel is a growing trend for leisure, with families of up to 12 people traveling together — from the grandparents to the five-year-old grandchild." This places increased pressure on destination resorts to cater to their different needs and interests. They could borrow a page from the cruise industry, who "welcome these clients with much success."
Alignment and integration with the local community is fundamental in order to deliver reliability in infrastructure and experience. But hotels don't need to own it all, third party operators, from tour guides to entertainment venues, can serve as effective agents of immersion in local culture for guests.
All of this is beneficial when the economy slows down. "When there is an economic downturn, people tend to want to go on vacation," Said Juan Manuel Martin, Vice President Tourism Business Area, Banco Popular Dominicano, "The tourism industry is the first to emerge from a downturn."
In summary, hotels and resorts that focus on delivering memorable, differentiated experiences with a true local feel and that provide opportunities for connection and personal growth will be most successful in attracting and retaining a loyal guest following.
For more on this topic, read the Gensler Hospitality Experience Index.