Decades of Commitment to Our Communities
By Gensler's Community Impact Team
As record numbers of people move into cities, homelessness, displacement, and related issues are rising globally. At Gensler, we believe our skilled colleagues and focused Community Impact efforts put us in a unique position to create positive change in these areas. Our Newport Beach office has long dedicated its efforts towards helping to solve homelessness in the community through their work with the Orange County Rescue Mission (OCRM) – a partnership that began over two decades ago.
The Orange County Rescue Mission provides shelter and services for families and individuals, serving nearly 20,000 people and more than 1 million meals per year. The organization aims to effect long-term change by teaching life skills to its clients for long-term stability. In 1996, Gensler's Newport Beach office first partnered with OCRM to design and brand the Village of Hope, which serves as the Mission's home base for its programs and services.
The strong client relationship between Gensler and OCRM has led to a long-lasting friendship between our two organizations. Years later, in 2016, OCRM invited Gensler to come back to the Village of Hope to refresh the campus kitchen and amenity spaces. The redesign included furniture donations, an expansion of seating space, the creation of a stage, rebranding and logo design, and other updates. The Village of Hope's new space became known as the Restoration Café and has increased the organization's reach, with over 3,000 meals now served daily.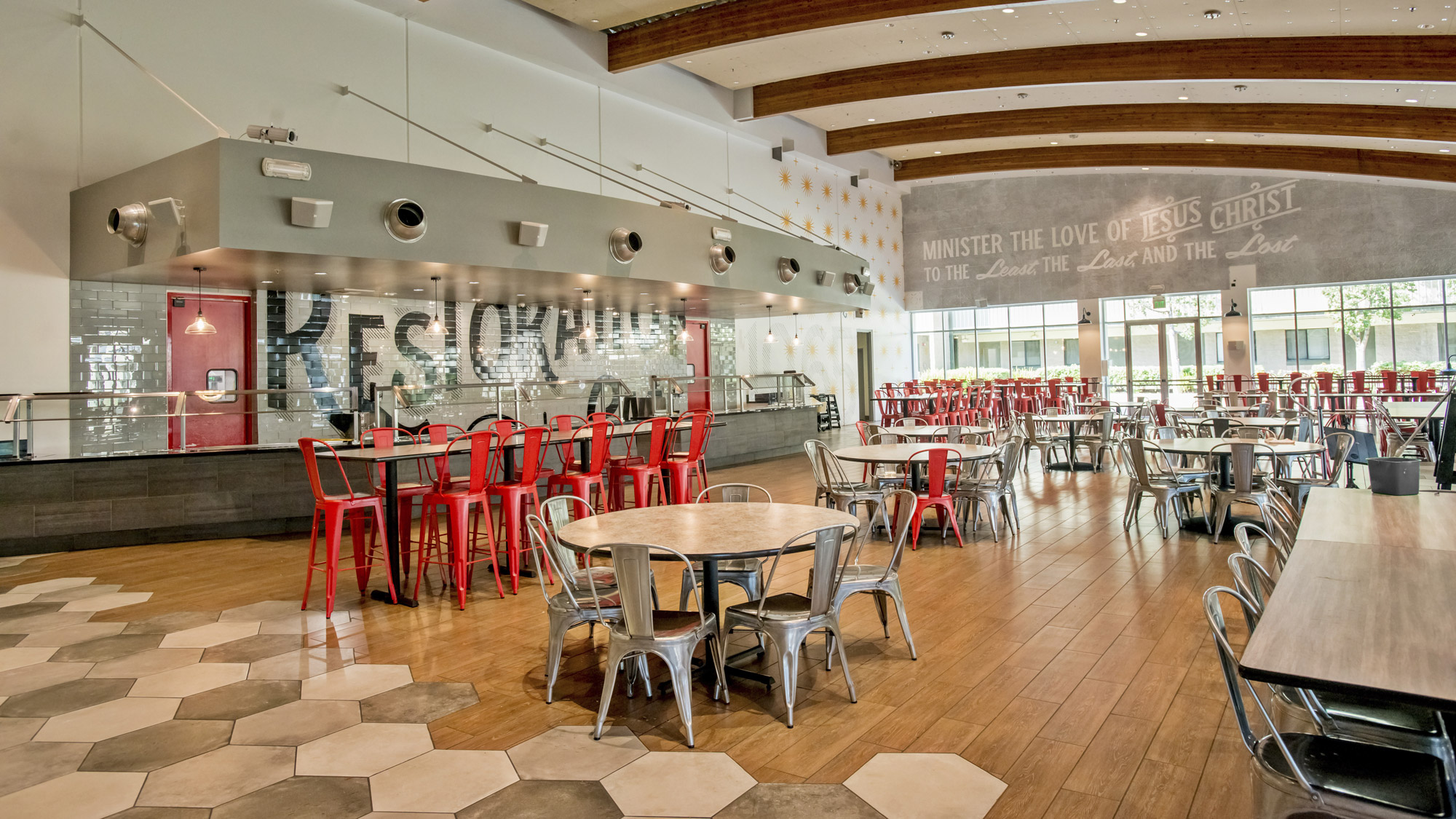 The partnership has grown even more since the redesign. Groups of Gensler volunteers regularly join Restoration Café staff to help prepare and serve meals in their kitchen. Gensler Principal Chip Williams even gave the convocation speech at OCRM's graduation ceremony for homeless students who have completed a year-long academic course preparing them for employment.
The multifaceted partnership between the Rescue Mission and Gensler continues to evolve. The project's success and impact are demonstrated both by the physical transformation of the space, and in the stability of the partnership. The lasting relationship generates numerous new possibilities for collaboration and moves us towards greater impact.