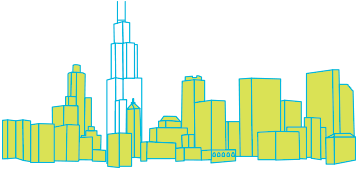 Editor's note: This article was updated on Oct. 19, 2020. For our latest thinking on climate action strategies, click here.
The COVID-19 pandemic has made clear that buildings with multiple uses are better for the community and the planet than those with single uses. During the pandemic, hotels have been reconfigured as temporary hospitals and student housing; sports venues have been reimagined as food banks, hospitals, and voting centers; and retail stores have been transformed into distribution facilities.
As developers and building owners reexamine their portfolios in response to economic, social, health, and climate volatility, they're looking for new ways to reposition underperforming buildings and transform single-use spaces such as malls and corporate offices into multi-use environments — bringing vibrancy, walkability, and resiliency back to the heart of our cities.
As we learn more about the scope of climate change, many cities are now looking at the legacy buildings that line their streets and seeing opportunities to evolve them through adaptive reuse to fit the needs of today's businesses and residents.
A longstanding but increasingly popular practice, adaptive reuse isn't historic preservation, which seeks to restore a space to its former glory. Instead, adaptive reuse focuses on taking a building that's past its prime and renovating it for new purposes in line with contemporary technological and social needs. If we want to create more sustainable cities, adaptive reuse is one of the most sound climate action strategies we can implement.
Simply put, a significant portion of a building's carbon emissions comes from its materials, specifically their fabrication, delivery, assembly, and end-of-life protocols. That embodied carbon is projected to make up 49% of the total carbon emissions of global new construction between now and 2050, according to Architecture 2030, a nonprofit focused on climate change and the built environment.
And for a brand-new, energy-efficient building, it can take between 10 to 80 years to "pay back" the carbon load resulting from its construction. Yet it's not simply carbon emissions that make new construction problematic. Waste is also an issue. According to a recent U.S. Environmental Protection Agency report, building-related construction and demolition debris account for 26% of all non-industrial waste generated in the United States. Adaptive reuse stands as a method to cut back enormously on both the emissions and the construction and demolition waste — not to mention the associated costs — that come with building something new.

The Old Post Office, Chicago
Gensler has been working closely with clients on a number of adaptive reuse projects that transform existing building stock into state-of-the-art, multi-use spaces. One of the most high-profile examples of such efforts is Chicago's Old Main Post Office, a 1921 Art Deco building that occupies more than 2.8 million square feet in a prime spot near the Chicago River. After sitting vacant for decades, the historic structure was purchased by private developer 601W Companies. Gensler was then brought on to transform the decaying facility into vibrant offices and retail spaces. As part of the project, many of the building's original materials were reused, including the ornate marble found in the lobby. Working with our contractor to develop strategies around materials and construction logistics, we were able to divert 87% of the construction waste from landfill. In addition, the project adds to Chicago's tree canopy — which helps to scrub carbon from the atmosphere — in the form of a lush 3.5-acre rooftop park that features dining and events space.
Through adaptive reuse, Chicago's Old Main Post Office has been transformed into a hub for businesses, complete with tenant lounges and other amenities.
Willis Tower, Chicago
Also in Chicago, Gensler oversaw the adaptive reuse of the iconic Willis Tower. That effort was focused on creating an updated urban experience for the podium through minimal new construction — and minimal environmental impact. In total, the redesign adds just 100,000 square feet of new space and reconfigures 360,000 square feet of existing space to create a new lobby, new retail and entertainment spaces, and a more transparent and inviting street-level presence. Once again, the fate of the original materials was a top priority. Thus, 180 tons of metal and glass from the old atrium were slated for recycling.
The revamp of Chicago's Willis Tower podium balances the desire for an enhanced overall experience and the need for minimal environmental impact.
Portland House, London
If there were any doubt about just how much carbon could be saved by opting for an adaptive reuse strategy, consider Portland House, a 1963 Brutalist office tower located near Buckingham Palace, in London. An analysis revealed that updating the building would yield 54% fewer tons of CO2 per square meter compared to demolishing and replacing it. That analysis ultimately spawned Gensler's sustainable vision for the project, which includes embracing circular economy principles, leveraging clean-energy systems, and planning for an extended building lifecycle. The resulting design includes a 15-story extension on the structure's west side, a new rooftop restaurant that offers views across London, and public realm enhancements that improve pedestrian flow and provide an external destination.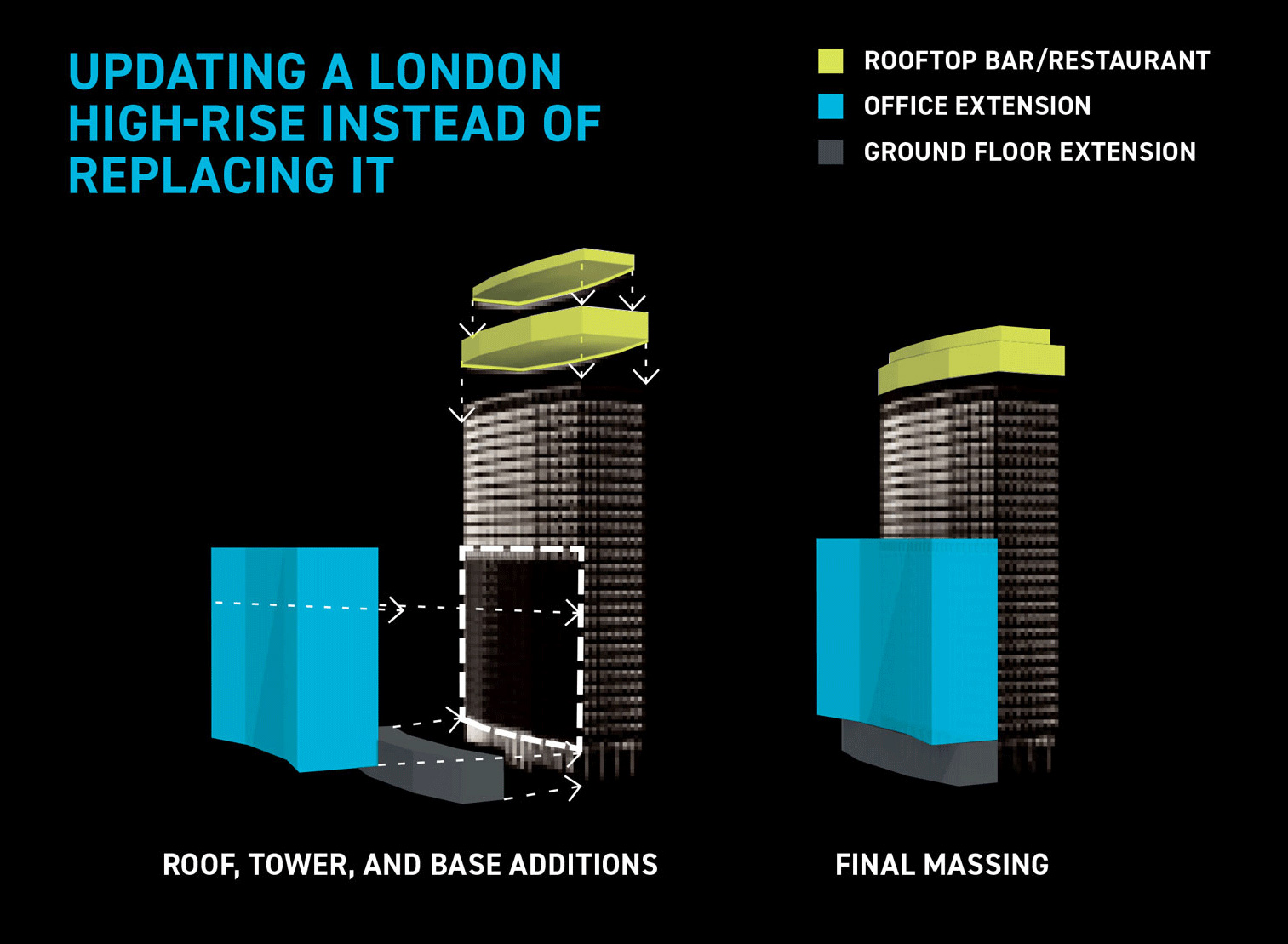 With Portland House, we're not only repurposing a historic asset for the future but also creating spaces that help people feel connected to the city they call home. And we're striving to do so in a way that's responsible and environmentally friendly. This is adaptive reuse in a nutshell. The practice helps urban environments blossom by honoring the past while creating a future that's both climate- and people-forward.
In London, the Portland House renovation preserves the building's Brutalist aesthetic and provides additional office space.