Headquarters Transformed
The design of headquarters is an invitation to consider the organization's future. This is where (and when) the reinvention happens.
BY VERNON MAYS
---
"When you plan and design a headquarters today, you're optimizing for the essence of the organization—really communicating its purpose through the physical space," says Gensler's Mandy Graham. It's a building type that's often transformational, because it drives realignment and repositioning—everything that anticipates the future. Clients as diverse as Facebook, China Mobile, Goodyear, and Tencent are leveraging their headquarters to send a powerful message: To be effective, those who plan, make, market, and deliver an organization's products or services have to act as one seamless, synergistic team.
Rapid growth, consolidation, and intense competition for young talent are giving rise to a new generation of headquarters in the energy industry. In cities where the sector clusters, from Houston to Oklahoma City to Calgary, new centralized campuses—vertical and horizontal—are coming online to break down silos in organizations and spark innovation. "Companies are thinking again about how to position themselves and create a central place where they can host clients, train employees, and build a culture," says Gensler's Sven Govaars. "While it's changing dramatically, the headquarters concept is still extremely viable."
Change for the better
Informed by its research on the value of human capital, Gensler is working with Houston-based Southwestern Energy Company to design a new headquarters that prior-itizes factors such as light, air, acoustics, water, nutrition, and access to daylight. This new generation of work environments is designed to support the idea of campus-as-workspace. "It's just a building until people know how to use it," adds Govaars. "So change management—familiarizing them with their new, activity-based workplace—is a big part of the project." Putting people first and place next from a change perspective makes for a workplace that supports high productivity and well-being. When people start to move in, a communications plan will help them make the most of the new choices they have.
Technology's role in the energy industry has changed dramatically over the past decade, and the resulting talent war is huge, says Gensler's Dean Strombom. The pressure to one-up the competition extends to corporate campuses. At the Devon Energy Center in Oklahoma City, for example, visitors and employees alike enter through a soaring, six-story glass rotunda, overlooked by balconies where employees gather and connect. These types of spaces make a big, and measurable, impression on recruits, says Gensler's Judy Pesek.
Two faces of tech
In Silicon Valley, tech companies are investing in new headquarters that fuel the speed, innovation, and productivity that's crucial to their industry. The common thread: all are adapting to the changing nature of work. Facebook's headquarters in Menlo Park continues to be one of the archetypes of the new tech campus, with a dynamic open layout that employees are encouraged to change and personalize. A town-like grouping of '80s-era buildings that Gensler converted into a contemporary workplace, the campus exudes an urban feel that appeals to a new generation of workers. Inside, the casual environment feeds the creative process, balancing small-group collaboration space and places for intense focus work.

Nearby, visual-computing pioneer NVIDIA is working to make the most of its talent, which is currently scattered across many buildings. The first phase of its new Gensler-designed headquarters will consolidate staff onto two large floors (250,000 square feet each) that eliminate barriers to collaboration. "Taking a cue from chip design—where the connections for information flow are considered first—NVIDIA's design focuses on the flow of people," says Gensler's Hao Ko. The triangular footprint helps minimize the distance between departments, and the vertical connections between floors feature overscaled landings and enlarged stair treads where impromptu meetings can happen and ideas can benefit from people's interaction.
A model of mobility
Recognition of just how disconnected knowledge workers are from their desks is producing a new standard for workplace design at the US General Services Administration (GSA), the landlord of the federal government. Gensler's analysis of GSA's headquarters in Washington, DC, discovered that, at times, fewer than 30 percent of the assigned employees were even in the building. Instead, they were offsite with clients, in meetings, teleworking, traveling, or working flextime. In response, GSA embarked on an aggressive mobility and workplace strategy program.
"The strategy is to demonstrate mobility for the entire federal government," says Gensler's Janet Pogue. While the headquarters modernization is only half-completed, the number of employees assigned to the building has nearly doubled—up from 2,300 to 4,400.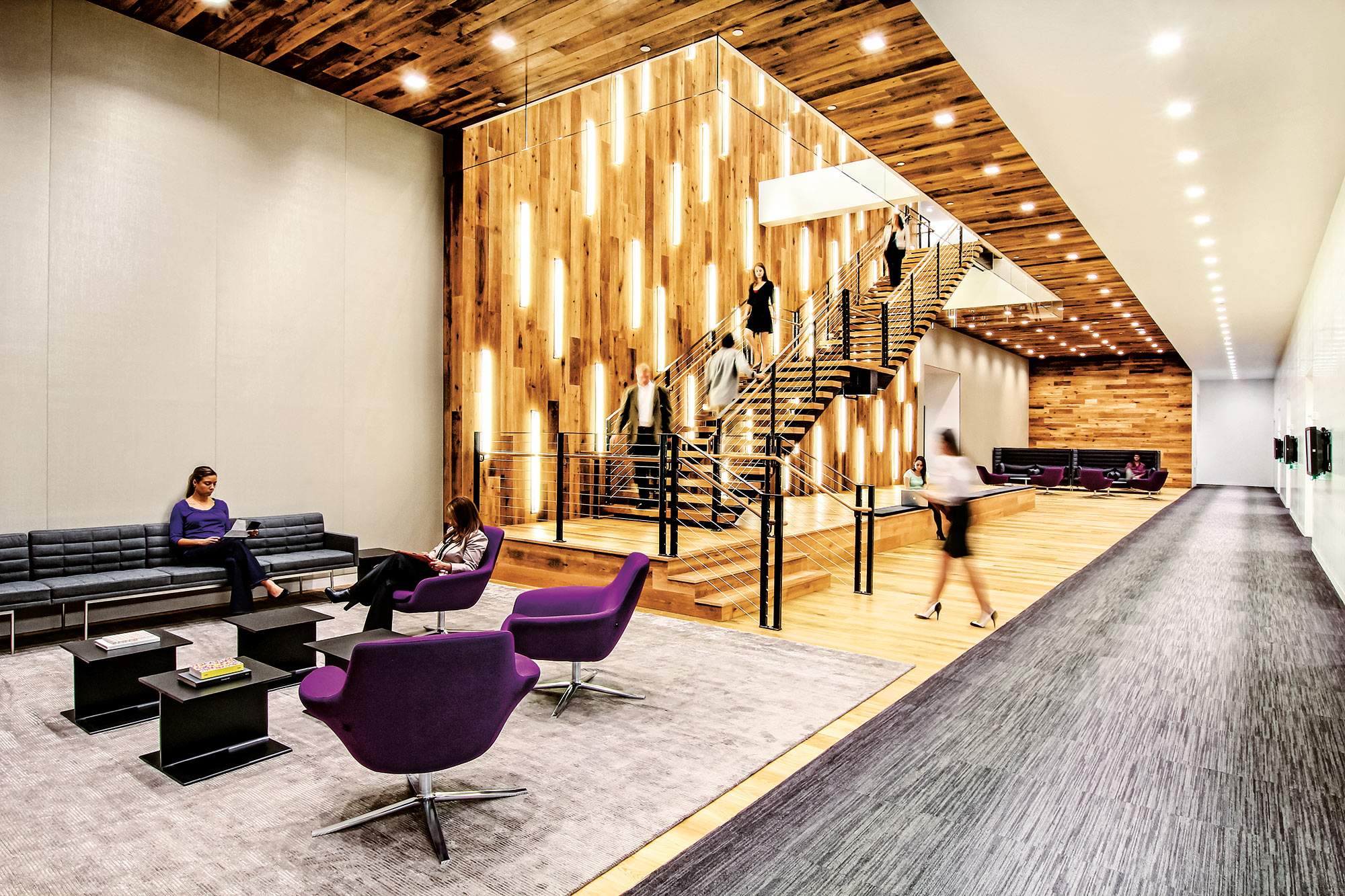 Another industry that's on the rise is life sciences, with Gensler's work in the sector ranging from a host of offices globally for Amgen to the master planning of Novartis's North American Headquarters campus in East Hanover, New Jersey. In nearby Whippany, Germany-based Bayer HealthCare recently completed its new East Coast US Headquarters, which consolidates several large divisions in a 100 percent open-office environment. As the interior architect for Bayer's two headquarters buildings, Gensler focused on creating an environment that promotes wellness. The floor layouts encourage walking, and exit stairs are activated with graphics and upgraded finishes to make stair-climbing more inviting. Bayer wanted to demonstrate its leadership in healthcare, says Gensler's Brenda Nyce-Taylor. So, additional amenities include outdoor dining areas, a juice bar, a medical and mother's suite, a fitness building, and walking trails.
Engaging with the brand
For its new headquarters, one young company that delivers on-demand streaming video challenged Gensler to communicate its brand in a way that would attract top talent. Because it values play as an important part of work, the headquarters workspace is peppered with game hubs that subdivide the individual team areas. Every employee has an ergonomic, sit-to-standing desk, further evidence of the company's people-first attitude. "Measures like this reinforce the idea of engaging people and recognizing that addressing the human capital aspect of a headquarters is one of the most important things you can do," says Gensler's Greg Nelson. A similar understanding of people's value is informing the new headquarters in Shenzhen, China, for Tencent, a fast-growing tech company that some liken to "the Google of China." In addition to managing its burgeoning workforce, the young company has made a big leap in appreciating the iconic power of the buildings where it has chosen to place its people, says Gensler's Tim Etherington. "They have a strong desire to be seen as operating on a global platform." Gensler is planning and designing Tencent's headquarters workplace with community and communication driving the conversation. Brand is another big driver, with technology taking center stage in the building's five-story lobby. More important, says Etherington, the headquarters exemplifies Tencent's stance as a strong innovator and market leader.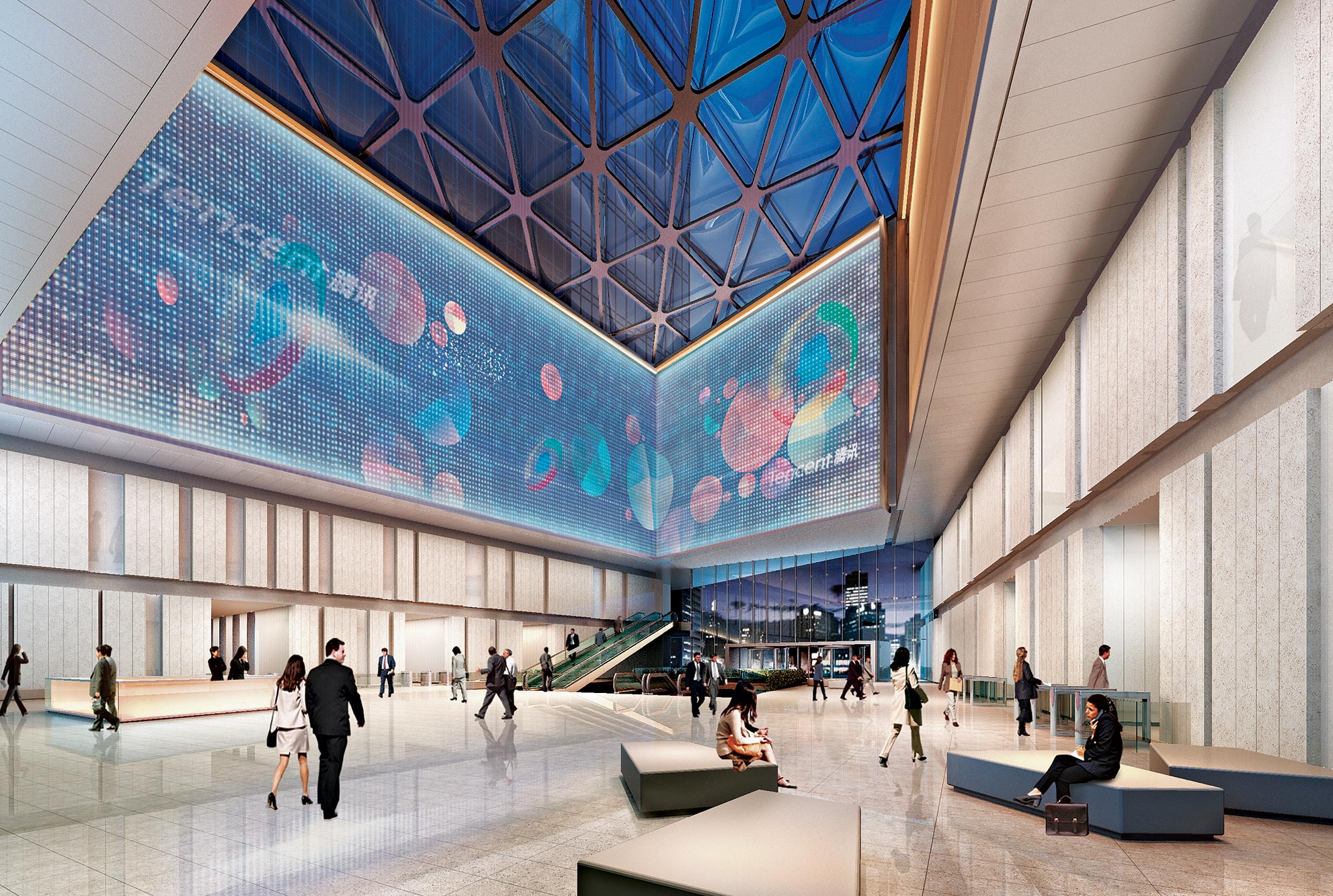 Gensler's Chris Johnson draws a parallel to the National Bank of Abu Dhabi, whose Gensler-designed headquarters will become an anchor of the new financial district on Al Maryah Island. The 33-story building—consisting of two slender towers with a façade of vertical fins—conveys an elegance and permanence that make an intentional statement. "Whenever you build a headquarters, you're not necessarily doing it just to fill space," Johnson says. "You're doing it to move an organization forward. They are placing themselves in an international arena—pushing their organization 15 years into the future."
Leading by example
That future has arrived at CBRE, whose new Los Angeles headquarters is configured as a 100 percent free-address office. CBRE set out to change the way it thought about the workplace. The goal was to provide a fundamentally better, more productive experience for its professionals. This meant more robust technology, easier access to each other, and a great place to come to work. Getting there took a collaborative effort among the CBRE leadership team, guidance from CBRE's workplace strategies team, and the acumen of a Gensler design team led by Carlos Posada and Lindsay Mailson.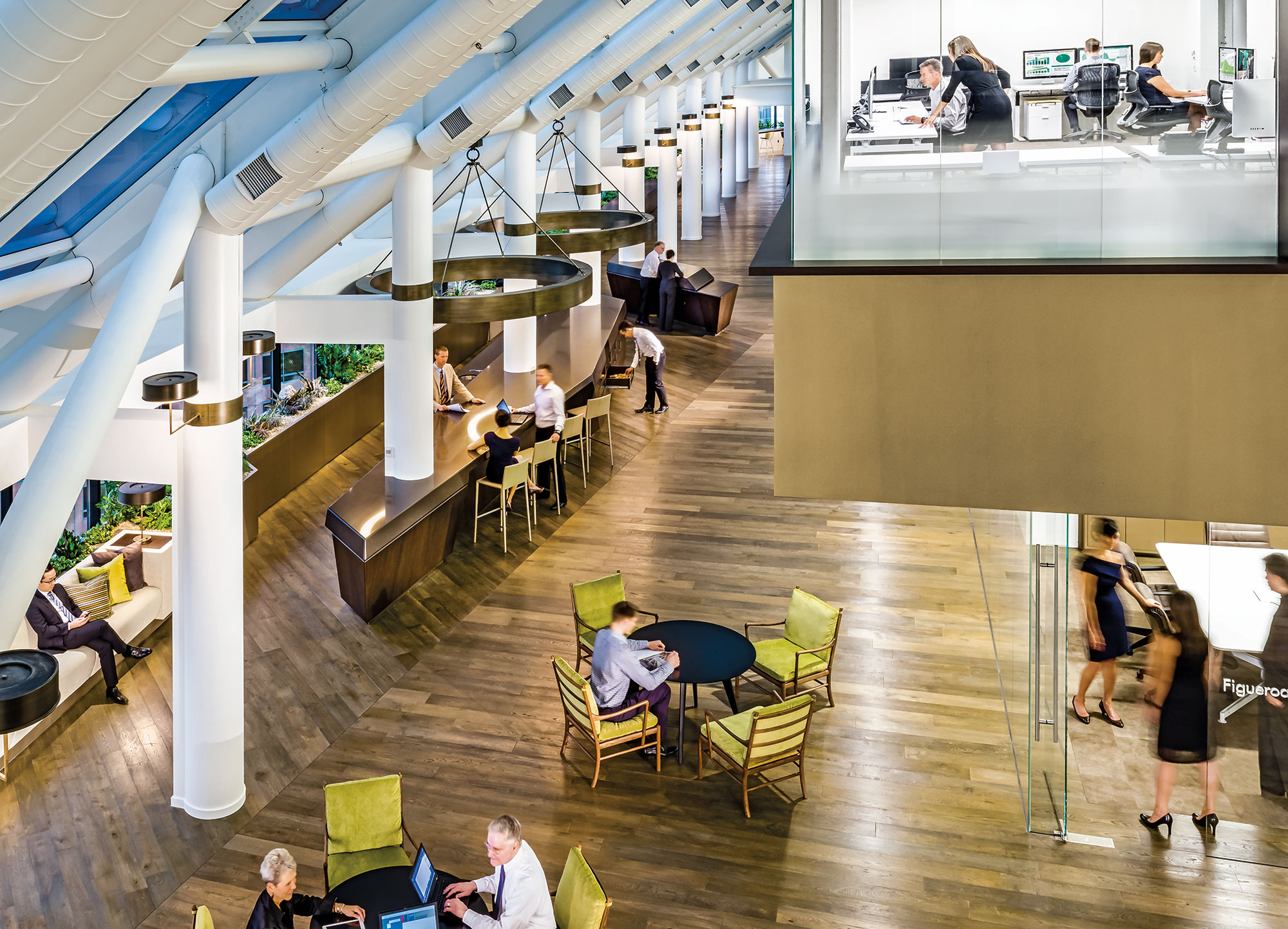 The result is an elegant penthouse with no assigned offices or workstations, offering the choice of more than 15 types of workspaces. The reimagined atrium is now a technology-rich hub for coworking, client meetings, and socializing. "It has hugely elevated the energy level in CBRE's headquarters," says Posada. "And it's improving their business in that they now lead by example."
That modeling of leadership is a key role that company headquarters continue to play, adds Gensler's Amanda Ramos. "The opportunity of a headquarters is to be transformational," she notes. "Small investments in real estate imply incremental change. But a headquarters implies change at a scale that is something to be reckoned with across an organization. It can provide real momentum."
---
Vernon Mays is a senior editor at Gensler and a contributing editor at Architect magazine.