WEBINAR:
OFFICE BUILDINGS
DESIGN STRATEGIES FOR A POST-COVID WORLD
The recent launch of Gensler's latest Design Forecast underscores the importance of reconnection in a post-COVID world. What are tenants looking for in the post-pandemic office? As hybrid work styles are adopted and office workers look for a more purposeful trip to the office, tomorrow's workplace will be a place where health and wellness, sustainability, and social responsibility are the essential drivers.
In this webinar, Gensler's Office Buildings and Repositioning experts, including Sheryl Schulze, Duncan Lyons, and Darrel Fullbright, present design strategies that building owners and developers can leverage to attract new tenants to their buildings — from hospitality and wellness-focused outdoor areas to social zones to mobility-ready ground floor spaces. A panel discussion follows, led by Gensler Global Workplace Leader Janet Pogue McLaurin.
As the pandemic has paved the way for shifts in global work patterns and led to the adoption of new behaviors, technologies, and ways of working, the reimagined office paradigm must support collaboration and in-person interaction like never before. In this conversation, Gensler's experts explain how the physical office will play a more central role in creating more connected, equitable experiences for people, organizations, and communities in a post-COVID world.
Download Gensler's Design Forecast 2021 to discover more trends and strategies for transforming existing office buildings and creating new office developments that are centered on fostering human-experience design, promoting wellness and sustainability, and engaging with the greater community.
Explore Design Strategies for a Post‑COVID World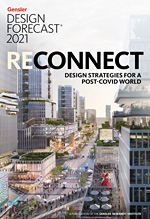 GENSLER RESEARCH INSTITUTE
DESIGN STRATEGIES FOR A POST-COVID WORLD
Download Gensler Design Forecast 2021 (PDF)