WEBINAR:
CONSUMER GOODS WORKPLACE
DESIGN STRATEGIES FOR A POST-COVID WORLD
The launch of Gensler's Design Forecast 2021 spotlights how our desire to reconnect post-COVID is driving the recovery and re-emphasizing the true value of real estate. Today, consumer goods brands are leveraging space more effectively around product and consumer engagement, understanding there will be less real estate dedicated to focus work and more toward collaboration, with showrooms, mockup spaces, virtual reality lounges, and more. What other forces are impacting the post-COVID workplace for consumer goods companies?
In this webinar, Gensler's Global Consumer Goods Leaders Jean Anderson and Francesca Poma, with Consumer Goods Resilience Leader Chris VanderWeyden, discuss how economic downturn and supply chain disruption accelerated by the pandemic is changing the purpose of the workplace, and what leading consumer goods companies are doing to position themselves for the future.
A panel discussion follows, led by Strategist Carolina Montilla and Design Manager Geoffrey Salvatore.
Download Gensler's Design Forecast 2021 to discover more trends and strategies for transforming consumer goods environments for a reimagined future.
Explore Design Strategies for a Post‑COVID World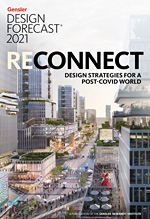 GENSLER RESEARCH INSTITUTE
DESIGN STRATEGIES FOR A POST-COVID WORLD
Download Gensler Design Forecast 2021 (PDF)