WEBINAR:
EDUCATION
DESIGN STRATEGIES FOR A POST-COVID WORLD
The recent launch of Gensler's latest Design Forecast highlights the importance of reconnection in a post-COVID world. While the pandemic required educational institutions to switch to remote and hybrid learning, it also revealed challenges that need to be addressed. With determined optimism and a renewed focus on health and wellness, resilience, agility, access, equity, inclusion, and multiple pathways to student success, academic institutions have an opportunity to plan for a reimagined future.
In this webinar, Gensler's Global Education Leaders Deborah Shepley and Mark Thaler, with Education Strategist Meghan Webster, Health & Wellness Strategist Patricia Nobre, and Education Resilience Leader Sandy Mendler, present themes and strategies to help guide institutions in their return to campus, gleaned from months studying how colliding global crises have shifted the education landscape.
Download Gensler's Design Forecast 2021 to discover more trends and strategies for transforming educational environments for a more agile, resilient, and equitable future.
Explore Design Strategies for a Post‑COVID World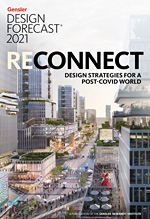 GENSLER RESEARCH INSTITUTE
DESIGN STRATEGIES FOR A POST-COVID WORLD
Download Gensler Design Forecast 2021 (PDF)