WEBINAR:
ENERGY SECTOR
DESIGN STRATEGIES FOR A POST-COVID WORLD
The recent launch of Gensler's latest Design Forecast sheds new light on the state of the Energy sector workplace. Climate resilience and health and wellness have become top priorities for developers and tenants. Meanwhile, U.S. energy workers overwhelmingly report that in-person work and connections with colleagues are the most important reasons to come to the office. Energy sector design solutions must focus on human experience and environmental strategies for all spaces, from industrial-scale facilities to offices.
In this webinar, Gensler's Global Energy Sector Leaders Vince Flickinger and Catherine Black, with Energy Resilience Leader Jacqueline Salterio, discuss what energy employees are expecting in a post-pandemic workplace as they begin to return, and other trends impacting the future of energy.
A panel discussion follows, led by Global Design Resilience Leader Rives Taylor, regional Financial Services Leader Sharon Steinberg, Technology Leader Brian Stromquist, regional Consulting & Real Estate Services Leader Bonnie Reese, and regional Client Relationships Community Leader Lillian Giering.
Download Gensler's Design Forecast 2021 to discover more trends and strategies for transforming energy sector environments for a reimagined future.
Explore Design Strategies for a Post‑COVID World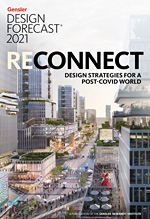 GENSLER RESEARCH INSTITUTE
DESIGN STRATEGIES FOR A POST-COVID WORLD
Download Gensler Design Forecast 2021 (PDF)