WEBINAR:
SENIOR LIVING
DESIGN STRATEGIES FOR A POST-COVID WORLD
The latest Gensler Design Forecast emphasizes the importance of spaces and places that help foster reconnection in a post-COVID world. Older adults are among the most impacted by the COVID-19 pandemic. How can design play a role in keeping older adults connected, safe, and engaged in their communities? Operators and developers are building a variety of senior living spaces — ranging from retirement communities to multigenerational high rises in urban areas — to offer more choice, and cater to specific needs.
In this webinar, Gensler's Global Senior Living Leader Tama Duffy Day, with regional Senior Living Leader Chris Dos Santos, and Architect Michael Schur, discuss how we design senior living spaces for today's increasingly independent, tech-savvy, and diverse population.
A panel discussion follows, led by Global Healthcare Leader Alyssa Scholz, Health Design Director Bonny Slater, Hospitality and Residential Design Director Lester Yuen, and Research Institute Design Director Laura Latham.
Download Gensler's Design Forecast 2021 to discover more trends and strategies for senior living environments for a reimagined future.
Explore Design Strategies for a Post‑COVID World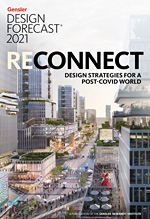 GENSLER RESEARCH INSTITUTE
DESIGN STRATEGIES FOR A POST-COVID WORLD
Download Gensler Design Forecast 2021 (PDF)