WEBINAR:
TECHNOLOGY
DESIGN STRATEGIES FOR A POST-COVID WORLD
The recent launch of Gensler's latest Design Forecast underscores the important role human-centered design solutions can play in facilitating reconnection in a post-COVID world. People have always been at the center of the tech workplace, but in a post-pandemic reality, what will be the role of the office for tech companies? Now, as a hybrid model for work is embraced, the tech office will be designed for collaboration, centered on purpose, and optimized for inclusive experiences.
In this webinar, Gensler's Technology Sector Leaders Nena Martin and Brian Stromquist share how they are working with some of the world's largest tech companies to reimagine the future of their workplaces. The conversation focuses on how the workplace ecosystem is no longer just about the physical workplace, but instead, it's an intelligent network that links place, culture, policy, and technology.
The tech experts offer insights into what real investment strategies will rise to the top as we begin to return to the office — including growing momentum behind hub-and-spoke models, reallocating space types, and impactful approaches to creating a "first floor" experience to engage the wider community. A panel discussion follows, led by Gensler's regional Design Experience Leader Kelly Dubisar, Gensler Chicago Co-Managing Director Todd Heiser, and Global Design Resilience Co-Leader Gail Napell.
Watch the webinar and download Gensler's Design Forecast 2021 to uncover key design trends for the tech workplace that can promote innovation, purpose-driven work, and inclusive, collaborative experiences in the hybrid future.
Explore Design Strategies for a Post‑COVID World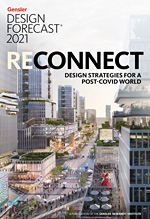 GENSLER RESEARCH INSTITUTE
DESIGN STRATEGIES FOR A POST-COVID WORLD
Download Gensler Design Forecast 2021 (PDF)