WEBINAR:
BRAND DESIGN
DESIGN STRATEGIES FOR 2021 AND BEYOND
The recent launch of Gensler's latest Design Forecast emphasizes the importance of reconnection in a post-COVID world. Across all industries, brands long to reconnect with their communities in person, but in the meantime, brands are seeking new and meaningful ways to relate to diverse audiences through shared commitment and purpose.
In this webinar, Gensler's Global Brand Design leaders Amy Bixler, Jerry Alexander, and Janice Cavaliere, with Brand Design Resilience Leader Peter Muller, discuss strategies for culture building, sensory design, and purposeful communications in 2021 and beyond.
A panel discussion follows, led by Work Sector Leader Natalie Engels, Residential Leader Brooks Howell, Retail Leader Lara Marrero, and Wellness Leader Cindy Coleman.
Download Gensler's Design Forecast 2021 to discover more trends and strategies for brands to reengage communities and envision a reimagined future.
Explore Design Strategies for a Post‑COVID World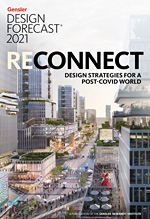 GENSLER RESEARCH INSTITUTE
DESIGN STRATEGIES FOR A POST-COVID WORLD
Download Gensler Design Forecast 2021 (PDF)