WEBINAR:
RESIDENTIAL
DESIGN STRATEGIES FOR A POST-COVID WORLD
The pandemic, coupled with social justice movements and climate events, has accelerated the need for innovative and effective solutions for affordable and workforce housing. Gensler's latest Design Forecast identifies major opportunities for Residential developers in addressing these challenges.
In this webinar, Gensler's Global Residential Leaders discuss how cities and developers are working together to solve the housing crisis, and how a renewed focus on global health and equity is changing the housing industry across the globe.
A panel discussion follows, led by Energy Leader Vince Flickinger, Design Director Olivier Sommerhalder, Gensler Research Institute Director Christine Barber, and Research Strategist Michelle DeCurtis.
Download Gensler's Design Forecast 2021 to discover more trends and strategies for transforming residential properties for a reimagined future.
Explore Design Strategies for a Post‑COVID World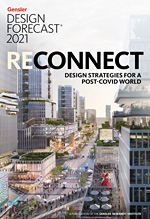 GENSLER RESEARCH INSTITUTE
DESIGN STRATEGIES FOR A POST-COVID WORLD
Download Gensler Design Forecast 2021 (PDF)