WEBINAR:
FINANCIAL SERVICES
DESIGN STRATEGIES FOR A POST-COVID WORLD
While financial workers have emerged from the pandemic with new ways of working, Gensler's latest Design Forecast underscores the importance of fostering reconnection in a post-COVID world. As many financial services firms have managed to adapt, and even thrive while working and trading from home during the pandemic, they're now embracing remote and hybrid work to create more meaningful workplace experiences.
In this webinar, Gensler's Financial Services Global Practice Area Leaders Chris Coldoff and Marisol Champoonote DeRosa with Financial Services Resilience Leader David Briefel, discuss how the design of new work environments should balance technology with irreplaceable human connection, and how workplace mobility will redefine the office as a destination to maximize performance.
A panel discussion follows, led by Gensler Paris Managing Director Philippe Paré, Gensler Munich Managing Director Phil Tidd, Strategy Director Lauren Adams, and Global Technology Leader Brian Stromquist.
Watch the webinar and download Gensler's Design Forecast 2021 to discover more trends and strategies for transforming financial services environments for a reimagined future.
Explore Design Strategies for a Post‑COVID World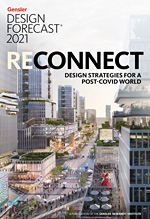 GENSLER RESEARCH INSTITUTE
DESIGN STRATEGIES FOR A POST-COVID WORLD
Download Gensler Design Forecast 2021 (PDF)