WEBINAR:
MEDIA INDUSTRY WORKPLACE
DESIGN STRATEGIES FOR A POST-COVID WORLD
The recent launch of Gensler's latest Design Forecast sheds new light on the state of the Media industry workplace. For media companies, increased adoption of mobile technologies, 5G, and streaming services, coupled with the speed and volume of content creation, has rapidly accelerated change. As the Media industry considers hybrid work models, new settings, and digital connections, the velocity of change is impacting the studios, offices, newsrooms, and content creation spaces that media companies inhabit.
In this webinar, Gensler's Global Media Leaders Johnathan Sandler and Sumita Arora, with regional Media Leaders John Wiedner and Erin Greer, Design Director Brian Berry, and Interior Designer Christopher Crawford, assess the hybrid future of work and share how media companies are flexing to adapt and thrive in the new normal.
Download Gensler's Design Forecast 2021 to discover key trends and strategies for transforming media industry workplace environments for a reimagined future.
Explore Design Strategies for a Post‑COVID World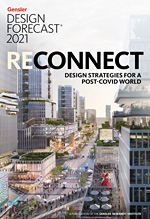 GENSLER RESEARCH INSTITUTE
DESIGN STRATEGIES FOR A POST-COVID WORLD
Download Gensler Design Forecast 2021 (PDF)