WEBINAR:
RETAIL
DESIGN OPPORTUNITIES FOR 2021 AND BEYOND
As the desire for reconnection drives our economic and cultural recovery, Gensler's 2021 Design Forecast presents design trends and strategies for creating physical environments that can bring people back together in the post-COVID world. While the pandemic accelerated many changes already underway in the retail industry, savvy retailers have remained agile amid unprecedented e-commerce growth, supply chain disruption, and global and economic health crises.
In this webinar, Gensler's Global Retail Leaders Aaron Birney and Lara Marrero discuss opportunities for retail brands to optimize for new market conditions, right-size their portfolios, and grow differentiated product and service offerings — all to remain nimble, resilient, and connected to their customers. A panel discussion follows, led by Brand Design Leader Amy Bixler and regional Retail Leader Markus Pesendorfer.
Listen to the webinar and download Gensler's Design Forecast 2021 to uncover insights for transforming retail environments for a reimagined future and strategies for integrating digital experiences and tools to amplify the physical shopping experience.
Explore Design Strategies for a Post‑COVID World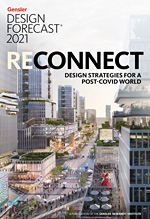 GENSLER RESEARCH INSTITUTE
DESIGN STRATEGIES FOR A POST-COVID WORLD
Download Gensler Design Forecast 2021 (PDF)