WEBINAR:
SPORTS
DESIGN STRATEGIES FOR A POST-COVID WORLD
The recent launch of Gensler's latest Design Forecast emphasizes the value of reconnection and a people-first design approach to create new and fresh experiences. Bringing fans together is at the root of sport, and inclusive, accessible destinations amplify this connection. Leagues have an opportunity to design sports-anchored, mixed-use districts to thrive in a post-pandemic era.
In this webinar, Gensler's Global Sports Leader Ron Turner, with regional Sports Leaders Jonathan Emmett and Andrew Jacobs, Design Principal Steve Chung, and Lifestyle Sector Leader Duncan Paterson, discuss how sports and entertainment developments and public-private partnerships spur economic and urban growth, enable capital projects, extend the fan experience, and boost game day profits beyond the gates.
Download Gensler's Design Forecast 2021 to discover more trends and strategies for the future of sports facilities in a hybrid, reimagined world.
Explore Design Strategies for a Post‑COVID World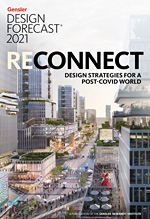 GENSLER RESEARCH INSTITUTE
DESIGN STRATEGIES FOR A POST-COVID WORLD
Download Gensler Design Forecast 2021 (PDF)