Gensler Voices: Zoe Xu, Gensler San Francisco
May 18, 2021
This Q&A is part of a series of interviews with Gensler architects, designers, and others in the firm about their career journey, and the impact that design and architecture can have on our communities and the human experience. Here, we sit down with Zoe Xu, interior designer, Gensler San Francisco:
What was your first introduction to the field of architecture and design?
My dad is a structural engineer with a Ph.D. in concrete. When I was in growing up, on top of his engineering career, he studied for his contractor's license and started flipping houses. When he did the addition to our house, that's when the curiosity around building started. At a similar time, I had an art teacher who was a Rhode Island School of Design (RISD) alum who suggested taking classes to learn more about architecture and design. I grew up outside of Boston so I started taking summer courses at MassArt to explore my interests in design. I sealed the deal when I went to RISD. Recently, my dad told me that he actually dreamed of being an architect when he was young so he was proud that I was able to pursue a past dream of his!
Tell us about your "passion project" to create the AAPI Safety Badges. Why did you initiate this project, and how did it come together?
I started this project with my Asian American friends Sunny Chen and Vicki Tan. It started organically after having conversations about how the rise in Asian hate crimes this past year had been affecting us emotionally. The attacks disproportionately target elderly Asian people, many of whom don't speak English well. We thought of our own aging parents and grandparents and were overwhelmed with the need to do something to help our community.
We wanted to keep the project simple — something that elderly people can use easily and intuitively. The initial idea for the safety badges came from Sunny, whose parents live in Shanghai. Her dad visits her often in San Francisco but he doesn't speak much English and likes to explore the city when Sunny is busy working. She would often write cards for him with information like her name, phone number, and home address in case he got lost. We decided to use that as a starting point to create a wearable badge with emergency contact information and a few key phrases. Beyond the safety badges, Sunny has been able to grow the "In the Mood for Love, Not Hate" campaign even further by designing and selling T-shirts, where 100% of the proceeds go towards AAPI initiatives.
AAPI SAFETY BADGES
SLIDESHOW — 5 IMAGES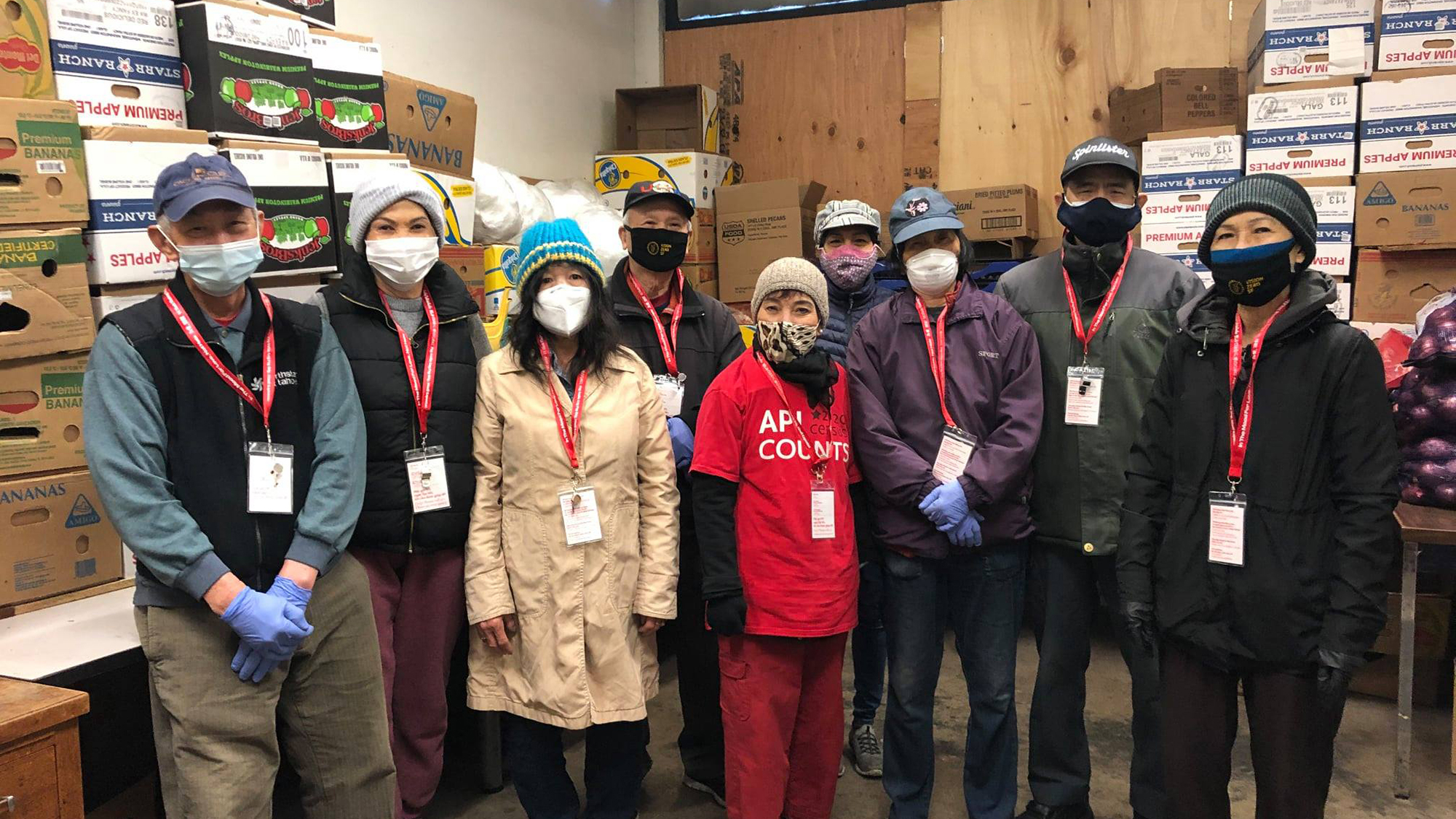 How did you develop the graphics for the AAPI Safety Badges? What was your inspiration?
Sunny and I met at RISD, she was a graphic design major. She designed the graphics for the safety badges and lanyards. Again, we wanted something that was easy to interact with. It was also important that the design and colors were bright as we wanted the badges to be symbolic to the user and convey the message that the community has got their back!
How have you amplified your outreach, expanding access to these badges to support the AAPI community in other neighborhoods?
During the process of making the safety badges, we were getting a lot of interest to make and distribute badges in other cities. It was the most logical decision we could think to upload all of our artwork and product orders so anyone could access and replicate the badges within their communities. The project expanded in a natural manner as our message was being amplified. We made just over 3,000 within our team, but over 6,000 have been made beyond our team!
What has the response been like since you launched this program?
The response has been overwhelming. We raised more money than we originally set out for. We were able to donate everything we didn't use to other AAPI initiatives. Our print shop (The Aesthetic Union) donated to our cause and have been helping us promote the project on social media. We were even interviewed by the San Francisco Chronicle, which had come across our GoFundMe page.
How can architecture and design advance wellness, equity, and inclusion?
Architecture and design is all about designing for the human experience. There are many ways to create equitable experiences, which is a topic we tackle in all of our projects. After this past year and thinking about the future of work being more flexible, I am curious to start seeing how we tackle creating the equitable experience between in-office workers and remote/virtual workers. Our teams have come up with some new ideas this past year that I cannot wait to start seeing implemented.
What role does architecture and design play in shaping the minds of the future generations?
In my travels, it's becoming more evident to me that architecture and design is becoming a more global experience. I think there is a lot of inspiration that the future generation can draw from good design being more accessible. I hope that our generation and future generations remember to keep a prominent local presence.
What type of projects are you currently working on right now, and what do you like best about your recent projects?
I'm a workplace designer and have done mostly tech and professional services offices. I've loved workspace design since I started working in that practice area 6-7 years ago. It comes back to designing for the human experience. People arguably spend more time at work than at home, so each project feels impactful to me.
If you could choose anyone, who would you like to design a project for?
I've always dreamed of designing my own house! This stems back to seeing my dad design our house growing up, and how much our family loved the space.
Name a building or space that every designer should see in person.
A classic answer, the Pantheon! When I lived in Rome and worked at Fuksas, I would walk by the Pantheon to get to work. In the early mornings when no tourists have yet crowded the piazza, were daily moments I found a lot of peace in. Without requiring much explanation, it would be impressive if a building like the Pantheon were to be built now, but it was built in the early 100 AD!
For media inquiries, email .