Empowering Citizens to Transform Their Cities
September 02, 2020 | By Midori Mizuhara
American cities have historically been shaped by inequitable forces with limited community input and collaboration. The COVID-19 pandemic, coupled with recent protests around racism and social justice in the U.S., has further aggravated and foregrounded these racial and class disparities. It has also pointed to who is — or who is not — at the table when decisions are made about critical infrastructure or major projects impacting our local communities. Too often, we as designers conceptualize, plan, and design our cities, buildings, and public spaces without including and prioritizing local stakeholders and residents in the design process.
In order to pursue equitable, inclusive design solutions in our cities and communities, we need a true co-authorship model. This challenging moment could be an opportunity to expand participatory design and planning frameworks and move towards a truly collaborative model of working with the community, rather than merely designing for them.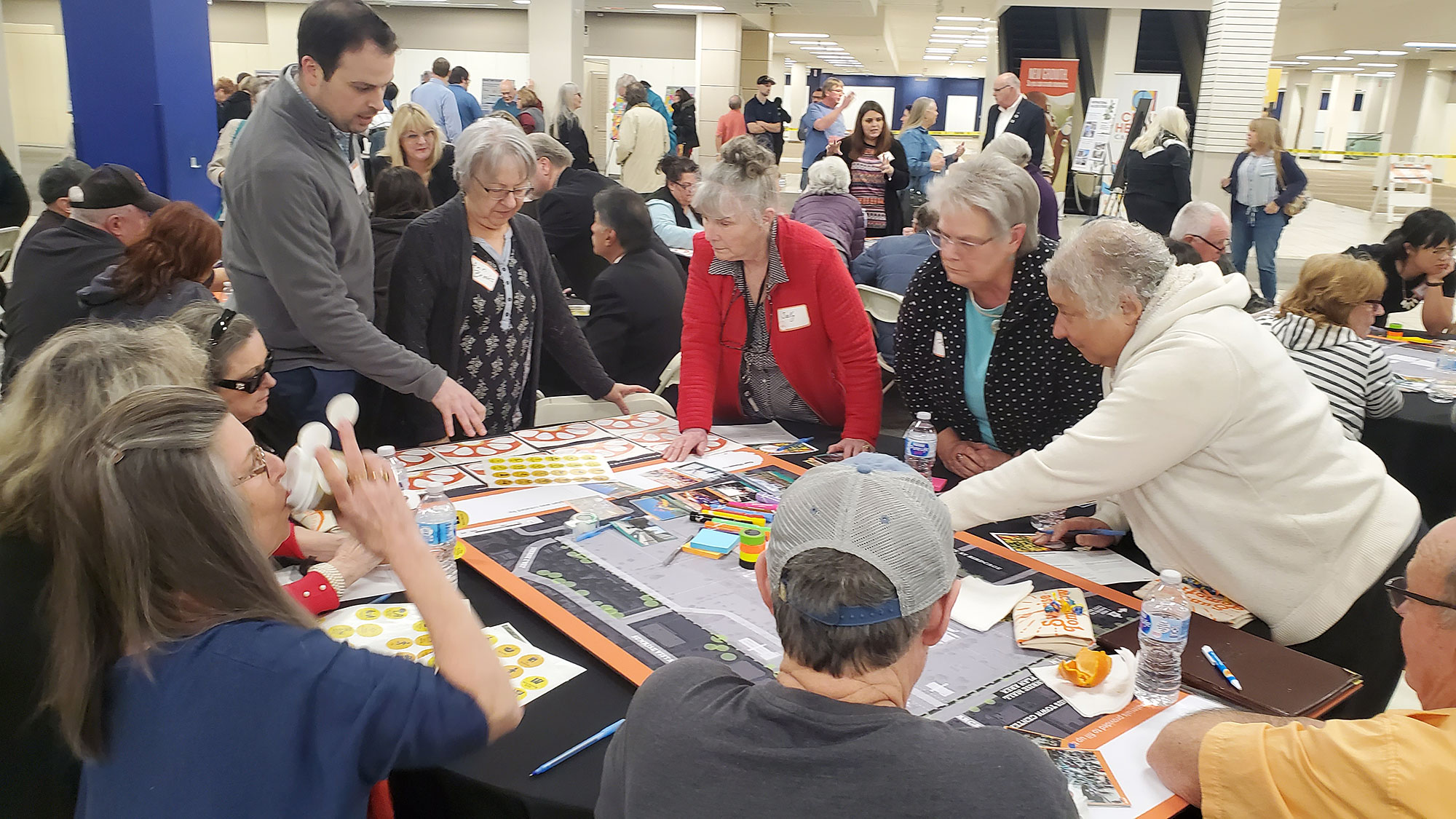 The current pandemic has forced many of our daily interactions to move online, but how might we, as a profession, leave the "check the box" mentality behind and use our current shift to digital for better co-authorship with communities?
Below are seven tips for creating successful community outreach and connecting with your constituents during the pandemic and beyond.
1. Define the goal for the engagement.
As we venture into unfamiliar digital platforms during COVID, the purpose and intent of these tools may not be immediately obvious to participants. Ask these questions to refine your goals and select the appropriate remote tools:
Flow of information – Are you informing the public or inviting new ideas? If you're primarily sharing information, a Zoom webinar could be a great tool, whereas if you need to generate ideas, an interactive, collaboration platform like Miro or Mural might be more effective.
Data – Do you need to gather quantitative metrics or to hear qualitative stories? Online and call-in surveys and live virtual polling with tools such as Mentimeter and Slido provide strong quantitative metrics, whereas a video call for interviews or remote video journaling activity are some other ways to gather qualitative information.
Timeframe – Do you need to hear immediate, real-time feedback, or can you wait a few weeks to hear from as many people as possible? For an immediate response, a live virtual event might be the best choice, whereas an interactive, virtual mapping exercise or survey that is open for multiple weeks can help you reach a broader base.
2. Leverage digital and remote platforms to increase access.
Accessibility is crucial for successful engagement. The content, participation process, and remote tools should all be intuitive and easy to understand. While by no means a replacement for in-person connection, digital and remote platforms can make co-creation with communities more accessible.
Remote options can help increase access in a few ways:
Lower barrier to entry – For those with internet access, an interactive map or workshop now might be just a click away. Community members may be able to participate virtually from wherever they are.
Campaign branding – Our new reliance on digital platforms has pushed practitioners to embrace the importance of strong campaign branding for outreach.
Choice of environment – A city hall or government building might feel threatening or unapproachable to some, whereas calling in from the comfort of your own home, on your terms, can provide a more comfortable way to engage.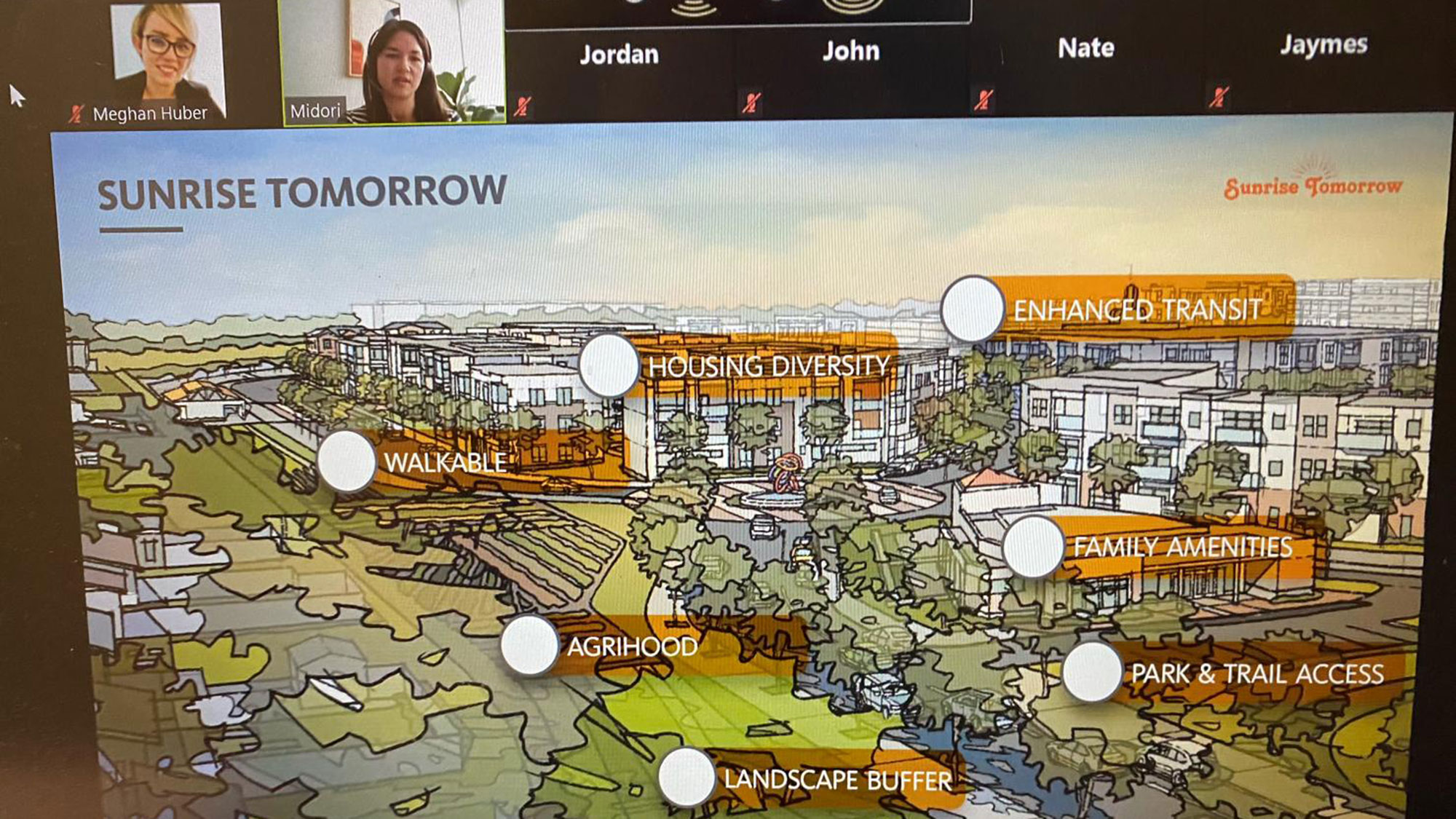 3. Create multiple entry points.
We need a layered, multi-channel approach for effective community engagement. During COVID-19 and into the future, consider layering in the following:
Scale – Weave together everything from more personal, one-on-one touchpoints; small-group generative and feedback sessions; and large-scale events to bring the most value to a project.
Duration – Incorporate a blend of one-time, repeating, and ongoing opportunities for people to participate, giving the public as many opportunities as possible to learn about the project and share their input.
Lifespan – How might an event series or site activation persist within the community after the design team has completed their part of the work? Consider ways to ensure longevity and sustainability.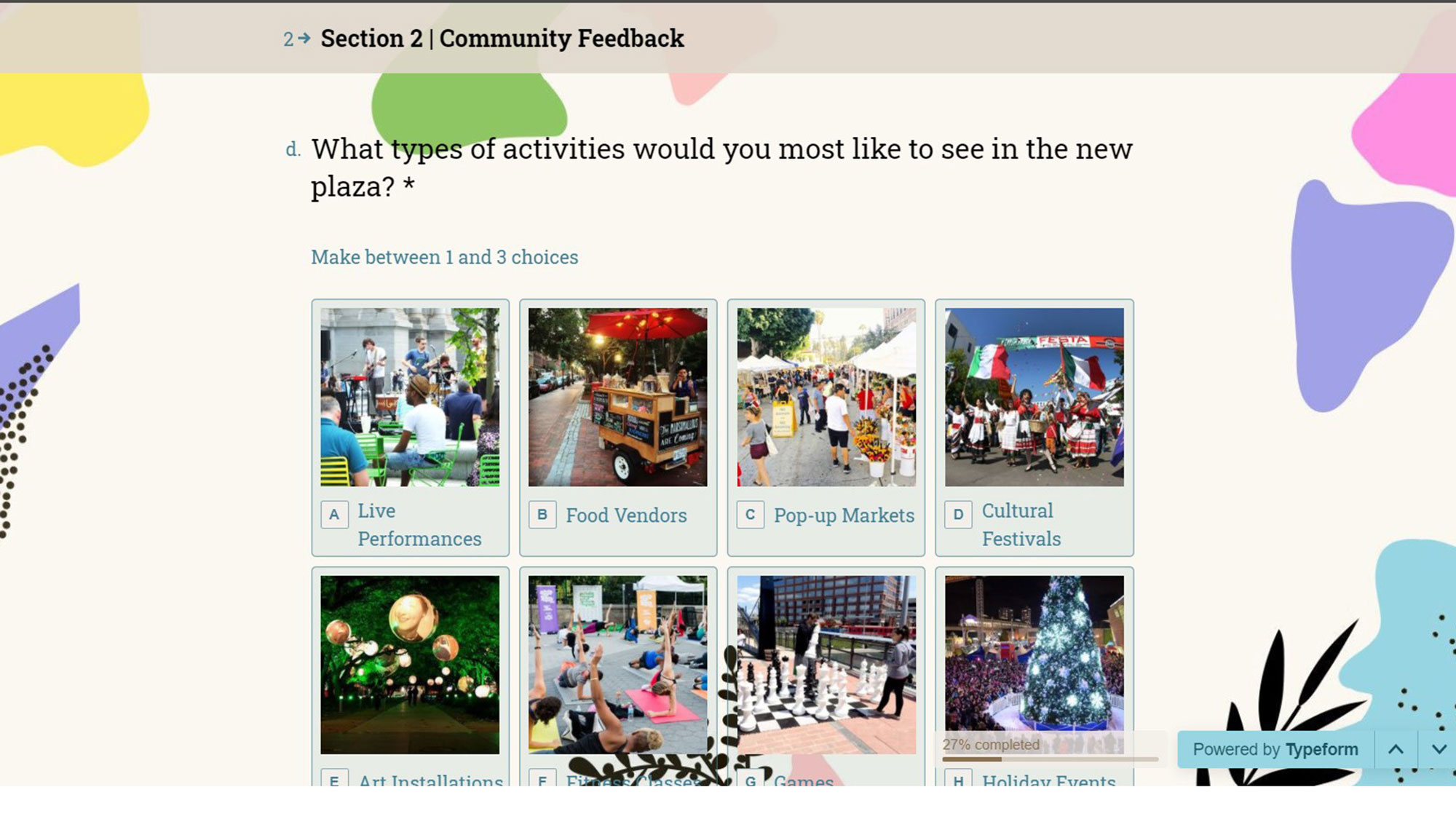 4. Meet people where they are.
In this moment, we need to ask: where are people gathering in the digital realm, and how can we meet them there? Let's use this current challenge to become nimbler and more playful with how we connect with communities.
Social media presence –Use eye catching graphics, clear language, well-known local community influencers, and a regular posting schedule to optimize engagement.
Livestream and video – Use short video clips to convey bite-size pieces of information; and use Instagram or Facebook Live to expand audience reach and participation community presentations, conversations with the public, or panel discussions.
Fun and games – Host interactive contests and games to incentivize feedback and participation. On social media, replace lengthy surveys with specific questions, and host giveaways featuring prizes from local businesses.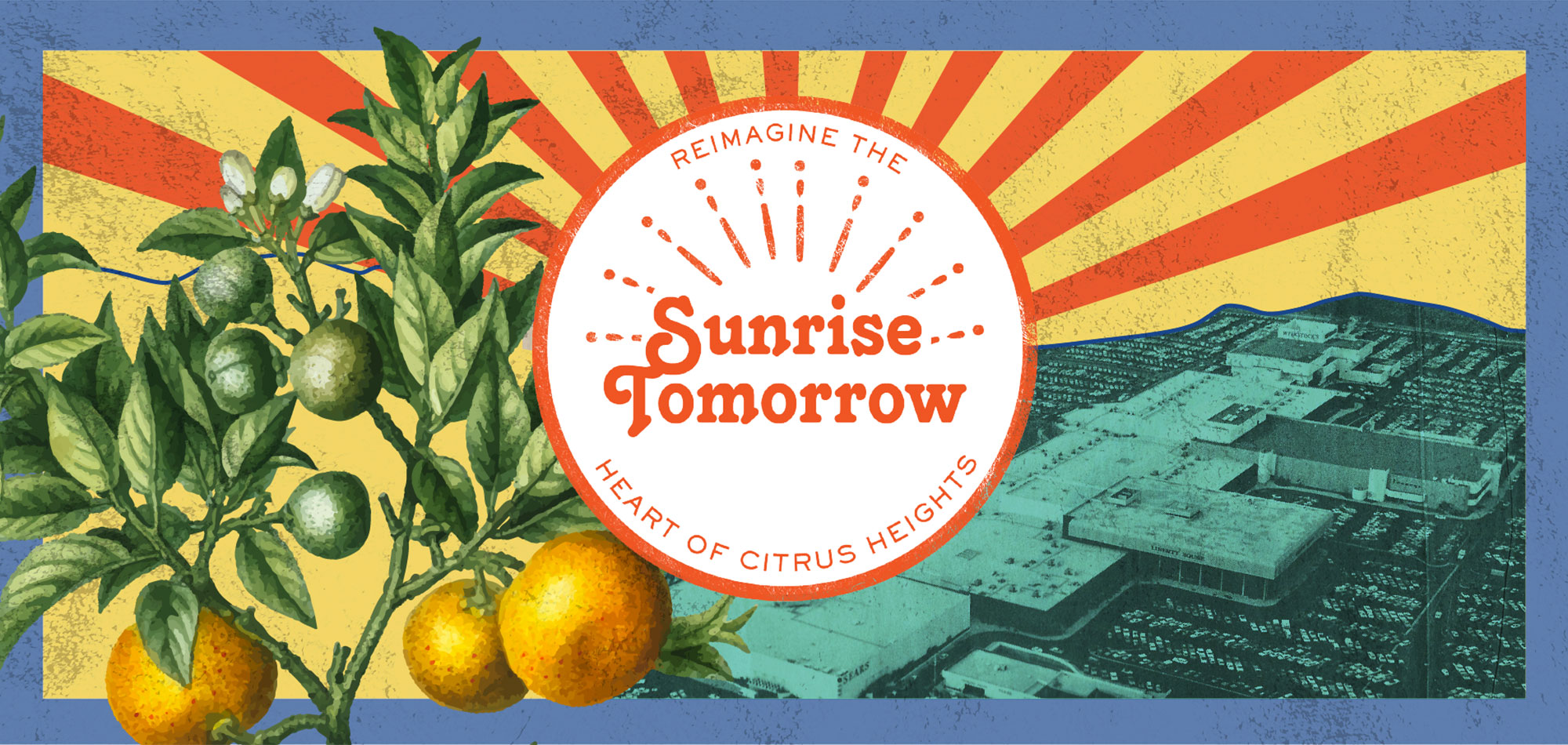 5. Remember that "remote" does not always equal "virtual."
COVID-19 has revealed the digital divide in the U.S. along socioeconomic and demographic lines. Not everyone has online access or feels digitally savvy, so project teams need to provide analog methods of engagement to equitably reach a broad spectrum of the community. Get creative with simple, low-tech ways to engage.
Mailers – Send out postcards to distribute project information and guide people to online engagement opportunities. Or create interactive remote workshops where people fill in a survey or draw their vision for the project and send it back to the team.
Interactive signage & banners – Design and install larger-scale graphic signs around your project site to catch the public's attention. These signs could pose open ended questions about the site, include drawable surfaces, and offer a web address or text-in number for feedback.
Dial-in engagement – The two strategies above can list a phone number for the public to call and give feedback to a live person, voicemail box, or audio survey system that walks the caller through specific questions and records their votes. These vocal recordings can be powerful documentation and storytelling tools.
6. Expand data analysis and transparency.
Digital engagement can uncover layers of useful data to inform project outcomes more quickly than analog engagement can. Social media and online engagement web platforms (such as Social Pinpoint, Neighborland, or CoUrbanize) can provide project teams with the power to track and analyze rich data sets through the life of the project and help teams be more responsive to the community.
Agile decision making – Gathering data such as demographics, location, and preferences through online surveys, message boards, and texts, can enrich our collective decision-making capabilities and fine-tune a design project to truly reflect community interests. These tools are often faster, cheaper, and more rigorous in collecting useful analytics than in-person data collection methods.
Democratizing data – These online tools also create data sets that have value beyond the life of the project. When possible, make this data available to community leaders and local decision makers to inform other local projects, building a valuable resource within each community and building decision making capacity.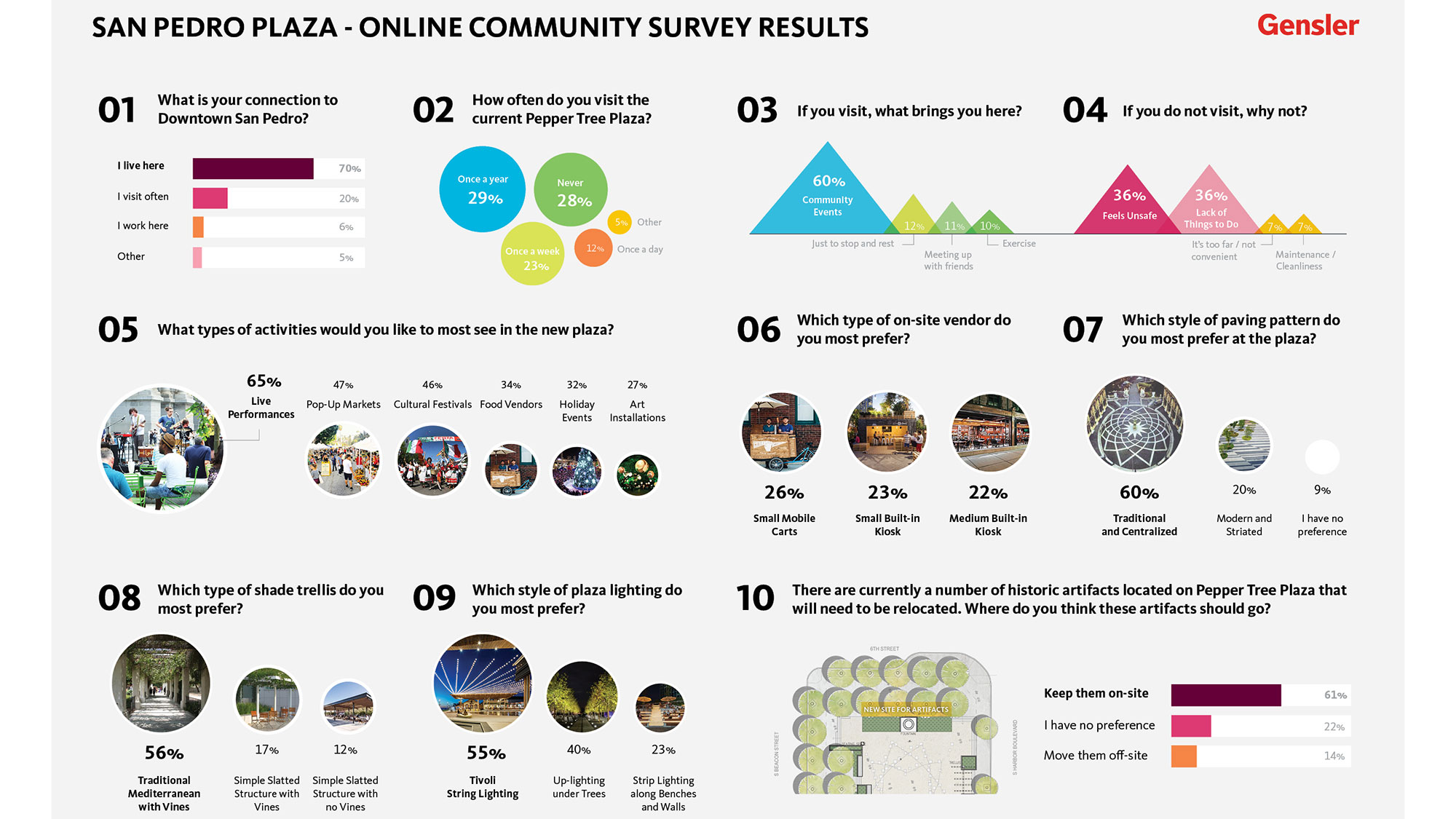 7. Co-create, engage, and be human!
Virtual options can't replace human, face-to-face contact, but they can supplement and improve the way we interact with our communities. We must prioritize participatory design and co-authorship planning models to design with our communities rather than for them. Together, we're excited to move toward a more equitable future for cities and a design process where co-authorship is more than a tool — it's a foundational pillar to our work as designers and planners.
Let's not just adapt our current engagement approaches to digital formats. Instead, let's transform our outreach, leverage the potential for humans to connect from afar, and shape a future for cities that's more equitable and inclusive for everyone.
For media inquiries, email .