How the New Hybrid Workplace Can Support Equity for All
December 04, 2020 | By Nayan Parekh, Tanya Suvannapong
The urgency to rethink diversity, equity, and inclusion in our spaces has reached a critical point following the death of George Floyd and other Black Americans at the hands of police, events that have sparked reactions and calls for social justice across the world. Subsequent protests coupled with the health crisis are shaping our current experiences and expectations for the future. We know that our cities and spaces will not be the same as those that we left behind pre-pandemic. To that effect, the future workplace must also evolve to serve new needs, support flexible, hybrid working styles, and promote equity for all workers.
Over the last several months, many of us have been mandated to work from home (WFH) — a social experiment for much of the collective workforce — and extensive discussions continue about the long-term future of work, home working, and hybrid working. Workers have now experienced the many benefits of working from home, such as flexibility, convenience, and increased privacy — and Gensler's global Workplace Surveys indicate that many would prefer a hybrid future that balances working in the office some days with a few days spent working from home.
Gensler's U.S. Workplace Survey 2020 found that, based on input from the 19% of workers who are already working partially from the office and partially from home, the benefits of the hybrid work model are already emerging. Those respondents reported feeling more personally creative, more satisfied with their job, and more empowered to experiment with new means of collaborating and working.
But if working from home is a regular part of the emerging hybrid work model, we must acknowledge that not all homes are equal. Many homes do not have strong internet access, enough space for a work desk, ergonomic chairs, conducive environmental factors, or just enough silence to accommodate focused work.
Like school, in many ways, the workplace is an equalizer. Of course, there are hierarchies at play, but all staff benefit from being in a shared space with facilities designed and built to suit the work that they need to accomplish.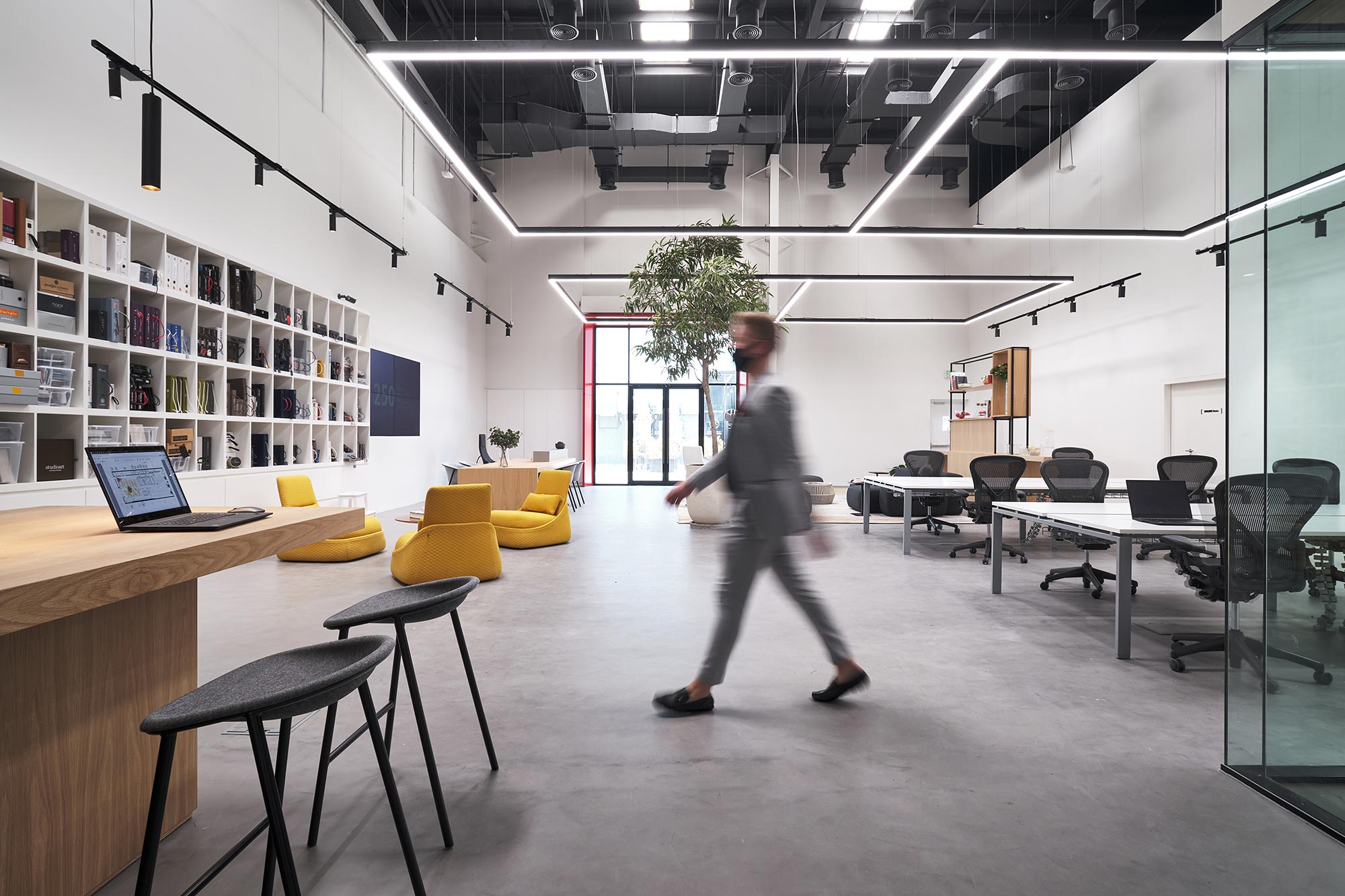 Gensler's Middle East Workplace Survey and Work from Home Survey highlighted what people miss most about the office is the social interaction. In the future, if staff comes into the office for two to three days per week under staggered schedules, there could be fewer opportunities for workers to interact in person at work. This means that we need our hybrid workplaces to work harder at supporting more equity and equal access to resources and space to support all workers when they are in fact in the physical office.
To this end, Gensler's workplace designers, real estate consultants, and planning strategists believe there are a few key opportunities to enhance the future of the workplace to create an inspiring and inviting atmosphere for all.
Triggered interactions
The hybrid workplace will likely mean interacting with fewer coworkers on a given day and fewer potential watercooler moments for casual conversations. So, in order to continue fostering a connected company culture, it will be important to design the new workplace for curated collisions among workers who are unlikely buddies or work in different departments.
Imagine an app that prompts you to meet five new people in the office for lunch. An office app could curate diverse profiles across seniority levels, age, ethnicity, race, gender, and sexual orientation to promote social meetups. These triggered connections could be applied to book clubs, affinity groups, and other safe spaces within the office to authentically create connections and interactions between diverse groups of employees.
Eventually, this familiarity with others you bond with outside of your social circles will allow everyone to feel like they can bring their authentic selves to work.
Shared workplace for all
When employees are coming to the office only a handful of days a week, there is a real opportunity to rethink the spatial organization of the workplace of the future, challenging the status quo of the corner office, for instance. Instead of private offices reserved for managers and open desks designated for other employees, a hybrid workplace could empower each employee to choose their ideal work setting for the day, depending on the activities at hand. Flexible work environments could include a desk, a quiet space for focused work, an office for confidential discussions, or a meeting room for collaborating.
The coffee corner offers the opportunity for spontaneous exchanges with colleagues and central service points for office supplies and printing are accessible to all.
This not-so-new concept of activity-based working provides significantly more flexibility and avoids communicative silos, but most importantly, this hybrid work context offers an opportunity to allow all spaces to be shared by employees, regardless of their function or seniority, effectively promoting a sense of equity in the workplace.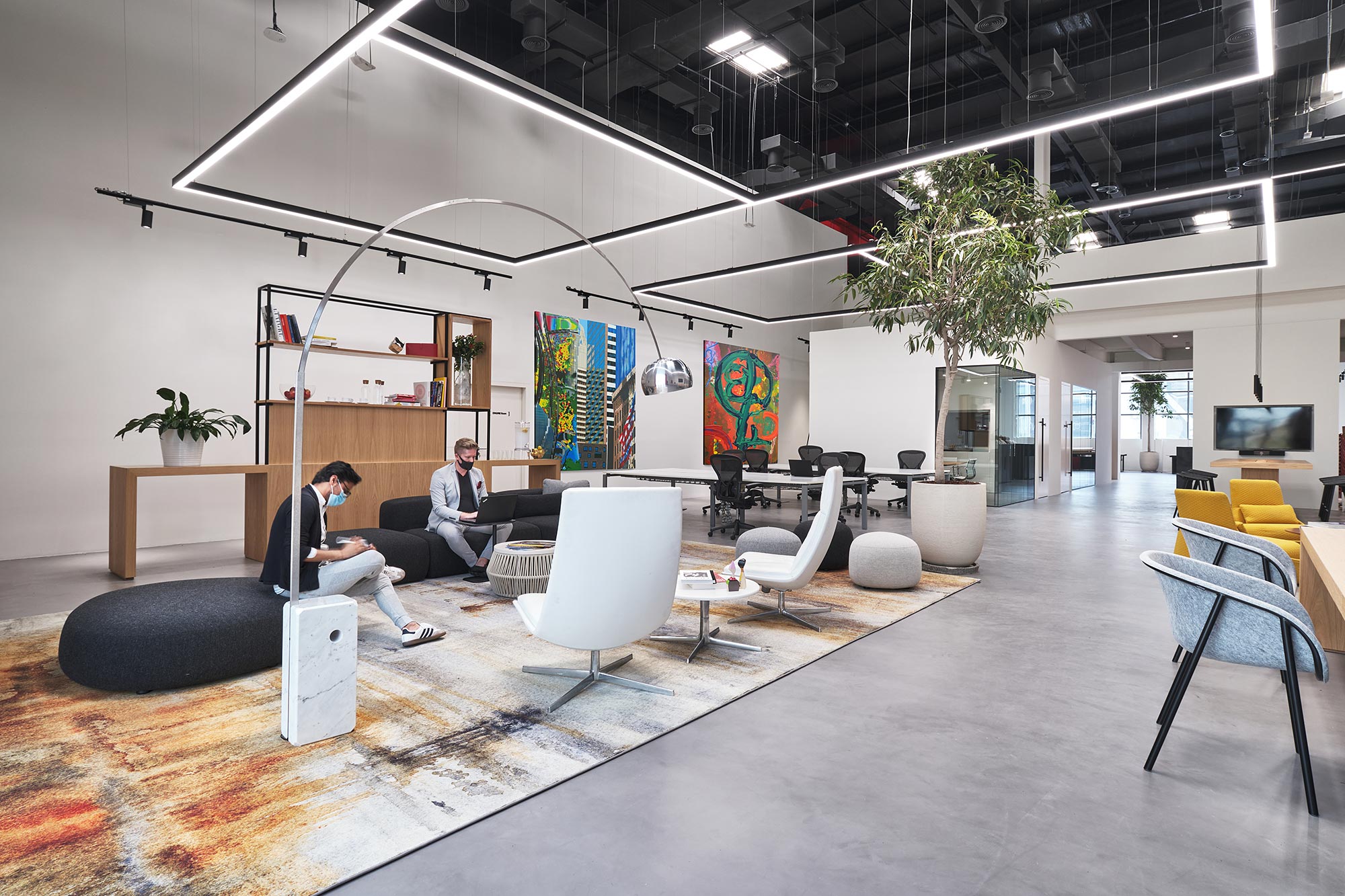 Platform for authenticity
Over the years, uniform corporate culture has somewhat stifled a chance for employees to express their authentic selves at work. Our time spent working from home and getting to know each other virtually has allowed us to better represent our unique interests and personal styles. When we return to the office, we believe the importance of individuality and diversity will continue to be embraced, and design can help individuals reengage with their workspaces by creating new opportunities for creative self-expression.
Self-curated team totems, for example, could foster connectivity, creativity, and bonding for teams, giving them a platform to promote awareness, self-expression, and diversity and celebrate individual and team attributes with the wider workforce.
There is also an opportunity to also evolve the standard "office noticeboard" to support new needs in a hybrid future. A virtual noticeboard could connect disparate teams as they alternate between the office and home during the workweek — and provide a personal link between teams and individuals who will return to the office after their scheduled work from home period.
Celebrate our differences
The concept of "office diversity" must also be extended to prioritize equal physical access and create a welcoming and inclusive workplace for everyone. By removing barriers to access and making all employees feel comfortable through design interventions such as gender-neutral restrooms, we can promote and celebrate increased participation and engagement across the staff and the wider community.
Newer office buildings are required to meet universal access codes to accommodate those with disabilities. This requires the provision of assisted areas, ramps, unisex wheelchair and ambulant washroom facilities, and even tactile signage. Older buildings or offices often do not comply with these current disability codes, limiting employment opportunities for those who would be disadvantaged by the absence of such provisions.
By investing in these facilities and enhancing the physical workplace in support of all people, management can reinforce the strong message that every staff member is valued and deserves equal access to the facilities and provisions needed to help them work comfortably and effectively. Implementing these changes may require negotiation with landlords, but there are clear and tangible benefits for both parties when upgrading facilities to be compliant with universal access codes.
By creating a workplace for a hybrid future that prioritizes equity, companies can discover a fresh opportunity to engage with and support a broader range of new and diverse talent that may have previously been dis-incentivized from joining the business. This is an extraordinary moment for companies to rethink their approach to the workplace and the new role it serves, in order to showcase the investments and decisions they are making to support meaningful progress towards diversity, equity, and inclusion in the workplace.
For media inquiries, email .