The Inclusion Utopia: Promoting a More Equitable and Inclusive Experience for Athletes
June 16, 2021 | By Santiago Rivera and Amanda Ramos
"Sports remains one of the greatest socialization mechanisms in the world — it communicates values without relying on any one language, and its most successful participants are known and respected globally. And yet, an entire community of people remain systematically excluded from sport." – Athlete Ally
In our continued search to create a just and equitable future, Gensler's Foundations, Associations, and Organizations practice area held a design hackathon to challenge our team to create an out-of-the-box, radical new and equitable locker room experience with non-binary and trans athletes in mind. With over 100 anti-trans bills across the United States, we sought to understand how design can create opportunities for an inclusive and safe experience, to imagine what an inclusive utopia can look like for all athletes.
We believe that all athletes should feel they belong in a team, to feel part of something great, and be welcomed. To design this utopia we partnered with Athlete Ally, a national not-for-profit whose mission is "to end the rampant homophobia and transphobia in sport and to activate the athletic community to exercise their leadership to champion LGBTQI+ equality."
Through Athlete Ally's team we heard the voices of both athletes and managers. The message was clear: non-binary and trans athletes are continuously forced to make decisions on how to use a space that doesn't align with their identity. Athletes can be at their most vulnerable state in a locker room, a space that may not offer the safety they need and can be excluded from the team dynamics.
Former NFL player RK Russell recently wrote in a Guardian op-ed, addressing trans athletes in school, "Isn't it important for trans children more than most to feel the belonging of a team, especially when society is questioning they belong at all? The locker room is a place that, regardless of what going on in your day-to-day life, you should feel a part of something great, powerful, and welcoming." As designers, we want to create space that does just that.
After listening to the athletes' stories, our team redesigned the traditional locker room components, from the lockers themselves to the shower and sauna spaces. Through this exercise we developed a kit-of-parts to help institutions create a more inclusive space. Even if a utopia may not be within full reach today, we can work towards it and offer design implementations that truly promote equity and safety.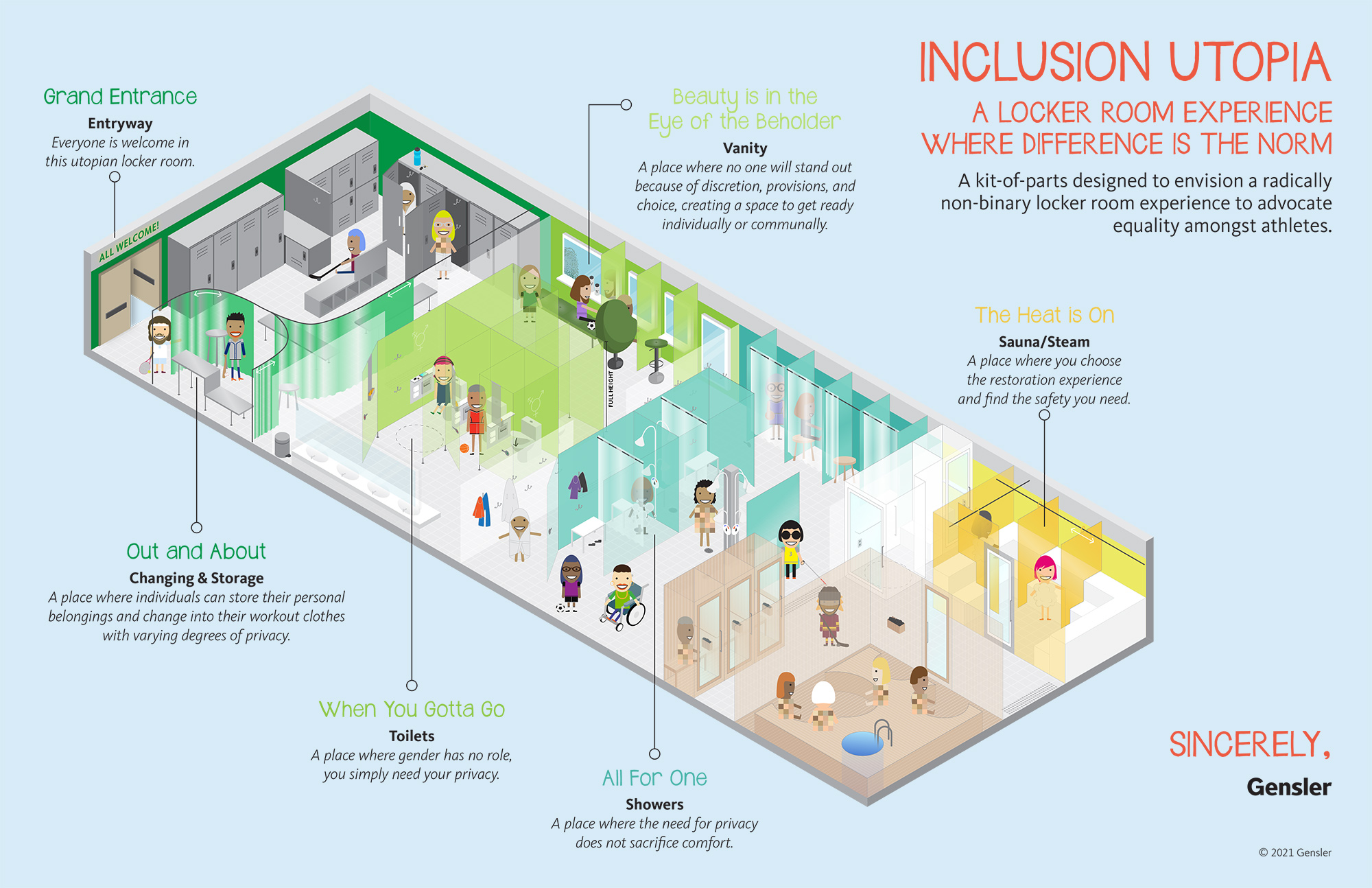 Space and behavior are powerful tools that can change the game by nudging towards a more inclusive experience for athletes. By providing non-binary choices, there are always options in the environment, and individuals can select personal spaces they feel suits them best. The key to success is a social contract, ensuring the individual choices of each athlete is protected from judgement of others. Mutual respect is a must for all players of this utopia.
By providing non-binary choices and creating a social contract specific to each institution we can strive for spatial justice, where athletes can be promised the physical and emotional safety they deserve, especially within the most vulnerable environment they inhabit — the locker room.
During the design hackathon each of the four teams focused on one specific zone: the entrance and changing area, toilets and vanity area, showers, and sauna or steam rooms. Each of the zones used architectural elements, brand, and product solutions to envision the radically non-binary experience we are advocating for.
Our goal is for organizations with athletic facilities (be it education campuses, corporate amenities, or community facilities) to take this kit-of-parts and think critically about what they can do to improve their athletes' experiences. Although some solutions would be part of a larger intervention, we've helped identify six steps all organizations can do now for a more inclusive experience:
Signage – Change locker room signage to welcome all regardless of how they might identify their gender.
Privacy – Increase privacy with what structures you already have. For example, the lockers themselves can be re-situated to break clear lines of visibility so athletes can experience more privacy.
Toiletries – Simply alter the accessibility of the bathroom and provide the same combination of toiletries discreetly in each stall.
Neutral – Break the gender associations by not signaling his/hers divisions through more neutral interior design style, accommodation of fixtures, and supply of products.
Robes – Provide genderless robes as a simple strategy to have greater discretion and feel a more immediate level of comfort.
Reconfigure – Any seating that is able to be rearranged should be to eliminate main focal points, opportunities for spectacle, and situations of over exposure.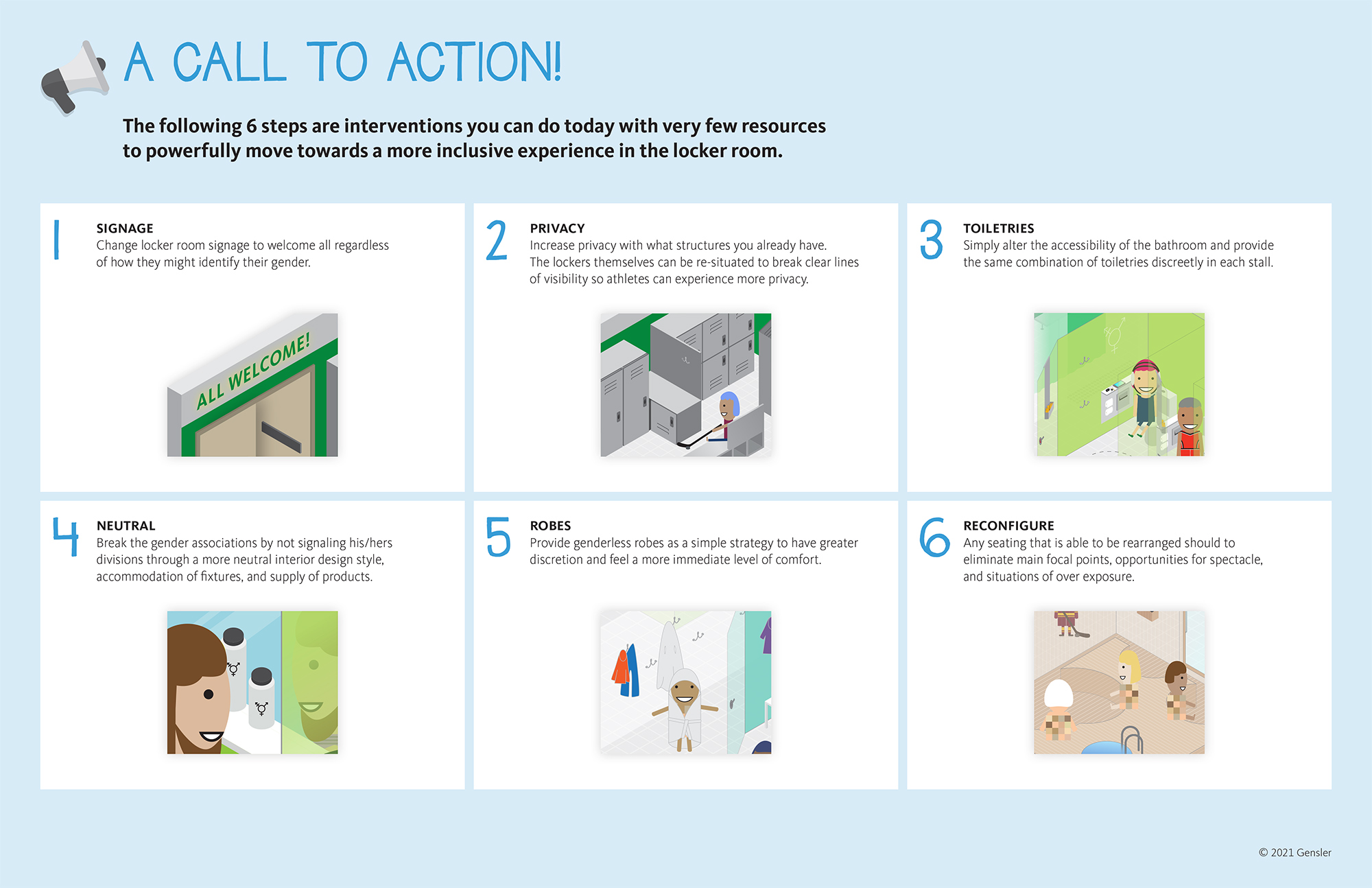 Inclusive athletic facilities don't stop within the locker room. As we continue to explore what inclusion truly means, we will need to explore the team experience. As expressed by RK Russell, it's important to have that sense of belonging within a team. Having a team that feels like one is so critical for success, going beyond actual competition, but during practice and down times: the higher the level of competition, the more important these in between spaces become. By incorporating a truly inclusive team room within athletic facilities, education institutions can drive recruitment, create identity, and support student athletes.
By offering more choices, difference becomes the norm, eliminating the spotlight on anyone who might feel different. Spatial design then acts as an advocate for equality amongst athletes. With the added social contract tailored to a specific community, we believe the inclusive locker room experience will offer non-binary and trans athletes the sense of welcome and belonging they are eager to receive out in the field.
To learn more about our inclusive utopia for locker rooms download a fully detailed PDF version here.
For media inquiries, email .