Why Inclusive Design Is Critical to Workplace Transformation
June 01, 2023 | By Susana Covarrubias
We're seeing it across industries: companies are rethinking their workplace footprint, redefining the purpose of their offices, or both — all resulting from the growing adoption of post-pandemic hybrid work. With this acceleration of workplace transformation, organizations are reexamining their work environments to reflect changing business needs and shifting expectations around how their workspaces are used, with a renewed emphasis on making the office an inviting and welcoming destination. As we explore the varying aspects of what this means and looks like, there is one consideration that has become a critical table stake in our post-pandemic workplace: designing for inclusivity.
Inclusive design for the future workplace is no longer simply about basic accommodation. It's about making employees feel comfortable in being and showing up as themselves and working in ways that meet their daily evolving needs.
Future of work = future of life
The baseline of inclusive design incorporates design solutions that address the full range of human diversity related to gender identity, race, ability (eyesight, mobility, dexterity, memory), age, neurodiversity, socioeconomic status, and culture. Beyond this baseline, inclusive design encompasses environments that create equitable, engaging, and inspiring experiences for all. It's about creating an environment where all people can thrive.
Adding the complexity of future of work (future of life), inclusive design is a major concern for organizations looking for ways to create work models that respond to the needs of workers in the post pandemic world. The future of work is here now, and it encompasses the digital, hybrid, and physical realms. In the physical environment, we are putting more emphasis on choice, flexibility, and experience-rich workplaces that also support employee comfort and well-being. The workplace will continue to evolve as worker preferences continue to shift.
The process of design needs to be inclusive to ensure an inclusive outcome. DEI is not just a check-the-box factor; it's the key to being relevant in the future world with an increasingly diverse demographic. Additionally, bringing together different perspectives is the only way we can tackle the complexities of the future. Diversity is the key to unlocking great design; as designers and innovators, the success of our work is measured by how it serves our communities and the human experience. How does our work affect people and their everyday lives? How do people live, work, and play within, between, and in relation to the spaces, places, and products that we design?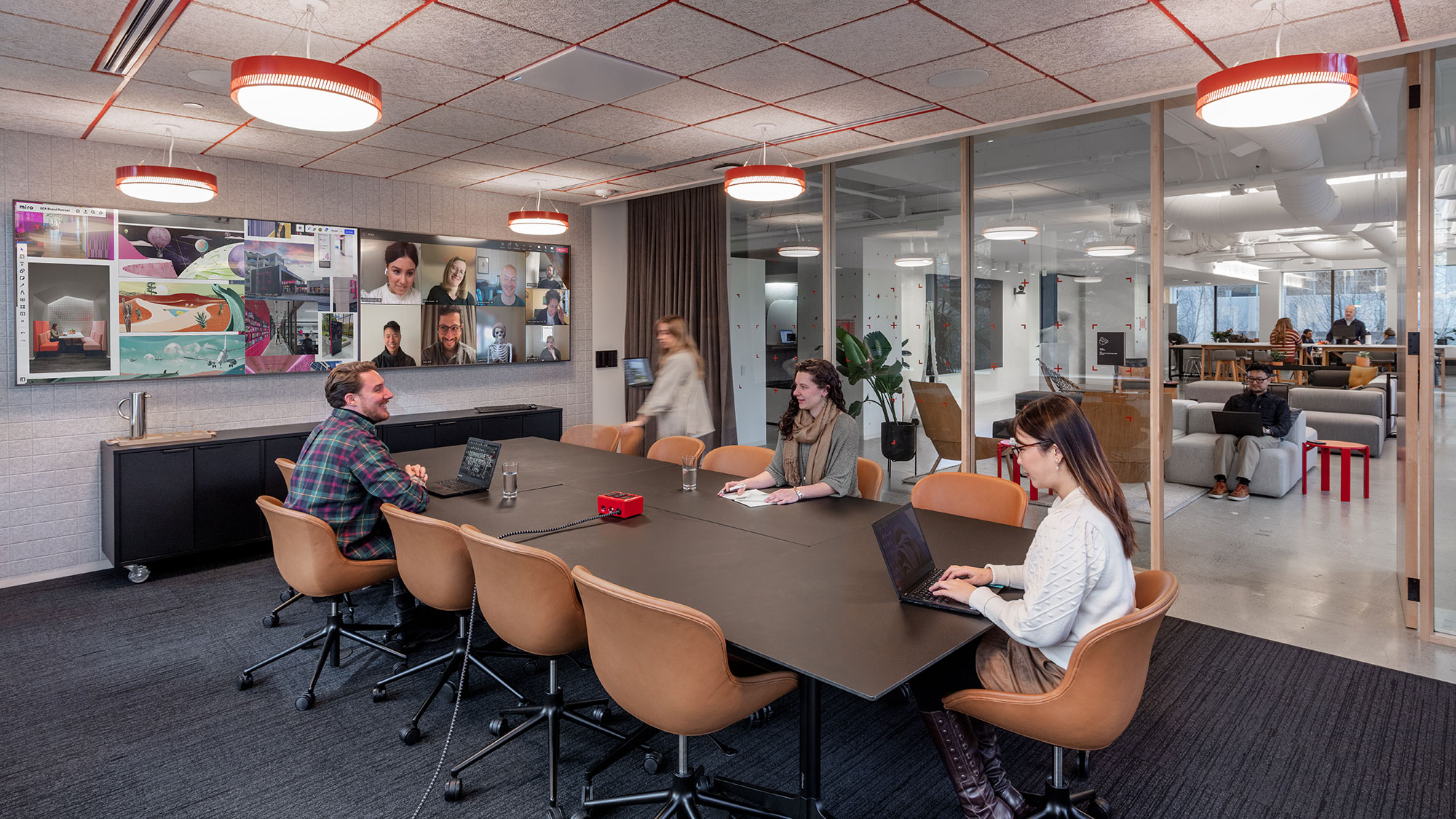 The hybrid experience
We are learning together and are still grappling with the inclusive hybrid challenges. The future lives in the digital, hybrid, and physical realms, and we need to address all, while actively engaging people who are remote to help them feel as equally represented as those who are in person.
Gensler is using our own Seattle office as a test pilot for this. The setting of the room, the visibility of speaker, the sound, lighting, technology, and space configuration are essential factors for delivering an equitable experience. Investing in technology-driven tools helps ensure this kind of seamless hybrid equity. Some of these tools include large, split screens and cameras allowing in-person and remote attendees to have equal visibility of each other even while screen sharing, digital white boards for real time sharing and collaboration, and messaging tools for ease of communication. This includes constant piloting and testing until we get it right.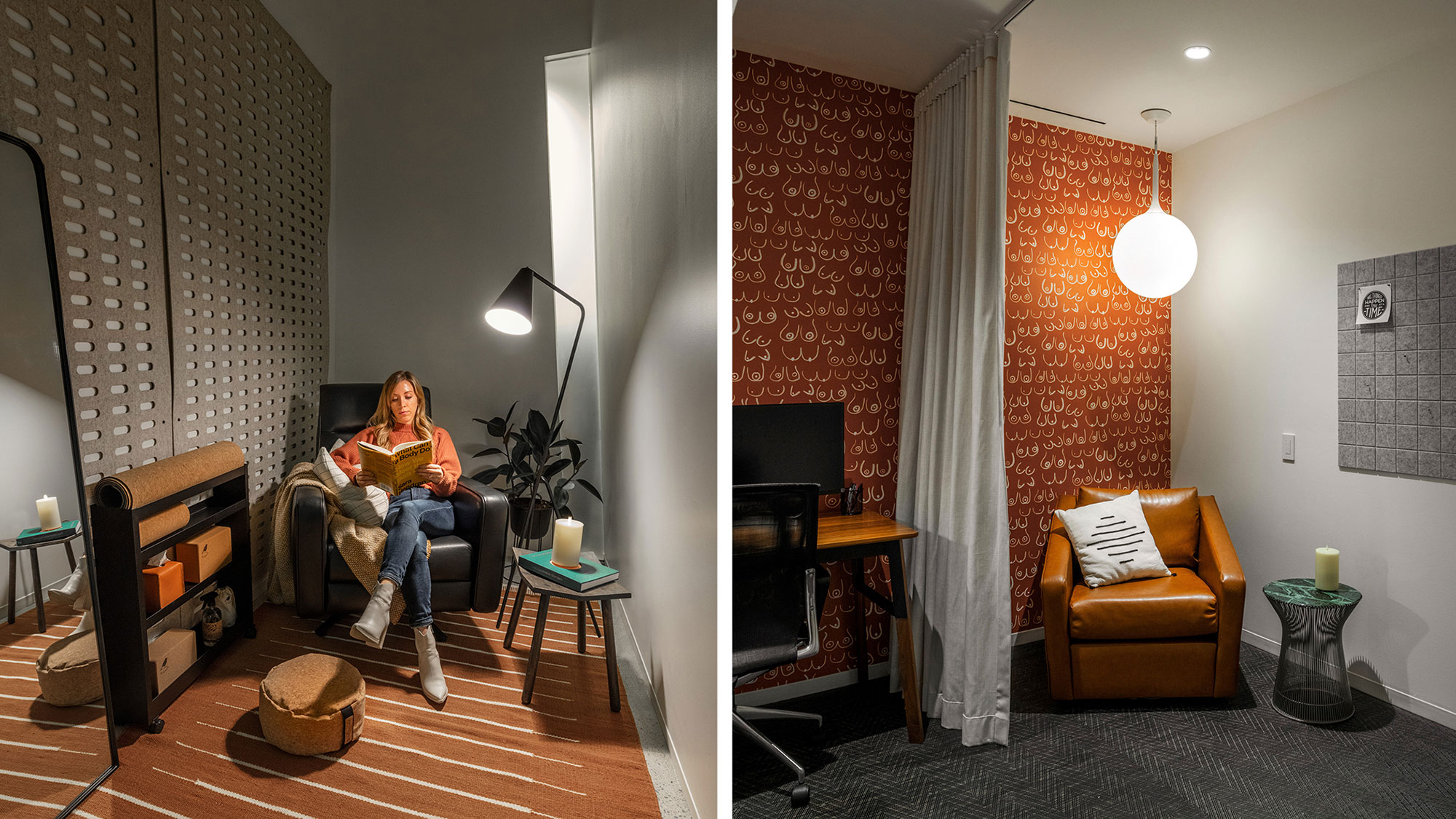 Inclusion in the physical space
Coming out of a near three-year stretch of time when people established their own working environments that suited their individual needs, we know that the future workplace must reflect similar offerings to help workers feel safe, comfortable, welcomed, and appreciated. It's all about personal choice in how and where to work when in the office, whether we come in for team collaboration, social interaction, play, quiet focused time, in-person meetings, or company team-building events. From flexible seating areas that can be moved around for accommodating various groupings in social or collaborative interaction to private rooms for well-being, phone booths, lactation rooms, non-binary restrooms, and smaller gathering spaces with dimmed lights for more relaxed, casual meetings or quiet time, to the traditional ergonomic sit/stand workstations or more casual lounge configurations.
In Gensler's Seattle office, we also help build awareness and bring to light the amazing work of BIPOC designers through a collection of books and objects displayed around the space. Bringing meaning into your environment can come in a variety of ways, including colors, objects, furniture from diverse designers, and symbolic architectural elements that further reinforce the message of inclusivity. Space can also be used as a platform to celebrate diverse cultures and rituals, and allows for self-expression, play, and social interactions to increase a sense of belonging. We see faces, but don't always uncover the beauty and diversity that lies underneath. An environment that has infinite options sends the message that everyone belongs there.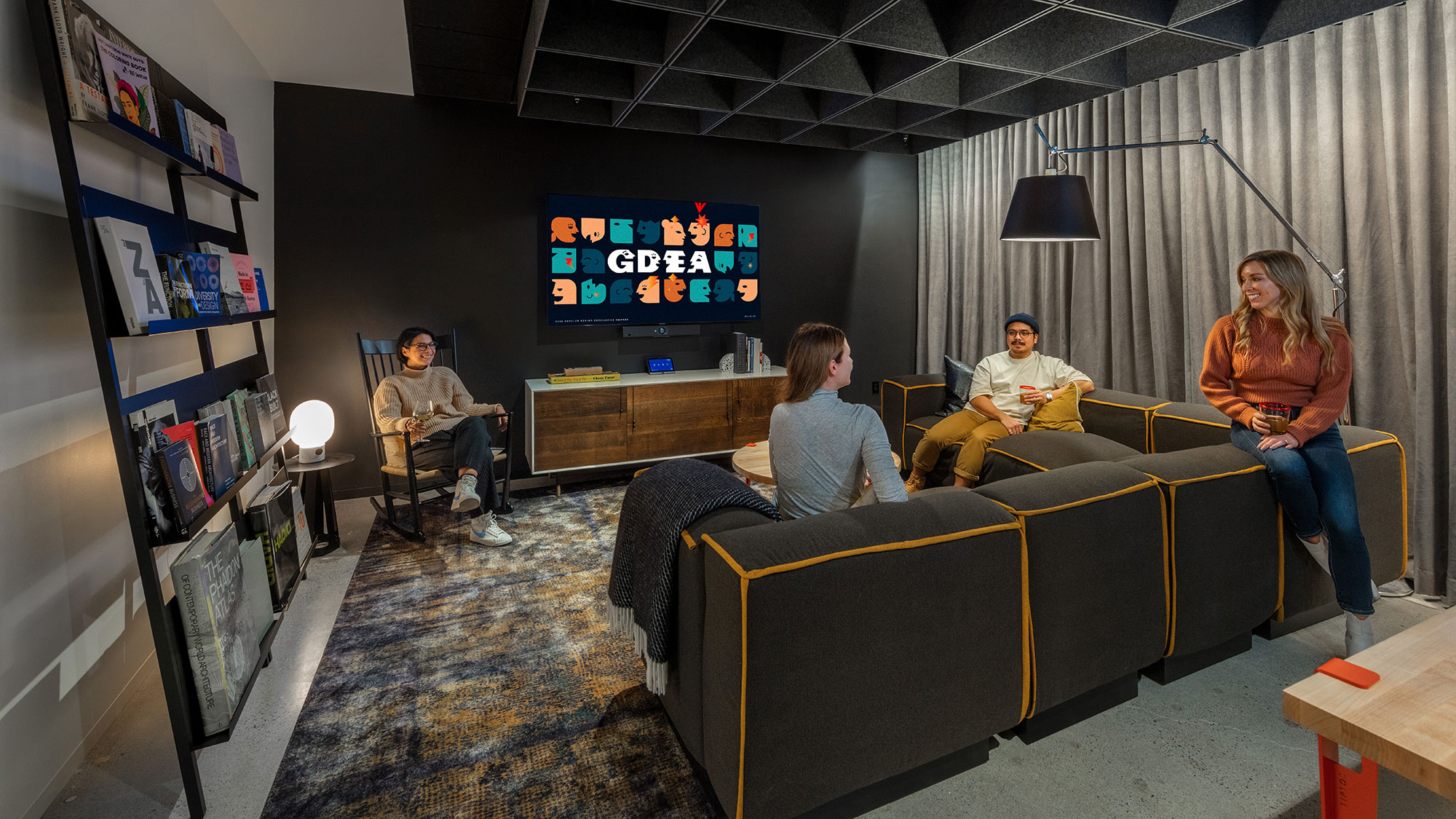 Embracing diverse perspectives
As a business, you need to bring diversity to your teams to stay relevant. It's part of a bigger value proposition. We need to bring diversity to the table to tackle design challenges through the lens of different perspectives. This means having diverse teams, working with diverse consultants, and specific products that represent BIPOC companies, etc. Design is not inclusive unless the design process is inclusive. Inclusive design is not a recipe that you can repeat, but instead it's different every time.
Issues of accessibility and how design supports all people are far from solved. And we must not shortchange the communities at the heart of the original inclusive design strategies. But BIPOC people, and issues of race and inclusion have been excluded from these discussions entirely. Updating language alone will not produce meaningful change. We cannot achieve inclusive design through checklists and principles alone — a design process that includes diverse representatives and perspectives must be our first step forward in creating spaces where all feel included, welcome, appreciated, and empowered with choice.
For media inquiries, email .