5 Considerations for Designing the Future of Higher Education
August 09, 2021 | By Erin Cubbison, Patricia Nobre, Kyle Sellers, Allison Bulgart
The COVID-19 pandemic dismantled campus life for nearly all American college students. As the Fall 2021 semester begins and campuses reopen, colleges across the country continue to face challenges. But higher education is resilient and evolving — administrators, instructors, and students alike are rethinking its value proposition and what new directions it might take in the future. Our recent research examining the experience of students and educators in learning and teaching during the pandemic holds critical considerations for what the future of higher education might look like.
As the Spring 2021 semester unfolded, the Gensler Research Institute deployed an online survey — the Education Engagement Index 2021 — to 3,000 U.S.-based college students and educators. We found that less than 5% of the students were participating in full-time in-person classes. The transition to remote learning was drastic, but many students also pulled out of higher education altogether. According to a Spring 2021 report from the National Student Clearinghouse Research Center, by mid-2020, 600,000 fewer students were enrolled in college than the prior year.
The key findings of our survey — including a preference for hybrid learning, the value of relationships, and the social dimension of learning environments — may indicate a future direction of higher education. But decision-makers can't rely on only averages; there is a range of perspectives and needs in every community, and providing multiple pathways for engagement is essential.
Our survey represents not only various programs of study and institution types, but also reflects the diversity in higher education today. Nearly half of the students we surveyed identify as a minority race or ethnicity, and over 640 students and instructors identified as LGBTQA+. The Gensler Research Institute developed this survey to not only gauge learning and teaching effectiveness, but also key indicators related to motivation and emotional well-being. A key takeaway? Learning has taken a hard hit during the COVID-19 pandemic, but the experience may lead to a future that is nothing like the past.
Here are five trends that speak to the broad experiences of life in higher education and what they may mean for the future:
1. Nearly half (44%) of students feel less successful academically now than they did before the pandemic.
We explored six learning modes in our survey: learning from instructors, learning through hands-on activities, doing individual work, presenting work, working with a group, and socializing with others. Across all learning modes, students report higher scores before the beginning of the COVID-19 pandemic. While others have documented a broad trend in students learning less, our results support this and also go deeper to illustrate impacts on learning.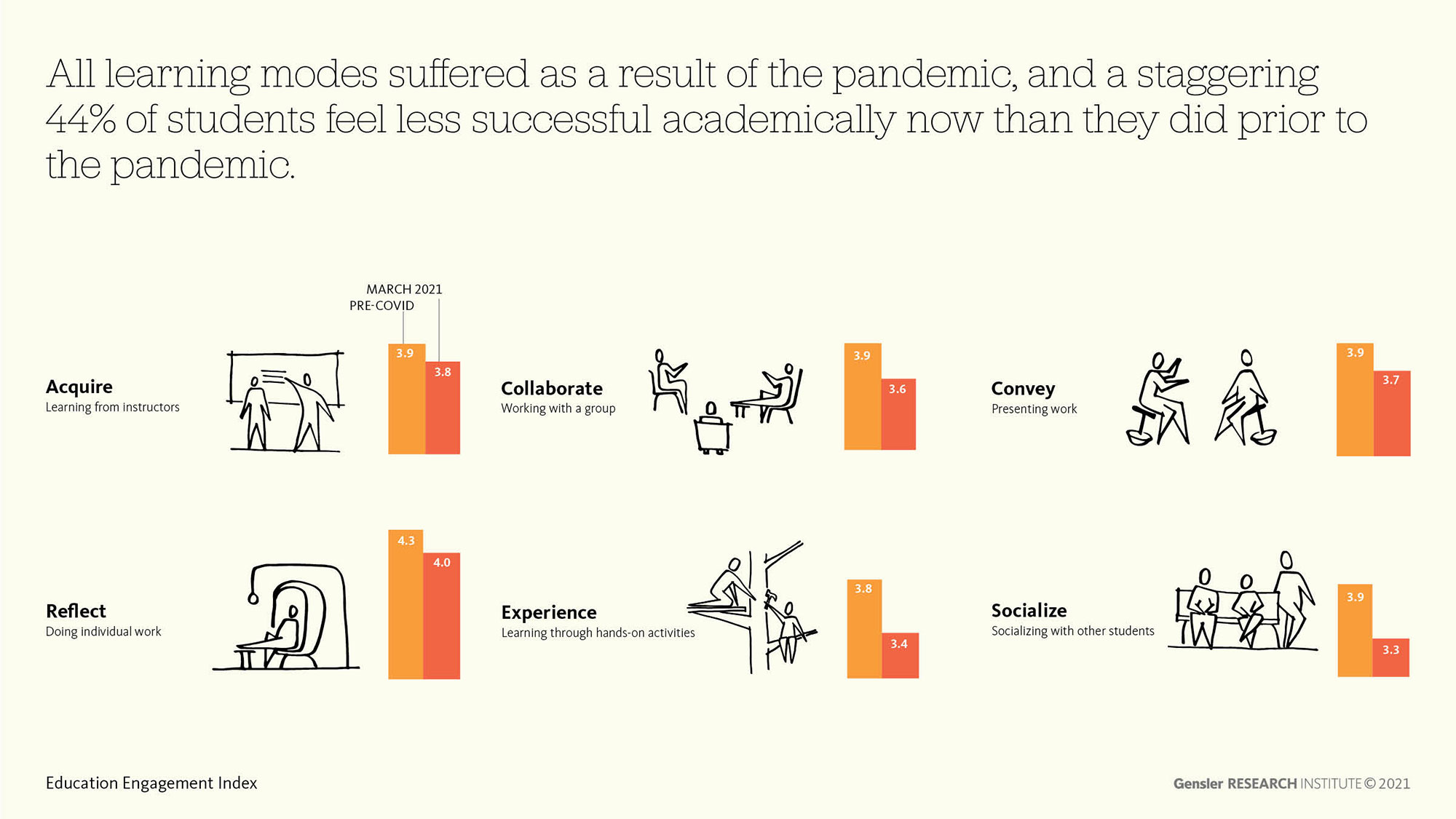 2. Instructors may not understand the scope of the problem.
We compared students' self-reported effectiveness of learning at home to what instructors perceived it to be. The results were striking — instructors overestimated students' effectiveness across all six learning modes at home. An empathetic lens for the student experience is necessary as administrators consider a future of in-person, mixed-interaction, and online learning.
3. Despite the challenges of fully remote learning, hybrid learning is the preferred future.
Although most report that learning was more effective on campus before the pandemic, 68% of students and 74% of educators want a hybrid approach — a model that includes a combination of in-person and remote learning methods. From cost-effectiveness to the unique pedagogical upsides of virtual learning, research had already begun to illustrate remote learning opportunities. Our findings corroborate this research and take it one step further regarding what the preferred hybrid approach looks like: Both students and educators want about 25% of their classes to have virtual and in-person interactions. They want most of their classes to be fully remote and fully in-person.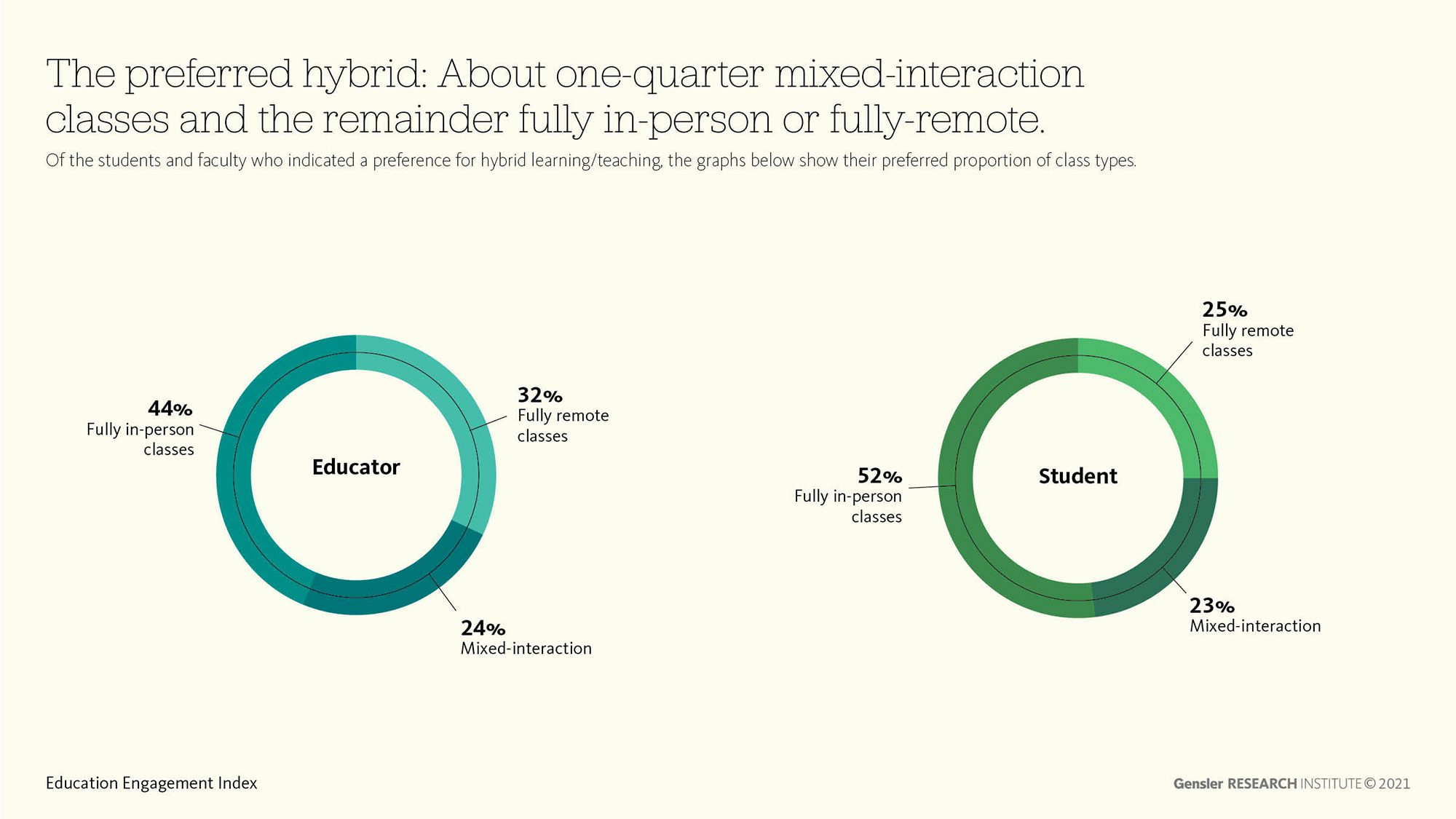 4. Relationships have suffered since the beginning of the COVID-19 pandemic, and survey data illustrates a connection between quality of relationships and students' motivation and well-being.
Ryan and Deci's Self-Determination Theory defined intrinsic motivation with three factors: autonomy, competence, and relatedness. We asked students to self-assess on these factors, as well as engagement, growth, and overall motivation. We also asked students to self-assess on emotional well-being factors related to purpose, identity, risk-taking, and support. We found that students with positive relationships report significantly higher scores for all of these motivation and emotional well-being factors. Importantly, the positive relationships between instructors and students have the great impact on these variables. It is essential for institutions to recognize the connection between the health of relationships and learning outcomes and consider how relationships can be supported in a hybrid model.
5. Building social connection and working in small groups are the top drivers for coming back to campus.
While the campus is essential for providing in-person classes, we found that it is even more valued for providing the opportunity to connect with others and also to facilitate a daily schedule or routine. When asked more specifically about the learning activities they would return to campus for, students noted a clear preference for hands-on activities and small class lectures. Large class lectures had the least support by far, which raises an important question about how this learning format should evolve in the coming years.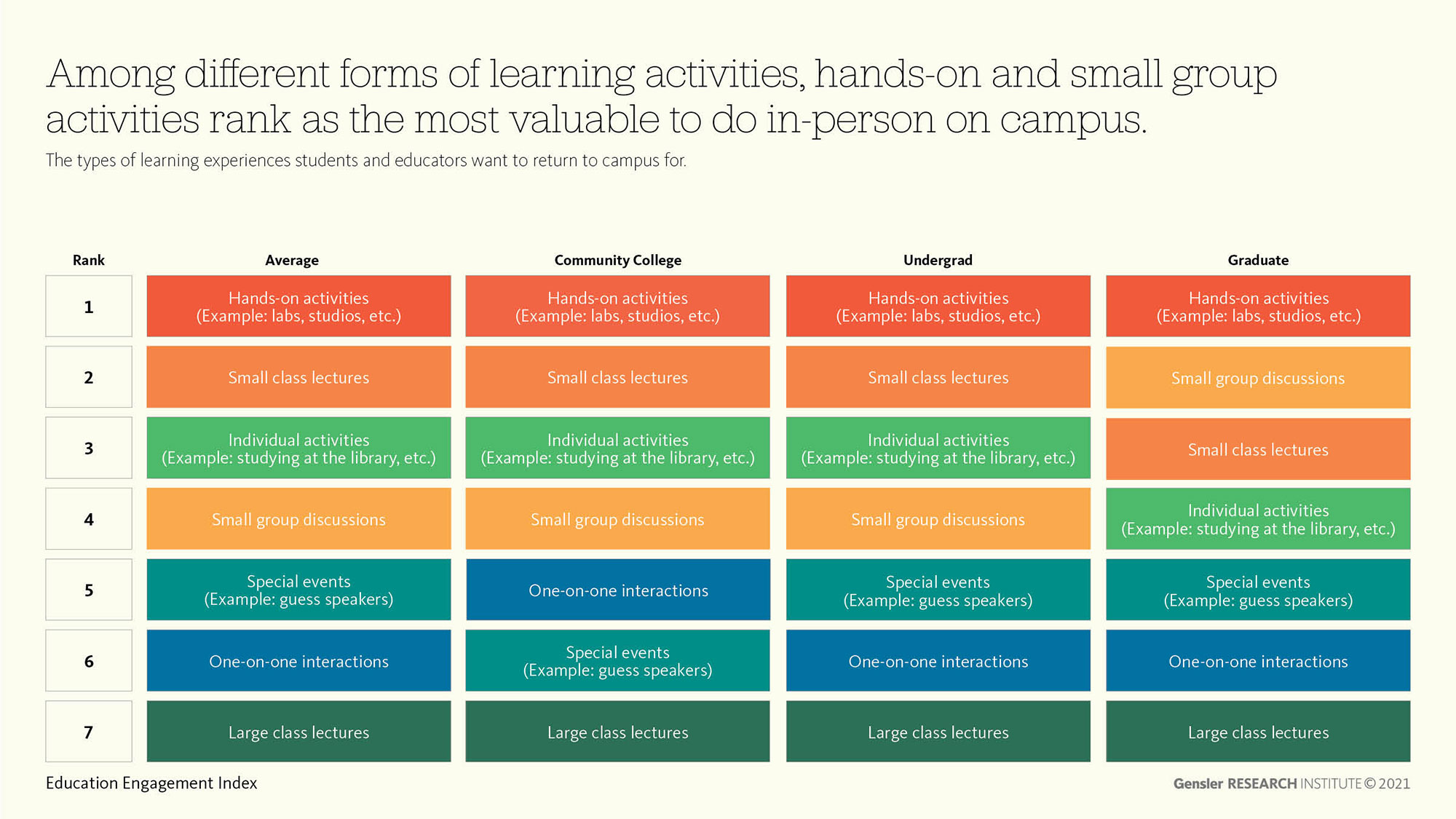 The national data presented here provides a valuable reference, but it is critical to recognize that averages don't reflect the needs of all students. If we are to design for all learners, it is critical that we look beyond the average responses and understand the unique needs and perspectives in each community. We also must acknowledge the ever-changing nature of the world that surrounds us and that our preferences will shift in response to both new external conditions, as well as changes in our own perspectives. Our goal should not be to design one optimal and fixed experience for all students, but to design for diverse and evolving ways to engage.
Download the full Education Engagement Index Report to explore insights on student and instructors return to the campus.
For media inquiries, email .