Designing a Black-Owned Gallery to Elevate Artists of Color
June 15, 2021 | By Kevin Sherrod, Chris Doerr, Wayne Thomas
Kevin Sherrod, Chris Doerr, and Wayne Thomas are colleagues at Gensler Los Angeles and fellow alums of UCLA's School of the Arts and Architecture. We sat down with them to discuss Gallery 90220, a joint project created together with the support of the firm's community impact initiative. The team leveraged the power of design to literally create space to share the stories of artists of color and invite the South Los Angeles community to experience art together. Here's what drove their design.
What drove the concept to design an art space that aims to elevate the work of Black creatives and offer a welcoming place for community gathering?
For the past year and a half, Black people's collective pain and loss have been on full display while the world bore witness. From the COVID-19 pandemic, which continues to disproportionately claim Black lives, to the unjust killings of unarmed Black people, to the Capitol insurrection, rife with symbols of racism and hate — the world awoke to the realities of anti-Black racism and its insidious impacts on our bodies and communities.
Gallery 90220 was birthed out of the desire to create an accessible platform for emerging and underrepresented artists of color to express their truths and artistry through various mediums. Art and activism have always been intertwined in a nuanced way. Art, told through the lens of diverse voices, has a unique way of capturing the pulse of a culture and reflecting the landscape of the day — this is important to recognize more than ever.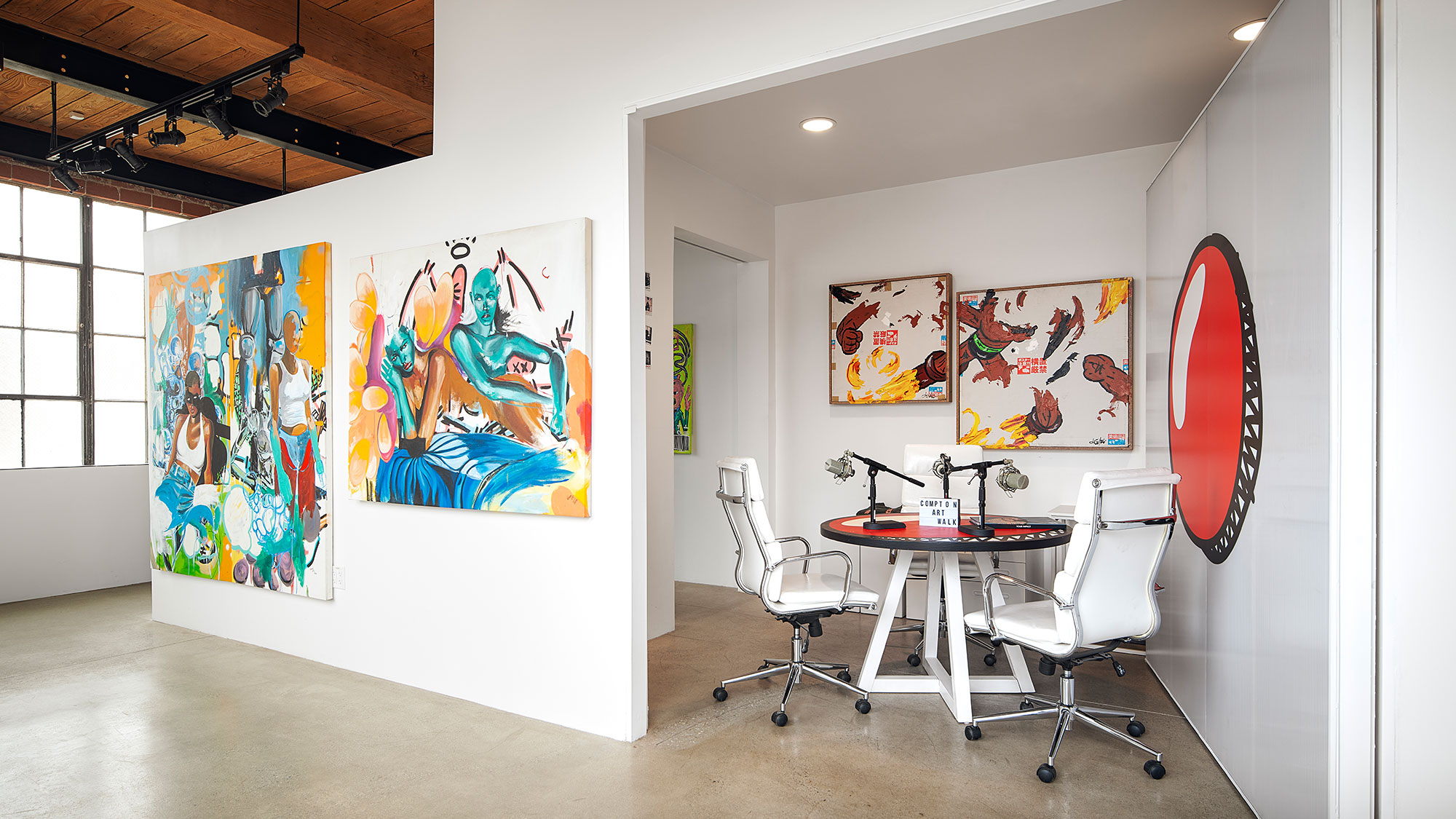 Taking into account the events of the past year, why was this an important moment to create a hub for BIPOC artists to share their unique perspectives?
Amid multiple crises, Black artists have given voice to our shared pain and experiences in support of advocating for a more equitable and just future. In this unprecedented moment, safe cultural spaces that center the lived experiences of Black, Indigenous, and other people of color (BIPOC) and elevate our history, art, and activism, are perhaps more essential than ever.
Using physical space to act as a platform for sharing stories offers a more comprehensive approach to enhancing the health and wellness of communities in meaningful ways. Art is not a "nice to have" asset, but rather, it is a crucial outlet we can use to share collective memories, and this is enabled through the design of the gallery space itself.
What role can architecture play in literally making the space to explore diverse expressions and histories of the human experience, especially for BIPOC artists?
The role of architecture is really interesting in this moment. As designers, it is our responsibility to create space and celebrate culture and identity through the nuanced details in the design and the feelings a space can evoke. In Gallery 90220, we accomplished this by leaving the original steel columns, beams, and wood ceilings to retain a sense of visual warmth and history. At the same time, we have to be able to allow stories to be shared through the creatives' lens by leaving flexibility for the space to be interpreted through the artists' eyes.
How did you select the South Los Angeles site for Gallery 90220 and what inspired its name?
Gallery 90220 is part of The Beehive, our nation's first Black-owned Opportunity Zone business campus, which makes this art space the first of its kind. SoLa Impact, a family of social impact real estate funds behind The Beehive, has a history of generating community wealth, and its goals and ambitions align with the aspirations of the gallery and the community that it represents. The gallery's name is a direct use of a zip code in Compton, California — "90220," while its logo, a large red dot, pays homage to the traditional visual signal that an art piece has sold.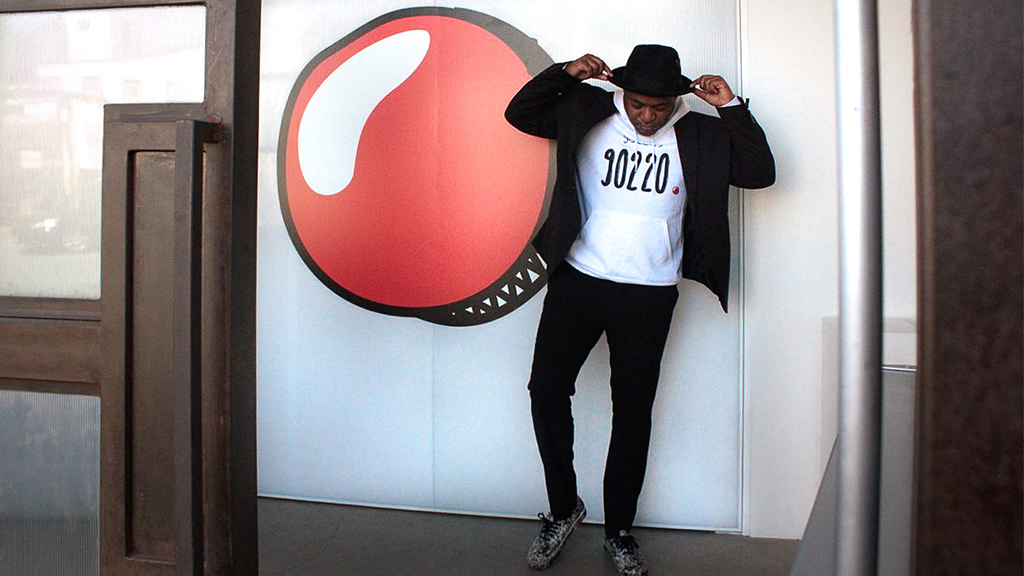 How did you leverage your design skills to work through Gensler's community impact channels to make your vision a reality?
The support of Gensler's Community Impact team gave us the space to dream and create in this way and provided the room to leverage our design expertise to be responsive and contribute to the larger movement underway. Gensler has a longstanding commitment to transformational projects — we think Gallery 90220 contributes to an emerging paradigm, one where arts and culture are fundamental to strengthening community health and wellbeing.
What was the process like partnering with your Gensler colleagues and other stakeholders?
Everyone that came together for this effort was connected before the project. The relationships between all three Gensler colleagues, who are also all UCLA alums, was solidified well before the project. Working with stakeholders including Gallery 90220 founder and executive director David Colbert Jr., as well as Compton Art Walk Inc. and SoLa Impact, was also a seamless collaboration due to their history of work and support in the community. When the opportunity to open this art space became a real possibility, everyone involved was already aligned on the singular mission of creating the space that could make an immediate impact.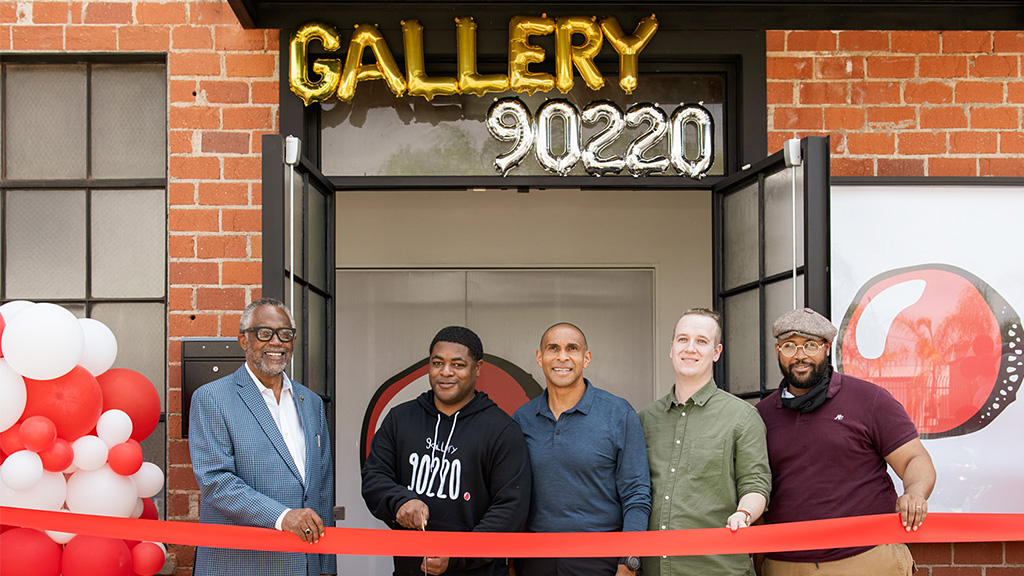 What design considerations were employed to help foster a sense of safety and comfort at Gallery 90220?
The idea of safety for us was synonymous with the idea of comfort. Design shouldn't feel extractive or oppressive but should reflect the community's values. Intentional details like holding the gypsum off the columns became a way to create a dialogue between what has been and what is to come — it's a way of acknowledging and understanding that the memories of those before us are present in the space. The intention was to memorialize this space so that the art that hangs will always illustrate the fact that we stand on the shoulders of our ancestors.
By creating a Black-owned art space, how are you breaking barriers in the arts and expanding access to emerging artists of color?
It is no secret that art galleries and museums across the country are sorely lacking in diversity. A 2019 study by Topaz and colleagues, the first large-scale study to examine the diversity of artists in museums, found that approximately 85% of museum-showcased artists identified as white, and just 1.2% identified as Black. In Los Angeles, a city with hundreds of art venues, it is estimated that only two dozen are Black-owned or operated.
Gallery 90220 creates a platform for artists who may not be prioritized in mainstream creative spaces, in order to authentically showcase their talent and experiences. The gallery, which welcomes various artforms, removes the barrier to entry, especially for new artists of color.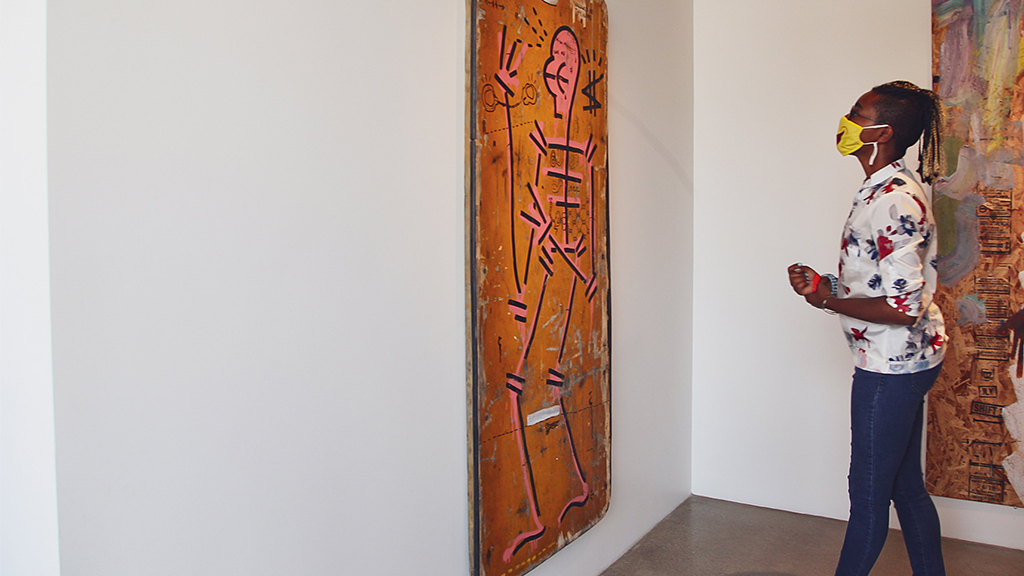 Can you explain the concept of artistic equity?
We believe that art is for everyone, both in terms of who creates it and who experiences it. Artistic equity really is about affording everyone the same opportunity and space to create. We know time, money, and access are the top three deterrents. Artistic equity, at its core, is about providing different levels of support, based on need, to enable creatives from impacted areas the opportunity to share with the world.
In creating Gallery 90220, what was it like collaborating with a diverse team and how did that experience inform design decisions?
Having a highly diverse team was incredibly beneficial in creating a design dialogue centered around creating something impactful. In the beginning, everyone at the table had the same aspirations for the project, we understood what was at stake, especially in the current moment where trauma in our communities was on full display. We wanted to create a safe space for healing. This project demonstrates that when we have a shared vision and a shared "why," amazing things are possible.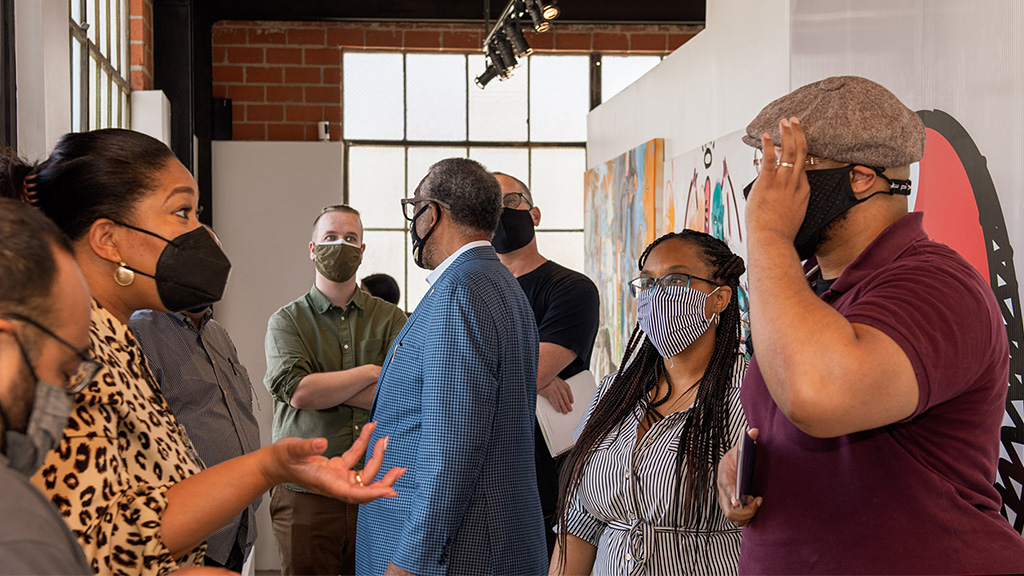 What has the reaction been like from the South Los Angeles community and what are your long-term hopes for the gallery?
The reaction has been great! People are celebrating what it means for the youth; they are ready for their stories to be told. To date, we've had Grammy-winning artists come by, Oscar winners, and other celebrities. Although it's encouraging to have culture-makers visiting the space, that's not what makes it great. What's great is they are shoulder-to-shoulder with members of the community, sharing experiences and stories, and exposed to new work by underrepresented artists. It shows, in a tangible way, that dreams are within reach.
Learn more about Gallery 90220, and plan a visit.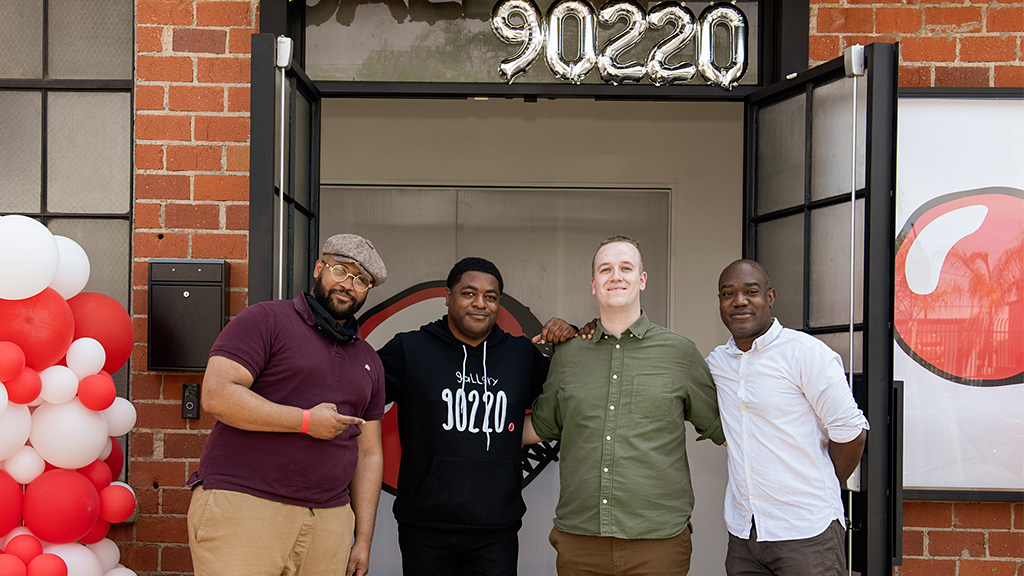 For media inquiries, email .