A Workplace With Heart: Inclusive, Connected, and Unmuted
November 18, 2020 | By Kelly Dubisar and Greg Gallimore
"I think you're on mute!" is fast becoming a contender for the headline of 2020. More than nine months into this pandemic, we've adjusted to a new wave of remote work, swapping suits for sweatpants, desks for dining room tables, and commutes for couches. We've unlocked a new era of working that gives us more flexibility to fit work around our lifestyle, racking up our Peloton miles, and spending more time with family and friends. As a society, we've pressed unmute on conversations that are way overdue around inclusion, diversity, and equity. We've witnessed a change in our carbon footprint that cannot be ignored.
Yet, despite all the benefits that working remotely has brought us, studies show that many of us miss the office. We miss the IRL connections, the buzz, the spontaneity, the water-cooler moments that spark new ideas, the all-hands meetings that reinforce our culture, and don't forget the snacks! Our most recent 2020 U.S. Workplace Survey found that just 12% of U.S. workers want to work from home full-time, and 70% of people want to work in the office for most of their week.
As designers and clients, this is our unique opportunity to use this moment in time to use what we've learned over the past nine+ months and redefine the purpose of our workplaces.
A connected experience is what's needed
Workplace is the glue that binds teams together — no matter where they are or how they choose to work. The future workplace must be built on an ecosystem that brings people, place, and technology together, giving agency and equity to all work modes.
This is a workplace with heart: a destination for community and connection, where everyone is empowered to have a voice.
Let's journey through the future workplace.
Start at home
An AI-powered workplace uses mixed-reality to "drop into" the office as if you're there in person. The connected, hybrid workplace allows you to reduce the silence, isolation, and screen fatigue and keep a pulse on what's happening in the office at all times — no matter where you're working.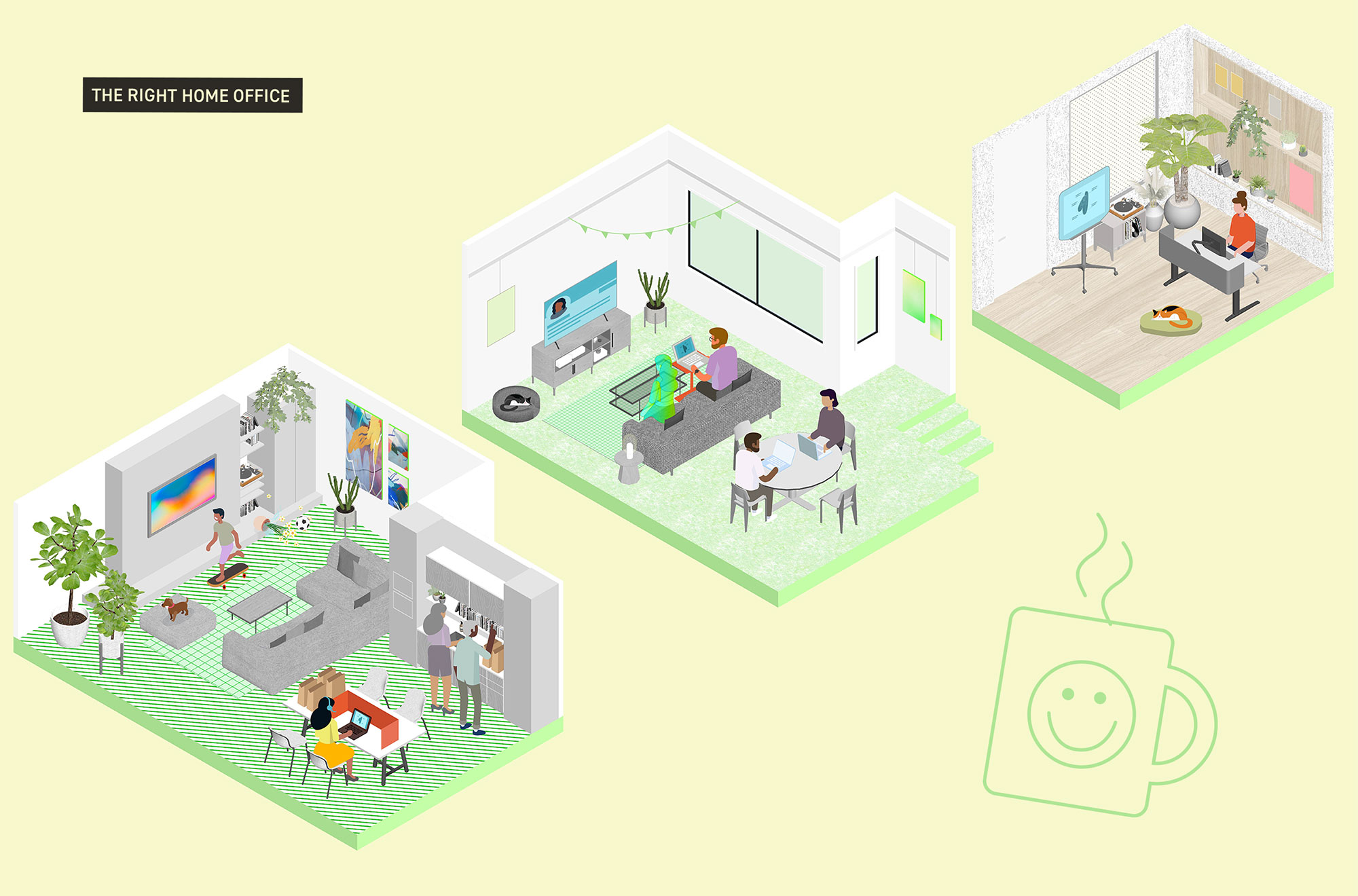 Connect in the kitchen
The kitchen is where we gather, converse, and connect. Step into our tech-enabled kitchen, where you can hang out with coworkers, grab coffee and virtually chat with people working from home, and feel like you're a part of a healthy and sustainable community.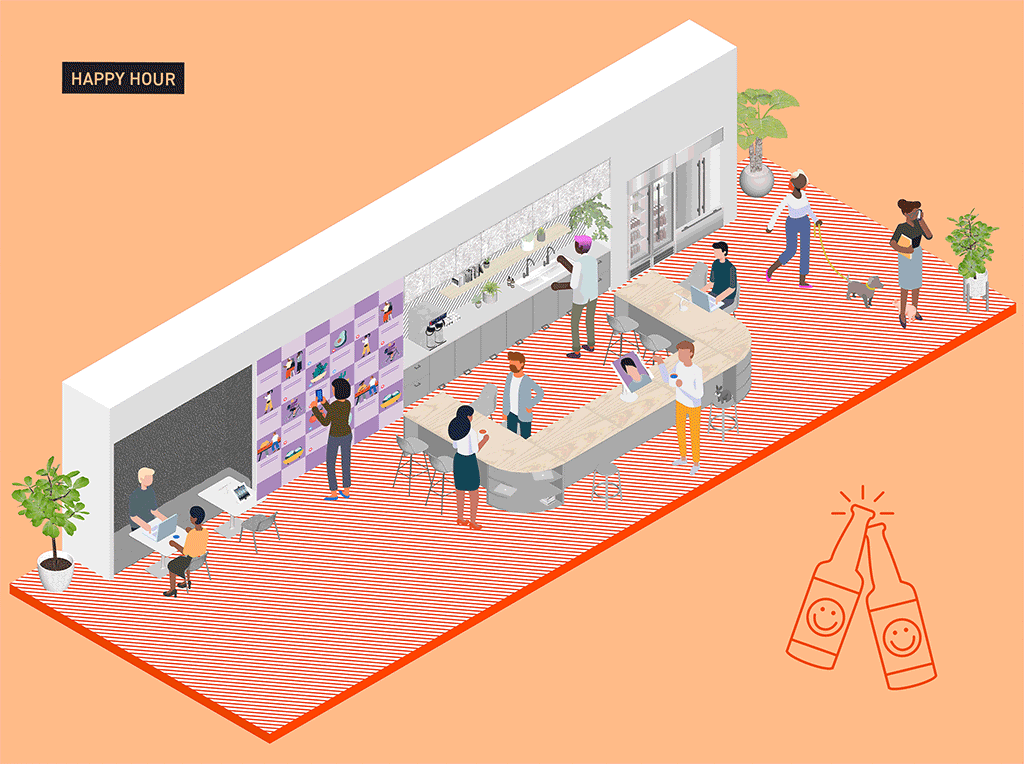 Work, with flexibility
The future office will be agile and customizable to fit different individual and team needs. Check the digital team dashboard to see who is onsite and who is working remotely. Break out, move walls, and fully personalize space for your team.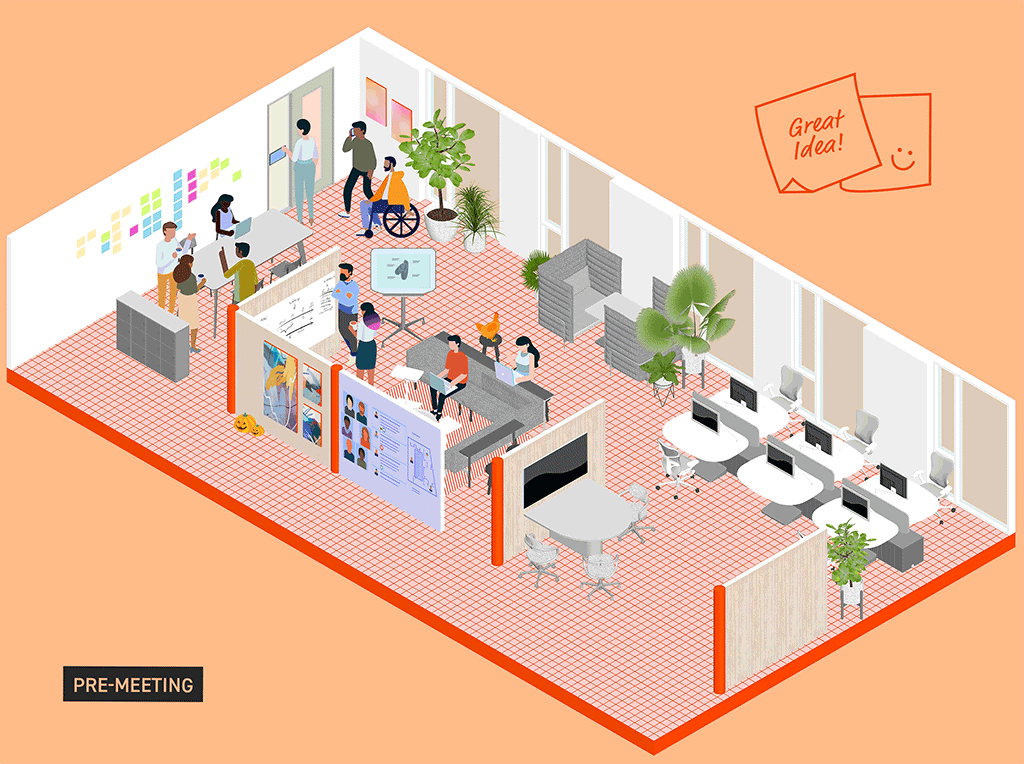 Revolutionize meetings
There is no denying we all are experiencing screen and meeting fatigue. In the future workplace, meetings just got a lot more enjoyable and equitable thanks to mixed-reality conferencing. Reserve and join meetings via your virtual assistant. Opt to attend in-person or as a virtual avatar and enjoy a 360-degree experience that will enable you to seamlessly collaborate and connect.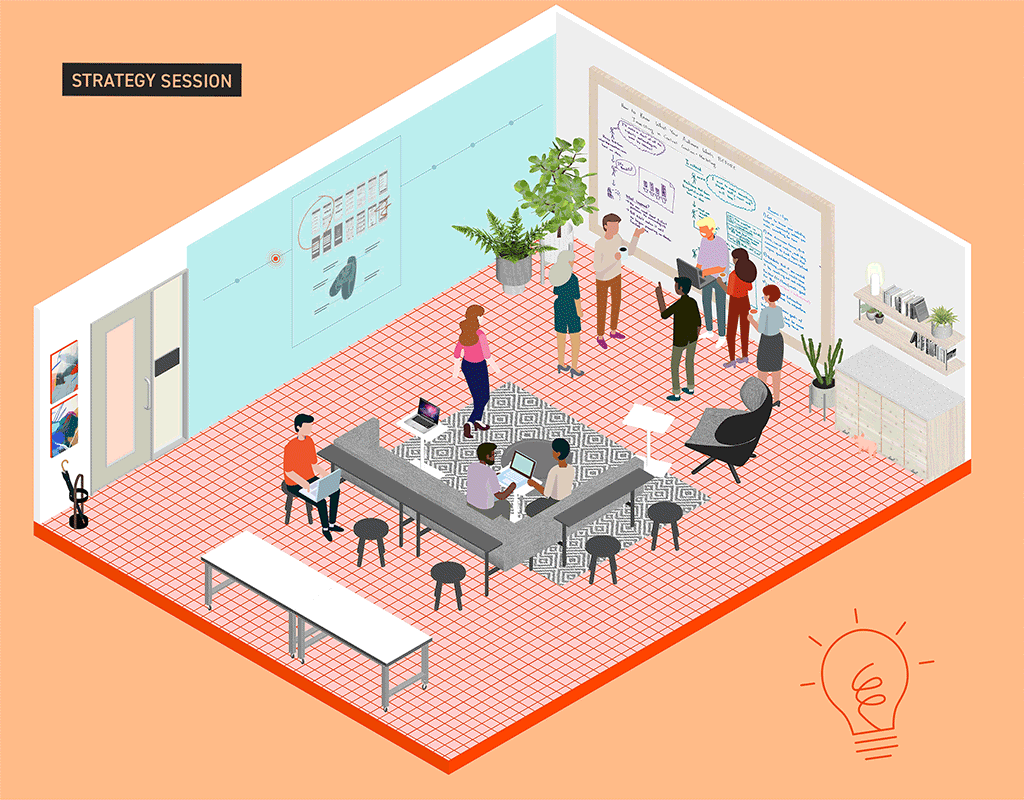 Rest and reset: mind, body, soul
Prioritizing health and well-being is here to stay. Whether you're working in the office or at home, reserve a physical or digital wellness session via your virtual assistant. Depending on your needs for a particular day, you can find calm, creativity, or energy in a tech-free zone or an immersive AR/VR pod.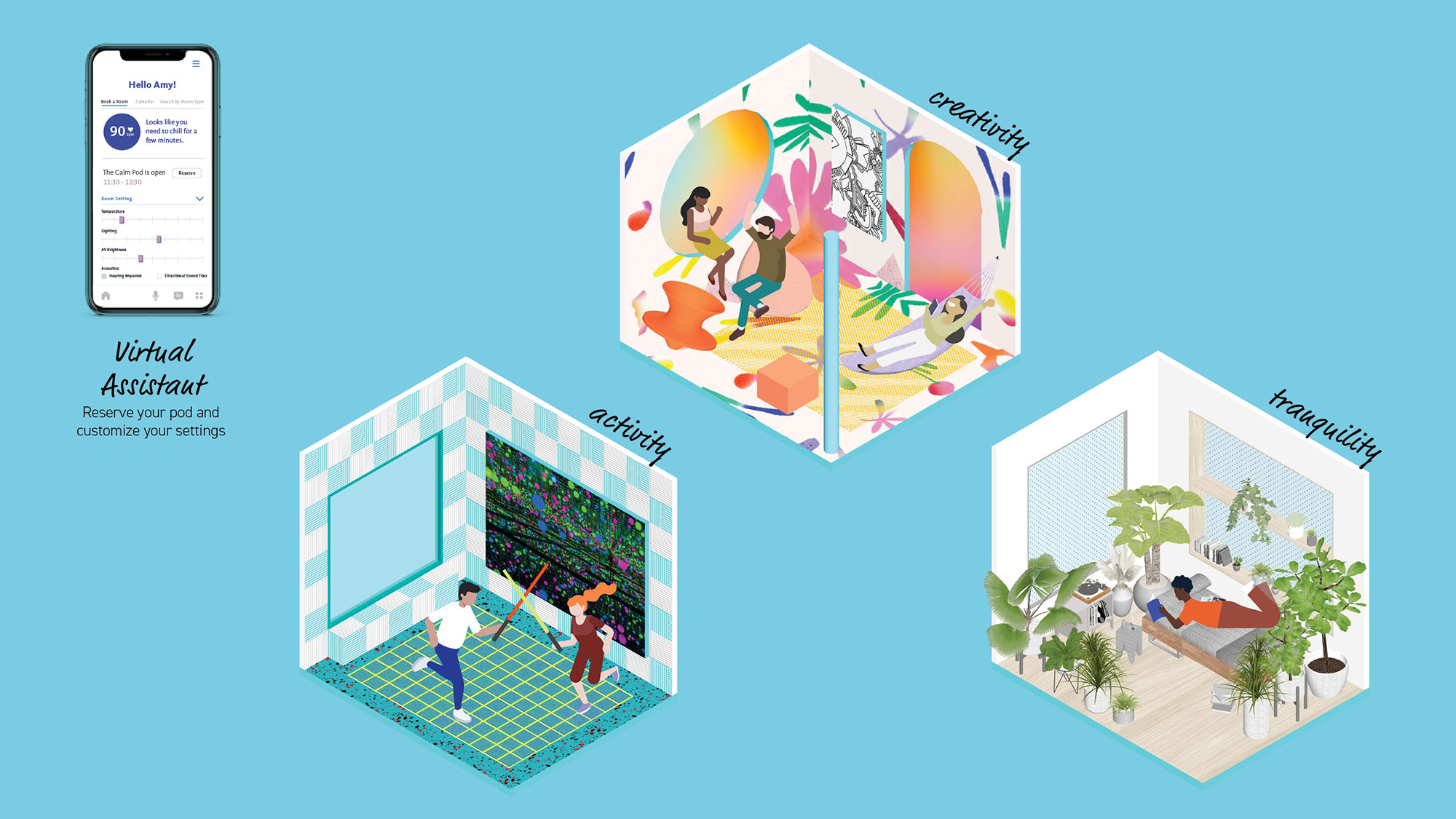 Belong to a community
The new hybrid workplace will have designated spaces for you to learn, grow, and network with your local community. Step into a flexible, pop-up space where you can attend forums, events, happy hours, and more.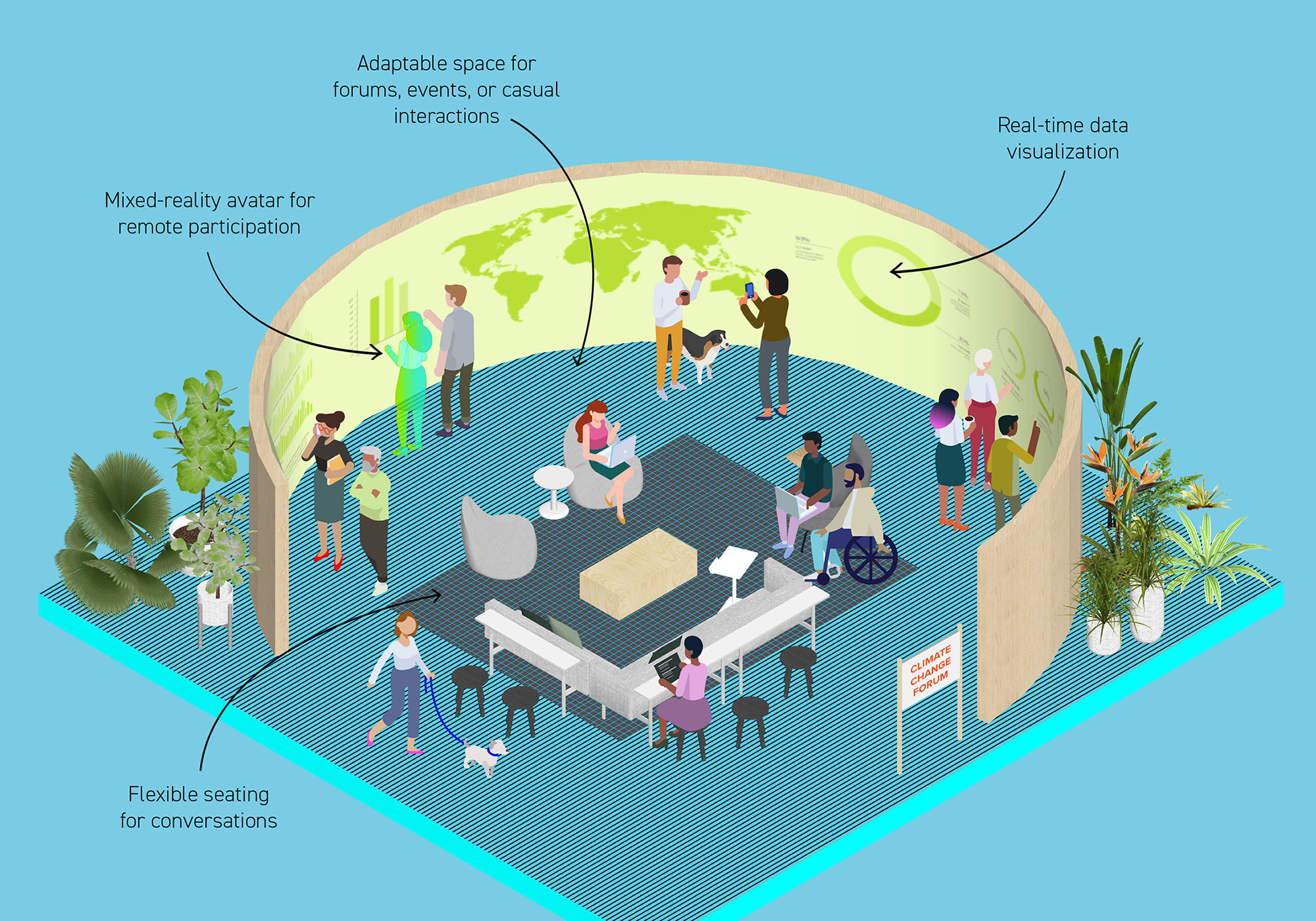 Cultivate a connected experience
This is the workplace of the future; a connected experience that brings individuals and teams together from around the world around a common purpose. The office is no longer a container for people, but a physical- and digital-enabled ecosystem that equips people with the tools and support they need to thrive while amplifying flexibility, choice, work/life balance, diversity, and equity.
This is a workplace with heart — listening at the edges, leading with compassion, and empowering people to innovate, create, and stay connected, wherever they are.
For media inquiries, email .