Design Forecast Chicago: A New Vision for Growth & Optimism
By Andre Brumfield and Brian Vitale
Editor's note: This post is part of Gensler's Design Forecast Local, a series of hyper local conversations with our clients about the topics that matter most in our cities.
Chicago faces a critical moment in our history. We can allow others to tell a story of a shrinking population, increasing violence, and economic struggles, or own the possibilities in front of us by focusing on a strategic dialogue around our unbounded growth and optimism. These were among the topics discussed during a special networking event, Design Forecast Chicago: A New Vision for Growth & Optimism, hosted by Gensler's Chicago office, along with World Business Chicago on Nov. 12, 2019. The event, headlined by Samir Mayekar, the City of Chicago's Deputy Mayor for Neighborhood & Economic Development, and Maurice Cox, newly appointed City of Chicago Planning & Development Commissioner, engaged a robust conversation around formulating a collective vision for an economically thriving and growing City of Chicago. Part two included a panel discussion of city leaders, planners, developers, and 150 distinguished guests on the future of our city.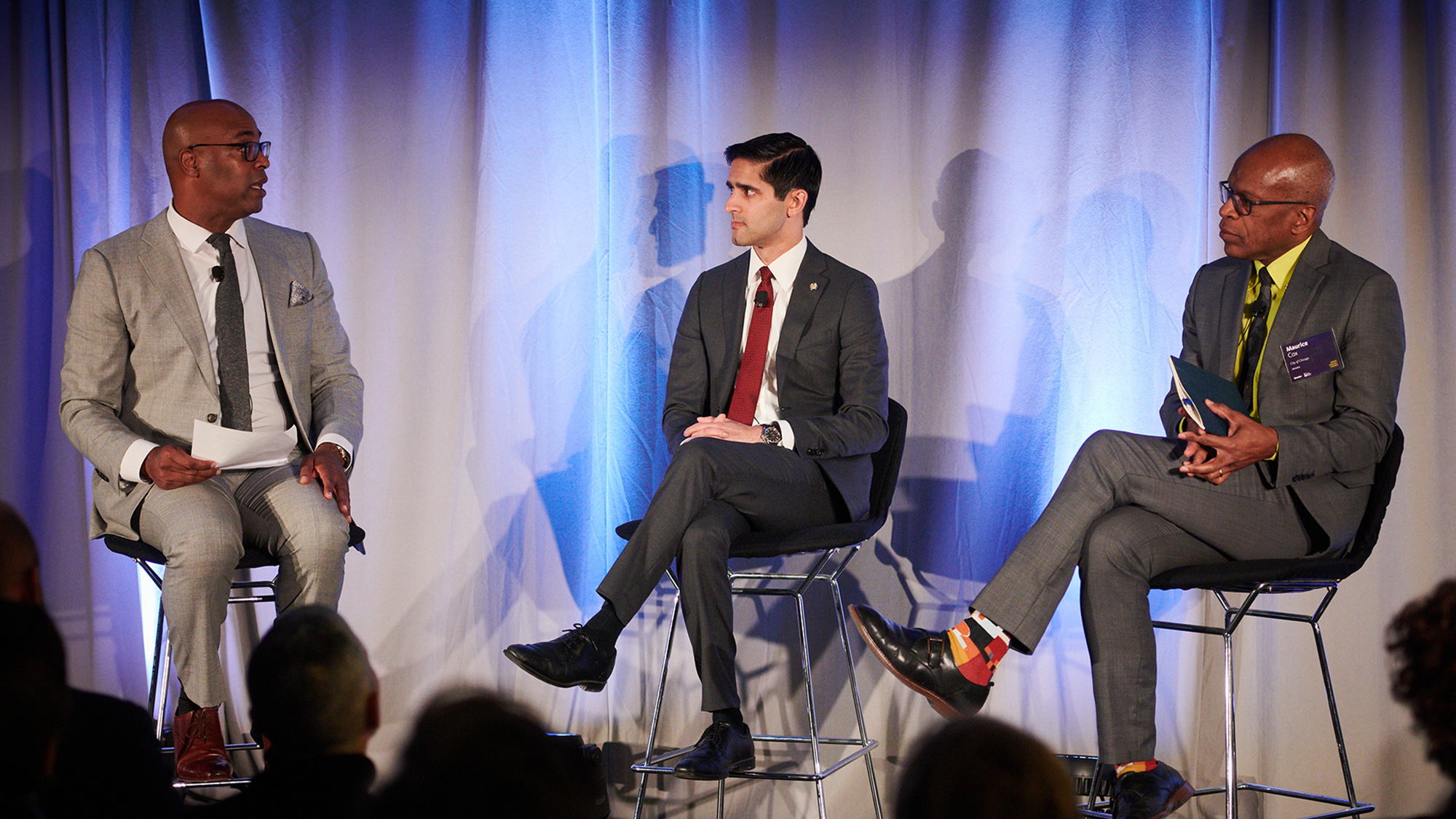 KEY TAKEAWAYS
Investing in the heart and soul of the city.
Samir Mayekar and Maurice Cox outlined the city's vision for a strong downtown supported by thriving neighborhoods. Highlighting key areas of focus in the INVEST South/West plan, Mayekar and Cox addressed population growth, specific areas of investment, and a shift in the TIF structure.
Deputy Mayor Mayekar and Commissioner Cox have made Mayor Lightfoot's vision for Chicago clear: this administration is committed to revitalizing and reinvesting in the city's most distressed communities. Growth is the goal, and to create a balanced and more equitable city where both the city's central business district and its neighborhoods can thrive.
— Andre Brumfield, Urban Strategies & Design leader, Gensler
Focused plans and policy are imperative to shape priorities.
It was clear that the future of Chicago will require more conversations where land, economy, policy, and community are represented and actively engaged in shaping priorities together. Jeff Shapack shared how the landmark status of Fulton Market helped the neighborhood craft a vision and incentives that developers could activate. On housing, Marisa Novaro shared that focused plans and policies are needed as "decentralized" approaches to housing and development have resulted in systemic results (across the U.S.) that have moved cities further away from being equitable, diverse communities.
In bringing together the brightest and most diverse minds in Chicago to discuss a future of growth and optimism, we are actively changing the narrative that has been pervasive around Chicago.
— Brian Vitale, co-managing director, Gensler Chicago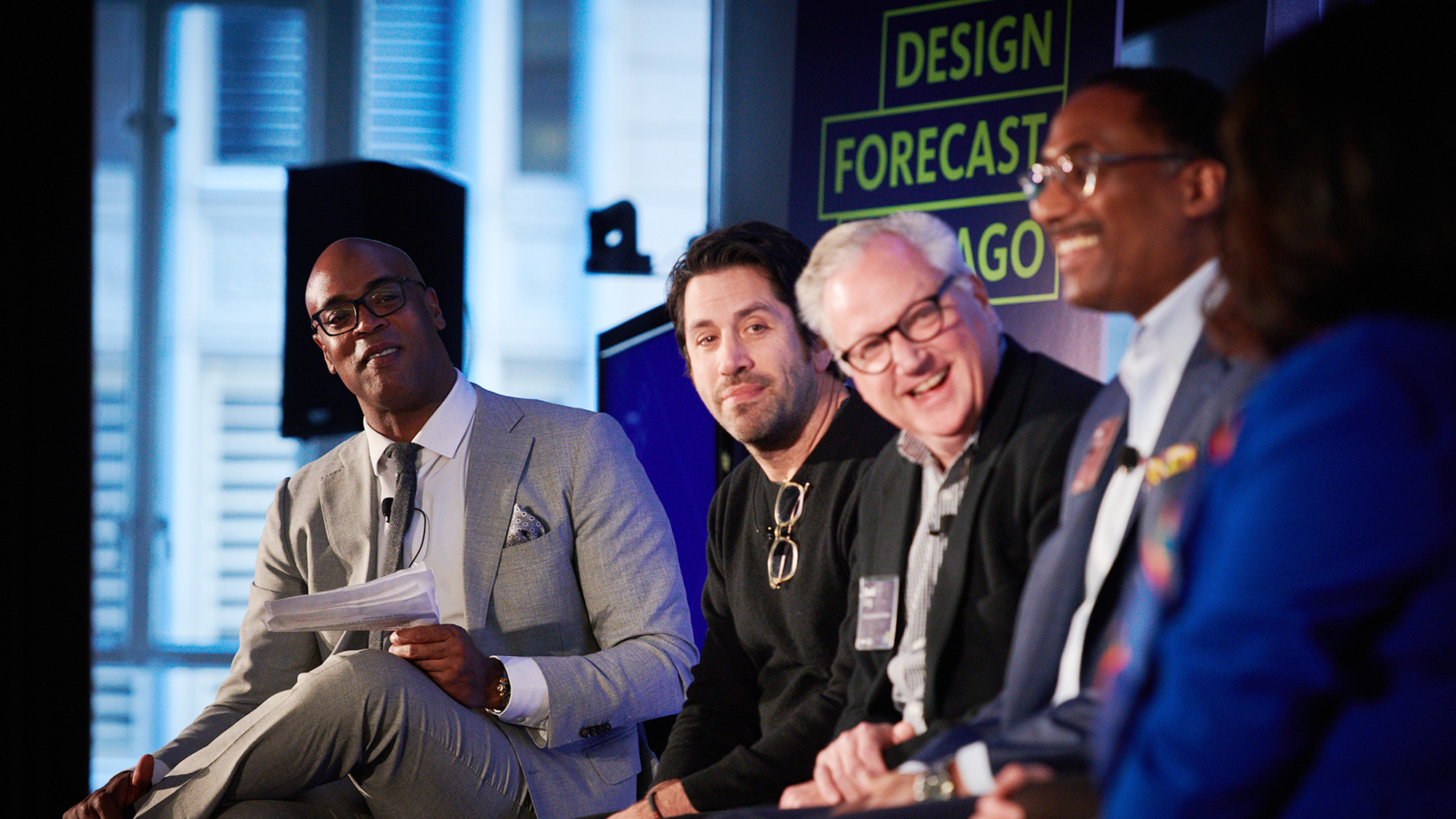 We must create partnerships by design.
Developers, planners, community members, and city leaders need to partner creatively to co-own the impact of projects. It is easy to think that one party is responsible, but all have a vested interest and responsibility to co-create the future of a community in a way that is equitable and sustainable. This applies to projects at all scales, and mega-projects — not inherently good or bad — need to be thoughtfully planned to fully understand context and potential impact on surrounding communities — specifically for community values like inclusivity and job impact.