Learning About Resilience at the UCLA Congo Basin Institute
October 08, 2020 | By Peter Barsuk
By 2050, over 9 billion people are projected to compete for scarce resources on a planet experiencing severe climate change impacts. By the end of the century 4 out of every 10 people on the planet will be African. Now is the time to act. In order to meet people's needs for health, food, and water, we must create buildings and infrastructure that promote sustainable economies and preserve the natural diversity of the world's ecosystems.
The Congo Basin Institute (CBI) in Central Africa is an excellent example of these values at work. Created by the University of California at Los Angeles and its partner, the International Institute for Tropical Agriculture (IITA) with support by UCLA's Institute of the Environment and Sustainability, the CBI is a research and education campus that focuses on finding solutions to the many interconnected environmental challenges, including food and water security, human health, loss of biodiversity and climate change. It will train students to collaborate with local African researchers, and it will teach young people how best to use emerging and ground-tested technologies to help lead the region toward a bright future.
To support these researchers, we've designed a sustainable campus concept that uses low-tech design strategies to create a modern living and working environment. Spaces such as a conference center, distance learning facilities, a dining and kitchen area, and lodging will promote impromptu collaboration. The entire concept will be adaptable as the CBI's needs evolve over time.
Here are some design and construction details of three of the core spaces in the development of the IITA campus in Cameroon: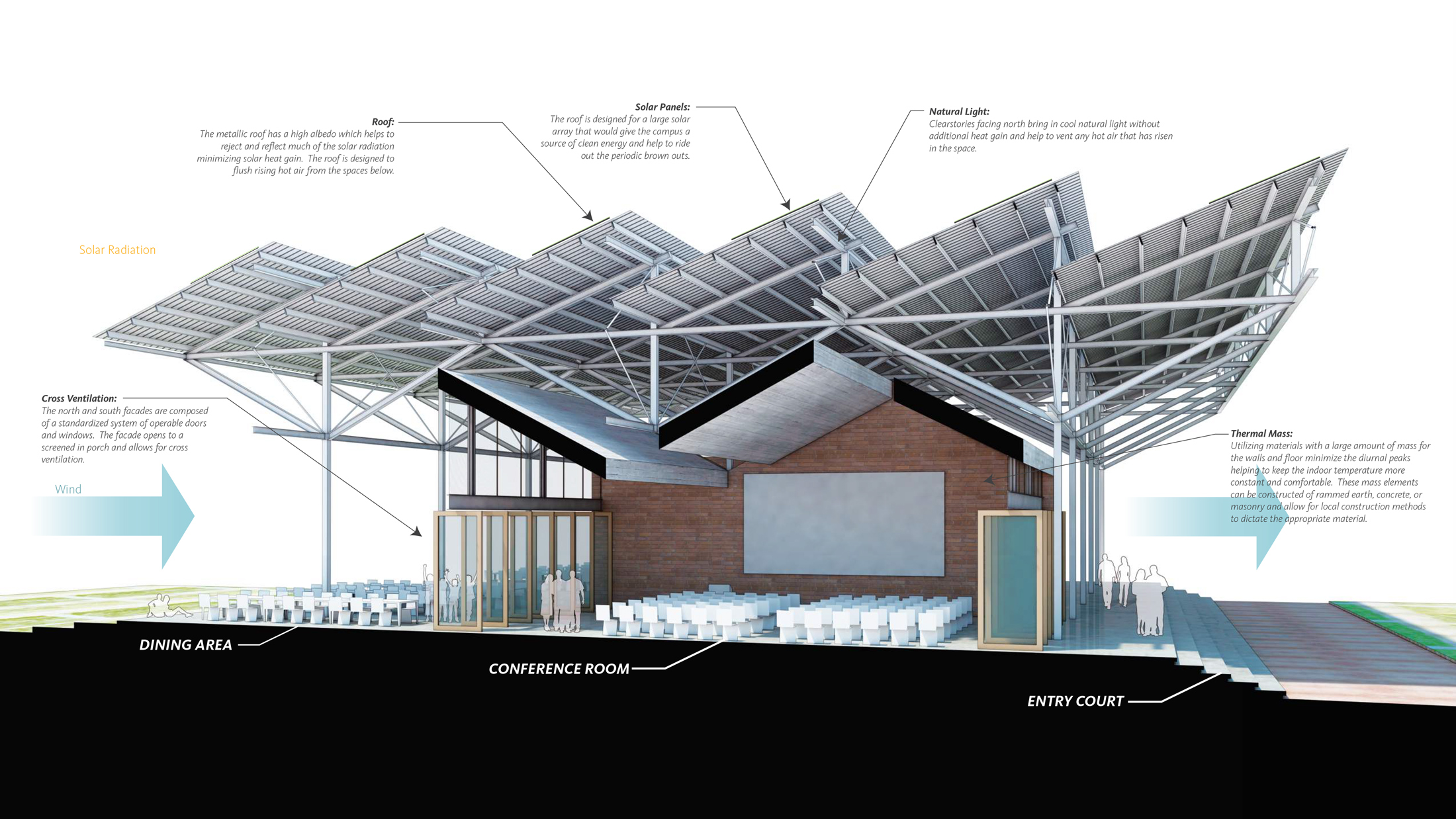 Conference Center and Dining Area
A large lecture room, two meeting rooms, kitchen, restrooms, and dining area have been designed to exist under one large roof canopy. The canopy protects the various programs from rain and direct solar radiation, while simultaneously positioning a series of solar panels at an optimum angle on the roof and allowing natural light to penetrate deeper into the space.
The spaces are simple, but hyper-flexible to allow for maximum reconfiguration in support of a large variety of functions and programs. Both the large lecture room and the two meeting rooms feature pivot doors that allow for natural ventilation and flexibility, connecting the open dining area and the meeting rooms.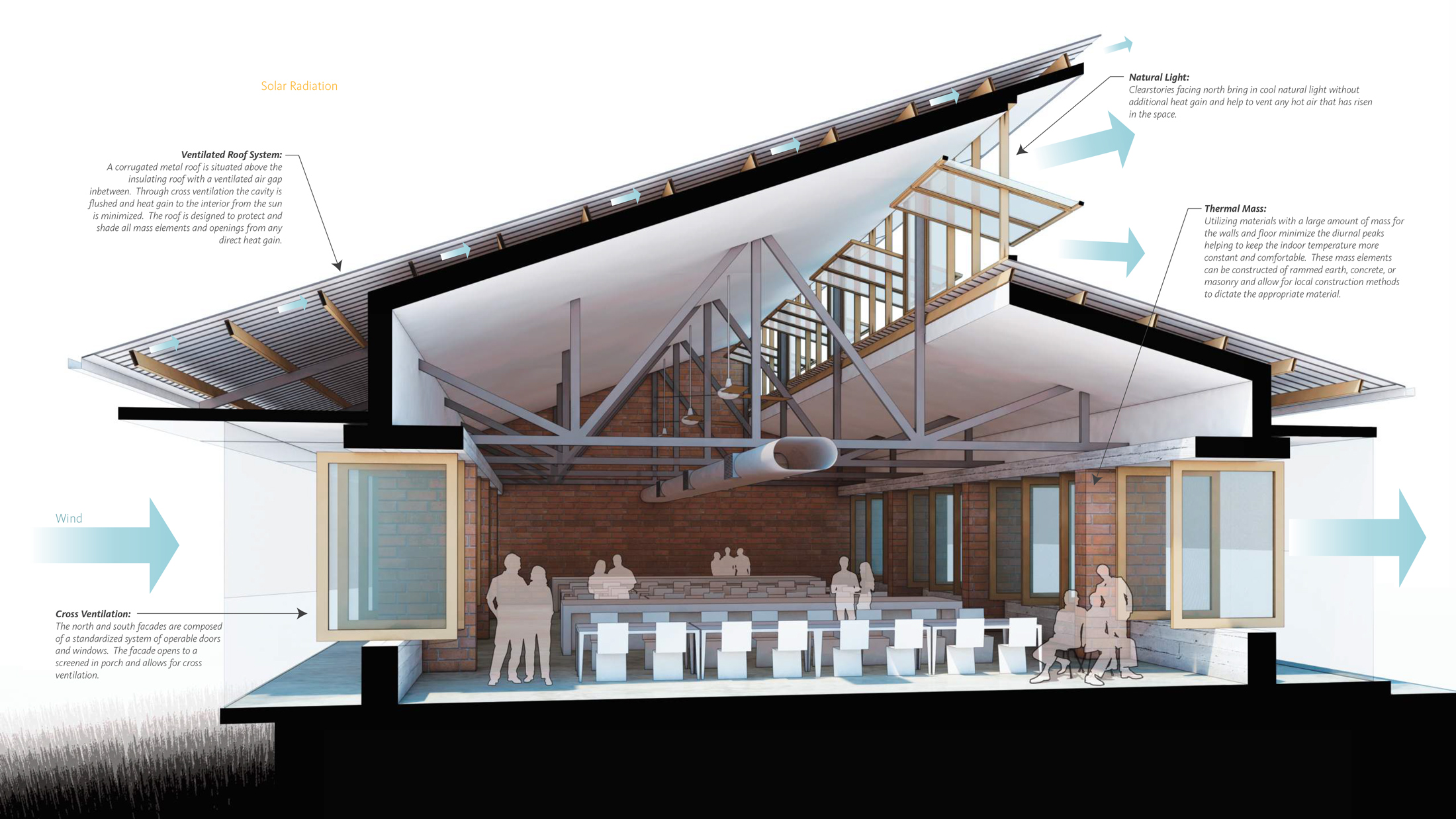 Distance Learning Center
Designed as a flexible classroom pavilion, the vernacular construction typology could be adapted to other buildings and programs in the future, including technical training, equipment repair facilities, remote sensing research facilities, research and training labs, molecular and genetic laboratories, and administrative offices.
The construction techniques utilized for the distance learning center allow the building to function passively by taking advantage of the cross ventilation and limiting any direct and indirect heat gain from solar radiation. Furthermore, the building is designed to efficiently utilize mechanical cooling when required, based on the type of equipment and work being performed.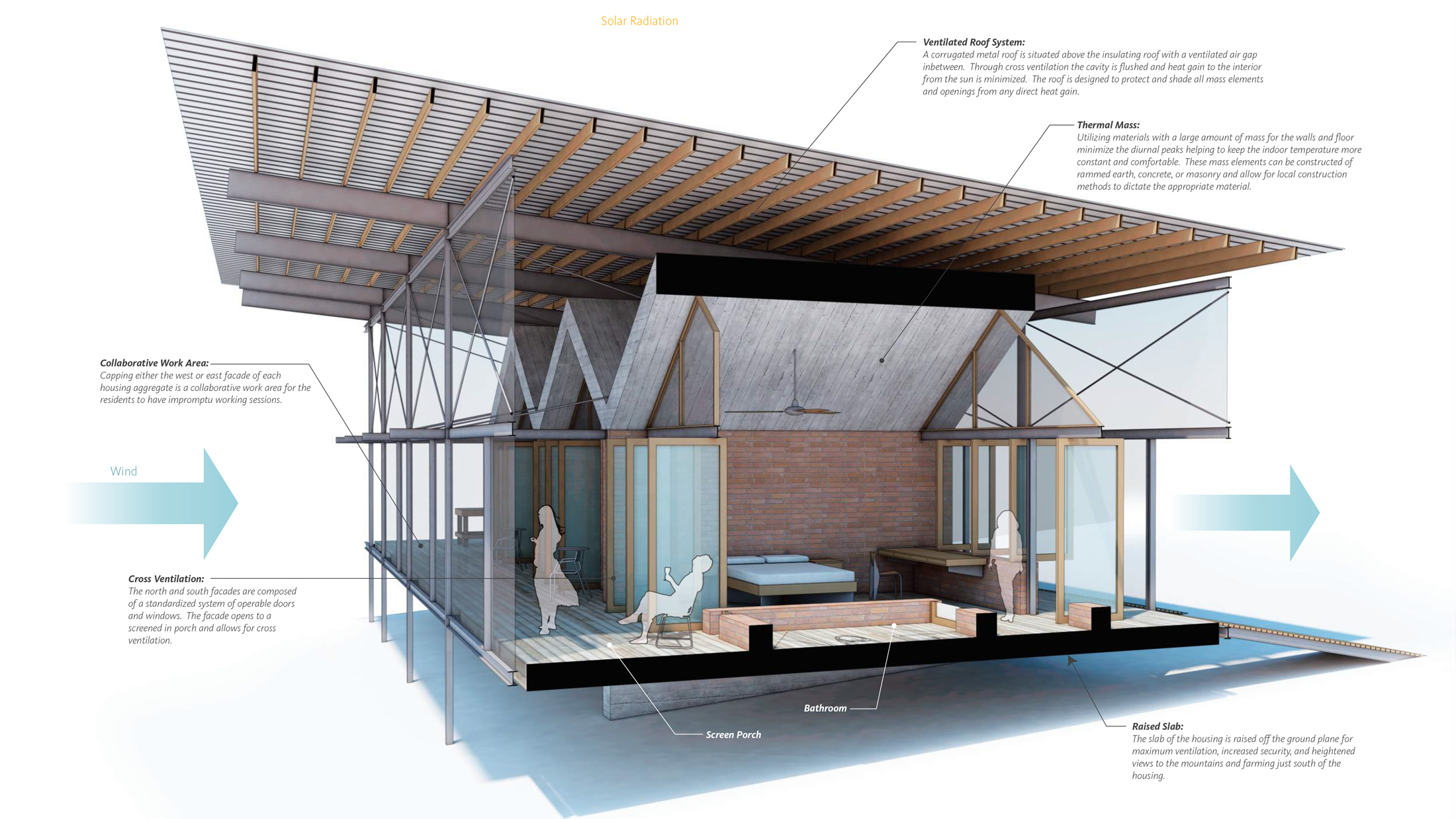 Lodging
We lifted the lodging pavilions off the ground plane to increase ventilation during the primary hours of use in the evening and nighttime hours, as well as to provide an additional sense of security. The mass utilized to create the roof and demising walls between individual units provides an excellent acoustic barrier and helps to stabilize the overall temperature of the spaces. At the end of each housing pavilion, collaborative work areas create space for residents to hold impromptu work sessions outside of a formal lab or classroom setting.
Now, more than ever, the ability to collaborate both locally and globally across continents will be key in addressing critical development challenges. By creating a resilient space to study the pressing issues of environmental devastation, human disease, and poverty, we can begin to develop a sustainable local economy that respects, honors, and preserves the natural diversity of its ecosystem.
For media inquiries, email .